Welcome to the picturesque coastal haven of Esbjerg, Denmark, where sun, sand, and sea blend seamlessly to create a beautiful getaway. If you're on the hunt for the perfect Esbjerg beach experience, you've come to the right place.
In this complete guide, we'll lead you through the various Esbjerg beaches, helping you find the perfect spot to unwind. Whether you're a solitude seeker, a family adventurer, or a watersports enthusiast, Esbjerg beach has something for everyone.
Sædding Strand | Finding the Best Esbjerg Beach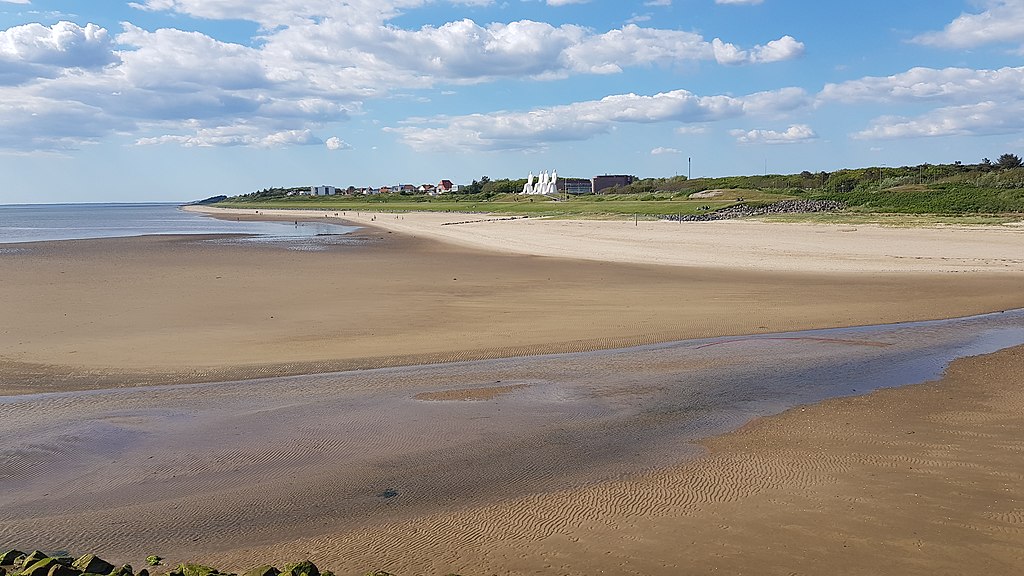 Less than a ten-minute ride by car from the Esbjerg city center, and reachable in less than 15 minutes if you're on a bike, lies the stunning Sædding Strand. Stretching over 3300 meters, this Esbjerg beach, located in the Sædding district, offers a picturesque coastal retreat. This unique beach destination provides a diverse range of experiences, catering to various preferences and interests.
Man Meets the Sea / Men at Sea
One of the notable features of Sædding Strand is the presence of the "Mennesket ved Havet", also known as "Men at Sea" or "Man meets the sea". This awe-inspiring sculpture stands 9 meters tall and is crafted from white concrete. Created by sculptor Svend Wiig Hansen, the sculpture captures the essence of humanity's encounter with nature.
It's a homage to the pure and unspoiled state of humans, as they emerged into the world, before they began shaping it. The sculpture, unveiled on October 28, 1995, was erected to commemorate the centenary of Esbjerg Municipality in 1994. Originally, the artist envisioned placing the sculpture at Grenen, north of Skagen, but it found its home overlooking the coast at Sædding Strand.
Beauty, Art, and Activities
Opinions about Sædding Beach vary but commonly echo its beauty and uniqueness. Some praise its serene expanses of sand and sea, while others point out the picturesque presence of the Men at Sea sculpture. The beach offers ample space for a variety of activities, from walks along its promenade to engaging in kitesurfing adventures. Its wind-swept environment makes it ideal for those seeking a refreshing coastal experience.
Sædding Strand isn't just about its visual appeal. The beach's practical amenities, including free parking, clean bathrooms, and available seating, enhance its visitor-friendly reputation. The gradual slope of the seabed makes it suitable for families with young children, and the adjacent grassy areas offer additional space for relaxation. However, it's crucial to stay informed about tide changes, especially given the rapid shifts in water levels in the area.
Swimming at Sædding Strand
Sædding Strand offers a beautiful and inviting setting for beachgoers, but when it comes to swimming, there are a few factors to consider. The beach's low water level and tide fluctuations make it important to be cautious and informed before taking a swim. The gradual slope of the seabed makes it suitable for families with young children who want to play in the water without facing strong waves or deep waters. However, due to the tidal changes and potential currents in the area, it's necessary to pay attention to tide schedules and any posted warnings or guidelines.
While the beach does provide areas for bathing and swimming, visitors should be aware of their surroundings, follow safety recommendations, and prioritize their well-being. Always keeping an eye on tide changes and heeding any local advisories will help ensure a safe and enjoyable swimming experience at Sædding Strand.
Fanø Beach | Finding the Best Esbjerg Beach
Just a stone's throw away from Esbjerg, lies the serene and picturesque island of Fanø. This coastal beauty offers a tranquil escape from the bustling mainland.
Fanø's allure is not only in its shores but also in its unique blend of history, culture, and natural beauty. One of its most cherished features is Fanø Beach, renowned for its soft, golden sands and soothing waves.
How to Get to Fanø
The island lies approximately 12 kilometers (around 7.5 miles) west of Esbjerg. It is accessible by ferry, and the ferry ride takes about 12-15 minutes to get you between Fanø and Esbjerg.
The ferry service that operates between Esbjerg and Fanø Island can transport both vehicles and bicycles. Therefore, this flexibility allows visitors to easily explore the island at their own pace.
The Beach on Fanø
Stretching as far as the eye can see, Fanø Beach is a paradise for beachgoers and nature enthusiasts alike. It's a place where the horizon seems endless, and the sea breeze feels delightfully refreshing.
One of the defining features of Fanø Beach is its remarkable width, making it ideal for a plethora of activities. Here, you can indulge in the joy of swimming, where the waters of the North Sea meet soft, sandy shores. The beach's expansive width provides ample room for beachcombers to stroll, build sandcastles, or simply bask in the sun's embrace.
For those who seek a dash of excitement, Fanø Beach has much to offer. Volleyball enthusiasts can engage in friendly matches, while kite flyers revel in the exhilarating gusts of wind. Football lovers can organize impromptu matches on the sandy expanse.
Heading south from Rindby Strand, the landscape transforms into a hotspot for thrill-seekers. Known as the "buggy beach," it's a haven for surfers, particularly kite surfers. Here, you can partake in thrilling beach cruising activities with blokarts, kite-buggies, and landboards, feeling the rush of wind as you navigate the coastline.
Swimming at Fanø Beach
Fanø Beach offers a perfect aquatic playground. It boasts a wide and beautiful shoreline, making it an inviting spot for both novice and experienced swimmers. The North Sea waters here are generally gentle and clear, making it an ideal location for a refreshing dip. Moreover, families with children will particularly appreciate the absence of stones and pebbles along the beach, ensuring a safe and enjoyable swim.
This Esbjerg Beach is generally considered safe for swimming, especially along the well-trafficked areas. However, as with any beach and open water environment, it's important to prioritize safety and exercise caution when enjoying the sea.
Hjerting Strand | Finding the Best Esbjerg Beach
Hjerting Strand lies conveniently at the heart of Esbjerg. Located in the western part of Esbjerg, the beach is approximately 5 kilometers (3 miles) away from the city center.
This close proximity ensures that residents and visitors alike can quickly and easily access this Esbjerg beach. Thus, it has become a popular choice for those looking to enjoy the coastal charm without straying far from the bustling city center of Esbjerg. Whether by car, bike, or public transportation, Hjerting Strand is a convenient destination for a beachside retreat.
A Family-Friendly Esbjerg Beach with Shallow Waters
The beach features free parking areas along the road to Esbjerg Harbour, ensuring convenient access. Alongside the beach runs a picturesque boardwalk with seating areas, making it ideal for leisurely strolls and relaxation. Don't forget to seize the opportunity to savor some delightful Italian ice cream at one of the charming cafes nearby!
Swimming at Hjerting Strand
Hjerting Strand offers a pleasant swimming experience, especially for families and those who prefer shallower waters. In fact, the beach features a gently sloping shoreline, making it well-suited for children and novice swimmers.
Its shallow waters are relatively calm and generally safe for swimming. However, it's important to keep in mind that due to its shallow nature, the water may take some time to become deep enough for more confident swimmers.
Finding the Best Esbjerg Beach: Final Thoughts
In conclusion, Esbjerg is renowned for its shallow and family-friendly beaches. The coastline, which stretches along the Wadden Sea, typically features shallower waters that are suitable for children and those looking for a gentle and safe swimming experience.
Esbjerg beaches offer scenic beauty with expansive sandy shores. While the waters may vary slightly in depth due to tidal fluctuations, they are generally ideal for leisurely swimming and relaxation.
Visitors can enjoy activities like beachcombing, building sandcastles, and exploring the picturesque surroundings. In summary, the region's beaches offer serene and tranquil waters, creating an ideal setting for families and those seeking a peaceful beach experience.