Located in northern Europe, Scandinavia has always been a beautiful place to visit. One of the Nordic region's most popular places to travel to is Norway, and it is home to some of the most magnificent fjords you'll ever see. The fjords in Norway are plentiful, but there's only a handful of them that get ranked the highest. Here is a list of the top 5 fjords in Norway:
Geirangerfjord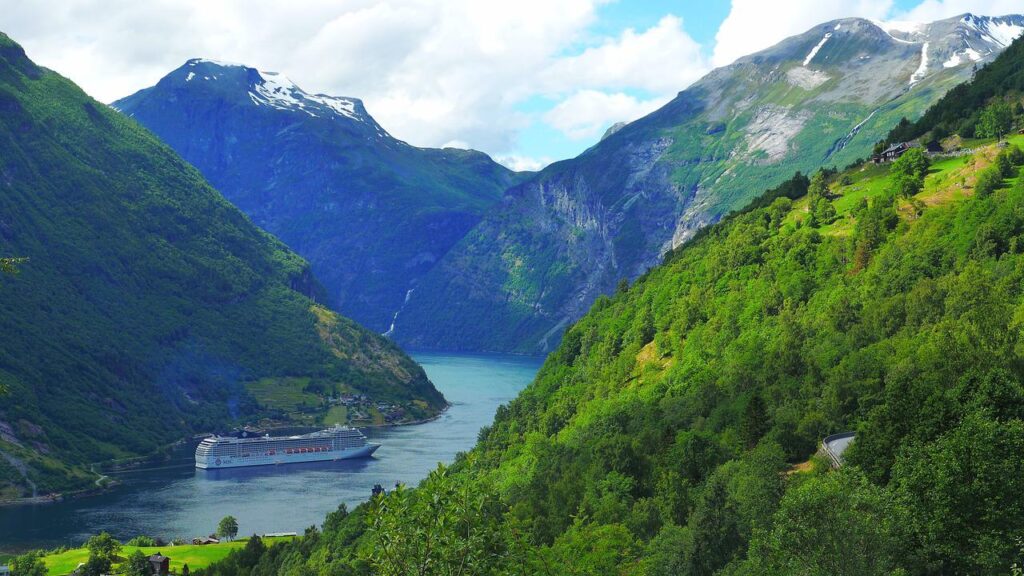 Of all the fjords in Norway, the Geirangerfjord is the most visited and is a UNESCO World Heritage Site. With its cascading waterfalls, deep blue rivers, and jutting mountains, this fjord looks like it was sent from a fairy tale. There are many cruises offered for sightseeing as well as river rafting. The passenger boats travel between Geiranger and Hellesylt, the country's oldest Viking port. On these tours, you will also see the Seven Sisters. This is one of the most famous and most breathtaking waterfalls, as it descends gracefully into the fjord below.
You can visit the Geiranger Skywalk if you're not weary of heights. Geiranger Skywalk is a platform that stands 1500 meters (4,921 feet) above sea level. Or take Eagle Road to the Ørnesvingen lookout point, where you can tour the Norwegian Fjord Centre. This is a chance to learn how these miraculous formations were created. Geirangerfjord is also a place where you can go water skiing or canoeing. If you choose to stay out of the water you can fish or hike. The hiking trails around Geirangerfjord offer some of the most jaw-dropping views of Norway, so bring your camera!
Sognefjord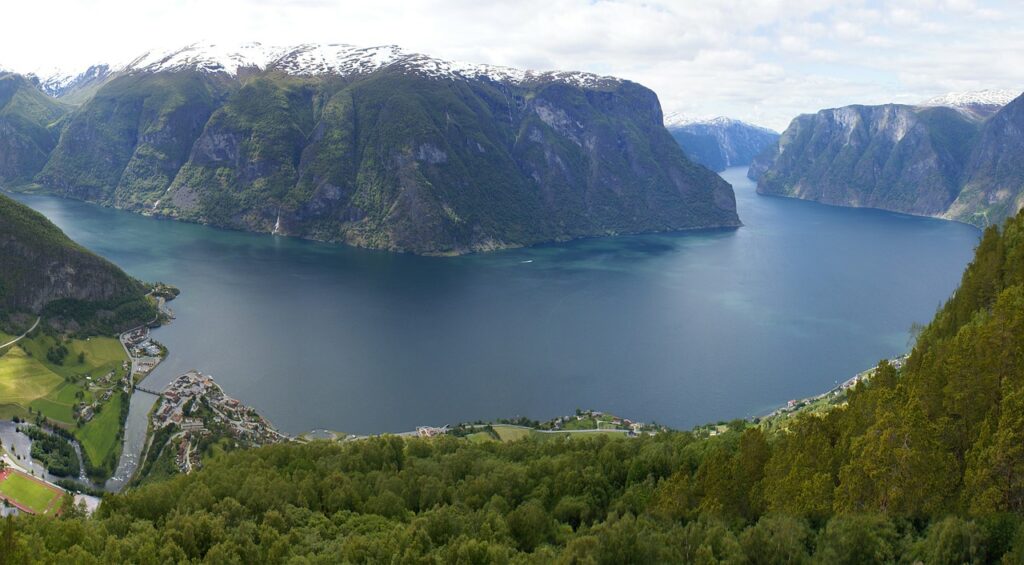 Of Norway's many fjords, Sognefjord is the absolute largest. This is why it is also known as the "King of the Fjords." Sognefjord is another place where you can hike with extraordinary views and partake in cruises around the fjord. This fjord offers more than your average experience though. Since it is the largest fjord in the area, it has many branches, such as Nærøyfjord, the most alluring yet most risky branch of Sognefjord. If you don't want to get up close and personal, you can take a ride on the world's steepest railway, the Flåm Railway, and get a bird's eye view through the white-capped mountains and plunging waterfalls of this magnificent fjord.
Other popular sightseeing adventures at Sognefjord include Norway's oldest stave church at Urnes, the Magic White Caves of Gudvangen, and the Viking Village in Gudvangen. Aurlandsdalen Valley is also worth seeing. It is also known as Scandinavia's own Grand Canyon due to its fascinating charm and extensive range of wildlife. Sognefjord is also home to two of Norway's most famous parks, Jotunheimen and Jostedalsbreen. These national parks are known for their extensive and unparalleled hiking trails where you can walk along with glaciers, over peaks, and spot native wildlife or go fishing.
Aurlandsfjord & Nærøyfjord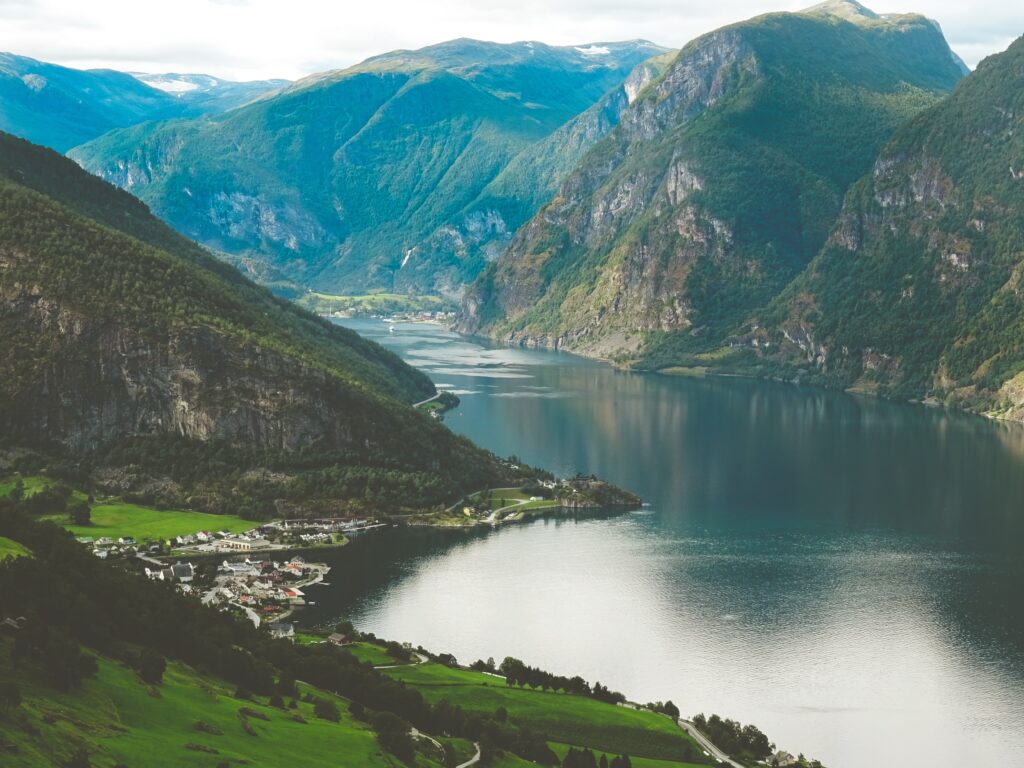 These twin fjords are branches of the extensive Sognefjord. Aurlandsfjord, the eastern branch, ends near the Flåm Village, which is mostly known for its steep railway track. Nærøyfjord, the western branch, ends near the Gudvangen village. It is said to be one of the most astounding fjords in Scandinavia, which is how it found its way onto the UNESCO World Heritage list, alongside Geirangerfjord.
Gudvangetunnelen directly connects these two villages. So traveling back and forth by car or bus only takes about 30 minutes, or you can take a more scenic trip on the ferries. They offer a more exciting trip where you can check out the beauty of both of these fjords from the luxury of a shuttle boat. They are known to be one of the best cruise ventures in Norway.
Hardangerfjord
Hardangerfjord is also known as the Orchard of Norway due to its flourishing region that boasts fruitful trees and gardens. It is the third-largest fjord in the world. Most travelers specifically love this place during Springtime, around May, so they can enjoy the blooming of the trees, bushes, and gardens. Unfortunately, many of the hiking trails in this region are only open during specific months, mainly June through September. So they may not be accessible during other parts of the year or only accessible during a guided tour.
This attraction offers boat cruises around this wondrous fjord, as well as kayaking if you are more of a solo explorer. Travelers can also venture off to the surrounding areas by taking a scenic drive or hitting the trails. These trails are known to be a hiker's heaven. There are numerous hiking and biking trails where you can see some amazing wonders of nature. Such as taking a hike behind the vast Steinsdalsfossen waterfall.
Hardangerfjord is home to Norway's most dazzling waterfall, the Vøringsfossen Waterfall, which lies atop Måbødalen valley. This waterfall has a free fall of 145 meters (475 feet) and a total fall of 182 meters (597 feet) and is the 83rd highest waterfall in Norway. Hardangerfjord is also home to Folgefonna Glacier, which is Norway's third-largest glacier. It is also home to Trolltunga, a massive rock extending from one of the mountains, which offers a captivating aerial overlook.
Lysefjord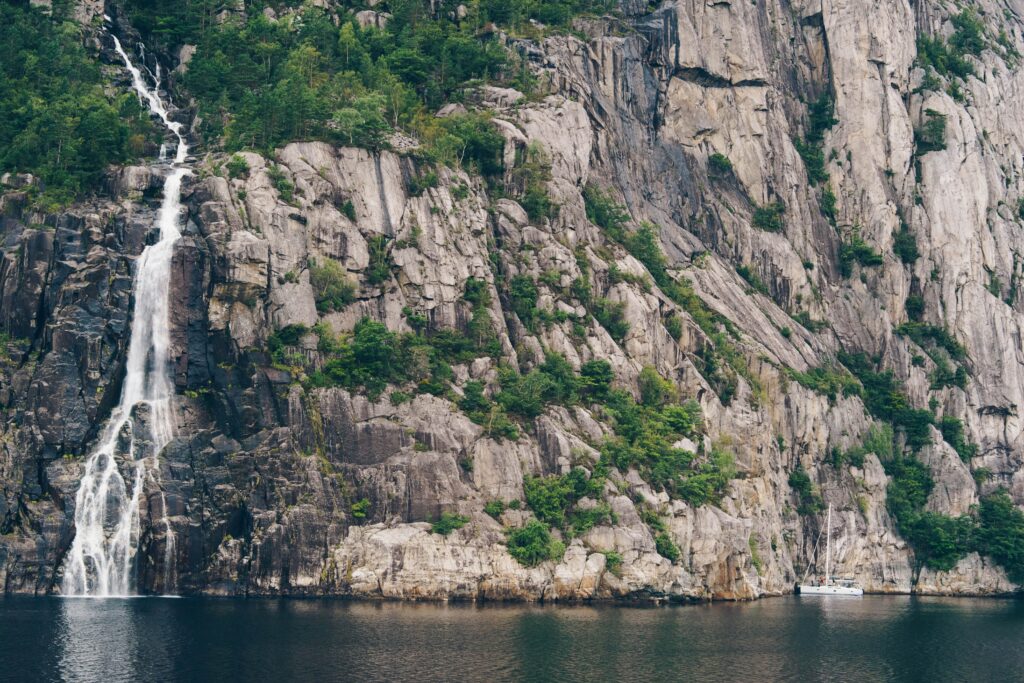 While Lysefjord is about the same size as most other fjords in Norway, this particular place attracts more tourists annually, estimated at around 300,000 in total. The reason for this could be the one-of-a-kind adrenaline rush you get from teetering 600 meters (2,000 feet) over this vast fjord. This attraction is called Preikestolen, or Pulpit Rock. Pulpit Rock is a flat plateau that gives visitors a breathtaking bird's eye view of the valley.
Another popular place here is Kjerag Mountain, well known for its photo ops due to it offering some of the most beautiful panoramic scenes around. You can also enjoy rock climbing on Kjerag Mountain, and even BASE jumping if you're brave enough. In the region of Lysefjord, visitors can also wander among some intriguing historic sites, such as the prehistoric rock carvings at Solbakk. These carvings date back to 500 BC. If you make your way to Ryfylke you can also tour a reconstruction of one of these prehistoric settlements.