If you're planning a trip to Norway, there's one thing you absolutely must do: visit Preikestolen. This natural wonder is unlike anything you've ever seen before. Perched 604 meters above the Lysefjord, Preikestolen is a breathtaking cliff that offers a unique hiking experience and a view that will leave you in awe. This is not just any hike! It's a life-changing experience that will leave a lasting impression on you. So, pack your bags, grab your hiking boots, and get ready for a journey to remember.
Best time to visit Preikestolen
The best time to visit Preikestolen depends on what you're looking for. If you want to avoid crowds and enjoy a challenging hike winter is the best time to go. However, if you prefer a more pleasant and easier hike, summer is the ideal time to visit. Due to the harsh weather conditions in Norway during the winter, we recommend planning your visit to Preikestolen between May and September.
Guided tours to Preikestolen
Guided tours from Stavanger are the easiest way to see Preikestolen. These tours offer transportation from Stavanger, a guided cruise or hike, and plenty of opportunities for taking photos and enjoying the scenery.
Check the best guided tours from Stavanger to Preikestolen here:
What are the closest resort towns to Preikestolen?
The closest resort towns to Preikestolen are Jørpeland and Tau. Jørpeland is a bit closer to the starting point of the hike, but both towns have a range of accommodation options including hotels, hostels, and campsites. There are also a few options for accommodation closer to the trailhead, including a mountain lodge and cabins for rent.
Check the closest accommodation options to Preikestolen here:
How to get to Preikestolen
The starting point of the Preikestolen hike is a spot called Preikestolhytta, which is about a 30-minute drive from the city of Stavanger in Norway. To get there, you can take a bus from Stavanger to the parking lot at Preikestolhytta. Another option is to drive there yourself and park your car at the designated parking area. Try to arrive early in the morning to avoid crowds and ensure a parking spot.
The hike to Preikestolen
Here are some factors to consider when planning a hike to Preikestolen:
LENGTH
The Preikestolen hike is a moderately 4-mile round-trip hike with an elevation gain of about 1,000 feet. The hike takes an average of 2-4 hours to complete, depending on your pace and the number of breaks you take.
DIFFICULTY
You may find the hike challenging, particularly if you are not used to hiking or have physical limitations. The climb can be steep in certain areas, and there are rocky terrains in some sections. However, if you plan appropriately, take it slow, and take frequent breaks, the hike is still manageable for most people.
SCENERY
As you hike the trail, you'll be surrounded by stunning Norwegian wilderness. The lush forests, rocky terrain, and tranquil lakes will provide plenty of opportunities to enjoy Scandinavian nature. You'll also catch glimpses of the Lysefjord and the surrounding mountains.
SUMMIT
At the summit of the Preikestolen hike lies the iconic Pulpit Rock, a breathtaking plateau that overlooks the Lysefjord below. The stunning view from the top is one that you may have seen in movies, TV shows, or magazines, but it's even more impressive in person. Standing atop the Pulpit Rock, you'll feel like you're on top of the world.
CROWDS
If you're expecting to have the trail to yourself for a peaceful self-discovery journey, you will be disappointed. The trail is often crowded, especially during peak season. However, the crowds are a testament to the popularity of this hike, and the sense of camaraderie with fellow hikers can add to the experience. You can still find moments of solitude and reflection if you plan your hike accordingly.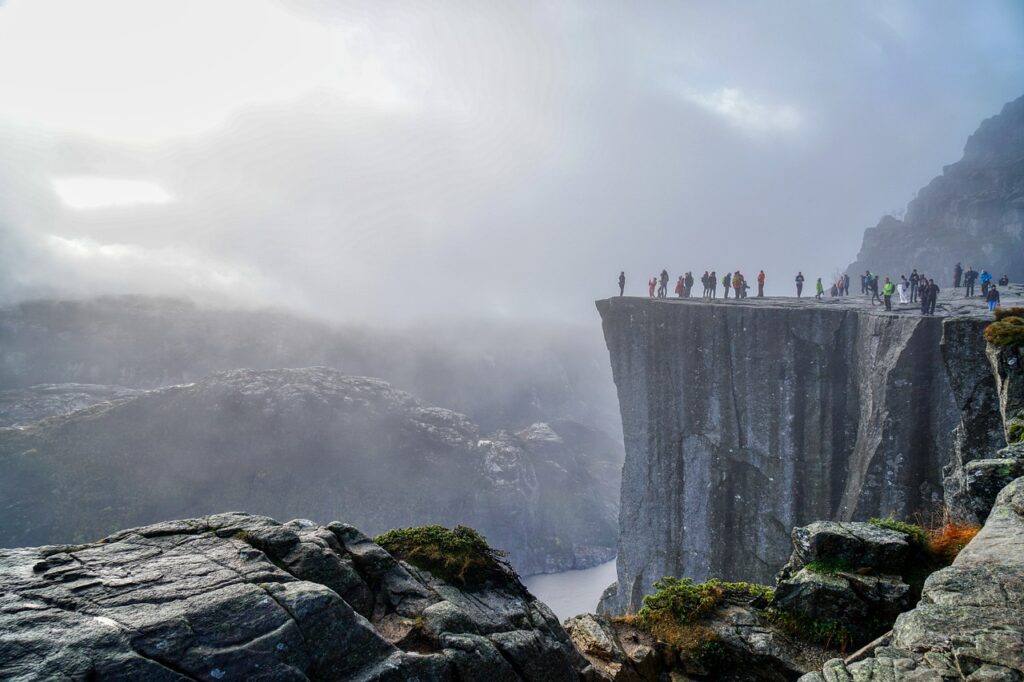 Some common questions
Why is it called "Pulpit Rock"?
The name "Pulpit Rock" or "Preikestolen" comes from the shape of the cliff's plateau, which resembles a pulpit or preaching chair. The name is derived from the old Norwegian language, where "preik" means "sermon" and "stol" means "chair" or "seat."
What is so special about it?
Preikestolen is a true micrography of Norwegian nature. Hiking to the top is an experience that combines physical challenges with breathtaking rewards. The feeling of accomplishment when you finally reach the top and stand on the edge of the cliff, overlooking the vast fjord landscape, is truly unique.
How many people do the hike annually?
The hike to Preikestolen has become increasingly popular over the years, with over 300,000 visitors making the trek annually. In fact, Preikestolen is one of the most visited natural tourist attractions in Norway. Despite its popularity, the site has been kept relatively unspoiled, with efforts being made to preserve the natural environment around it.
Can you do the hike at night?
While it is possible to hike to Preikestolen at night, you better avoid it for your safety because of the lack of visibility. However, to experience a magical moment, we suggest starting the hike just before dawn to witness the sunrise from the top. This way, you can avoid the crowds and enjoy the breathtaking views in peace. Just bring a headlamp or flashlight for the early morning hike.
How many people die a year in Preikestolen?
On average, around one or two people die each year at Preikestolen due to falls from the cliff or other mishaps on the trail. These fatalities happen due to various reasons, such as lack of caution, intentional jumps, or ignoring safety warnings and guidelines.
What should you bring with you?
You should bring hiking boots, warm and waterproof clothing, food and water, and a map or GPS device. You should also bring a flashlight or headlamp if you plan to hike before dawn or after sunset. Additionally, a camera is a must to capture the stunning scenery along the way.
Can you camp on Preikestolen?
No, it is not allowed to camp on Preikestolen. The area is protected, and camping is only allowed in designated campsites. There are no campsites at the top of Preikestolen, and visitors are encouraged to plan their hike and camping accommodations.
What can you see nearby?
There are several other attractions and sights to see nearby Preikestolen. One of them is Kjerag, a mountain peak about 2 hours away from Preikestolen and features a famous boulder wedged between two cliffs. Additionally, the area has several beautiful fjords, including Lysefjorden, which is visible from Preikestolen and offers boat tours. The nearby city of Stavanger is also worth a visit.
What famous movies feature Preikestolen?
Several popular movies feature Preikestolen, including "Mission: Impossible – Fallout" (2018), "Ex Machina" (2014), and "The Wave" (2015). Finally, the classic James Bond movie "Never Say Never Again" (1983) includes a scene shot at Preikestolen, where Sean Connery's Bond is hanging from the cliff.