With its picturesque landscapes and amazing nature, Norway is one of the best tourist destinations in Scandinavia. But besides exploring the magical fjords, waterfalls, and towering trees, you might be interested in visiting some of the major Norwegian cities. While most of them are worth visiting, you might be wondering what are the most dangerous cities in Norway.
Norway is one of the safest countries in the world. Still, some cities carry a certain degree of risk for travelers. So if you are planning to explore this Nordic country, read this guide until the end. We will present to you the most dangerous cities in Norway!
Oslo
Oslo is Norway's most populated and famous city. In addition, Oslo is the capital of the country and the starting point for many tourists who want to explore Norway or Scandinavia. If you stroll around Oslo, you will find a distinctive fusion of old and modern architecture all across the city.
Moreover, the city is also brimming with large, open green spaces and statues created by Norwegian sculptor Gustav Vigeland. In short, Oslo is a fantastic location to study Norwegian history and culture.
Now speaking of the dangerousness of Oslo, it has a higher crime rate than the rest of the country. If you look at the stats, Oslo is where thefts occur most frequently, with 14.4 instances per 1,000 residents.
But as with any tourist attraction, it is not a surprise. Proceed with caution if you maneuver Oslo city to experience the Norwegian culture and heritage. Because many of these crimes fall against foreigners. And Particularly if you roam around congested areas, you might be at risk of theft and pickpocketing. Although the Norwegian police are well-trained and capable of acting quickly in any emergency, it is best to refrain from getting yourself in trouble.
Safety Advice
When traveling to Oslo, avoid traveling alone. If you are out late, after it gets dark, it is always safer to have a friend with you. Moreover, it would be best if you stay away from crowded places, as that is the favorite place of thieves. Finally, avoid leaving your wallet in an open bag or backpack where pickpockets can quickly get it.
Haugesund
In the southwest of Norway's stunning fjord coastline, amid the bigger cities of Stavanger and Bergen, sits Haugesund. This charming seaside city, set between craggy hills, beautiful fjords, and the chilly North Sea, was formerly the residence of influential Viking monarchs.
But what is outside of Haugesund is one of its main attractions. You'll discover little islands and islets to the southwest, while to the northeast, the enormous Boknafjorden and its several smaller outposts. There are mountains, waterfalls, and rocky shorelines to discover.It is a little city with roughly 34,000 individuals with amazing views to explore.
Despite having picturesque beauty, it is sad that Haugesund ended up on our list of the most dangerous cities in Norway. Crimes such as pickpocketing, theft, and burglary are common in congested areas. Moreover, the residents of Haugesund are kind and nice people, but not very friendly with tourists. You should be aware of the places to stay away from if you're new to Haugesund or moving there.
Safety Advice
If you want to enjoy your tour to Haugesunf to its fullest, refrain from going to crowded places. Moreover, you should also avoid walking the streets alone after dark. Finally, if you see someone fighting, refrain from getting involved.
Tønsberg
Since it was founded in the Viking Age, Tønsberg is the oldest city in Norway. Old warehouses, numerous dining places, lodging facilities, parks, and playgrounds make up the Tønsberg Quayside. So if you are up for an excellent location for a summer stroll, Quayside can serve this purpose.
Also, note that Tønsberg is a harbor city in Norway. And many tourists agree that it is one of the best. On top of all, strong entertainment traditions are also prevalent in Tønsberg. Although Tønsberg is home to only 50,000 people, it has one of the highest crime levels in Norway. So you can say it is one of the most dangerous cities in Norway.
Now, if we speak of its crime rate for every 10,000 individuals, there were 4 documented occurrences of homicide or manslaughter in 2018. These numbers are significantly greater than in many other Scandinavian cities.
Safety Advice
Most of the crimes in Tønsberg are theft and pickpocketing. When visiting this town, exercise caution and, if possible, avoid going alone at night. Moreover, it would be best to avoid going to crowded places with pricey belongings.
Bergen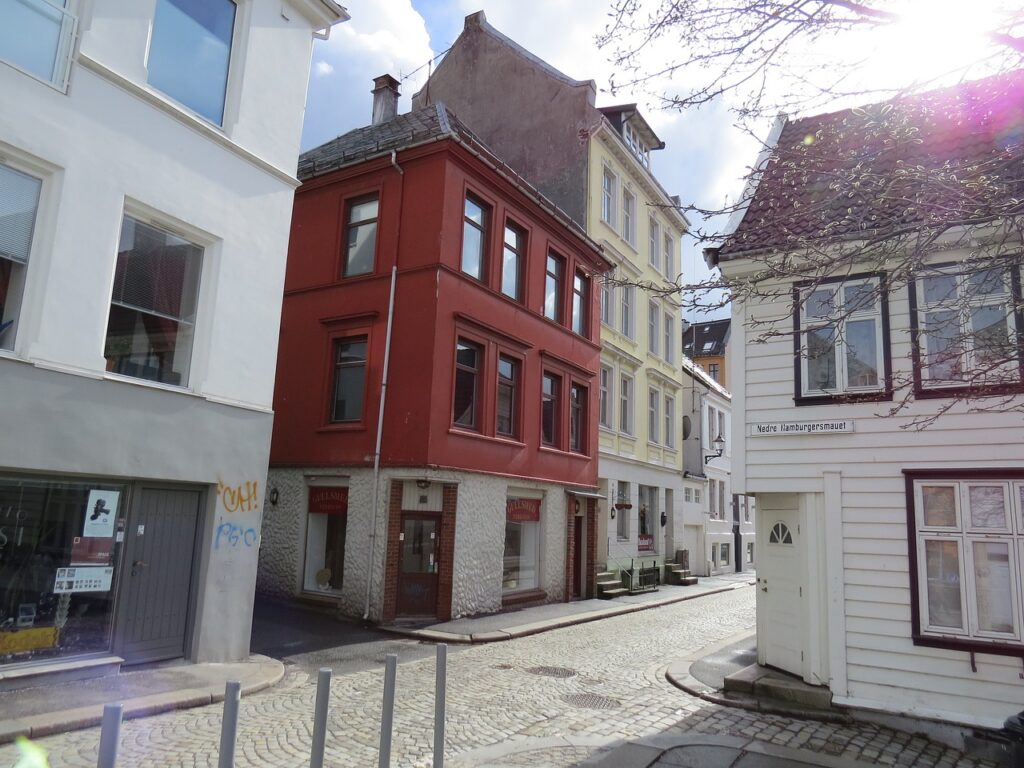 Bergen is also a port city situated on the west coastline. Since mountains entirely encircle Bergen, this Norway's second-largest city is also renowned as the "city of seven mountains." In addition to picturesque landscapes, the city is also a national hub for tourism, higher education, and banking. Moreover, Bergen is the center of Scandinavia for aquaculture, shipping, and subsea technologies.
Despite having countless tourist attractions, it is also one of the most dangerous cities in Norway. Considering the statistics, it has an almost 11% crime rate and a bad reputation for bike theft. But since it is a tourist hub, it is common to see this city on the list. As with other tourist hub cities, you can encounter pickpockets frequently here.
Safety Advice
Bergen is a safe city for you to explore unless you use your common sense when maneuvering. You should always exercise caution everywhere you go if you want to enjoy your trip without risk. Thus it is best to always keep an eye on your stuff. It would be best to refrain from carrying your documents and other essential belongings. Bergen is safe, according to practically all viewpoints, but it is still advisable to take all precautions to increase your safety and security.
Conclusion
Norway is an amazing country, home to rich culture and heritage, with picturesque landscapes and beautiful scenery. Although it is a safe Scandinavian country, it is best to know about the most dangerous cities of Norway. Make sure you use your common sense to stay safe whenever you travel to Norway. Never leave your belongings unattended in plain sight, and do not travel alone to rural regions after dark. If you just follow these simple rules, you have nothing to worry about.