Visiting Lysefjord is the perfect fjord experience. It really has it all! Mountains, waterfalls, hiking trails, and other stunning natural wonders are there waiting for you. This travel guide is your key to unlocking the wonders, discovering the secrets, and experiencing the sheer perfection of Lysefjord.
What is Lysefjord?
First, let's find out what exactly Lysefjord is. Lysefjord, which translates to "Light Fjord," is named after the lightly colored granite cliffs surrounding it. It is a fjord situated in southwestern Norway, in the region of Rogaland. It is 40 kilometers in length and reaches depths of up to 500 meters. Additionally, Lysefjord showcases impressive geological formations shaped by glaciers over thousands of years.
One of its most popular sights is the iconic Preikestolen, or Pulpit Rock, a massive cliff plateau 604 meters above the fjord. This famous viewpoint offers panoramic views of the fjord and its surrounding landscapes. Another must-visit spot is the daring Kjerag, where you can see the famous Kjeragbolten, a massive boulder between two cliffs. Finally, the waterfalls that cascade down the fjord's steep walls add to the picturesque allure of Lysefjord.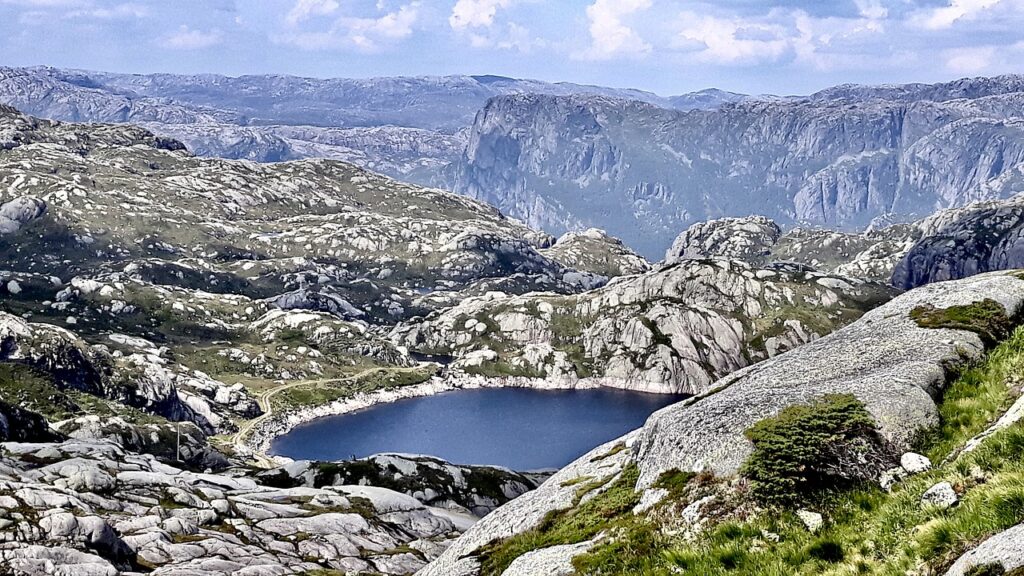 How to go to Lysefjord?
To get to Lysefjord, your gateway is the city of Stavanger. From there, you have a few options:
TAKE A TOUR
When it comes to visiting Lysefjord, taking a tour is often the best option. Guided tours provide convenience and expertise, ensuring you don't miss out on any of the highlights. Many tours from Stavanger offer transportation, allowing you to sit back and enjoy the scenic journey while an experienced guide shares interesting facts about the fjord and its surroundings.
Best Tours to Lyseflord from Stavanger
RENT A CAR
If you prefer a more independent adventure, renting a car is a great way to go. From Stavanger, you can rent a car and head northeast on Route E39. Follow the signs towards Lysebotn, the main entry point to Lysefjord. The drive takes approximately 2 to 3 hours, depending on the traffic and the stops you make. But make sure that you do make stops to enjoy the views as you navigate through the winding roads.
Best Car Rentals in Stavanger
TAKE A FERRY
Another option to reach Lysefjord is by taking a ferry. From Stavanger, you can catch a ferry to Lysebotn, which is located at the eastern end of the fjord. The ferry ride offers incredible scenery, passing through narrow fjord passages and towering cliffs. The journey takes around 2 hours, giving you plenty of time to enjoy the beauty of Lysefjord from the water.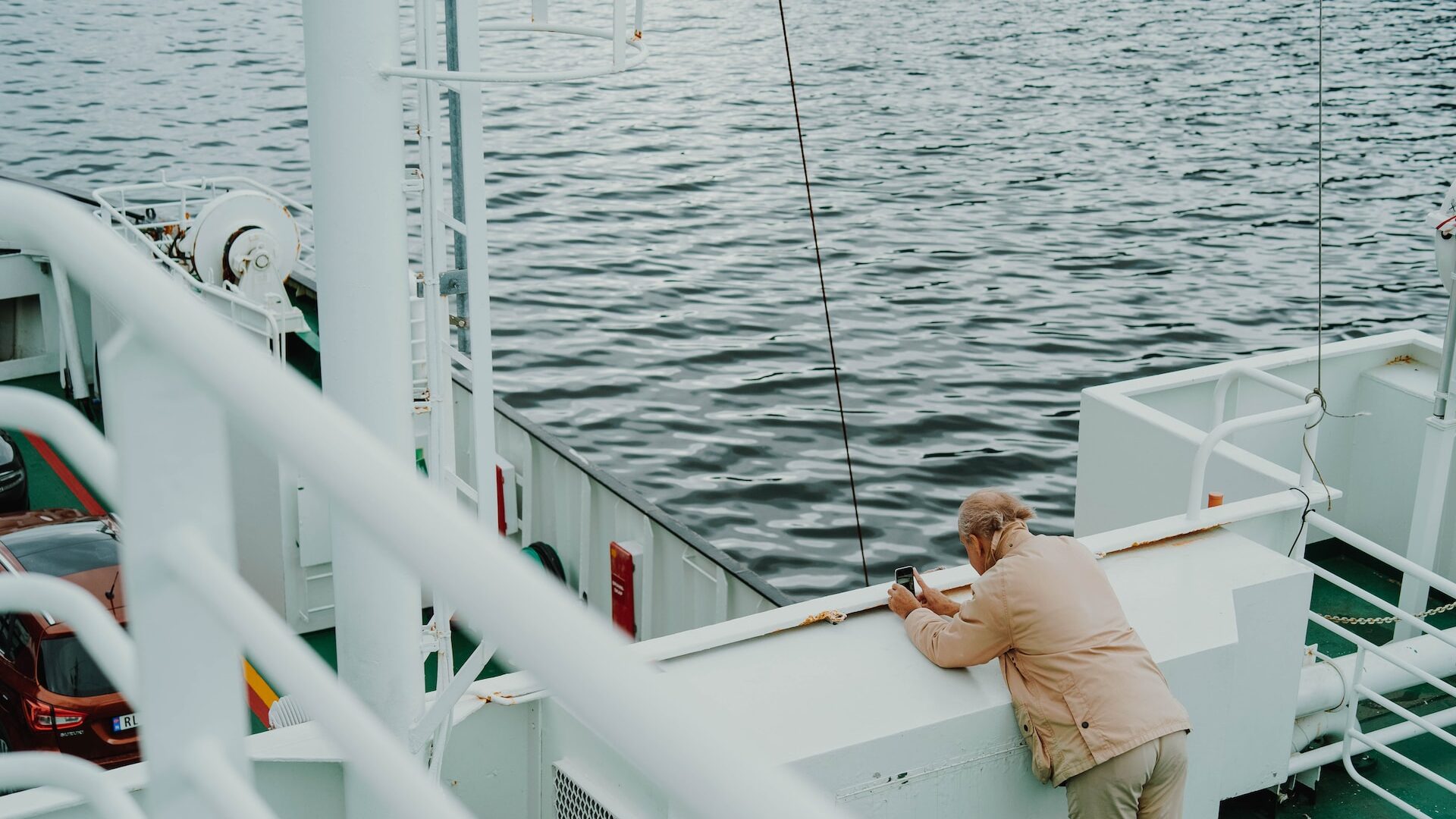 Where to stay
You can choose one of the following towns as a base to explore Lysefjord. They all provide easy access to the fjords and proximity to its natural attractions:
STAVANGER
Stavanger is a lovely coastal town in southwestern Norway. It has a pretty harbor, colorful houses, museums, art galleries, and a lively city center. You can explore historic streets and visit the famous Stavanger Cathedral. Stavanger is also a great base to explore Lysefjord, with different types of places to stay, from fancy hotels to affordable ones. You can join guided tours from here to see the best parts of the fjord. Finally, the town has a modern harbor where ferries depart daily to the key spots of the fjord.
FORSAND
Forsand is a small village located very close to Lysefjord, with some of its parts directly bordering the fjord. It is a peaceful place, perfect for travelers seeking tranquility and isolation. As a base in Forsand, you'll find limited facilities, including a few accommodations such as cozy guesthouses and cabins. You can also find some essential amenities, such as local shops and restaurants with traditional Norwegian cuisine. From Forsand, you can easily access hiking trails that lead to popular attractions like the famous Preikestolen (Pulpit Rock) and Kjeragbolten.
JØRPELAND
Jørpeland is a small town with charming streets and traditional Norwegian houses, creating a quaint and inviting atmosphere. From Jørpeland, you can easily access Lysefjord by taking a short ferry ride. The ferry departs from the harbor in Jørpeland and takes you directly into the heart of Lysefjord. The town itself offers a range of facilities to ensure a comfortable stay for visitors, including hotels, restaurants serving local cuisine, and shops where you can find essentials and souvenirs.
TAU
Tau is a small town with impressive landscapes, countless hills, and beautiful coastal views. It is a popular base to explore Lysefjord due to its proximity to the famous Pulpit Rock. To access Lysefjord from Tau, you can take a short ferry ride from the harbor. There is a wide range of accommodation options, from waterfront hotels to small bed and breakfast rooms in the countryside.
Best Hotels in and near Lysefjord
What to see in Lysefjord
Every corner of the fjord is worth seeing. But we have selected the top four sights that should truly not be missed:
PREIKESTOLEN (PULPIT ROCK)
Preikestolen is an iconic cliff formation that offers some of the best views of Lysefjord. The hike to reach the Pulpit Rock is not easy, but it is rewarding. As you stand on the edge of the towering rock, you'll be captivated by the stunning view of the fjord below. You can embark on this adventure independently by following the marked trail or join a guided tour for a more informative experience.
KJERAG
Another must-see attraction in Lysefjord is Kjerag. Kjerag is known for its daring cliff and the famous Kjeragbolten boulder wedged between two cliffs. The hike to Kjerag is more challenging, but the reward is unparalleled views of the fjord and the chance to step onto the thrilling boulder. You can complete the hike on your own, or book your spot on a tour for more safety.
FLØRLI 4444
Flørli is home to an impressive feat of engineering, the Flørli 4444 wooden staircase. This staircase consists of 4,444 steps, making it the longest wooden staircase in the world. As you ascend, you'll pass by picturesque waterfalls and enjoy incredible views of Lysefjord. It's a challenging hike that requires stamina, but the sense of accomplishment and the scenery make it worthwhile. You can climb Flørli 4444 on your own or join a guided tour that provides valuable information about the area.
HENGJANEFOSSEN WATERFALL
One of the captivating sights in Lysefjord is Hengjanefossen Waterfall. Hengjanefossen Waterfall is one of the most impressive waterfalls in all of Scandinavia. The waterfall plunges from the mountain, creating a stunning natural spectacle. Reaching the waterfall involves a scenic trek through beautiful landscapes. The hike is relatively easy, allowing you to enjoy the scenery and listen to the soothing sounds of rushing water.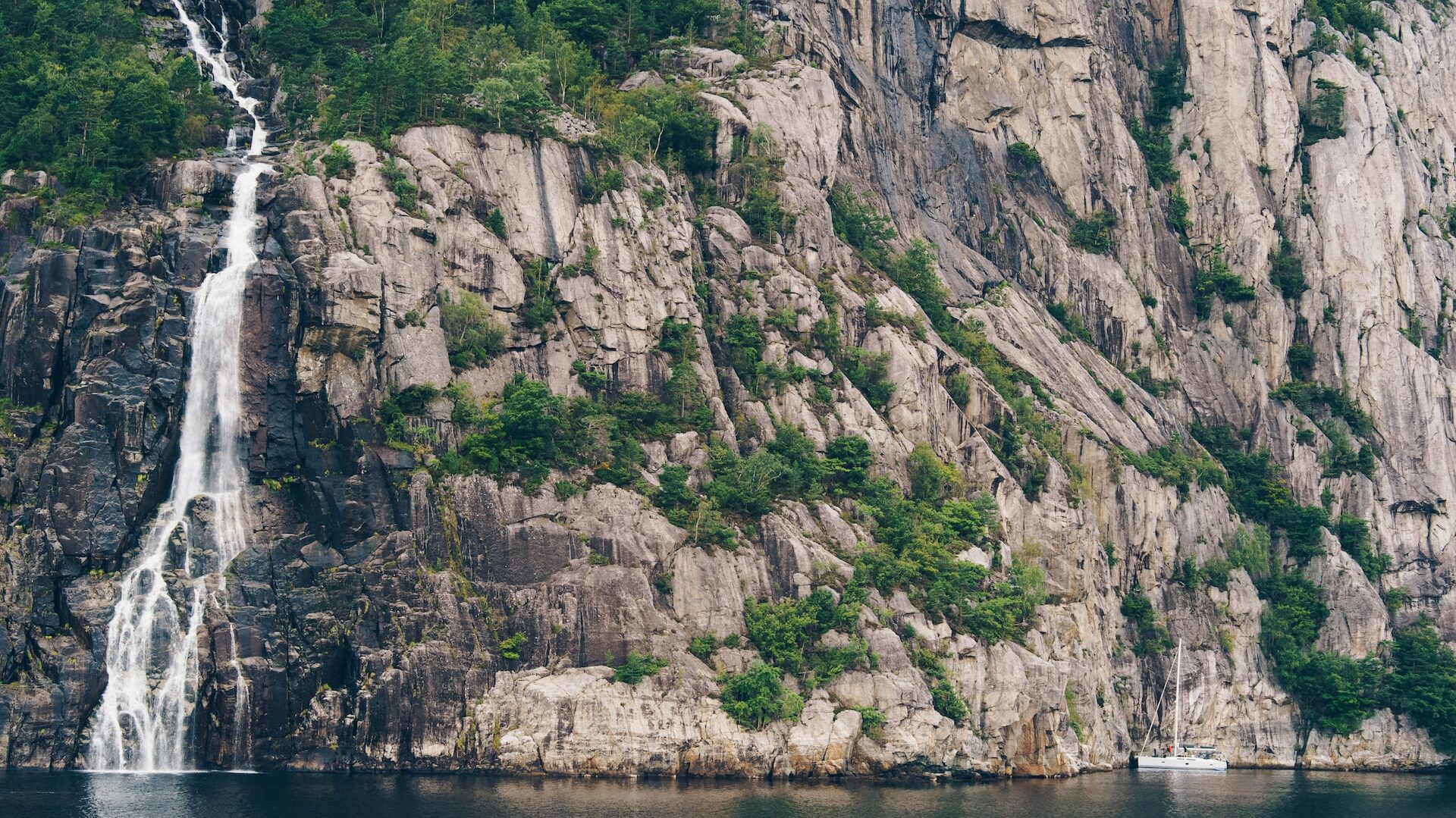 What to do in Lysefjord
The fjords in Norway provide excellent opportunities to try new sports or outdoor activities. Here are four outdoor activities that you can try at Lysefjord:
HIKING
Lysefjord is one of the best places for hiking in the landscapes of Norway. The fjord is surrounded by hiking trails, with more than 300 kilometers of well-marked paths. One of the most popular trails is the hike to Preikestolen, but other hiking routes are worth exploring. Some of the best hiking trails are the Månafossen and Skomakarnibbå hikes, and the Flørli 4444 Stairs hike with its thousands of steps and beautiful viewpoints.
KAYAKING
Kayaking in Lysefjord is an exhilarating way to explore the fjord. The best places for kayaking in Lysefjord include the peaceful Høgsfjord and the dramatic inner parts of Lysefjord, where you can admire its best sights up close. While some kayaking experience is recommended for tackling the fjord's varying conditions, many companies in Stavanger provide tours that cater to all skill levels.
ROCK CLIMBING
If you are seeking an adrenaline rush, rock climbing in Lysefjord is the outdoor activity you should try. The fjord's cliffs offer plenty of climbing routes suitable for different skill levels. Pulpit Rock and Kjerag are the most popular rock-climbing destinations. Safety is paramount, so it's better to go with a certified guide who can provide the necessary equipment, instruction, and support.
FISHING
Fishing is the activity you should try in Lysefjord if you just want to relax and enjoy the beauty of the fjord. Lysefjord is home to plenty of fish species, so it attracts anglers from far and wide. Some excellent fishing spots in Lysefjord are the waters near the fjord's entrance, where you can find cod, mackerel, and pollock. Additionally, the fjord's protected coves offer fantastic opportunities for fishing, with the chance to catch salmon and sea trout.
Popular Tours to Lysefjord from Stavanger
What is the best time to go to Lysefjord?
The best time to visit Lysefjord largely depends on your preferences and the kind of experience you're seeking. Each season offers its unique advantages:
Spring: Spring in Lysefjord is an ideal time for hiking, as the trails start to thaw and come alive with vibrant colors. The waterfalls are at their fullest, creating a mesmerizing sight. Additionally, the tourist crowds are relatively smaller compared to the summer months, providing a quieter experience.
Summer: Summer is the peak tourist season in Lysefjord because of the warm weather and extended daylight. The days are long, allowing for more exploration and outdoor activities. It's the perfect time for hiking to iconic spots like Preikestolen (Pulpit Rock) and Kjerag. The fjord is also great for kayaking and boat tours, providing spectacular views of the cliffs and waterfalls. However, be prepared for larger crowds during this time.
Autumn: Autumn in Lysefjord brings beautiful fall foliage, creating a fantastic landscape. The weather is generally calm, making it a comfortable time for outdoor activities. The hiking trails are less crowded compared to summer, allowing for a better hiking experience. This season also offers the opportunity to see the play of colors as the leaves change, adding a magical touch to your visit.
Winter: Winter transforms Lysefjord into a serene place with nothing but nature. The fjord is less crowded, providing a sense of calmness. The snowy terrain offers opportunities for winter sports like cross-country skiing and snowshoeing. The frozen waterfalls create a spectacular sight, and if you're lucky, you might even see the Northern Lights dancing across the Norwegian sky.
Some interesting facts about Lysefjord
Lysefjord stretches over 40 kilometers and reaches depths of up to 422 meters, making it one of the longest and deepest fjords in Norway.
The famous Preikestolen, or Pulpit Rock, towers 604 meters above Lysefjord.
Lysefjord is home to diverse wildlife, including seabirds, seals, and occasionally, porpoises and whales.
The Lysefjord area has a rich cultural history, with traces of ancient settlements and rock carvings that date back thousands of years, showcasing the region's historical significance.
The fjord's crystal waters reflect the surrounding cliffs, creating a mirror-like effect that adds to the fjord's ethereal beauty.
The Lysefjord region is part of Norway's protected natural areas, ensuring the preservation of its unique ecosystems and maintaining its pristine beauty for generations to come.
The annual Lysefjord Marathon attracts participants from around the world who challenge themselves to run a scenic route along the fjord.
The annual Lysefjord Triathlon challenges athletes to swim, bike, and run through the breathtaking landscapes surrounding the fjord.
The famous rock formation known as "The Monk" stands tall along the fjord, resembling a figure that appears to be contemplating the majestic surroundings.
Lysefjord's water temperature can vary between 6 to 15 degrees Celsius, offering a refreshing dip for those who are brave enough to swim in its chilly waters.
The fjord's geological formations were shaped over thousands of years by glaciers during the last ice age.
Lysefjord's natural beauty has attracted the attention of filmmakers, with several movies and TV shows using the fjord as a backdrop for their scenic and dramatic scenes.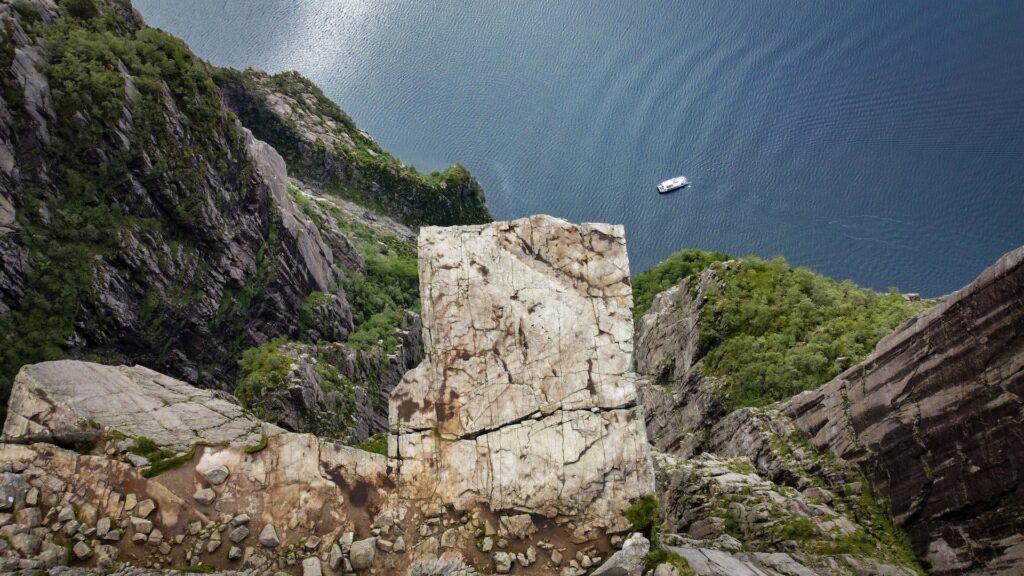 Conclusion
In summary, the possibilities in Lysefjord are endless, offering a wide range of attractions and activities. By referring to our Lysefjord travel guide, you can carefully plan your trip and create some memories that will last a lifetime. With a bit of preparation, you can organize a trip that truly captures the essence of this amazing Norwegian fjord.