If you are going to Norway and plan on visiting the breathtaking city of Tromso, there is no doubt that you will be amazed by the beauty of this place. The town is filled with magnificent landscapes that will take your breath away. For this reason, we have created an ultimate Tromso itinerary to help you enjoy this fantastic place.
In this 2 days in Tromso itinerary, we will show you where to go, what to see and when to do it. If you are planning a short trip or a more extended vacation, this guide will help you decide what to enjoy in the city.
What is the Best Season to Visit Tromso?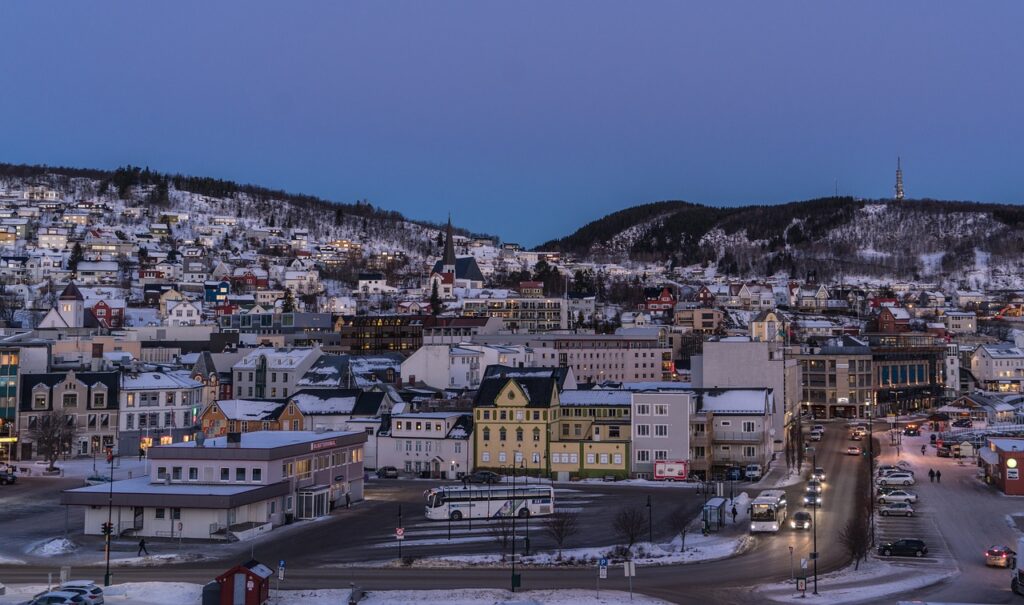 Tromsø is one of the most popular travel destinations in Scandinavia and one of the most beautiful areas in Norway. If you want to visit Tromso, you should consider a few things. The best time to visit Tromso depends on what you want to do there.
If you want to go skiing, you should avoid April and May, when there is too much snow on the slopes. If you're interested in seeing northern lights or whales, winter is the best time to visit Tromso. Summer is ideal for hiking or kayaking in the fjords, but it can be very windy and rainy during this season.
The weather conditions are excellent during spring and autumn. It's not too hot or cold, and there are fewer tourists than in summer. So consider visiting Tromso during these seasons.
Complete 2-days in Tromso itinerary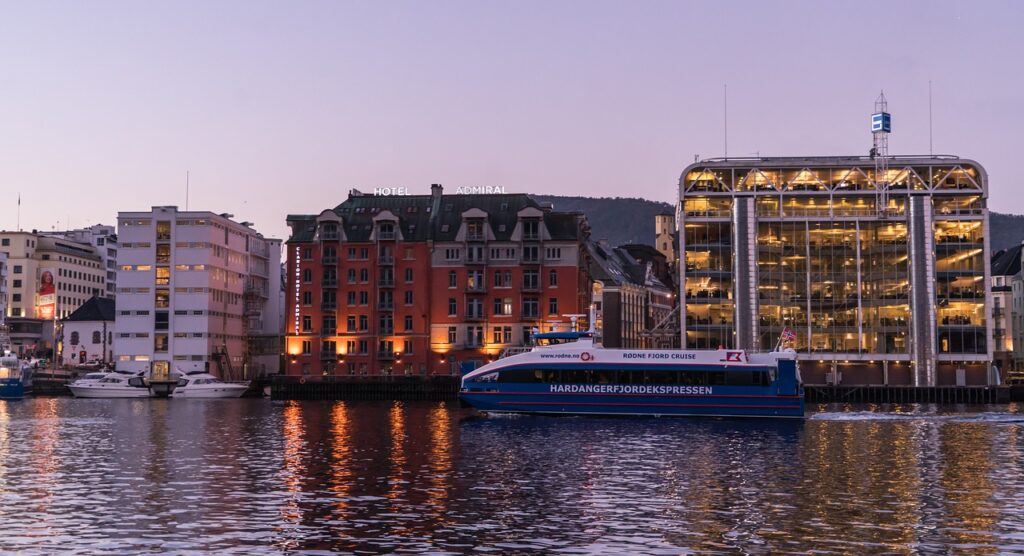 Here is a perfect 2-days in Tromso itinerary:
Day 1: Polar Fjord Cruise, Tromso Town, Tromso Harbor & Polar Museum, Night Reindeer Sledding
On your first day in Tromso, start with the Polar Fjord Cruise. This cruise will take you around the city on a boat and allow you to see the stunning views of its fantastic scenery. After this, head to Tromso Town, where you can walk along the streets and enjoy shopping at local stores.
After lunch, head to Tromso Harbor & Polar Museum. You can explore exhibitions about polar animals and learn more about how they survive in such extreme conditions. You'll also get to see many other exciting things, such as polar bears and other wild animals like reindeer living in their natural habitat.
At night, go on a guided tour of Tromso by night, where you'll see some of its beautiful lights at night! Then go on an exciting ride on an open sleigh pulled by reindeer!
Day 2: Tromso Ice Domes, Polaria or Beer Tour, and Northern Lights Tour
Start your day with a tour of the local ice hotel. The hotel is made entirely of ice and snow, so it's not open all year round (it melts in the summer). There are different ways to visit the hotel: you can book a guided tour, do it yourself with a personal guidebook, or take a self-guided audio tour.
After visiting the hotel, head to Polaria or Beer Tour — both offer great experiences! The beer tour will take you on a fun adventure through some of the best craft breweries in town. You'll get to sample local beers and learn about the brewing process. The tour lasts about 2 hours and costs 120 kr per person (children under 12 go free). Polaria is a polar museum where you can learn more about northern life — admission is 150 kr per person.
If you're looking for something more active, try Northern Lights Tour (included in your cruise ticket). This guided excursion takes you out into the open sea where there's less light pollution and more chances of seeing the aurora borealis!
What to do in 2 days in Tromso during winter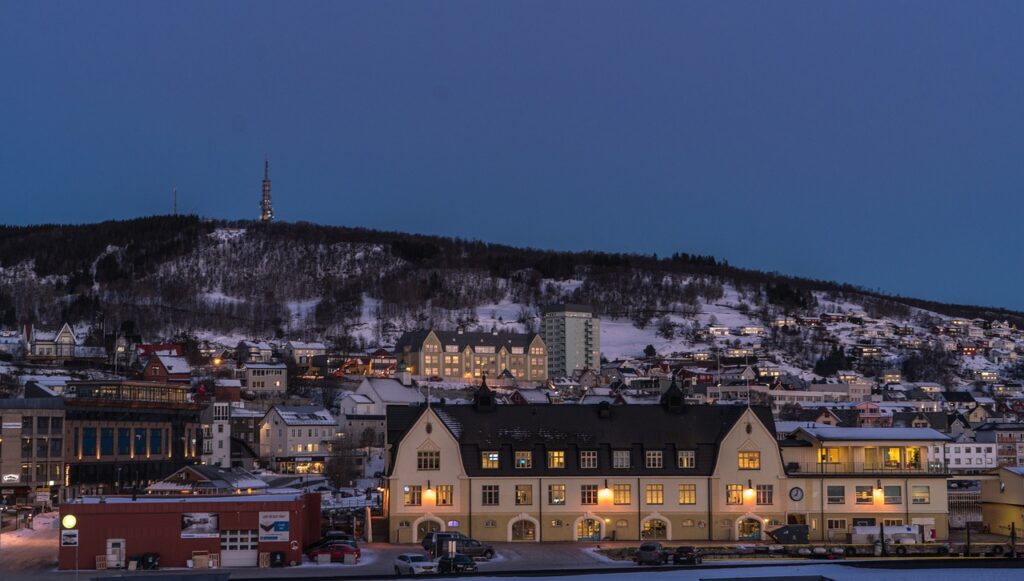 For a winter city trip, Tromso is the perfect destination. With its snow-capped mountains and fjords, it's one of the most beautiful places in the world in winter. So here is the winter in Tromso itinerary:
Northern Lights
Tromso is famous for its Northern Lights, which can be seen from September to April. The best time to see them is between December and March when the skies are clear. Several tours offer Northern Light tours from Tromso, including transportation and a guide. You won't feel disappointed if you go on one of these tours!
Fjord Cruise & Fishing
Fishing is popular in Tromso because of its location on the coast of Norway, where many lakes and rivers are nearby. If you want to go fishing but are not sure what kind of equipment you need, several companies offer guided fishing trips. Transportation and equipment rental is included, at reasonable prices. Some companies also offer boat cruises. So you can enjoy panoramic views while cruising through fjords or even visit islands nearby during summertime!
Whale Watching
In winter, the waters around Tromso are clear and calm, which makes whale watching easy and enjoyable. Several companies offer whale-watching tours around Tromso. The boats leave from various points around the city and sail out into the Norwegian Sea, where you can watch the whales breaching just meters away from your boat! It is an experience like no other!
Reindeer Feeding & Sledding
There are several companies offering reindeer feeding and sledding experiences around Tromso. This activity is great fun for all ages as you get up close with reindeer and even feed them yourself! Some companies even let you take a ride on a sled pulled by reindeer through some of the snow-covered streets of Tromso! It is a unique experience!
Dog Sledding
Most hotels in Tromso offer dog sledding tours. This is a great way to explore what life was like in this place before the invention of cars. The tour will take you to different locations around Tromso where your guide will explain how people lived here back then. You will also get the privilege to meet some of the dogs that pull the sleds, which will help you know how much work goes into making sure they are fit enough to pull the sleds around all day long!
Snowmobile Tour
If you prefer machines over animals, then why not try snowmobiling? Many companies offer tours from Tromso where you can learn about how these vehicles work and even have a go yourself if you wish! The tours usually start around 11 am or 2 pm, depending on when it's sunny. So check with your hotel before booking.
Snowshoeing Hike
The snowshoe hike is a great way to enjoy the winter scenery in Tromso, especially if you are not into skiing or snowboarding. It is also very easy to do it yourself, as you don't need special equipment or experience. Just grab your snowshoes and start walking!
Tromso Ice Domes
Tromso is famous for its ice domes, which are huge blocks of ice that form under the ground and then break through the surface when they melt during the summer. There are many ice domes around Tromso, but the most famous one is in the botanical gardens. You can go inside this dome and walk around it if you want some extra thrill!
Skiing
Tromso is a great place for skiing because of its long winters and a large amount of snow. Several skiing resorts are within an hour's drive from the city center. If you love downhill skiing, you can choose a resort that offers lift tickets at discounted rates during the high season (September – May). These include Storsteinen or Kvalvika Skisenter. If you want cross-country skiing instead, take a trip up to the Hardangervidda plateau, which is accessible by bus from Tromso City Hall.
Conclusion
A trip to Tromso can be great for a short break from regular life. And it just so happens that the 2 days in Tromso itinerary is your best option to use your time well when you're here. Hit the tourist attractions in Tromso, take in the gorgeous fjord, or go hiking. The choice is yours!