Norway is a country that exudes frosty enjoyment in the winter and festive fun in the summer. It is encircled by towering mountains, freezing glaciers, and magnificent seaside creeks. But the igloo hotels in Norway become your ground reality when visiting Scandinavian countries in winter.
With its soul-stirring terrain, some of Europe's most attractive communities, and alluring natural beauty, Norway is a must-see country for anyone with an adventurous soul. There are many places and activities to do over your summer vacation. But when you're not taking in the breathtaking Northern Lights, you may partake in a thrilling snowmobile, world-class skiing and hiking, and more via acquiring accommodation in igloo hotels.
The 6 Best Igloo Hotels in Norway
Read on to learn about the best igloo hotels in Norway if you're prepared to travel to this remote part of Scandinavia and want to stay in an exciting place.
Snowhotel Kirkenes – Bjørnevatn, Norway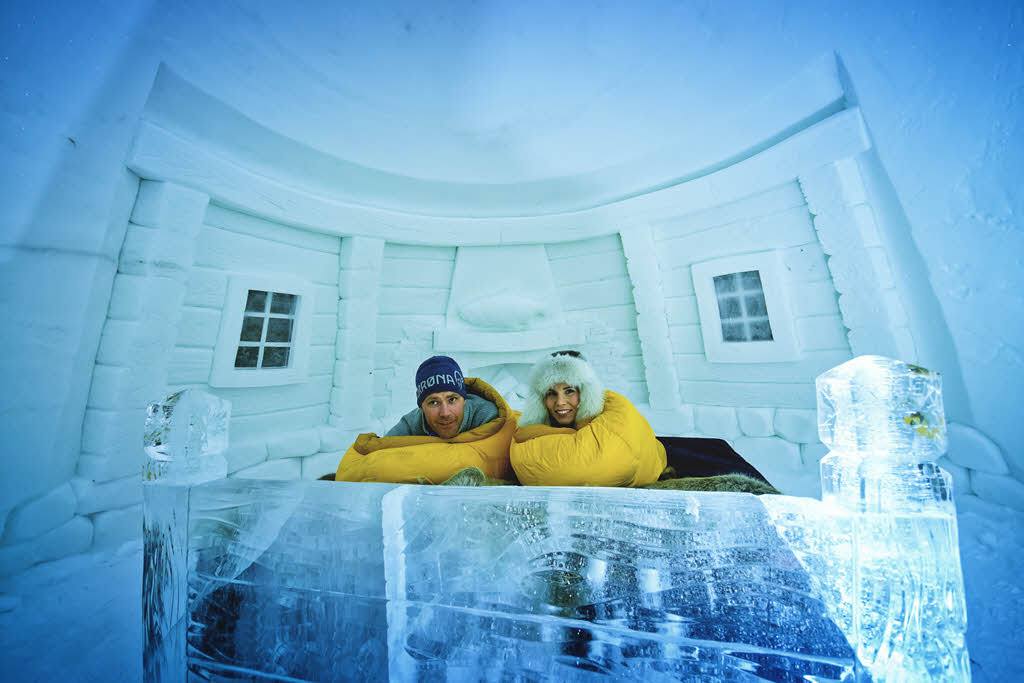 The rooms at Snowhotel Kirkenes hotel are furnished with cozy thermal sleeping bags and are entirely constructed of ice and snow. You will love to know that this hotel offers spectacular snow vistas in summer as well.
The Snowhotel 365 is protected from summer heat using cutting-edge cooling equipment. So you can visit a winter wonderland that is just as spectacular in summer as it is in December. In addition, there is a constant temperature of about 25 degrees Fahrenheit.
Furthermore, the hotel's cozy restaurant serves meals that include Norwegian cuisine. Besides that, homemade jam made from regional blackcurrants, rowan berries and cheese from nearby farms is also available.
If you are interested in accommodation in this hotel, the Snowhotel has 13 rooms, making it ideal for singles, couples, and big parties. Visitors can enjoy attractions like ice fishing, a husky safari, and a snowmobile safari. Alternatively, they can just visit the local husky farm to warm up. In the hot season between December 1 and April 30 prices start at roughly $370 per person for a twin or a double room.
Turf House & Arctic Dome – Kokelv, Norway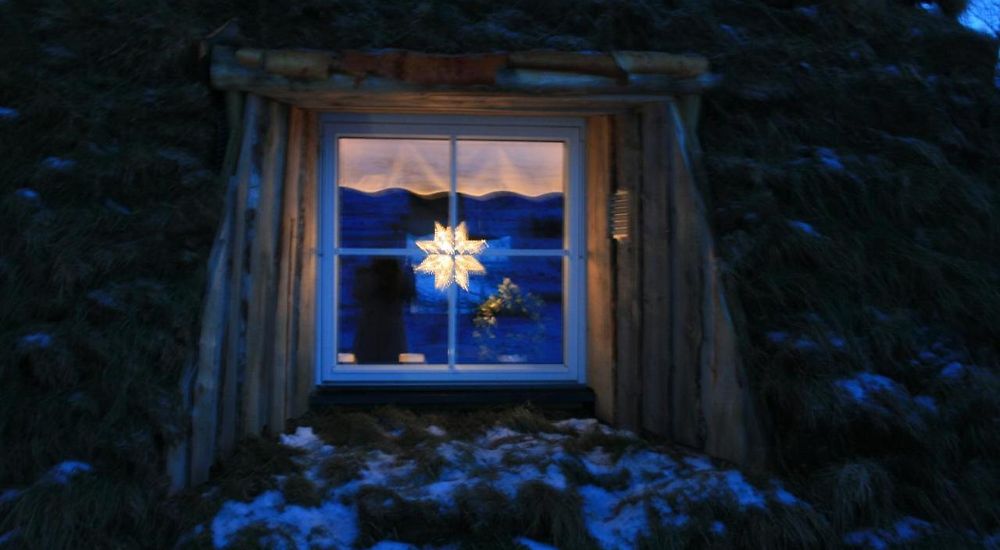 If you want a luxurious igloo to enjoy serene views and the best services, visit the Turf House & Arctic Dome. This lodging provides visitors with two accommodation choices. One is a quaint rural house that seems to have been inspired by a book of legends. And second is a magnificent dome-style tent outfitted with amenities you might find at contemporary hotels.
When staying at the hotel, you enjoy amenities such as a comfortable king-sized bed, a solid wood-burning stove, soothing warmed flooring, and beautiful vistas of the surroundings. Furthermore, if you are a visitor to the country estate, you can enjoy the relaxing hot tub and steamy sauna for free.
Tromso Ice Domes – Tromso, Norway
Approximately 60 miles (95 kilometers) from the center of Tromso, the Tamok Valley is home to the Tromso Ice Domes. It is widely praised as among Norway's top hotels for viewing the Northern Lights. This ice hotel is exclusively accessible from December to March, as it is restored each season with ice from the valley when the weather is too cold to support the ice construction.
The accommodations in the cold edifice feature guest rooms fully built of ice along with the bedframe. There is also great ice artwork on the walls. Additionally, there is an ice restaurant, an ice bar, and an ice theater.
Not to mention, the Tromso Ice Domes hotel offers a variety of activities. Non-hotel guests can reserve a trip that incorporates a trip to the Ice Domes. They can try various activities such as dog sledding, snowmobiling, or snowshoeing. You might also reserve a spot on a Northern Lights search cruise offered by the Ice Domes, which makes stops at nearby aurora camps.
Lyngen North – Rotsund, Norway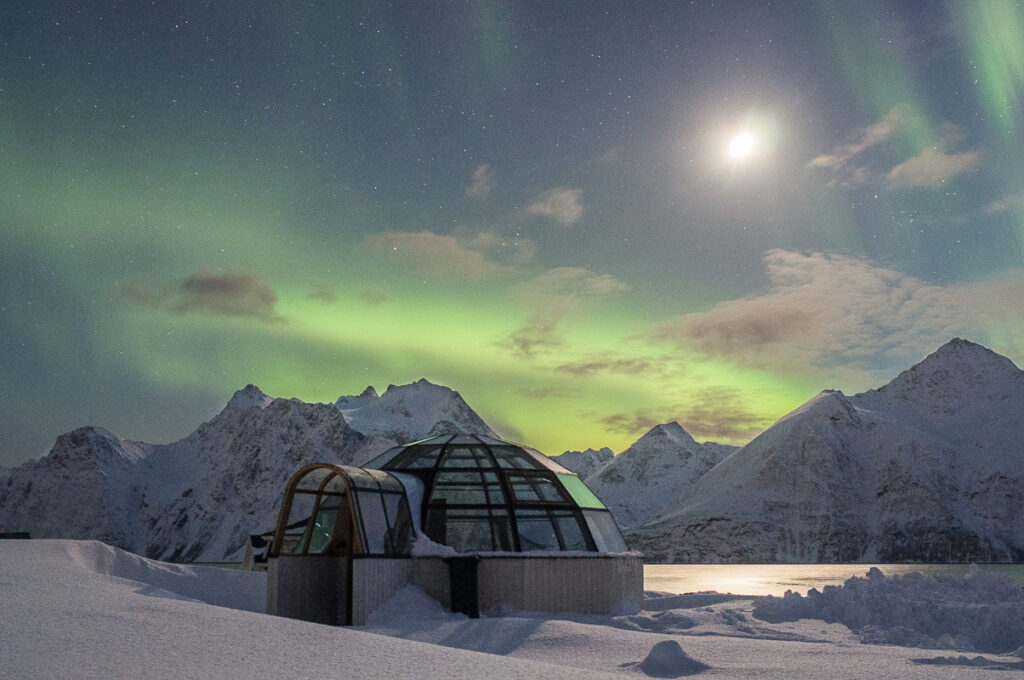 One of our favorite igloo hotels in Norway is Lyngen North. It is located on the banks of the Lyngenfjord in the country's extreme north. Lyngen North is a tiny family-run business. It offers two rental cottages, five extremely well-insulated glass igloos, stunning vistas of the Lyngen Alps, and the estuary frozen in winter.
Additionally, there is a restaurant on-site that serves incredibly fresh regional cuisine. Also, they arrange excursions into the countryside by dog sled, snowmobile, or snowshoe. Despite the coldest winter evenings, the igloos remain cozy and warm as the heat pump's setting can be customized to your preferences.
Sorrisniva Igloo Hotel – Alta, Norway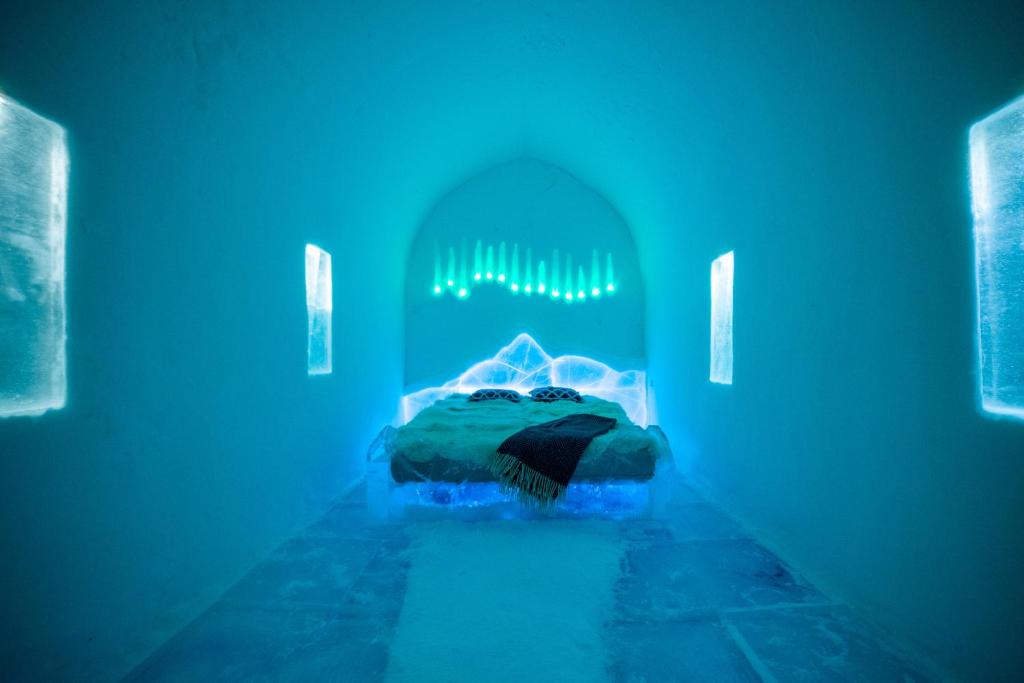 The Sorrisniva Igloo Hotel, the northernmost igloo hotel in the world, is situated on the margins of the Alta River. The temperature of this igloo hotel is maintained at 20 to 25 Fahrenheit degrees. Visitors can sleep warmly on beds covered in reindeer hides.
Moreover, there are 30 rooms and apartments, an ice bar, an ice chapel, and ice sculptures. It's also a fantastic place to see the northern lights. Tourists can even ride a reindeer-drawn sled in quest of the lights of the north. And if you want to enjoy the jacuzzi or open hot tub, you will also get that. Besides that, you can also rest by the ice bar for a drink served naturally in glassware crafted from ice.
Regarding the pricing of this igloo hotel in Norway, for a double igloo room, prices start at about $310 per night in December. It's just a little cheaper from January through April with prices starting at $280 per night.
The Wild Caribou Dome – Lakselv, Norway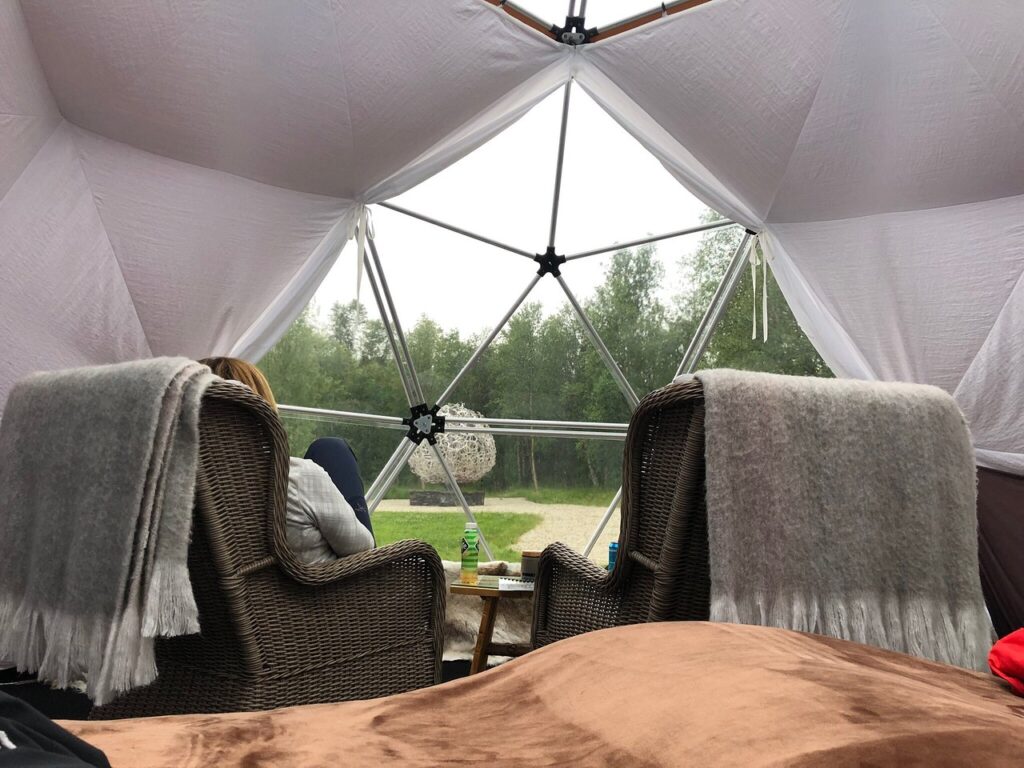 The Wild Caribou Dome is an igloo-shaped hotel. It is located just 2.4 kilometers from Brennelv. The best thing are the ceiling skylights for stargazing and seeing the northern lights. There is also a large pane providing vistas of the surrounding environment.
Wild Caribou Dome offers lodging in Lakselv with complimentary bikes, a garden, and room service. Moreover, you can get free WiFi, a balcony, and unrestricted parking. And best of all, the opulent tent offers a continental breakfast every morning. It's a true love getaway up in the heart of Norway, right beyond the Stabbursdalen National Park.
Conclusion
When it comes to winter, you can never go wrong with spending the night in igloo hotels in Norway. With stunning vistas and many fun activities, you can enjoy some of the best days of your life. We hope our guide on the best igloo hotels in Norway helps you get the best accommodation in Scandinavia!