Are you looking for a fun and exciting cruise that will take you on a journey through a fairy tale world? You should look no further! Mostraumen fjord cruise is just the way to go. Whether it's a honeymoon getaway or a family adventure, these Scandinavian cruises give every traveler the experience of a lifetime.
Mostraumen fjord cruises
Many cruises are offered through the magnificent fjords of Norway through various companies. By leaving the port to Mostraumen fjord, you can experience breathtaking views along the way. Such as wildlife, waterfalls, and mountains when traveling down the narrow waterway.
Bergen
Some will take you through Bergen, Norway's second-largest city. Bergen is also the only city in the world surrounded by seven fjords and seven mountains. That makes its scenery pretty unique, even for natives. You can visit Hanseatic Bryggen Harbor, which is known for its colorful architecture and abundant history. Most of the offices and warehouses in the city have bright exteriors, making the city look more lively.
Bergen is also home to the Old Bergen Museum. That's an old air museum where they reenact performances during tours through historic wooden buildings. If you prefer less action, you can sightsee from the Flam Railway. This happens to be the only railway in the world that runs so steeply over ordinary tracks. Flam Railway passes through vast valleys with waterfalls and hosts plenty of wildlife while reaching heights of up to 900 meters (2,952 feet).
Balestrand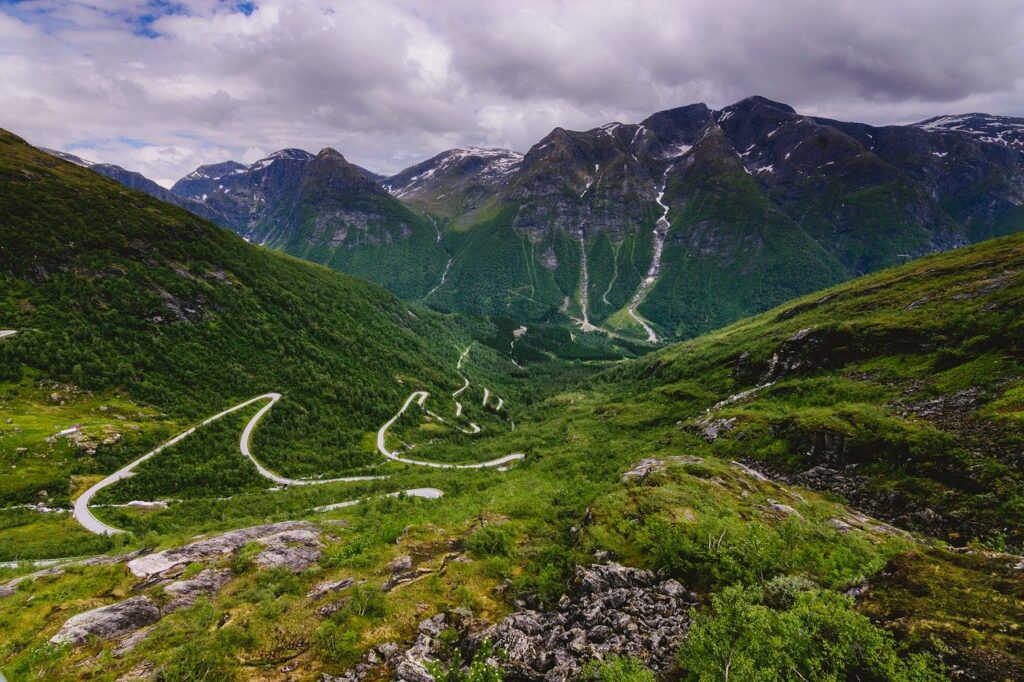 You might find yourself in Balestrand, which offers fjord and glacier excursions additionally to many more activities. Gauler Mountain is known for its panoramic views and long winding roads. This mountainous area in central Westland County offers an enticing and peaceful drive down Norwegian County Road 613. It stretches almost 50 miles and offers breathtaking scenery during your trip.
Geiranger
These Mostraumen fjord cruises can also bring you to Geiranger. Geiranger is a village in western Norway at the head of Geirangerfjord. Of all the fjord cruises you could go on, this will bring you to Norway's most visited fjord. Geirangerfjord is a UNESCO World Heritage Site. This is a fjord full of wondrous waterfalls, deep blue waters, and protruding mountains. You will see visitors enjoying trolly boat tours around the fjord. Some of them might even be river rafting. Those trolly boats go back and forth between Geiranger and Hellesylt, the country's oldest Viking port.
Included in these tours you can also visit the Seven Sisters. This is one of the most infamous and breathtaking waterfalls, as it flows flawlessly into the fjord below. Visit the Geiranger Skywalk if you're a big fan of heights, a platform that stands 1500 meters (4,921 feet) above sea level. Take Eagle Road to the Ørnesvingen lookout point, where you can tour the Norwegian Fjord Centre and learn how these weird formations became what they are today. Geirangerfjord is also a great place to go water skiing or canoeing. If you prefer staying out of the water, you can go fishing or hiking. Hiking trails around Geirangerfjord offer some of the most jaw-dropping views of Scandinavia, so bring your camera!
Kristiansund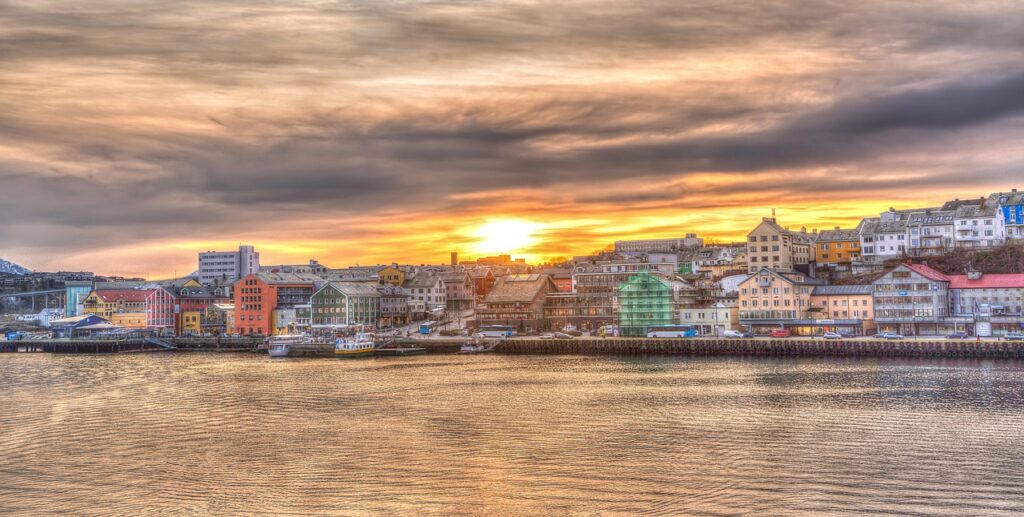 Kristiansund, which is along the way, and happens to be one of the most populated cities in Norway, is known for its infamous Battle of Rastarkalv on the island of Frei. There is a memorial now near Rastakalv that the public can visit to obtain more history. Trondheim, which is nearby, is known as the technology capital of Norway. This is due to it being the home to NTNU (Norway's Science, and Technology University) and the research institute SINTEF. While on this adventure, you could also check out the Archbishop's Palace Museum. It showcases archaeological discoveries and sculptures such as the gargoyles, that were removed from the cathedral.
Hurtigruten & Trondheim
If you choose to cruise to Hurtigruten, you will have plenty of history and wildlife to take in along the way. This attraction hosts many delectable dishes and on-shore excursions. You could check out Trondheim, Norway's third-largest city and first capital, or take a trip to see its most lovely lighthouse, Kjeungskjæret. This is also the perfect opportunity to cruise through the Arctic Circle – also known as the Land of the Midnight Sun – due to the sun never sets in the summertime. Finally, during the winter months, you could catch a glimpse of the Northern Lights.
Hardangerfjord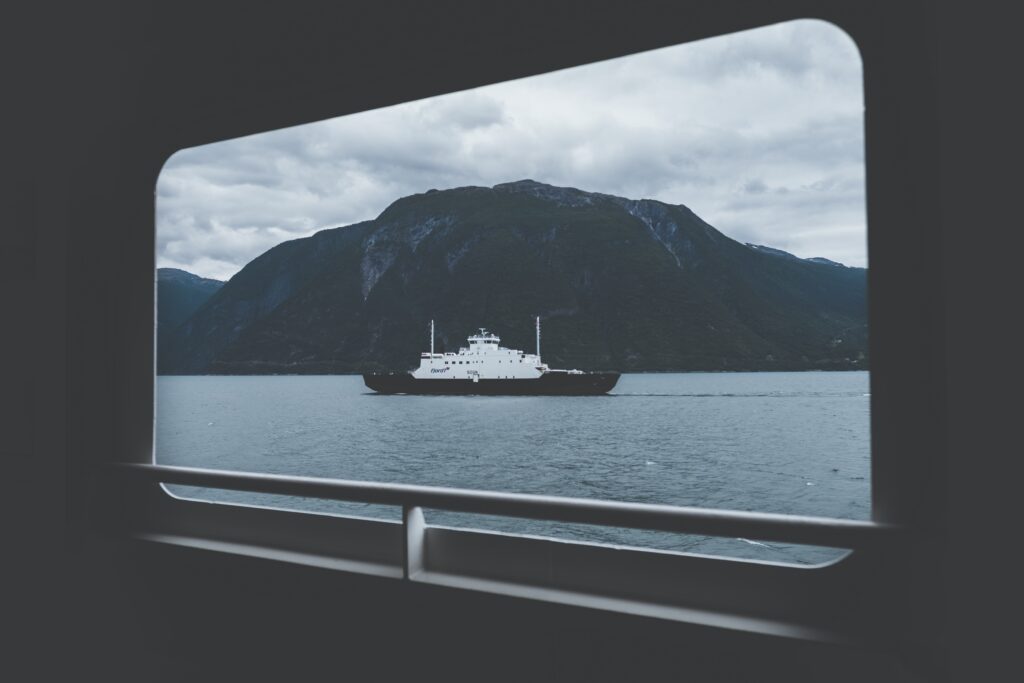 Hardangerfjord is another magnificent place your could cruise. It is also known as the Orchard of Norway due to its flourishing region that boasts fruitful trees and gardens. It is the third-largest fjord in the world. Travelers love this place around May. Spring is the perfect time to enjoy trees, bushes, and gardens bloom. Although take note that many of the hiking trails in this region are only open from June through September, so they may not be accessible during other parts of the year or only accessible during a guided tour.
Hardangerfjord offers cruises around its wondrous fjord, as well as kayaking if you prefer to explore solo. The surrounding areas also offer scenic drives, or you can hit the trails, which are known to be a hiker's heaven. There are many hiking and biking trails where you can see some of the wonders of nature, such as taking a hike behind the Steinsdalsfossen waterfall.
Hardangerfjord is home to Norway's most dazzling waterfall, the Vøringsfossen Waterfall, which lies atop Måbødalen valley. This waterfall has a free fall of 145 meters (475 feet) and a total fall of 182 meters (597 feet) and is the 83rd highest waterfall in Norway. Hardangerfjord is also home to Folgefonna Glacier, which is Norway's third-largest glacier, and also Trolltunga, a massive rock extending from one of the mountains which offers a captivating aerial overlook.
Conclusion
Mostraumen fjord cruises offer many different beautiful places to visit, on land or on a boat. Luckily, most of these cruises allow for time to enjoy the stops they make along the way. Although it never seems to be enough time, time flies when you're having fun!