The Naeroyfjord (Nærøyfjord) is situated in Vestland county, Norway, and is the most beautiful arm of the largest Sognefjord. It is surrounded by extraordinary natural wonders, such as steep mountains and deep valleys. The fjord is carved out of slate and granite, with gnarled black rocks rising from the sea. The mountains surrounding it are covered with trees, grass, and other vegetation. Getting around Naeroyfjord by boat or kayak is a lifetime Scandinavian experience.
Getting to the Naeroyfjord
The direct way to get to the Naeroyfjord is by boat. Several companies operate tours in this area, including Hurtigruten and Nordkapp Travel. These companies offer various tours, including visiting the Naeroyfjord as part of their itineraries. Some will only take you as far as Hellesylt, about halfway between Bergen and the Naeroyfjord. Other tours will take you from Bergen to Førde, just outside Ålesund on mainland Norway.
Where to Stay
You won't have any trouble finding where to stay when visiting Naeroyfjord (Nærøyfjord). There are plenty of accommodation options (hotels, hostels, and Airbnb rooms) in the area surrounding the fjord. Some are located right at the coast, and their rooms offer stunning views of the Naeroyfjord. There are also some hotels further inland if you prefer not to be so close to nature or if you want something more luxurious than a hostel dormitory room.
What to see at the Naeroyfjord
The Naeroyfjord is a fjord in Norway surrounded by glaciers and mountains. Its name comes from the Norwegian word "naerøy," which means "narrow island." There are five main islands at the Naeroyfjord, from north to south: Snø, Bødalen, Tottan, Fjærland and Nautøy. The largest of these is Fjærland, which has a population of around 100. The Naeroyfjord is a popular destination for kayakers and people who enjoy cruising on the water.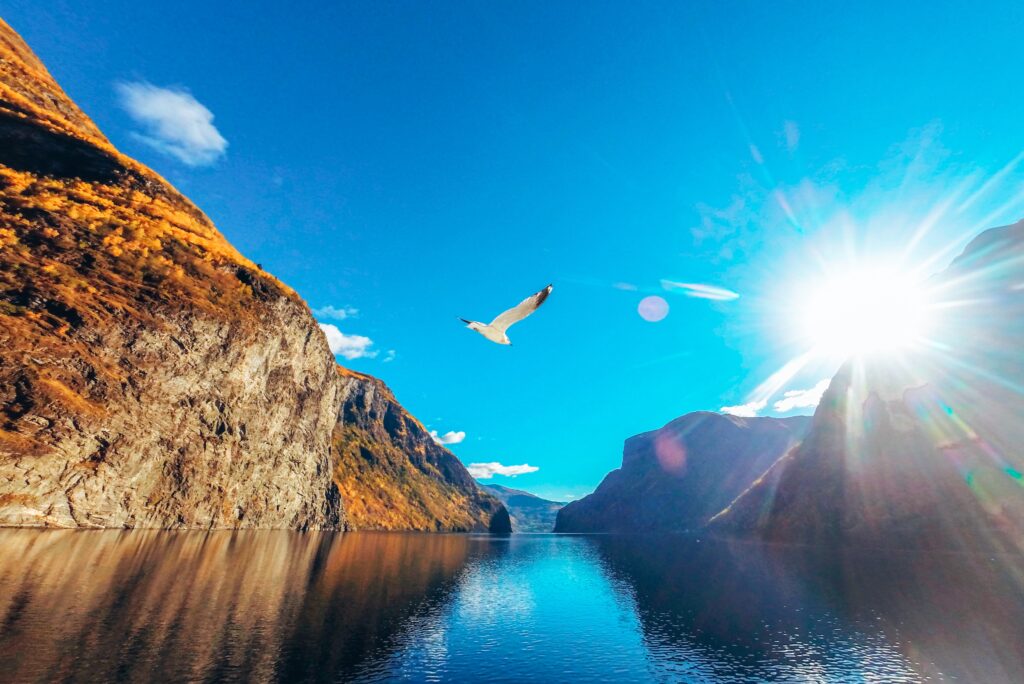 Activities at the Naeroyfjord
The Naeroyfjord is a UNESCO World Heritage Site for a good reason. The fjord is home to a variety of wildlife, that you will find the chance to discover while enjoying any of your favorite activities. In the summer months, you can tour the islands by boat. In the winter months, you can go hiking. Some hiking trails are marked, but they're not always easy to find. If you like fishing, there are also some good fishing spots in the area.
Here are the ten most enjoyable activities to try while visiting this unique area:
Kayaking
Naeroyfjord is one of the most popular kayaking destinations in Norway. Kayakers can explore the fjord at their own leisurely pace, paddling through small coves on calm days or challenging themselves with more demanding rapids. The water is calm, and there are many places to stop for lunch or enjoy the scenery. You can also swim in the fjord if you're brave enough! But we would not suggest that! The average temperature is 4 degrees throughout the year.
Ice climbing
Ice climbing is one of the most popular winter activities in Norway. The Naeroyfjord offers an abundance of frozen waterfalls formed over thousands of years by glacial movement. The ice formations create an ever-changing landscape, constantly evolving with each passing winter season. If you're feeling adventurous, then try your hand at ice climbing! The ice is thick and strong enough! It won't break under your weight, so there's no fear of falling into freezing water. It's also freezing, so dress accordingly or bring gloves if you don't want to get frostbite!
Hiking
The hiking trails around the Naeroyfjord take you on a 4-5 hour walk with beautiful views of the mountains, waterfalls, and rivers. The hike starts at Fiskebøl and ends at Skageflå. You can try a shorter hike by the trek at Skageflå or by making a longer trek that goes further into the area of Dalsnibba. This hike is excellent for all ages because it's not too challenging but neither too easy. There are some steep parts but nothing too extreme if you're just starting with hiking or don't want to climb too much.
Dog sledding
The best way to experience the Naeroyfjord area is by taking a dog sled ride with one of the local companies. You can either rent your dog sled or go on a guided tour with an experienced guide who will tell you about local history and culture while you glide across frozen lakes and snowy fields.
Mountain biking
The Naeroyfjord (Nærøyfjord) is an excellent location for mountain biking. Biking enthusiasts can enjoy several different cycling routes in the area. There are also several rental outlets to hire a bike from if you do not have one of your own.
Rock climbing
Rock climbing is popular in Naeroyfjord, with some of the best rock climbing sites in Norway located here. The main climbing site is at Stenskalv, close to the ferry pier at Laupstad. But there are also other areas where climbers can get their fix. A guide is required if you wish to climb difficult routes. They will be happy to show you around the area and help you find the route that fits your ability level.
Fishing for salmon and trout
The Naeroyfjord is rich in fish, especially salmon and trout. It is one of the best fishing destinations in Norway. In the summer, you can go fishing in the fjord, hire a boat, or participate in an organized fishing trip.
Sailing the fjord in a yacht or a speedboat
Naeroyfjord is one of the best sailing destinations in Norway. When it comes to sailing through this beautiful fjord, you can choose between two options: either rent a yacht or take part in an organized day trip by speedboat. Both options offer great opportunities for taking photos of the beautiful landscape from above water level and below it!
Birdwatching
The Naeroyfjord area is famous for its birdlife. There are more than 70 species of birds in the fjord. Several rare species such as the Great Cormorant, Little Grebe, and Black-throated Diver also live there. You can see them from the fjord or the footpaths that run along it. The GeoCenter Naeroyfjord also has an observation tower where you can look out for birds from above.
Visiting the GeoCenter Naeroyfjord
The GeoCenter Naeroyfjord is located at the end of the fjord at Hundholmen farm. This is where you will find an exhibition about how glaciers form and move, as well as information about how the landscape has changed since it was settled by man thousands of years ago. In addition, there are changing exhibitions on various topics related to nature and culture in Norway.
How Many Fjords Are There in Norway?
Norway is known for its scenic fjords and narrow inlets that extend deep into the country's mountainous coastline. This land of contrasts has incredibly fertile farmland and some of the tallest mountains in Europe, earning it a reputation as an adventurer's paradise.
But just how many fjords are there in Norway? While the answer depends mainly on how you define a fjord, it's generally accepted that there are a little over 5,100 "long" fjords and 1,500 shorter ones. The number keeps changing as scientists explore more of the country's territory. But this estimate by the Norwegian Geographical Society comes close to what most people would probably expect.
The average Norwegian fjord is about 20 miles long, but there is some that stretch for over 90 miles. They're located throughout the country and can be found in all of Norway's 19 counties. Most fjords are about 1,000 feet deep at their deepest point, with an average depth of 400 feet. Some fjords reach depths of nearly 5,000 feet at their widest point.
Conclusion
The Naeroyfjord is an illustration of the natural beauty Norway has to offer. It's a superb destination for nature lovers and adventure seekers. So if you're planning to visit Norway, visiting this fjord should definitely be included in your schedule!