Bergensbanen | The Bergen line
Bergensbanen – or the Bergen railway, as is known in English – is the railway route that connects Norway's two biggest cities. In this article, you'll find many reasons why the train journey from Oslo to Bergen is an unmissable experience!
It goes without saying that the Bergen railway is not the only way to get to Bergen from Oslo. If you're planning on taking this trip, here are your options:
Travel from Oslo to Bergen by bus
There are two different bus routes that you can choose from if you want to get to Bergen from Oslo: One that goes through Haukelifjell and one that goes through Valdres. The latter is often preferred due to the fantastic scenery that you get to enjoy while you travel. Both routes include a bus change during the trip and they last for approximately nine and a half hours. Taking the bus is possibly the cheapest way to get to Bergen though it takes the longest.
Travel from Oslo to Bergen by airplane
Catching a flight from Oslo to Bergen is by far the fastest way to get there. It typically takes less than an hour, while the second fastest option which is the train, needs more than six hours to reach its destination. Also, getting to Bergen city from Bergen Flesland Airport is a fairly undemanding task, as there are enough options for your transportation.
If time is an issue, taking a flight from Oslo to Bergen is the obvious thing to do. The drawback to this though is that will miss a chance to experience a wonderful train ride. The Bergen railway offers unparalleled views of the Norwegian landscapes.
Travel from Oslo to Bergen by train
One of the most celebrated train rides in the world, the Bergen line (or Bergensbanen in Norwegian) is one of the most beautiful railway routes in Europe.
Every year, countless visitors take the train from Oslo to Bergen. Not only because it is a safe and convenient way to travel between the two cities. Bergensbanen is also an authentic Norwegian experience, a glimpse of Norway's wild and wonderful nature. I strongly recommend getting a window seat to enjoy the scenery as much as possible.
Bergensbanen history | How the Bergen railway was made
Construction work on the Bergen line started as early as 1875. However, it wasn't until 1909 that the Bergen railway was finally able to connect the two major cities. The first train to make the historic route arrived in Oslo from Bergen on 25 November 1909.
The railway's construction was exceptionally difficult, as 182 tunnels had to be dug manually through solid rock and under extremely harsh conditions. Many thousands of workers had endured, among other hardships, the piercing cold of an inhospitable environment the Bergen line was completed. Their courage created what King Haakon VII hailed as an engineering masterpiece.
Getting your tickets for the Bergen line
First things first, be provident enough to book your ticket here. You can find considerably better prices if you buy your ticket in advance. In addition, don't neglect to check if you are entitled to a discount (in case you are a student, a senior citizen, etc).
When buying your tickets, do consider getting seats that are on the side of the train that has the best views. The better side is the left when you are going from Oslo to Bergen. Accordingly, the right is the better side when the train goes from Bergen to Oslo.
How to get from Oslo to Bergen by train
The starting point for our trip is the Oslo Central Station, which is located in the center of Oslo. From there, we board the train and our westward journey begins.
The train journey from Oslo to Bergen
Once you are on board, your only task is to sit back and relax. The seats are comfortable and, if you were lucky or quick enough to get your ticket early, you are now sitting next to a window. What follows is one of the most scenic train journeys in the world.
Bergensbanen | our journey to Bergen begins
After a couple of hours, the train arrives at Flå Station in beautiful Hallingdal. There you can gaze at the Hallingdalselva, the Hallingdal river, as the train moves alongside it across the valley.
The Hallingdal area is a popular destination for many, including mountain bike enthusiasts. There are enough thrilling mountain bike trails to make this an exciting destination for fans of the sport. However, the area is probably more well known as a skiing destination and is also extremely popular among hikers.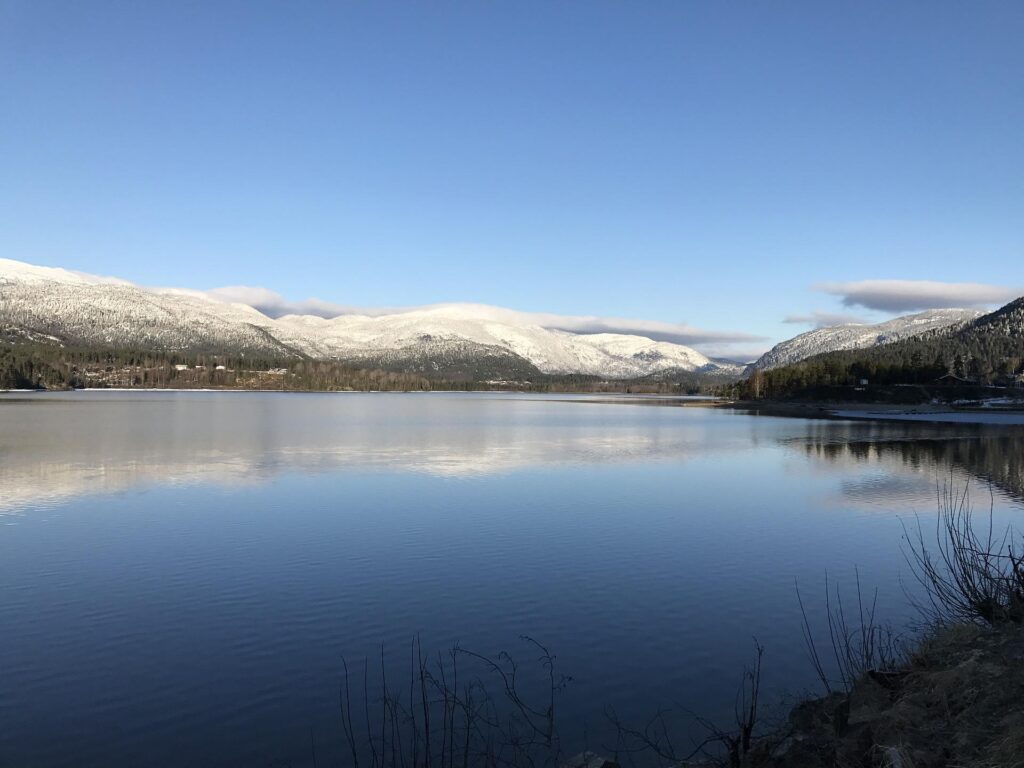 Very close to the station is Bjorneparken, also known as Bear Park. Despite its name, it doesn't have only bears in its enclosures but also some other wildlife. In case you decide to visit it expecting to see the bears, keep in mind that they hibernate during winter!
Bergensbanen | Geilo Stasjon
The Bergen line is now about three and a half hours away from Oslo and the train reaches Geilo. This is another skiing destination that is extremely popular and offers a great variety of action-packed outdoor activities. Rafting in the Numedalslågen river is also an option and I can attest it's a fun and fascinating thing to do!
Bergensbanen | Hardangervidda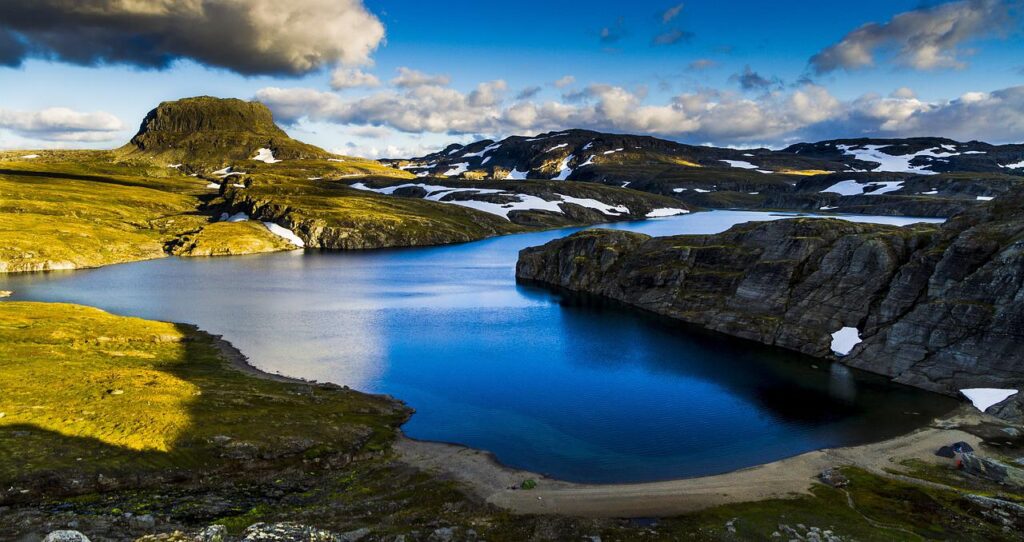 Hardangervidda, the famous mountain plateau, appears after Geilo. I often find this the most impressive and satisfying part of the trip. It is the largest natural park in the country, and the scenery is nothing short of spectacular.
Fun fact: Hardangervidda was a filming location for the 1980 film Star Wars: Episode V – The Empire Strikes Back! Filming took place in Hardangerjøkulen, depicting the frigid planet Hoth.
Bergensbanen | Finse stasjon
After Haugastøl, up next is a stop at Finse station. Located at 1222 m above sea level, this is the highest train station in Norway. Finse is a tiny village and by train is the only way to get there. The 1948 novel "The Blue Ice" by Hammond Innes, partly had Finse as its setting, while Anne Holt's "1222" also takes place in the village. Some might think that this piece of information can be a bit redundant, but, in my opinion, it just goes to show the special atmosphere of this isolated little place.
Bergensbanen | Voss stasjon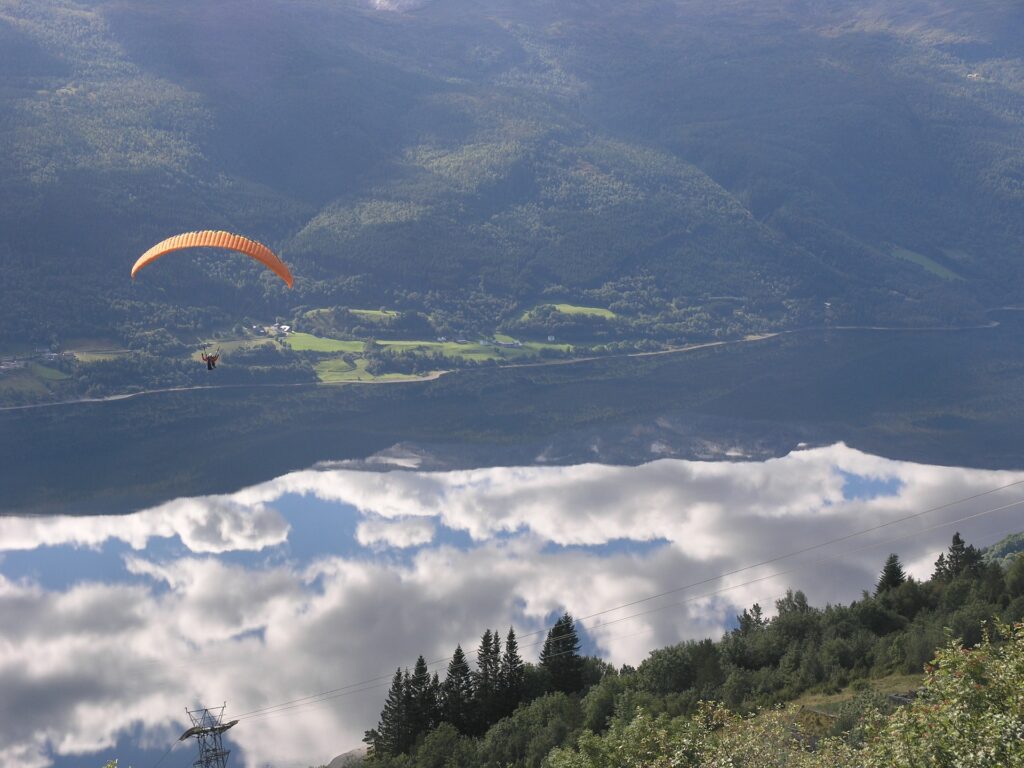 Our trip from Oslo to Bergen continues and not many stops are left until we arrive at our destination. One of them is Voss, a town situated between Norway's two largest fjords, the Sognefjord and the Hardangerfjord. It is often described as an outdoor enthusiast's paradise and rightly so, as the variety of activities it offers is vast. Hiking, skiing, rafting, paragliding, sup riding, and many more options in outdoor recreation are available, though, it has to be said, Voss is a pretty little town, worthy of visiting even if you are not an extreme sports enthusiast.
Bergensbanen | Arriving at Bergen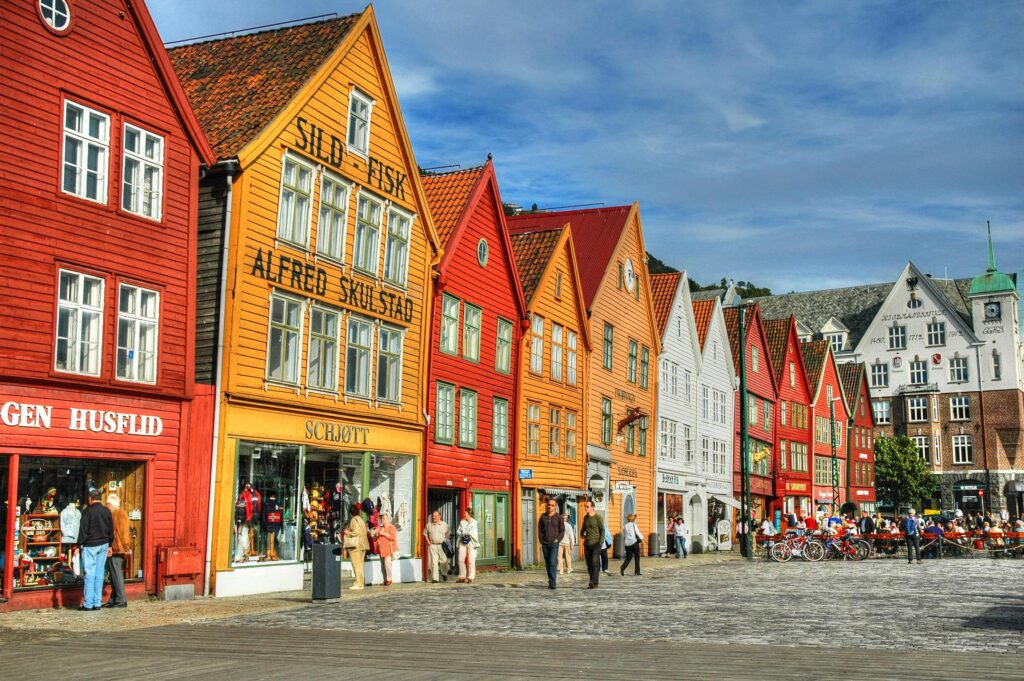 Soon enough, the Bergen railway is about to reach its destination and our travel from Oslo to Bergen is coming to an end. The Bergen Railway Station is situated in a convenient location, very close to the Bergen city center. Many hotels are within walking distance and getting around from there is easy.
While in Bergen, be sure to enjoy the plethora of activities that it offers. Among the vast variety of things you can do, there are spectacular boat trips available that are highly recommended. Check the prices here:
Final thoughts
The Bergen line is a magnificent train route from Oslo to Bergen, arguably one of the most beautiful in the world. If you buy your tickets early it can even be rather inexpensive, at least by Norway's standards. Also, Bergensbanen is an environmentally-friendly train ride, as Norwegian trains run on hydrogen power which gives zero emissions – not only do you get to experience this amazing trip but you also get to do that in the most eco-friendly way possible!
If you plan on visiting Norway, chances are that Oslo will be your initial destination. Why not visit the gorgeous city of Bergen next and, while getting there, have a chance to marvel at the beauty of these dramatic Norwegian landscapes from the comfort of your train seat? Just a thought!