It's not easy to decide what to do in Helsingborg if your time is limited. Helsingborg is known as the gateway to Southern Sweden. Its coastal location and charming old town make it an ideal destination for a day trip from Copenhagen or Stockholm.
It's a quick drive. Just over an hour from Copenhagen and two hours from Stockholm. Its old town has plenty of restaurants, shops, and pubs perfect for browsing, while the city beach is excellent for swimming. You can do a lot in one day in Helsingborg!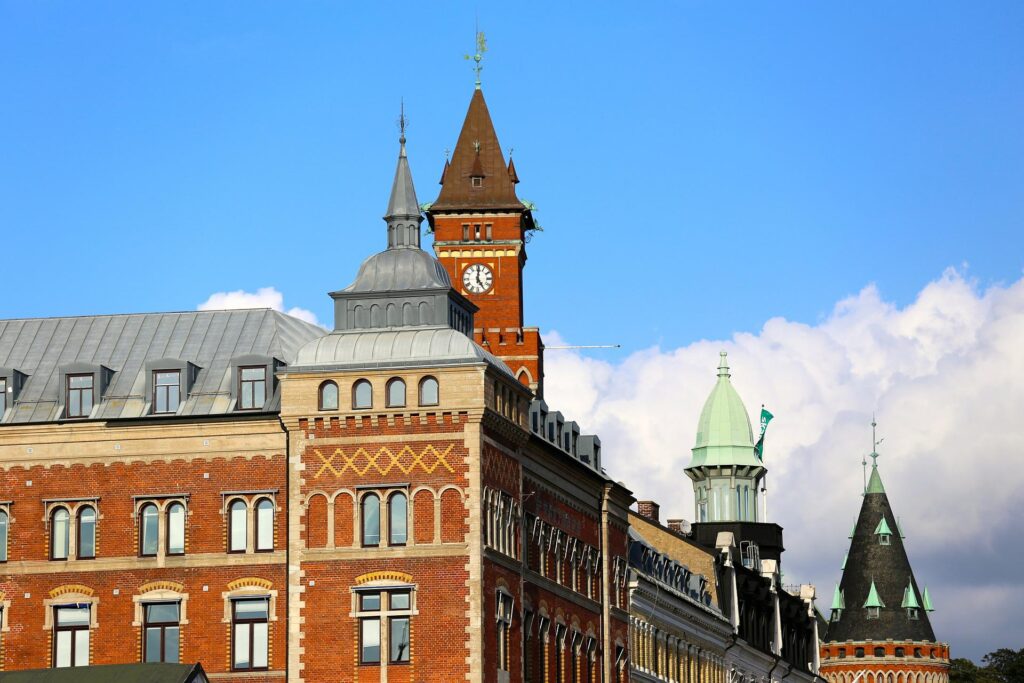 What to do in Helsingborg for a perfect day getaway
Helsingborg is one of the most beautiful cities in Sweden. It's easy to spend a whole week exploring the city and its surroundings. But if you don't have time for that, here are some ideas of what to do in Helsingborg in one day.
Get incredible views from the Kärnan medieval tower
Climb the steps up to one of Helsingborg's most iconic landmarks, Kärnan. Located right at the center of Helsingborg, this tower is known for its magnificent views over the city and surrounding landscape. The climb takes about 15 minutes and offers views over the city, the sea, and surrounding islands, for example, Tåsinge. The tower has been open since 1875. It was built as part of the city's fortifications, which were constructed during the Napoleonic wars.
Visit the Sofiero Palace and Gardens
Built in 1865, Sofiero Palace is a beautiful example of neoclassical architecture, and one of Sweden's finest historic buildings. Being an architectural wonder, it's a popular venue for weddings and other private events. It also hosts one of our favorite museums in Helsingborg – the Sofiero Castle Museum – which showcases decorative arts from all over Europe.
Rent a bike and explore the city
Helsingborg is a very bike-friendly city. Many bike trails run through the city center, the waterfront, and the forest. You can rent bikes at several locations around town or bring your own from home. The best way to explore Helsingborg is on two wheels!
Try some beer at a local brewery
Barski Brewery is one of Helsingborg's most popular destinations for beer lovers. It's located on an old shipyard and offers guided tours of its facilities where visitors can learn how beers are made from start to finish. There are also classes available for those who want to learn more about beer-making techniques. After touring Barski Brewery's facilities, visitors can try samples at its bar before heading off into town for more exploring or shopping!
Visit Wallåkra Stenkärlsfabrik and take a pottery class
The Wallåkra Stenkärlsfabrik is one of the oldest factories in Sweden, founded in 1751. The factory has been renovated, but its original architecture remains intact. Visiting this factory is a unique experience that you can try at Helsingborg.
It also offers classes for anyone who wants to learn how to make pottery or sculpt with clay. Classes are reasonably priced and include all materials needed for your project. You can choose from different projects, such as vases or bowls that can be used as planters or decorative pieces around the house. The workshop offers two classes: basic (60 minutes) and advanced (90 minutes).
Enjoy traditional Swedish dishes
The most famous dish in Helsingborg is tomato pie, and Miss Alice Krog & Delikatesser serves it up in all its savory glory. It's said that the recipe has passed through generations in this family restaurant. They also make their wine and cheese on their farm south of Helsingborg. It's not very easy to decide what to do in Helsingborg, but it's a lot easier to choose where to eat in Helsingborg.
Take a walk at Groningen or go for a swim
This scenic path on the water in Groningen is one of the best places for walks and bike rides! It's also among the best spots in Helsingborg for picnics and swimming (if you're brave enough). The weather in Scandinavia is notoriously unpredictable. No one can guarantee good weather when traveling in Sweden, but it's worth taking a risk in this gorgeous place. You will be amazed by how Helsingborg looks from there, and you will get plenty of photo opportunities.
Have a seaside dinner with a view
Sillen & Makrillen restaurant has two locations in Helsingborg – one right on the harbor and another closer to downtown by the train station. Both offer great food and views, but we recommend going all out at their waterfront location with a fantastic selection of seafood dishes (and drinks, too!). Check out their menus online before visiting to know what you want when you arrive.
Go for chocolate-tasting at Chocolatte
Chocolatte is an award-winning chocolatier that offers a wide variety of chocolate products, including artisanal chocolates, chocolate drinks, and ice cream. Its friendly staff will guide you through the chocolate tasting process and teach you about its products. You can also try making your truffles from scratch!
Visit the famous Hamlet castle in Denmark via Helsingør ferry
From Helsingborg, you can take a ferry across the strait to Helsingør in Denmark, which is about an hour away by boat. From there it's easy to visit Hamlet Castle, built on top of a medieval fortress in around 1300. The castle is famous for its connection with Shakespeare's Hamlet, and you can even see where he slept!
Take a bike ride at Klippan Dressin
This is one of the best things to do in Helsinborg if you are looking for something fun and laid-back. The area is perfect for cycling with its wide-open spaces and winding trails. If you want to take it up a notch, try riding along the railroad tracks that run through Klippan Dressin!
Visit Söderåsens national park and enjoy the nature
Söderåsens national park has some of the most stunning nature that you will ever encounter in Scandinavia. You can see everything from rolling hills to deep valleys. There are many trails if you want to go hiking and try an outdoor activity, or you can simply enjoy being surrounded by nothing but nature itself!
Have a Swedish fika at a cozy cafe
There are plenty of lovely, cozy cafes in Helsingborg where you can have a Swedish fika (coffee break). It's nice to stop by and enjoy some coffee and cake while enjoying the view of the water and the old town. If you wonder what to do in Helsingborg without spending too much energy, a Swedish fika might be your first choice.
Buy local Swedish wool
Klippan Yllefabrik is a fantastic store that sells all things made out of wool from all over Scandinavia. They sell sweaters, scarves, hats, socks, baby items, etc. It's great to shop here if you want to bring something home from your trip to Sweden or if you're looking for something unique for your family member or friend who loves Scandinavian design!
Explore Oceanhamnen, Helsingborg's new neighborhood
This waterfront development is a mix of shopping, dining, culture, and entertainment. Stroll through the streets of Oceanhamnen and discover unique boutiques and art galleries. Take a break at one of the famous cafes or restaurants, such as Sjömat or Finska Huset. Walk along the water and enjoy the evening sun over the harbor.
Go shopping at Väla
Väla is the biggest outlet mall in Scandinavia and has over 200 stores, including H&M, Zara, Topshop, and many more. It also has a food court with great options for anyone looking for a quick bite to eat. The mall is about 15 minutes outside of Helsingborg, so it's easy to get there by bus or bike.
Conclusion
We believe our article has given you some ideas on what to do in Helsingborg. Helsingborg has plenty of sights to see and things to do. You can visit the city for a few days or just stop by while on business in the area. Whether you want to explore museums, local restaurants, and cafes, or simply take a walk and relax, there's something to satisfy every type of traveler.