If you're looking to explore Norway by train, plane, car, boat, or bus, Oslo is a natural starting point, given its central location. It's possible to travel to more than 25 destinations from Oslo, ranging from the stunning fjords of the west coast to the iconic Arctic Circle in the far north. Oslo isn't a big city. So if you want to save yourself a ton of time and money and maximize your opportunities for adventure, it might be smart to plan your routes ahead of time. But for those travelers with limited time, who want to see as much as possible, some great Norway trips can get you far off the beaten path and into the heart of its natural wonders.
Popular Norway train routes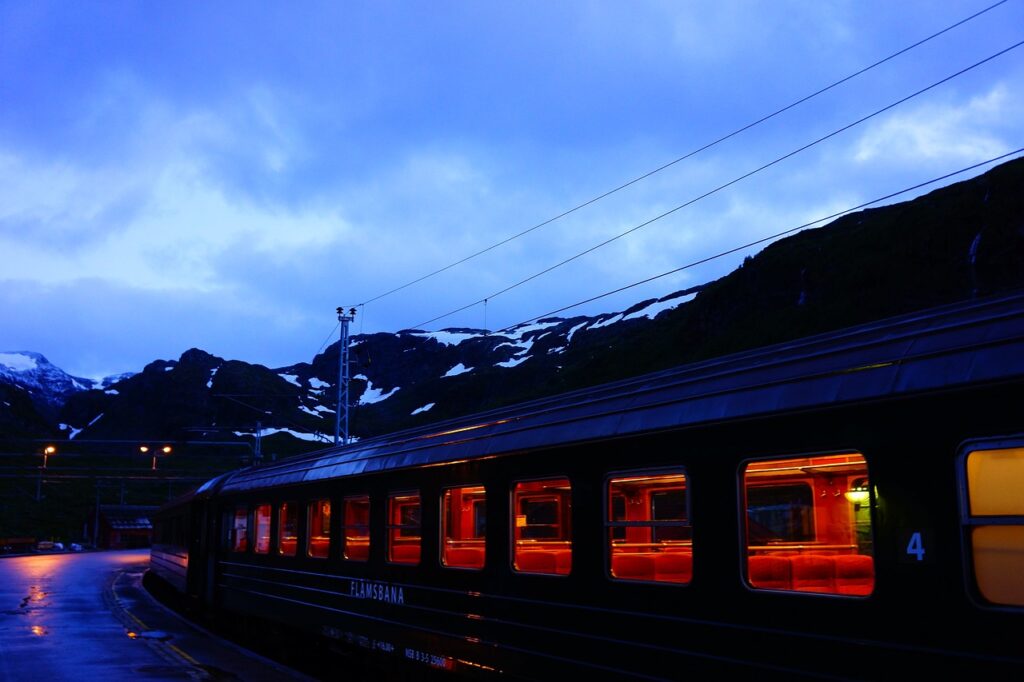 Norway is a country with a long and rich history. There are many ways to explore this fascinating land. Norway's national train system is one of the best in the world, connecting all parts of the country. Whether you're planning to travel by rail or road in Norway, you'll need to make sure you have the right tickets and passes for your trip.
The Bergen line
The Bergen line is the oldest railway in Norway. It passes through some of the most beautiful scenery in Western Norway. The train goes from Oslo to Bergen via Haukeli, Geilo, and Voss. The journey takes about five hours.
The Flåm railway
The Flåm Railway has been voted one of Scandinavia's most scenic train rides. It begins at Myrdal station and ends at Flåm station, right next to Aurlandsfjord. The trip takes about four hours. But it's worth spending an extra day or two in this area if you have time!
The Dovre line
The Dovre Line is one of the most popular train routes in Norway. It will take you from Oslo to Trondheim via Lillehammer. This Norwegian railway line provides access to many tourist attractions along the way, including Vinstra and Geilo. The trip takes about 10 hours and stops at several stations before arriving in Trondheim.
The Nordland line
The Nordland line runs between Trondheim and Bodø via Steinkjer, Narvik, and Fauske (this section was completed in 1989). This route is popular with locals and tourists because it offers access to many different areas of northern Norway, including the Lofoten Islands and Saltfjellet-Svartisen National Park. You can also take this route if you want to go hiking in nature without driving around the countryside.
The Rauma Line
This route runs between Åndalsnes and Dombås, and it passes through some of the most breathtaking scenery in Norway. The train travels through mountains, valleys, forests, and lakes before reaching Dombås. From there, you can take another train to Oslo or Bergen.
The Sørland Line
This is one of the busiest railways in Norway, so you will often have to book ahead to secure a seat on this route. You can travel from Oslo to Kristiansand or Stavanger by taking this route. The journey takes approximately four hours and 50 minutes, but if you want to travel at night, you'll need to book in advance because fewer trains are running during those hours.
10 Best Day Trips from Oslo, Norway
Oslo is a beautiful city with a lot to offer, but it can be quite expensive. If you want to get out of the city and see some of the most beautiful parts of Norway, you'll need to take a day trip. Take a glance at these Norway day trips from Oslo:
Lillehammer
Lillehammer is a small town about an hour from Oslo and a half from the airport. It's known for the 1994 Winter Olympics when it hosted ski jumping, cross-country skiing, biathlon, and ice hockey competitions. The Olympic Museum is worth a visit, as is the Norwegian Ski Museum. Both are located in the Olympic Park, which also has an outdoor skating rink and ski trails during winter.
Fredrikstad
Fredrikstad is a city located about an hour southeast of Oslo on the coast of Oslofjorden (Oslo Fjord). It's a shopping destination, famous for its antique market every second Saturday of each month. The waterfront area has some historic buildings. Including one built in 1628 that now houses a museum dedicated to local history and art exhibits! Nearby attractions include Halden Fortress (home to Norway's largest military museum) and Halden Prison, where inmates work together on projects such as building furniture and growing vegetables for sale at local markets.
Tønsberg
Take the train from Oslo (about an hour) and visit Tønsberg, Norway's oldest town. Take a walk around this charming old town and visit the Tønsberg Fortress, which dates back to 1671. You can also find lots of shops, restaurants, and cafes here too!
Drøbak & Oscarsborg
If you want some more relaxation after all that sightseeing, head down to Drøbak. You can have a boat trip on Lake Tyrifjorden or just enjoy a walk around this charming little town by the water. If you feel more adventurous, then take a boat trip to Oscarsborg Fortress. You can see how Norwegians defended their country against German forces during WWII. Germans bombed this fortress but didn't manage to destroy it.
Lake Mjøsa
Lake Mjøsa is the largest lake in Norway and a popular day trip from Oslo. The town of Lillehammer is located on the eastern shore of the lake, like several other towns and villages. You can visit any of these villages by taking a ferry across Lake Mjøsa. The ferry ride is only about 10 minutes long. But you will get fantastic views of the mountains along the way.
TusenFryd Amusement Park
Tusenfryd Amusement Park is located just outside Oslo and is one of Norway's largest amusement parks. It has over 40 different rides, including roller coasters and water slides. It also has many restaurants and small souvenir shops. So you won't have any problems finding cute hats and t-shirts with pictures of famous landmarks. Tusenfryd Amusement Park also has an outdoor water park called Wild West Waterpark. You can find wave pools and other attractions for kids under 12.
Hadeland Glassverk
Hadeland Glassverk is a glass factory that produces traditional handblown glassware. It's located 60 kilometers from Oslo, in the town of Røyken, and it's easily accessible by public transportation. You can buy their products in the shop or online.
Karlstad, Sweden
Karlstad is only an hour's drive from Oslo, so it's a great place to spend a day if you have a car. This small city has lots of shops and cafes, and it's known for its beautiful parks and gardens. You can also visit Marstrand, an island near Karlstad with many old buildings from the 19th century that have been preserved over time.
Kongsberg
Kongsberg is a small city located about an hour away from Oslo. It's a great place to go for a day trip if you're looking for a bit of adventure and want to see some beautiful scenery. You can visit the local brewery for some fresh beer, hike through the forest, or just walk around town enjoying the architecture and shops.
Bærums Verk
Bærums Verk is another excellent day trip from Oslo. It's located in Bærum, a suburb of Oslo, and is only about 15 minutes away by train or car. There are multiple attractions here, including an aquarium with sharks, seals, penguins, and other marine animals, as well as several museums, including one dedicated to Norwegian art history!
Conclusion
These are the most exciting Norway trips to do from Oslo. Remember to consider safety your first priority, so follow all instructions carefully. Also, check the weather forecast because the weather in Scandinavia can get pretty bad. And while you're in Oslo, check out the other fun things to do in the capital of Norway.