Copenhagen free attractions | Things to do in Copenhagen for free
Being the modern European capital that it is, Copenhagen is a city of amazing culture and history, that attracts millions of tourists every year. However, many travelers are afraid that Copenhagen is an expensive destination, not suited to their budget. Indeed, Copenhagen is rather expensive. Be that as it may, Copenhagen can be rather cheap too! In a city like this, there are many opportunities to engage in totally free activities, so you can keep your expenses at a minimum. Here are our top 10 suggestions on the best free things to do in Copenhagen:
Visit the Little Mermaid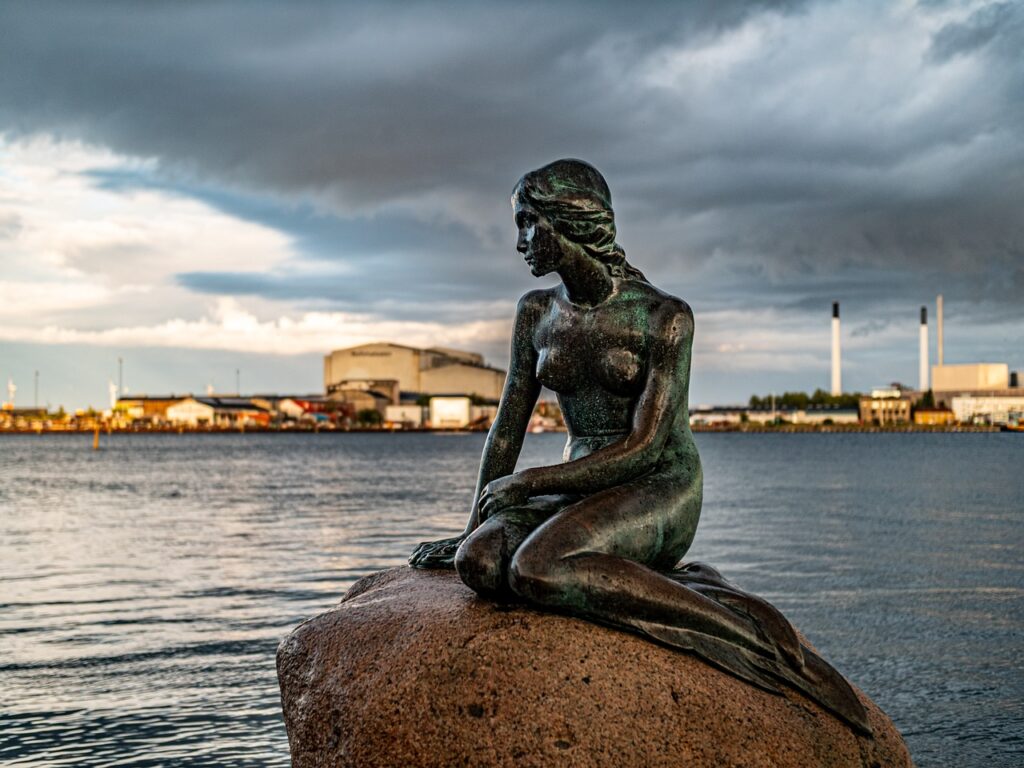 Appearing in every "best things to see in Copenhagen" list that you are likely to come across on the internet, it is almost certain that you already know about the Little Mermaid. This small bronze statue is the landmark of Copenhagen.
Commissioned by brewer Carl Jacobsen and created by sculptor Edvard Eriksen, the Little Mermaid draws inspiration from the fairy tale of the same name.
Hans Christian Andersen, the writer, first published the iconic tale in 1837. In 1909, Carl Jacobsen, mesmerized by a ballet performance of the fairy tale that he attended at the Royal Theater in Copenhagen, commissioned Edvard Eriksen to create a Little Mermaid statue. The soon-to-be-famous mermaid statue was unveiled in 1913.
It is not overly impressive by any means, but it does have a certain charm. However, the Little Mermaid statue demands a visit considering its importance as a Danish national symbol. With that in mind, it is easily one of the best free Copenhagen sights that you can go and see.
It can often be quite crowded as it is a must-see attraction, however, tourists don't stay there long. The average visiting time is probably the same amount of time that one needs to take a couple of pictures, so do not let the noisy crowds discourage you. After all, taking a stroll along the Langelinie promenade in order to get there is hardly a bad idea!
Visit Kastellet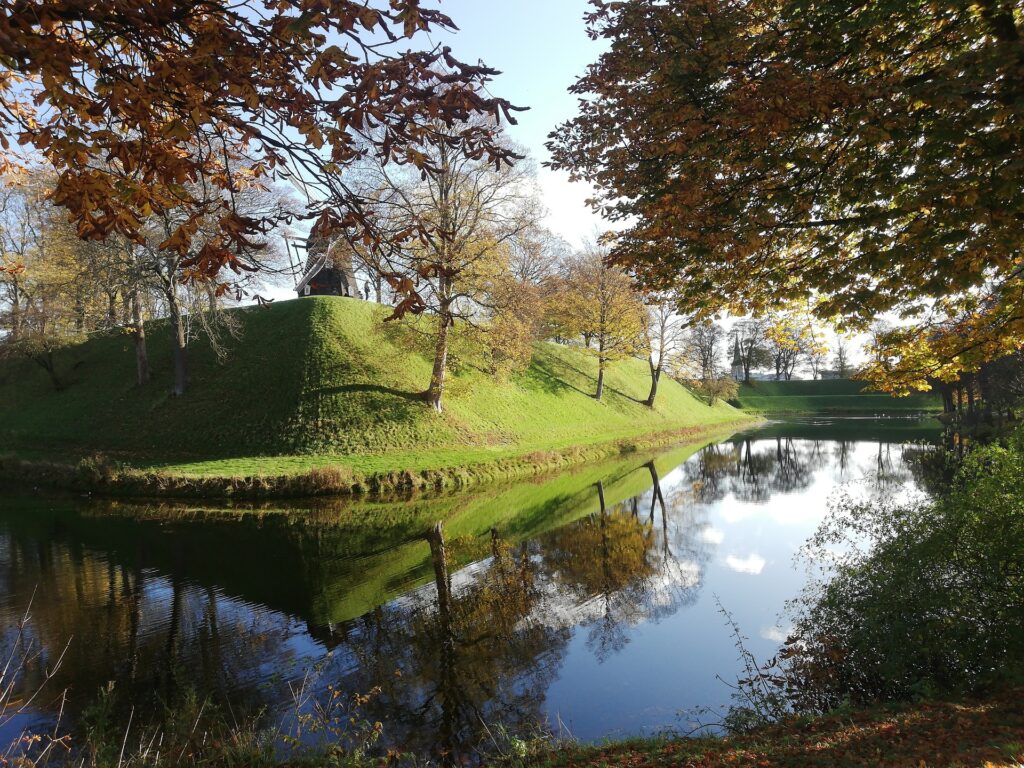 Close to the Little Mermaid statue is an exceptionally preserved fortress and a visit there is certainly one of the best free things to do in Copenhagen.
Kastellet means Citadel in Danish and it is exactly that. A 17th-century fortification whose five bastions form the shape of a pentagonal star.
The park inside the fortress is ideal for a pleasant stroll and the beautiful 19th-century Kastellet windmill (Kastelsmøllen) that stands on Kongens Bastion is certainly worth seeing. Kastelskirken, the Citadel church, is also worth your time. Finally, the ramparts offer wonderful views of the surrounding landscape.
Kastellet offers relaxing walks and views and a visit there deserves a place among the best free things to do in Copenhagen!
Visit Christiansborg Palace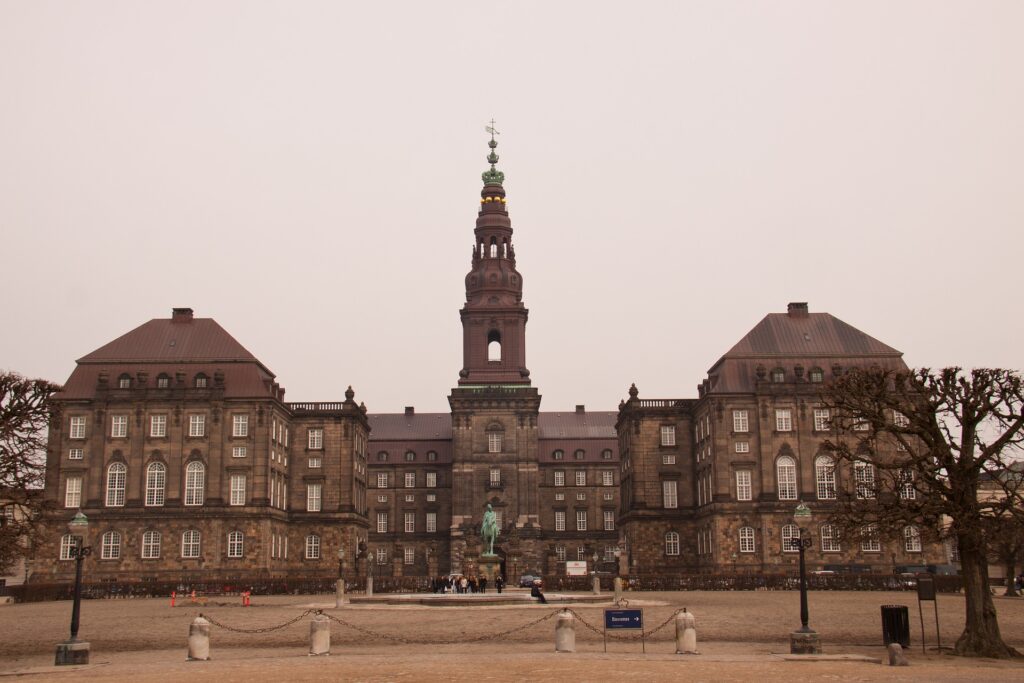 Christiansborg Castle is located on the island of Slottsholmen in central Copenhagen and is today the seat of the Danish Parliament. This magnificent palace used to be the royal family's residence and, although this is no longer the case, it is still the formal address of the royal family.
Part of the Christiansborg palace is the Christiansborg tower, the tallest tower in the city at 106 meters. Going to the top of Christiansborg Tower is completely free and you can even use an elevator. From up there you can see the whole city and, to the east, you can also see the Öresund Bridge if the weather is good.
On Sundays, free tours of Christiansborg palace's parliament rooms are offered in Danish and English. You have to register online beforehand and the tour lasts for about 45 minutes.
Do not forget to book your free Christiansborg visit here!
Watch the Changing of the guard at Amalienborg Palace
The changing of the guard at Amalienborg Palace is considered a must-see by most visitors. It takes place every day at noon and anyone is free to watch it.
The palace is still owned by the Danish royal family. When Margrethe II is at home, the Danish flag flies above the castle during the changing of the guard.
The soldiers wear their traditional uniforms and characteristic bearskin hats, which makes this experience unique and fascinating.
Visit Copenhagen Cathedral (Vor Frue Kirke)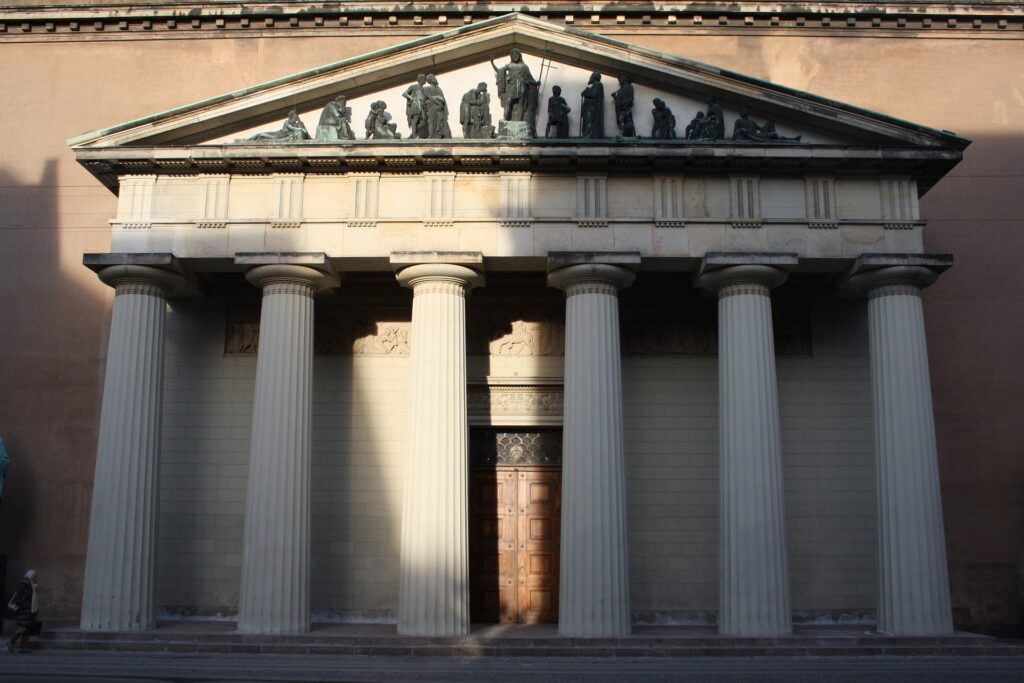 The Church of Our Lady (Vor Frue Kirke) or Copenhagen Cathedral ( Københavns domkirke ), is the main church of the diocese of Copenhagen. It was designed by the architect Christian Frederik Hansen. In 1817 King Friedrich VI laid the cornerstone and at Pentecost 1829 the building was handed over to its intended purpose.
The cathedral continues to serve as the site of religious ceremonies. This also includes the church celebrations of the royal family. Crown Prince Frederik and Mary Elizabeth Donaldson were married here on May 14, 2004.
The magnificent marble statues of the twelve apostles along the walls of the nave and the figure of resurrected Jesus Christ (Christus) were created by the great Bertel Thorvaldsen. Christus will probably look familiar since it was one of the most copied statues in Europe during the 19th century.
Visit free Copenhagen museums
Most Copenhagen museums have free admission days, or are free all the time!
In our Top 10 Best Free Museums in Copenhagen guide, you can get all the information you need to visit as many free museums as you can, during your stay in Denmark's capital.
Getting to see spectacular pieces of art and visiting beautiful museum buildings for free, could not possibly be omitted from any "Best free things to do in Copenhagen" list!
Copenhagen Free Walking Tours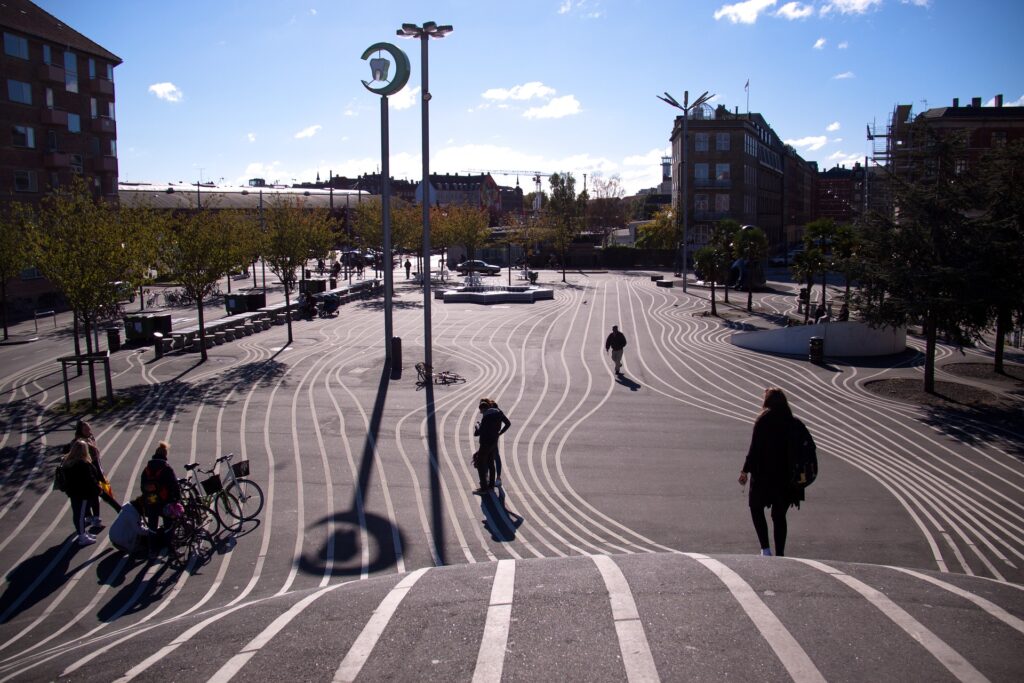 On Copenhagen Free Walking Tours, real Copenhageners take you through their city, tell anecdotes and show you their favorite places.
This way, you can also gain insights and get useful advice on what else to do in Copenhagen. And best of all: everything is completely free – or at least there is no set price. Of course, the guides would be happy about a small tip at the end of the tour.
Another nice thing about the Free Walking Tour is that you usually get tips on where you can eat cheaper.
Book your spot here!
Visit Bakken
Dyrehavsbakken, commonly known as Bakken, is the world's oldest amusement park. Its origins date back to 1583, yet Bakken is still going impressively strong today!
Located next to Dyrehaven, it attracts more than two million visitors each year. Understandably, there are reasons why Dyrehavsbakken is so popular. Let's look into some of them.
The opening year of Bakken, 1583, is in itself a reason for many people to visit Bakken as it is amazingly old. Of course, the activities and games it offers nowadays are quite modern, at least most of them. A Bakken roller coaster, Rutschebanen, is certainly vintage as it opened in 1932.
There are lots of activities for children and adults, including various rollercoaster rides, bumper cars, and other fun stuff.
There is also the fictional town of Korsbæk that has been built from scratch and depicts the famous places of the Matador, the most successful TV series of all time in Denmark.
Many places to eat are available, from street food stalls to fine restaurants. Bakken also offers a variety of cozy cafes.
Obviously, all of the above cost money. However, the entrance to Bakken is always free, so it's up to you to decide if you want to spend any money there at all. Taking that into account, it is rightfully included in most of the "best free things to do in Copenhagen" lists. Especially if you visit it during the Christmas period, you can have a good time by just enjoying the Christmas decorations and soaking up the festive atmosphere.
Visit Christiania
You probably have heard of Christiania. Located in the Christianshavn neighborhood of Copenhagen, this partially autonomous community is mostly known for the cannabis trade that takes place in the centrally located Pusher Street. However, Freetown Christiania is also widely recognized as a place that embraces alternative lifestyles, a community where its inhabitants have the freedom to do what they want.
Christiania, due to its peculiar and rather controversial character, is certainly not a place to everyone's liking. Depending on your point of view, it can either be a rundown messy little village, or a cool haven for free-spirited individuals and hippie culture enthusiasts. If the latter description doesn't intrigue you, then chances are this place will not excite you.
Entering Christiania and walking around is of course free, so you can go and see for yourselves what this famous commune is all about. Be sure to avoid taking any photographs there, especially on Pusher Street, as its inhabitants do not allow it. If you do, you will certainly be confronted. Respect, be relaxed and polite and you will most likely have a good time.
Find the 6 Forgotten Giants
Does troll hunting sound exciting? I should think it does! If you feel the same, why not go on an expedition in search of The Six Forgotten Giants?
Hidden in Copenhagen's western municipalities, the Six Forgotten Giants are large wooden sculptures of trolls. They were created by artist Thomas Dambo with the help of volunteers and are made entirely of recycled materials.
The 6 forgotten Giants are impressively made. Peculiar, kind-looking, and huge, they look like they escaped from a fairy tale. Searching for them is a genuinely fun experience that also brings you close to Copenhagen's nature.
Thomas Dambo has provided a map that helps search for the giant trolls. It is not exactly accurate because a big part of the idea behind the project is to bring people and nature close. All in all, the six forgotten giants are easily among the best free things to do in Copenhagen.