Denmark is a spectacular place for the winter holidays. And when it comes to Christmas, you will experience no less than a sparkling holiday of festivity and lights. Denmark offers various things to experience. From eccentric fun rides for children to utterly insane ice skating for adults. So let's look at these ten fun things to do during Christmas in Denmark to make your Denmark excursion memorable!
Enjoy the Tivoli Gardens
In Denmark, one location to hang out on Christmas Day is Tivoli Gardens. The Tivoli amusement park's Christmas season lasts from mid-November until December 31. On Christmas eve, you will witness a thrilling end to these festivals on December 31.
Words like stunning and enchanting can describe the holiday festivities at Tivoli Gardens in Denmark. Tivoli hosts fun activities, festivals, and fireworks. The gardens' modern food court has 14 bars, all ready for visitors. There are 14 food bars available for Christmas meals!
Explore the historic Aarhus
Picturesque Aarhus, Denmark, is well-known for its distinctive classical architecture and traditional Christmas events. It is one of the most prominent locations to explore in Denmark during the holiday season, thanks to its magnificent decorations and fantastic shopping areas.
Den Gamle By, also known as The Old Town Museum, is a treasured excursion you shouldn't forget. This museum showcases traditional old wooded dwellings and 19th-century Danish Christmas festivities.
The main attraction for any visitor to this city is strolling through the 70-m-long subterranean lanes of Tivoli Friheden amusement park. During the holiday season, they are illuminated by almost 300,000 lights.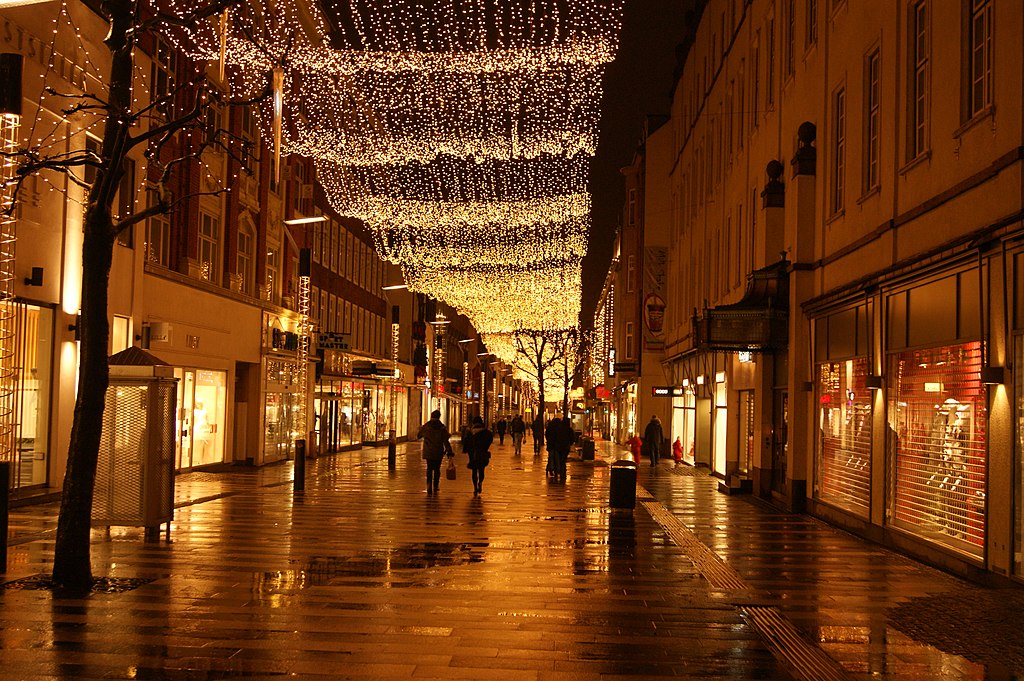 Get some Christmas gifts in Copenhagen
Copenhagen attracts many tourists during the holiday season. Why? Because its streets and alleys are packed with sparkling lights and iconic stores. You must be eager to please your eyes with stylish Scandinavian architecture. From upscale superstores such as Magasin Du Nord and Illum to the considerable brand retailers along the street, you will have a lot to explore.
Remember to check out the city's most stunning buildings at Amagertorv 6 as well. Moreover, keep an eye out for the renowned porcelain company Royal Copenhagen. It has a custom from 1963 to present six lavish "Christmas table" arrangements made by famous artists.
If you're seeking handicrafts, arts, and delectable sweets, Copenhagen features a variety of charming Christmas markets. You find everything! From the Hans Christian Andersen-themed shops to the cobblestone lanes along the scenic Nyhavn district.
Enjoy enchanted fun on Funen/Fyn
There are numerous markets and seasonal festivities on the island of Fyn. It is also called Funen. First, you will see the magnificent 16th-century Egeskov Castle. This castle serves as a stunning backdrop for a Christmas market. It has more than 100 stalls selling all sorts of things during Christmas.
Next, on the first two weekends in December, Odense, the hometown of Hans Christian Andersen, also holds a Christmas season market. You can enjoy your time there as well. Moreover, you will not want to miss visiting the island's quaint seaside communities. On the west bank, you can enjoy the yearly Santa Race. While on the eastern seaboard, Nyborg hosts a market with a historical background. You can explore Fyn in December.
In addition, pay a visit to the little village of Korinth near Faaborg. You will encounter a unique Viking-themed market. This is where Danish star Jim Lyngvild constructed his impressive Viking fortress.
Have some ice skating fun
In the country's metropolitan areas, there are many artificial outdoor rinks. You can unwind there and have some ice skating fun. Yes, you will miss the natural rinks. But Denmark will unlikely have natural ice rinks during Christmas. You can exercise your twirls outside at Frederiksberg Runddel. It always opens in the middle of November, in the Frederiksberg Have (park).
The enormous outdoor rink in Esbjerg, on Denmark's west side, is a terrific spot to unwind. You can also travel east to Middelfart on Fyn to the rink. There is a scenic backdrop of the renowned Little Belt Bridge. C.W. Obels Plads in northern Aalborg offers a pleasant natural option to the city's sizable indoor ice arena.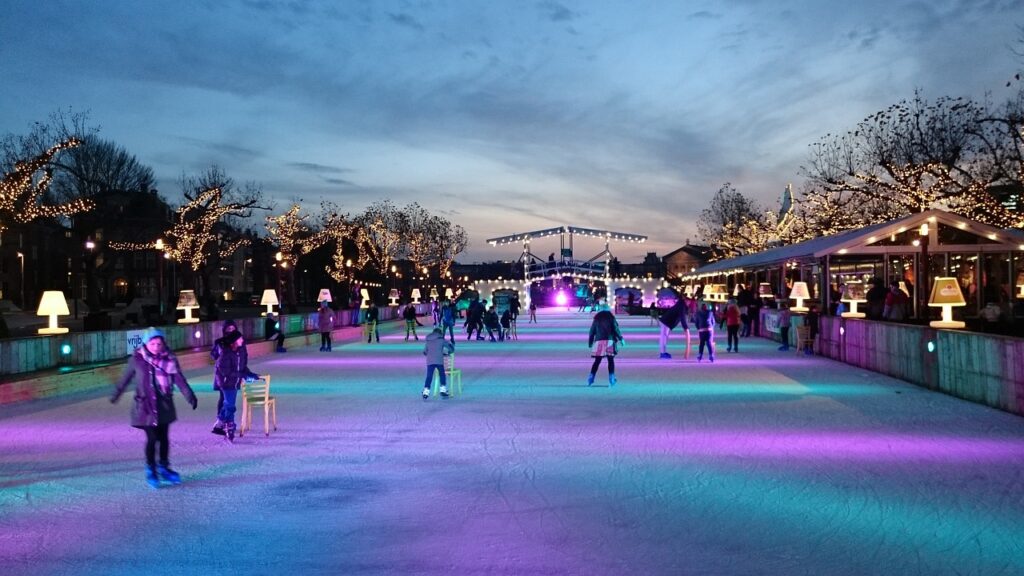 Nyborg Christmas Market
Nyborg is yet another well-known Christmas carnival in Denmark. You will find it in a historic town between Copenhagen and Odense. One of Denmark's most incredible, impressive, and genuine Christmas markets is open there. Many tourists value it as a destination.
This location provides many joyful rides and other entertaining activities during the holiday season. Overall, it's a fantastic location in Denmark for family travel. The marketplaces are open from December 1st to January 3d.
CopenHill
With a magnificent 80-meter artificial rock wall and a 440-meter incline, Copenhill is a fantastic location. Due to its exotic setting, it features moving carpet chairlifts and many more fantastic wintertime thrills. It would be an excellent statement to suggest that it is the ideal location to spend your Christmas in Denmark.
However, one of the main attractions you should pay attention to when wandering through the streets of Copenhill is the lovely cafe across the hills. It offers beautiful breathtaking views.
Visit the Round Tower in Copenhagen
The Round Tower is a must-see location during Christmas in Denmark. Especially for art enthusiasts. A great atmosphere and unique artwork have welcomed visitors for the past 375 years. They continue to do so now. Many artists from all around the world come here to exhibit their work. Note down the Round Tower in your Christmas travel itinerary because Copenhagen's Christmas seeps into its celebrations.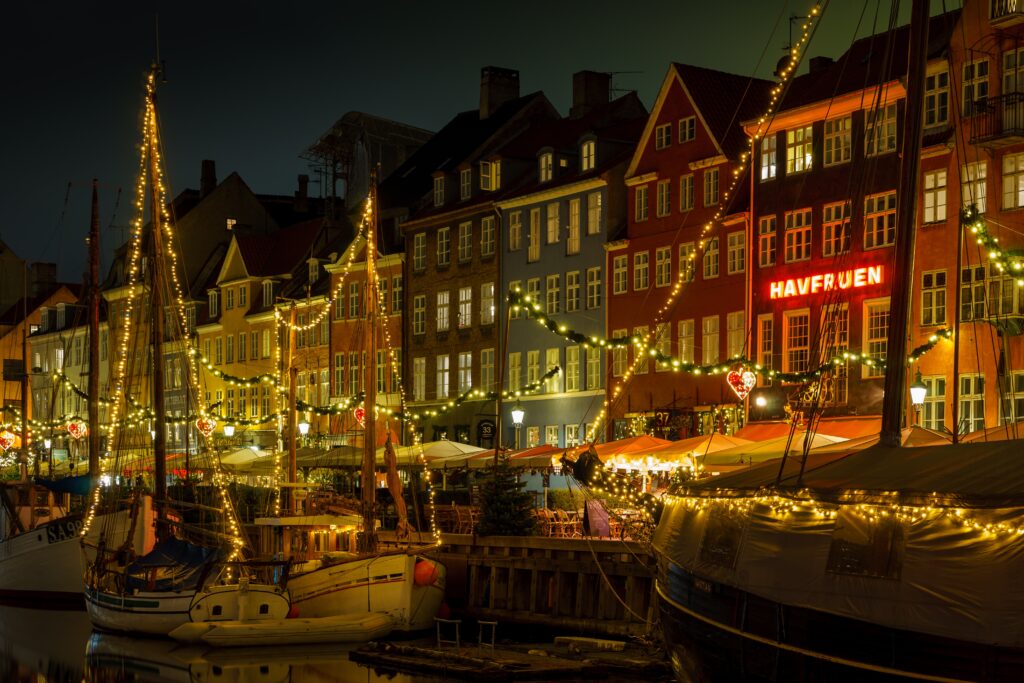 See the real Christmas traditions in Ribe
The town explodes into action and sets up the appropriate backdrop for numerous Christmas celebrations using a variety of old yet lovely residences. The children's novel "Peter's Jul" writer resided there with his family. Thus there is more heritage to this location than first meets the eye. Though visiting this location will feel like traveling through time, it still keeps in touch with the present. It would be best to travel to Ribe to experience Danish Christmas customs.
Explore the Old Town Open-Air Museum in Lyngby
Tourists frequently visit this Open-Air Museum during Christmas. More than 80 relocated historical places are at this site. And most of these places feature horseback riding, shopping, informative costumed staff, and more.
The museum is lit in the fashion of earlier decades during December. A unique Lyngby heritage museum that depicts the tale of the Viking era also stands tall as part of the open-air museum. For those seeking a tranquil vacation, this is an ideal location for Christmas in Denmark.
The Takeaway?
When it comes to Denmark, the city has a lot to offer for the Christmas holidays. You will have a lot to explore, from fun rides to classic Danish heritage. If you are very lucky, you may also get a view of the northern lights. These ten activities will help you get the most out of your Denmark excursion. When visiting Denmark during Christmas, expect to fill your heart with a joyous trip.