With its charming cobblestone streets, world-class museums, and unique architectural style, the Norwegian city of Trondheim is a popular destination for tourists and students. The city is home to two high-quality universities and has some of the best schools in the country.
With a population of fewer than 200,000 people, Trondheim is still small enough to explore it all on foot (or by bike if you are feeling adventurous). The city center is compact and walkable; most attractions are within the same neighborhood. It has everything from museums to music venues, cafes, and restaurants.
Several parks are within walking distance of each other for those who enjoy strolling or having a picnic in the beautiful scenery. Trondheim also has a lot of unique traditions that make it distinct from other cities in Norway. Here is your Trondheim travel guide.
Why Should you Visit Trondheim?
Trondheim is a beautiful city with a long history. It attracts visitors from all over the world. The city has a lot to offer, and it's easy to see why it's so popular. Here are the 3 top reasons why you should visit Trondheim:
The unique atmosphere of Trondheim
Trondheim is a great place to visit for its unique atmosphere and mixture of an old and new architecture. The city has preserved many old buildings, giving it an authentic feel. You will be surrounded by some of the most beautiful churches, historical buildings, and museums in Norway. Trondheim is small, so all attractions are within a short walking distance from the city center.
The nightlife of Trondheim
Ιf you are looking for something more intriguing than just sightseeing, Trondheim can offer you various nightlife options. The city center has many bars and clubs that stay open until late at night. Alternatively, if you prefer to relax and "take it easy", you can head to the Torvet area. You will find restaurants that serve traditional Norwegian cuisine, such as fish soup or meatballs with mashed potatoes.
Outdoor sports in Trondheim
If you are an adventurous person, then Trondheim is the place to be! Many outdoor activities can be done here, such as kayaking, biking, or hiking. If you are interested in these activities, you can join one of the tours. Experienced staff will teach you how to use equipment and stay safe while doing these activities properly.
When to Visit Trondheim
The best time of year to visit Trondheim is during the summer months. This is when most tourists come to the city, and there are lots of activities and festivals happening throughout the season.
If you want to avoid crowds and enjoy the peace while in town, try visiting in June or September. These months are less busy than July or August but still warm enough for outdoor activities like hiking and biking through the scenic countryside around Trondheim.
The Best Things to Do in Trondheim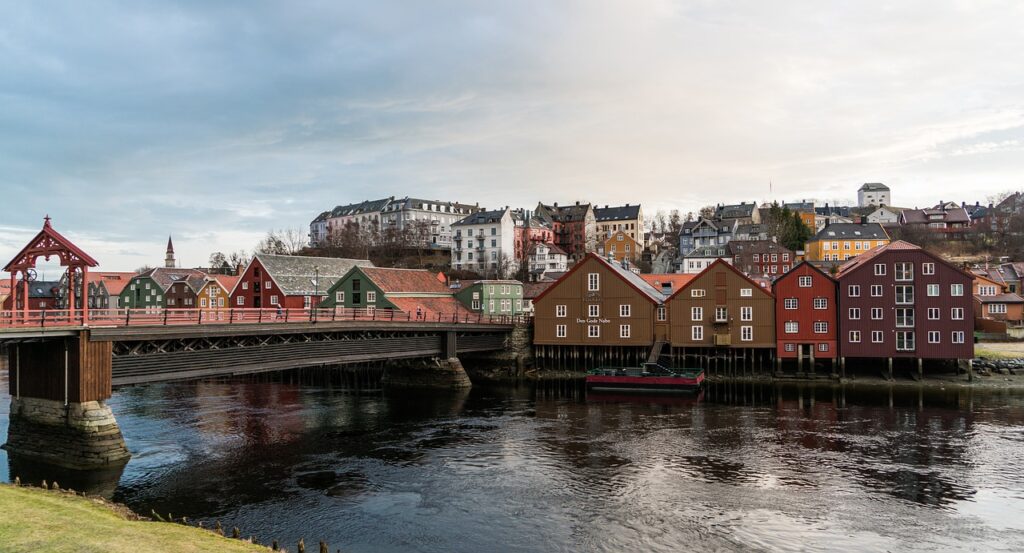 If you're looking for the top things to do in Trondheim, here are our top recommendations:
Visit Bakklandet
Bakklandet is the first neighborhood in Trondheim that you should visit. This area is filled with shops, restaurants, and bars. You will find everything from fast food to high-end cuisine! The famous restaurant Bakklandet Kjøtt has been open since the 1960s but recently moved to a new location closer to the city center. Finally, Bakklandet offers some of the best views of Trondheim.
Visit Gamle Bybroa (the Old Town Bridge)
Gamle Bybroa (the Old Town Bridge) is located on top of the old bridge between Bakklandet and the city center of Trondheim. This old bridge is one of the most popular highlights of Trondheim. You can take some great pictures from this spot, looking down at the water below or across from the other side. There are also several great restaurants nearby if you want something to eat before or after your photo session!
Visit Nidaros Cathedral
Nidaros Cathedral is the most visited site in Trondheim and Norway's second most visited attraction. It's worth a visit, both for its architecture and history. The cathedral was built on the site where Olav Haraldsson was baptized in 997 AD by Bishop Grimkell. The cathedral also contains the burial crypt of King Olav II, canonized as St Olav after his death in 1030 AD. He was the first saint of the Norwegian Church, and his remains are still preserved in the cathedral's reliquary.
Visit Lian by tram
The Lian Skips & Transport museum is on top of a cliff overlooking Trondheim harbor. A funicular railway can take you up to this historic shipyard. You can see traditional wooden boats being constructed and repaired. You can also see some typical Norwegian buildings from earlier times!
Visit Bymarka
Bymarka is a nature reserve in Trondheim that is perfect for hiking. Numerous trails can be found there, ranging from easy to complex. So whether you're an experienced hiker or just looking for somewhere to spend time outdoors with your friends, there's something here for everyone.
Visit Kristiansten Fortress
Kristiansten Fortress is an old fortress on top of a hill overlooking the city. It's a fantastic place to go for panoramic views of Trondheim and great photo opportunities! You can also see old cannons from World War II when you visit this place.
Watch the Northern Lights
The Northern Lights are a popular attraction in Norway. So it would be a shame not to see them while you're here! The best time to watch them is from September to March. However, they may appear earlier or later if there is enough sun. It's best to go out into nature for this one rather than try to stay in Trondheim.
Visit a trendy coffee shop in Trondheim
Are you looking for some caffeine or want to try some new types of coffee? Several spots around town offer everything from espressos to cold brews and kombucha teas. You can even order nitro cold brews at some spots! And if you want something sweet with your drink, there's no shortage of pastries and desserts at these establishments either.
Visit the Hanseatic Houses
The Hanseatic Houses are located on Munkegata Street and date back to the 13th century. This was once a thriving marketplace. These buildings were used as a warehouse for goods traded between Norway and other countries. Today these house shops are selling local souvenirs and antiques.
Rent a Bike in Trondheim
If you'd like to get around town uniquely, rent one of Trondheim's bicycles! With their bright green color scheme, it's easy to find them all over the town. Each bike has its lock. So you don't need to worry about someone stealing your ride while you're out exploring or shopping at local stores.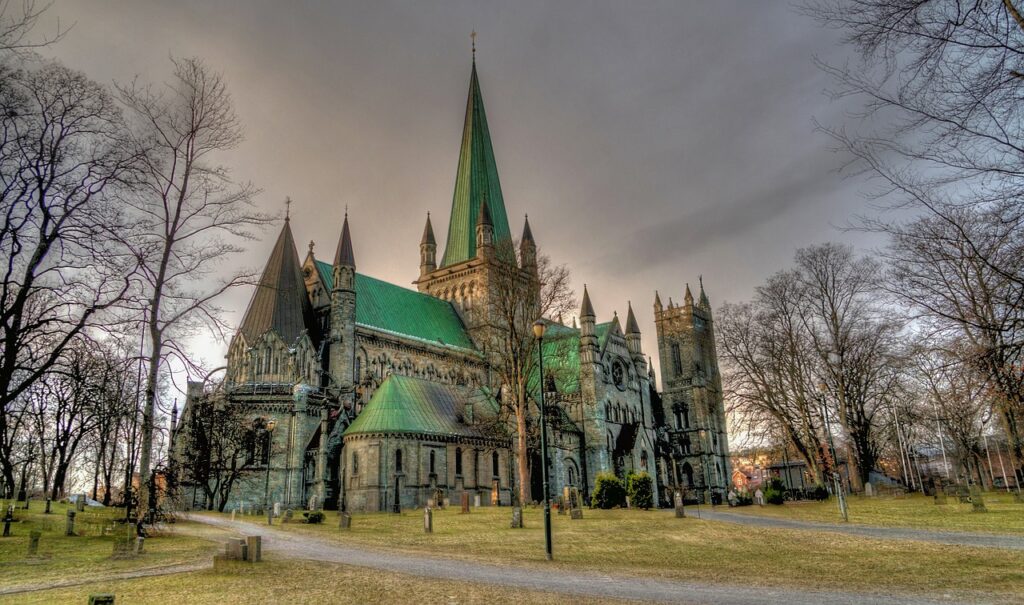 Conclusion
Hopefully, you now got an idea of what to expect from your time in this sunny and vibrant corner of Scandinavia. And if you're thinking about heading out on your own, Trondheim promises a memorable adventure. It may not be as big and glitzy as Oslo or Stavanger, but it does have plenty to offer. By all means, give this fine city a visit—we think you'll enjoy the stay.