Isn't it about time you start watching some Scandinavian TV shows? Scandinavia is where all the cool kids live, with their social welfare, incredible economies, and ability to produce high-quality budget-priced clothing. If you're partial to your Noirs, crime procedurals, teen dramas, or dark comedies and haven't yet explored the Scandinavian offshoot of this genre, then here's a rundown of some great Scandinavian crime series that should definitely be on your watch list.
Follow the Money
A police drama series starring Nikolaj Lie Kaas and Thomas Bo Larsen as two detectives trying to solve a mysterious case in the Danish countryside, "Follow the Money" is one of the most popular Scandinavian crime dramas airing right now.
The show follows Mads and Alex on their separate journeys to track down a gang of nationwide bank robbers while dealing with their own personal issues. Mads, who's somewhat of a loner, has to work through his feelings for his ex-wife, whose new husband just happens to be Alex's partner. Meanwhile, Alex deals with his dwindling motivation for being a detective after he gets shot by one of the bank robbers during an ambush.
Though "Follow the Money" is no doubt compelling on its own merits thanks to its writing and memorable characters, what really sets it apart from other Scandinavian crime dramas are its true-crime elements; references are made to real-life cases from countries like Denmark and Sweden throughout the show.
The show's creative team consulted with experts in police procedure when coming up with storylines and characters, which makes it all seem very realistic despite being fictionalized. The use of documentary footage gives viewers an even closer look into how law enforcement operates in Scandinavia—and makes us wonder if any hidden cameras were placed when our friends visited Denmark (or Sweden) last summer!
Maria Kallio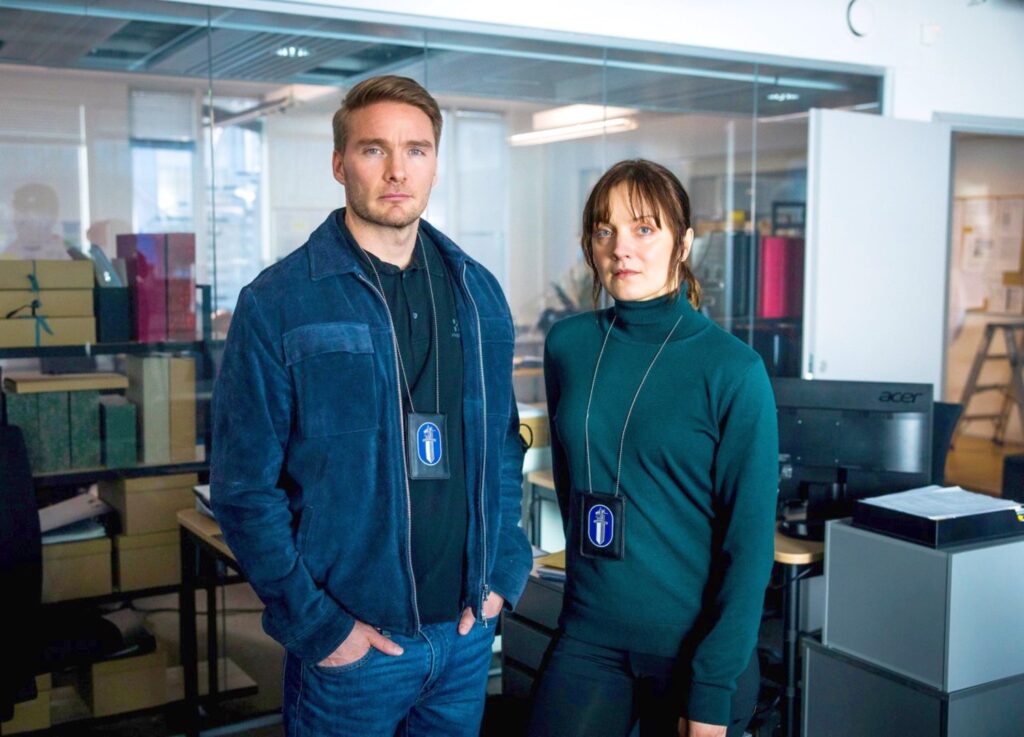 Netflix's latest Scandinavian crime drama is a captivating and respectful take on the genre. It centers around Maria Kallio, a young police detective growing up in the 1980s who, despite it being a time of intense social change, takes pride in her work as a female officer, and resolves to live life with integrity.
Dealing with both sinister killers and modern-day sexism, Maria Kallio is the most realistic depiction of the fin-noir genre I've seen so far. It's an engaging watch that doesn't shy away from any potentially controversial topics surrounding feminism or criminal behavior. As such, it's fairly dark tonally. Perhaps a bit too much for those looking for escapism. But that's exactly where its strength lies: in treating real-life issues as just that. Without turning them into sensationalized plot devices. Instead, we see nuanced characters trying to navigate their way through believable conflicts that are easy to empathize with. That makes the show, not just entertaining but also more impactful than your average crime drama—and Scandinavian noir at its best!
The Valhalla Murders
If you like Scandinavian crime novels, television series, and films, you might want to check out The Valhalla Murders. Set in Iceland, this cross-national production between Iceland, Norway, and Denmark is based on the award-winning novel of the same name by Yrsa Sigurðardóttir. It revolves around three girls who are vacationing in an old abandoned hotel. They accidentally kill Sigyn Ellisdottir's husband—who is their English teacher—and then try to cover it up.
The show was created by Hrafn Gunnlaugsson (of the Nordic noir film Trapped). It uses Sigurðardóttir's story as a starting point for its own original plotline. The show premiered on Netflix in February 2019. However, it has garnered mixed reviews since then due to its slow pace. Some critics argue it is deliberately meant to mirror that of a typical Scandinavian crime novel or television show.
It seems that while they were successful at capturing many of the tropes one would come to expect from a Scandinavian TV series or movie, there was still something lacking overall. Regardless of these criticisms though, if you're looking for an original take on the genre with international appeal behind it, The Valhalla Murders could be worth checking out.
Bordertown
If you're looking for an interesting Scandinavian crime drama, you can't go wrong with Bordertown. Set in a small town on the Finnish-Russian border, it follows Detective Kari Sorjonen as he tries to solve murders he's been called in to investigate.
The show does a great job of developing its main character and showing his personal life. If I were writing this review without having seen the rest of the series, I'd still say this is worth watching just for Sorjonen himself. He's an empathetic protagonist whose backstory includes his daughter suffering from leukemia and being divorced due to his wife getting a brain tumor. This gives him plenty of emotional weight that really comes through in his scenes with other characters.
A great insight into Nordic culture throughout the seasons makes this even more worth your time. Especially if you're interested in moving there someday—or at least eating all their delicious food (which is a fair substitute).
Wallander
Wallander is a Swedish police drama, which is based on the novels by Henning Mankell. It got the Best Crime Drama award in 2005 by the International Emmy Awards. It's set in Ystad, a small town in southern Sweden. Detective Kurt Wallander is a middle-aged man with an estranged relationship with his father and an on-again, off-again romance with his ex-wife (who he still lives across the hall from). He's a crusty, flawed character whose personal life is as much of a mess as his crime scenes are.
Being slow and methodical, compared to American TV dramas, the show has received some criticism. However, this allows you to become absorbed into Wallander's world and discover who he is beyond just an investigator. Krister Henriksson won the Best Actor award at the 2007 Guldbagge Awards for his role in Wallander. He was also nominated for an Emmy.
All the Sins, Elisa Viihde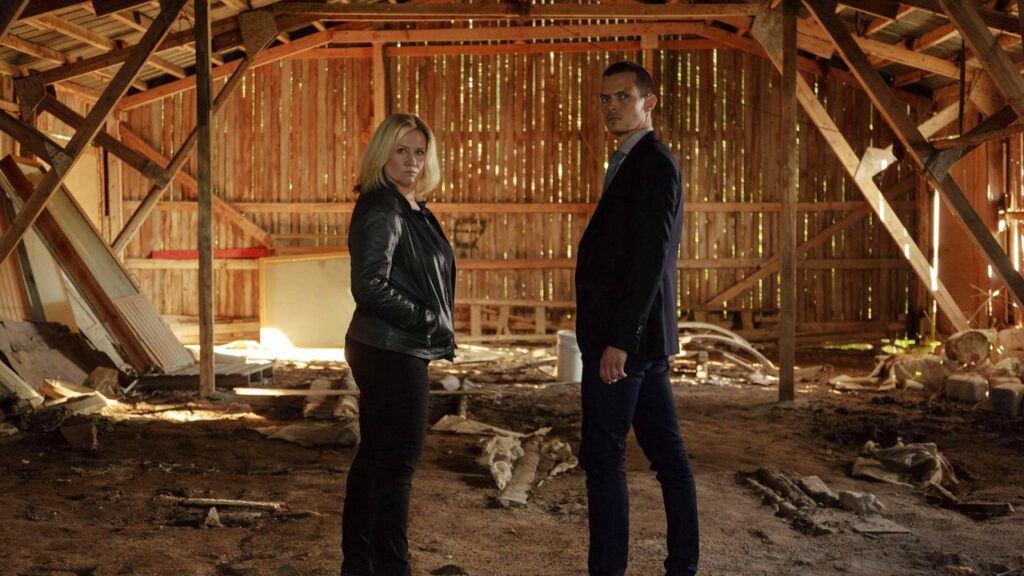 The Scandinavian version of this show focuses on the small village Vadstena and its series of unsolved murders. The story itself is quite clichéd. The detective is investigating a series of crimes after the death of his sister. But despite finding many important clues and even tying up some loose ends in one episode, nothing really comes together. Not until the final episode, which I think makes it more interesting than just being another whodunnit mystery. Plus, there's also a twist ending which will leave you guessing until the very end.
There's a lot to like about this show. Perhaps best of all it's not full of misandry or whiny women who cry incessantly at every turn. By creating multiple female characters with agency and personality who don't take whatever happens to them personally (it's no surprise that one of these detectives is played by actress Hanna Alström), it provides realistic (and often hilarious) insight into how women deal with life while still maintaining their independence as human beings who can make their own decisions without having to listen or please men all the time.
Conclusion
The interest in Scandinavian crime fiction has spiked over the past handful of years and for good reason. The best Scandinavian crime series that stand out among the crowd for being both well-written and compelling to watch deserves an award. These crime series are from different countries but share a universal appeal that makes them a must-watch for many.