Memphis Mansion Randers | A copy of Graceland in Denmark
Most of you have probably heard of Graceland. The iconic mansion located in Memphis, Tennessee, once belonged to Elvis Presley and is now a hugely successful tourist attraction. Did you know, however, that a Danish Graceland exists in Randers? Memphis Mansion Randers is exactly that.
Memphis Mansion Randers | Formerly known as Graceland Randers
The Memphis Mansion, known as Randers Graceland until 2015, is a faithful replica of Elvis Presley's estate in the USA. The Memphis Mansion was built by the Danish businessman and dedicated Elvis fan Henrik Knudsen.
In 2011 the Memphis Mansion finally opened its doors to visitors from all over the world. Two years later, a replica of Elvis' birthplace in Tupelo was added to the attractions. The modest wooden house located in Memphis Mansion's garden is identical to the house Elvis was born in.
Memphis Mansion Randers | How similar is it to Graceland?
On the outside, it is almost identical to Elvis Presley's famous mansion. Be that as it may, the interior is not reminiscent of the original Graceland. If you wanted to see what Elvis Presley's bedroom or living room looked like, Memphis Mansion will not provide you with this opportunity.
It may be formerly known as Graceland Randers, but it is identical to Graceland only on the outside. The retro decor, however, is really nice and the attention to detail is praiseworthy!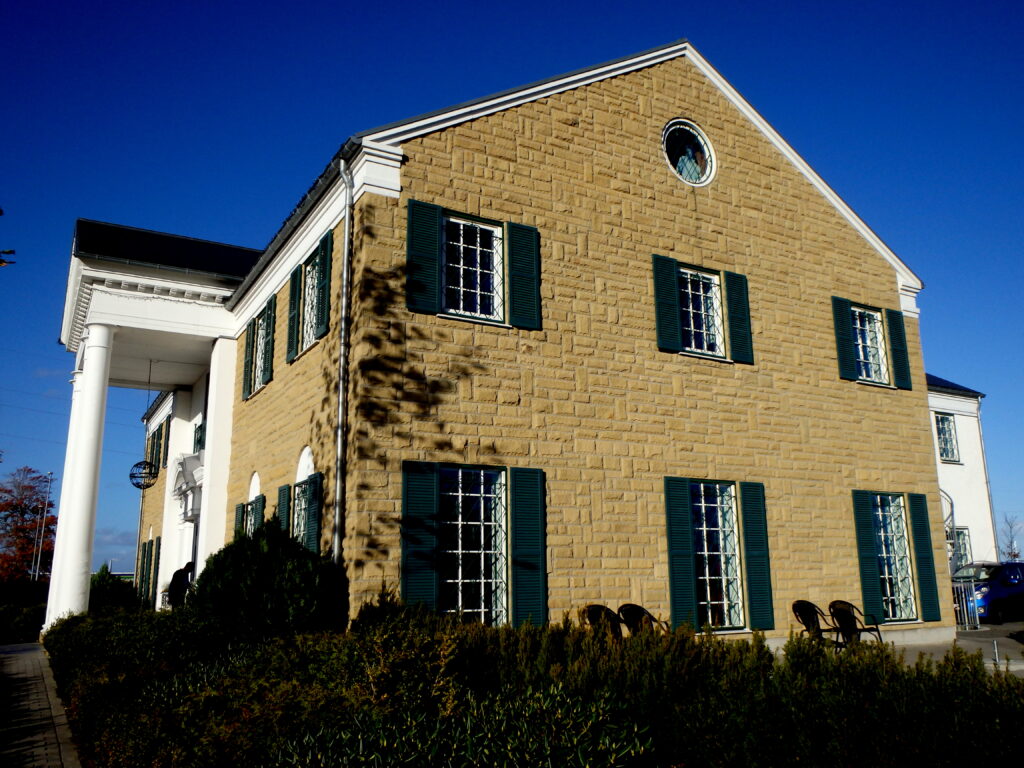 Memphis Mansion Randers | Inside Memphis Mansion
Once you enter the gate, Elvis Presley's music pours out of hidden speakers and sets the mood for what is about to follow. Songs performed by the legendary singer will accompany you for the rest of your visit.
Memphis Mansion Randers | Highway 51
Inside the mansion is Highway 51, an American-style diner serving some of Elvis' favorites. The, famously loved by Elvis, peanut butter and banana sandwich is obviously on the menu, as are other sandwiches, steaks, and delicious burgers. Various other snacks, salads, kid's plates, and even breakfast menus are available.
Memphis Mansion Randers | The shop
The souvenir shop, located on the ground floor along with the diner, is an ideal place to buy some Elvis memorabilia. A variety of Elvis Presley – related products are available, from vinyl records to Christmas ornaments. You can check Memphis Mansion's e-shop to get an idea of what's available.
Memphis Mansion Randers | The museum
The Memphis Mansion museum features the largest Elvis Presley collection in Europe. How much you are going to appreciate the exhibits, depends on how hardcore of an Elvis fan you are!
The King of rock 'n' roll has, to this day, countless admirers that would get tremendously excited by all these objects that are somehow connected to him. Most captions are translated into English, which is extremely helpful in understanding the importance of each piece.
Do not miss a chance to take a guided tour conducted by the owner, Henrik Knudsen. His knowledge and passion for Elvis are evident throughout the tour and make the whole experience more vivid and engaging.
Event venue
Memphis Mansion can host a wide variety of events. You can book weddings, birthday parties, business meetings, or other social events, and the Memphis Mansion staff will do their best to assist you in having a great time.
As stated on the Memphis Mansion official website, the banquet rooms are rented out 245 times a year. With that much experience, it sure seems they know how to effectively help you organize an event.
Memphis Mansion location
Memphis Mansion is located in Graceland Randers Vej 3, Randers. There is enough parking space available, so you will probably have no difficulty finding a spot. If you do not have a car, you can take the bus. The closest bus stop is at a ten-minute walking distance.
Johnny Cash Museum Randers
Last but by no means least, there is the Johnny Cash museum! The most recent addition to Memphis Mansion's attractions, the Johnny Cash Museum in Randers is currently the only Johnny Cash museum in Europe.
Here you will find plenty of objects that belonged to the legendary country singer. There is also a huge collection of records and various other exhibits connected to him or his wife, June Carter.
Johnny Cash, also known as the Man in Black, rose to prominence in the 1950s, at the same time as Elvis Presley. The Johnny Cash Museum in Randers is a deserving tribute to one of music's greatest artists and an attraction of great interest to those who love his music.