If you are visiting Copenhagen and planning to learn some stuff about its rich culture and history, exploring its monuments is an excellent starting point. Whether old or modern, these architectural wonders played a significant role in shaping the city's development. Below, we will introduce you to the ten most famous monuments in Copenhagen, each having its significance and symbolism.
1. The Little Mermaid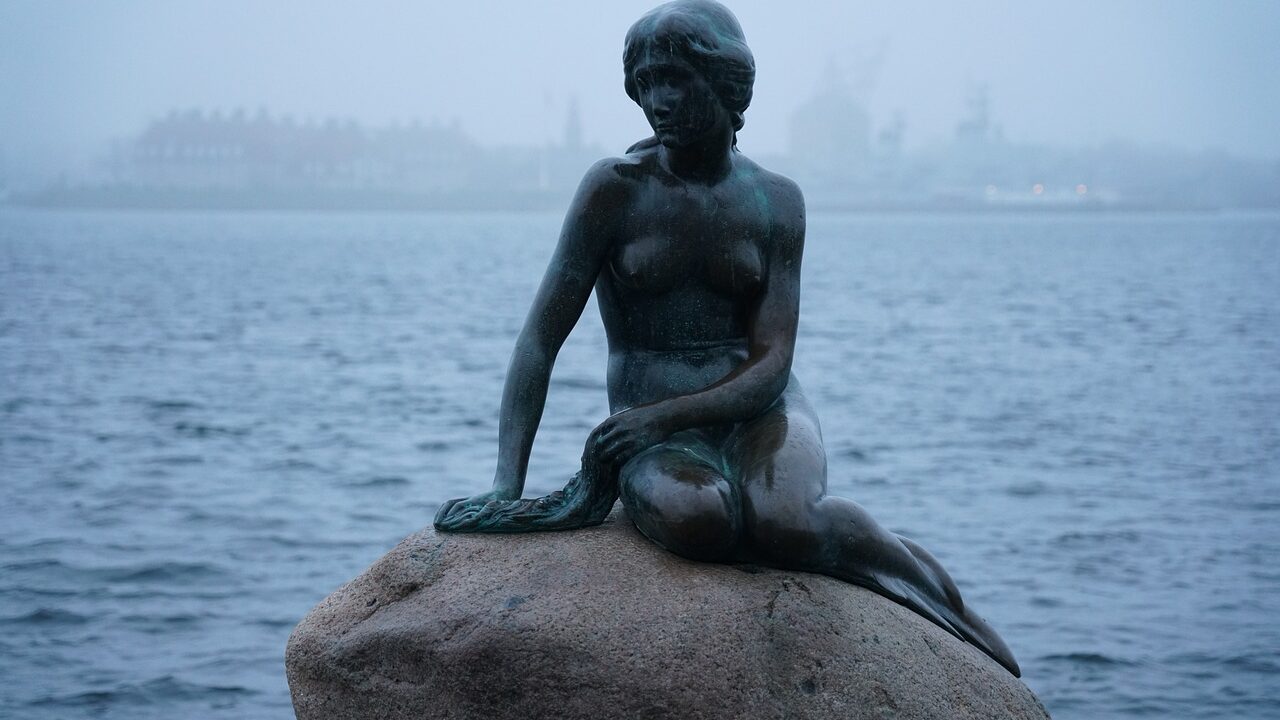 The Little Mermaid is undoubtedly the most famous monument in Copenhagen. It sits at the Langelinie promenade, near the Copenhagen Harbor. It was made by Edvard Eriksen and was unveiled on August 23, 1913. The statue represents a character from a well-known fairy tale by Hans Christian Andersen. The Little Mermaid is a mermaid who wishes for an immortal soul and true love.
The statue is a significant national symbol for Denmark, celebrating Andersen's stories and the city's maritime history. Despite its small size (1.25 meters tall and weighing 175 kilograms), the Little Mermaid continues to capture the hearts of visitors who come to see and appreciate its enduring charm and timeless story.
Admission: Free
Opening Hours: 24/7
2. Copenhagen City Hall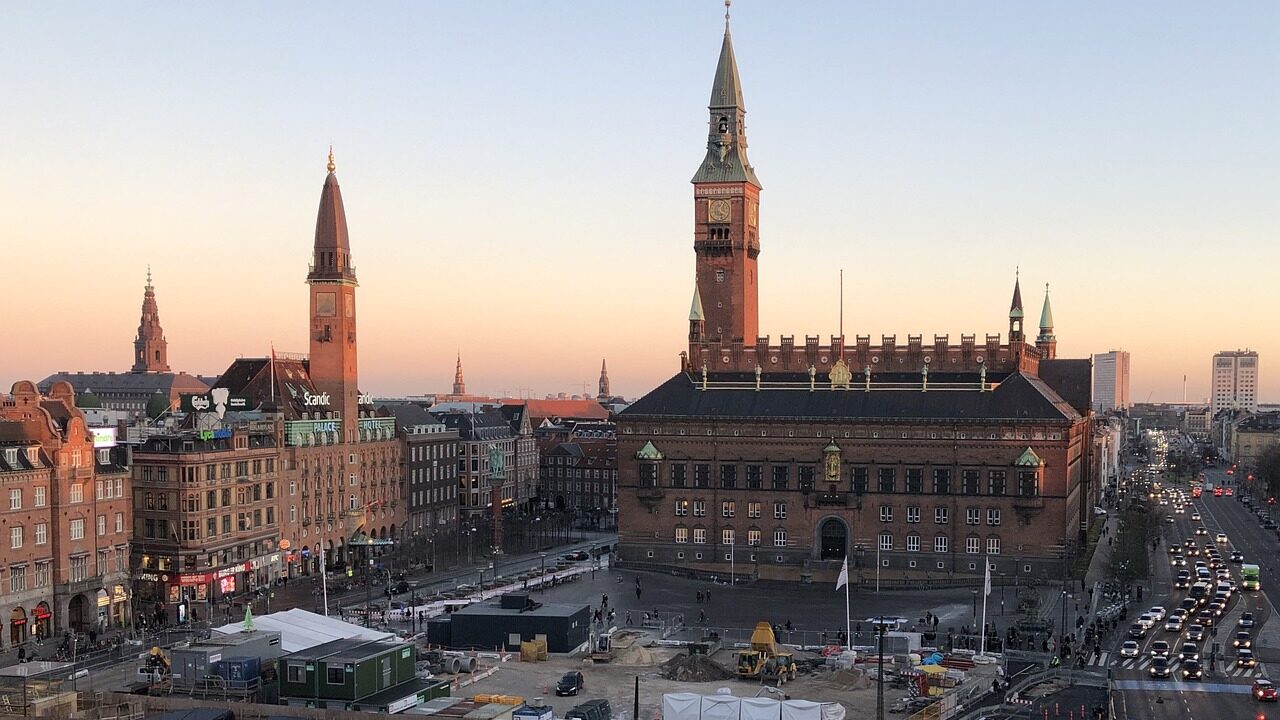 Copenhagen City Hall is an important monument with a special meaning. It stands in the heart of Copenhagen, at City Hall Square. The building was built between 1892 and 1905. It symbolizes civic pride and democratic governance, representing the city's commitment to democracy and serving the people.
Inside, there are beautiful halls with paintings and artworks to admire. The clock tower is a remarkable feature, offering breathtaking views of the city from its 105.6-meter height. Copenhagen City Hall is significant for the city and the country, showcasing Danish history and cultural heritage. As an iconic landmark, it represents Denmark's values and commitment to its citizens.
Admission: Free
Opening Hours: 9 AM – 4 PM
3. Zinkglobal
Zinkglobal is one of the most famous modern monuments in Copenhagen. You will find it in the port area, near the Little Mermaid statue. It is a large, striking sculpture made of old metal parts, standing tall at 3 meters. The monument was built in 2012 by artist Kim Michael. It symbolizes cooperation between people and the common dream to enter the future.
The monument also represents the city's importance as a global port and its history as a center of trade and commerce. Zinkglobal is significant for Copenhagen and Denmark as it reflects the modern spirit of the city. Since its creation, it has become an iconic symbol of Copenhagen's contemporary art scene.
Admission: Free
Opening Hours: 24/7
4. Rytterstatue of Absalon
You probably never heard of Bishop Absalon, but this impressive statue will allow you to learn how important he is to Copenhagen. Bishop Absalon was a significant historical figure and the founder of the city of Copenhagen. His statue is standing proudly in the City Hall Square (Rådhuspladsen).
The Rytterstatue of Absalon was built in 1902 by sculptor Vilhelm Bissen. It portrays Bishop Absalon as a mighty medieval warrior on horseback, reflecting his role as a warrior-bishop who founded Copenhagen in the 12th century. The Rytterstatue of Absalon symbolizes his influential presence and enduring impact on the city's history and growth.
Admission: Free
Opening Hours: 24/7
5. The Gefion Fountain (Gefionspringvandet)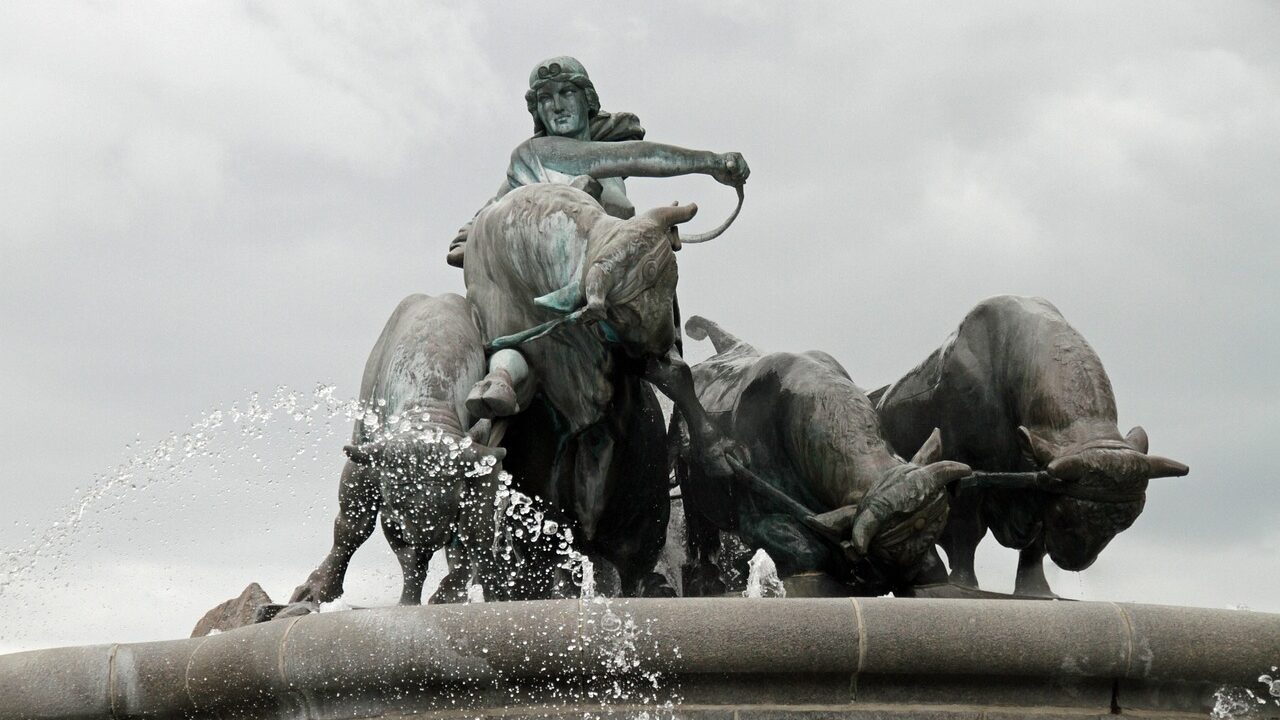 If you are a fan of Norse mythology, you will love the Gefion Fountain. This beautiful monument in Copenhagen is closely related to Norse mythology as it depicts the Norse goddess Gefion driving a team of oxen. The fountain is in the harbor of Copenhagen, near the St. Albans Church. It was built in 1908 by Danish artist Anders Bundgaard.
The Gefion Fountain symbolizes the ancient tale of how Gefion, the goddess of fertility and agriculture, carved out the island of Zealand from Sweden using her oxen. The monument represents Denmark's rich mythological heritage and deep connection to Norse folklore. The fountain's intricate design and historical significance make it a cherished landmark, celebrating the nation's cultural roots and artistic legacy.
Admission: Free
Opening Hours: 24/7
6. Monument for Denmark's International Effort since 1948
The name of this monument in Copenhagen also describes what it is about. It represents Denmark's contributions to international efforts for peace and humanitarian causes since 1948. You can find it in Kastellet, a historic military citadel. It's a creation of artist Finn Reinbothe, inaugurated on September 2011.
The monument symbolizes Denmark's commitment to global cooperation, peacekeeping, and humanitarian aid since 1948. It holds great significance for the city and the country, honoring Denmark's role as a responsible global citizen and its dedication to making positive contributions to the international community.
Admission: Free
Opening Hours: 24/7
7. Lur Blowers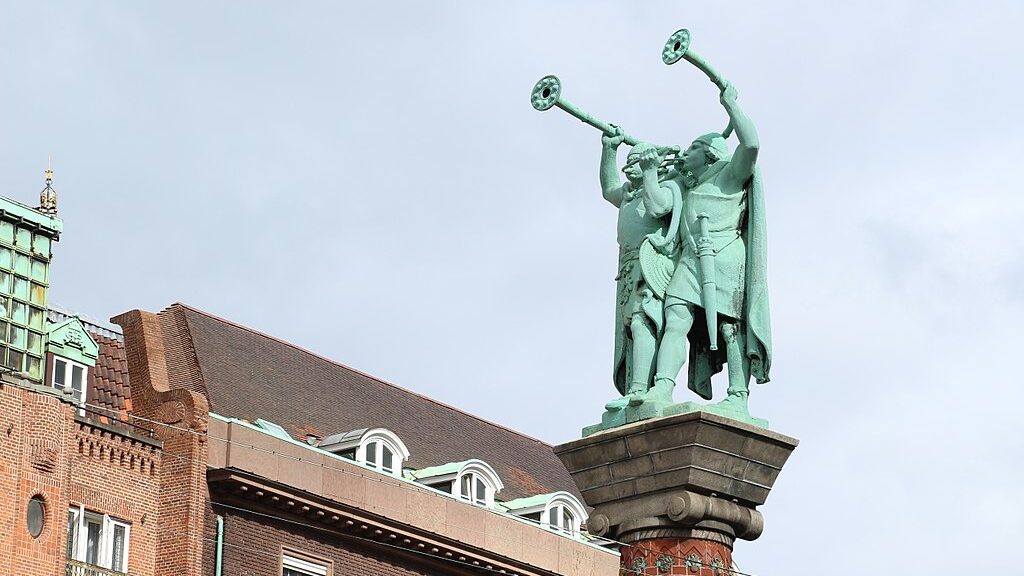 Lur Blowers is one of the most famous monuments in Copenhagen, Denmark. It consists of two bronze figures blowing bronze horns, standing on a granite base. The monument is located next to Copenhagen City Hall. It was designed by Anton Rosen and Sigfried Wagner in 1913. Lur Blowers symbolizes the importance of music and the performing arts in Danish culture. It represents the connection between the artists and the audience, evoking a sense of harmony and creativity.
The monument also celebrates the vibrant arts scene and the enduring appreciation for music and theater in Danish society. It stands as a testament to Copenhagen's cultural heritage and its commitment to fostering artistic expression and cultural experiences.
Admission: Free
Opening Hours: 24/7
8. The Humane Nurse
The Humane Nurse is one of the most beautiful monuments in Copenhagen, Denmark. It portrays a kind and caring nurse holding a baby in her arms. The monument is located at the entrance of Bispebjerg Hospital, next to Lersø Park. It was built in 1936 by sculptor Jens Jacob Bregnø.
The Humane Nurse symbolizes the compassion and dedication of healthcare professionals, particularly nurses, in caring for the sick and vulnerable. It represents the importance of healthcare and the values of kindness and empathy in Danish society. Additionally, the monument pays tribute to the vital role of healthcare workers and the value placed on human compassion and care.
Admission: Free
Opening Hours: 24/7
9. The Forgotten Giants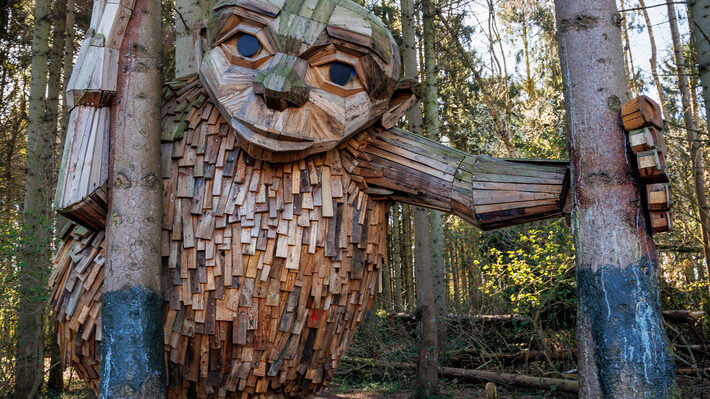 The Forgotten Giants are not just one, but six unique monuments scattered throughout different parts of Copenhagen. Each giant sculpture is made from recycled wood and represents various mythical creatures. You can find them in natural settings around the city, like forests and parks.
Thomas Dambo built the Giants as a part of an environmental art project in 2016. The sculptures symbolize the harmony between nature and creativity, showcasing the importance of preserving green spaces and valuing sustainability. These giants have become very popular in Copenhagen as they promote outdoor exploration and instill a sense of wonder among residents and visitors.
Admission: Free
Opening Hours: 24/7
10. The Statue of Hans Christian Andersen
Copenhagen is deeply related to Hans Christian Andersen. So, a monument dedicated to this beloved storyteller could not be missing from this list. His statue is located in Rosenborg Castle Gardens, the oldest park in central Copenhagen. It portrays Andersen seated on a bench, inviting visitors to sit beside him. The statue was built in 1880 by Danish sculptor August Saabye.
It symbolizes the enduring legacy of Hans Christian Andersen's literary contributions and his impact on Danish culture. The monument pays tribute to one of Denmark's most famous and celebrated authors. Andersen's fairy tales have touched the hearts of readers worldwide, making him a critical figure in Danish literature and cultural history.
Admission: Free
Opening Hours: 24/7
What is the top-rated monument in Copenhagen?
Based on the reviews you can find online, the top-rated monument in Copenhagen is The Gefion Fountain. Although more people have written reviews for The Little Mermaid, not all are positive. Many consider it to be overrated. However, The Gefion Fountain really makes a good impression on visitors. People like it so much because of its impressive design and unusual representation of the Norse goddess Gefion. Additionally, the fountain's complex details and fascinating storytelling captivate those who visit it.
Conclusion
Denmark's capital offers hundreds of impressive monuments and landmarks, making it hard to choose which one to visit first. We have presented the ten most famous monuments in Copenhagen, not necessarily the best. Now, it's up to you to decide which ones you want to see, form your own opinion, and let us know about your experience!