Greenland offers a distinctive travel experience for those seeking something beyond the typical tourist destinations. If you dream of traveling to a place still untouched by man and time, you should definitely put the northernmost country in the world on your bucket list. Our guide to Greenland for solo travelers offers comprehensive information and preparation tips to ensure a safe and unforgettable adventure in this unique and remote destination on your own!
In the last decade, Greenland has emerged as a popular travel destination, and with the added impact of climate change, this presents two significant implications for the country's upcoming years. First, the natural landscape will not long remain as it is today, with the icebergs already beginning to melt. Second, prices will rise even more, making the country an exclusive luxury destination accessible to only a privileged few. So if you want to visit Greenland, the ideal time is now!
Top 10 Reasons to Visit Greenland
A single photograph is often sufficient to motivate someone to begin seeking out flights to Greenland. Below are some additional reasons to consider visiting this unique destination:
Ιcebergs: Icebergs are huge masses of ice floating in the sea. It is an impressive sight that you can see at its best in Greenland.
Northern Lights: Greenland is the perfect place for viewing the northern lights. In addition to ideal climatic conditions, there is also minimal light pollution.
Arctic landscape: Greenland's unique wild landscape is a wonderland of things you've never seen before.
Midnight sun: The phenomenon of summer's 24-hour period of sunshine is displayed in its absolute glory in Greenland from June till August.
Peacefulness: It is hard to describe all visitors' feelings of awe and peacefulness when surrounded by such a majestic landscape.
Outdoor activities: Dogsledding, snowmobiling, ice-fishing, and sailing among icebergs are just a few of the unique activities that you can try while in Greenland.
Whales: Greenland is the natural habitat of many species of whales during the summer months! Some of them are fin whales, humpback whales, and even orcas.
Unspoiled wilderness: Although Greenland is quite large, it is the least densely populated area in the world. Travelers, therefore, enjoy an environment of incredible natural beauty with minimal human intervention.
Beautiful villages: Greenland consists of small towns, villages, and settlements, which are not connected by roads. All the cute colored houses and shops provide easy access to the enchanting environment around them.
Sense of community: Visitors to Greenland can learn more about the Inuit culture, and explore its traditional way of living. They can also come together with locals and tourists, and feel a sense of cooperation, sharing, and support.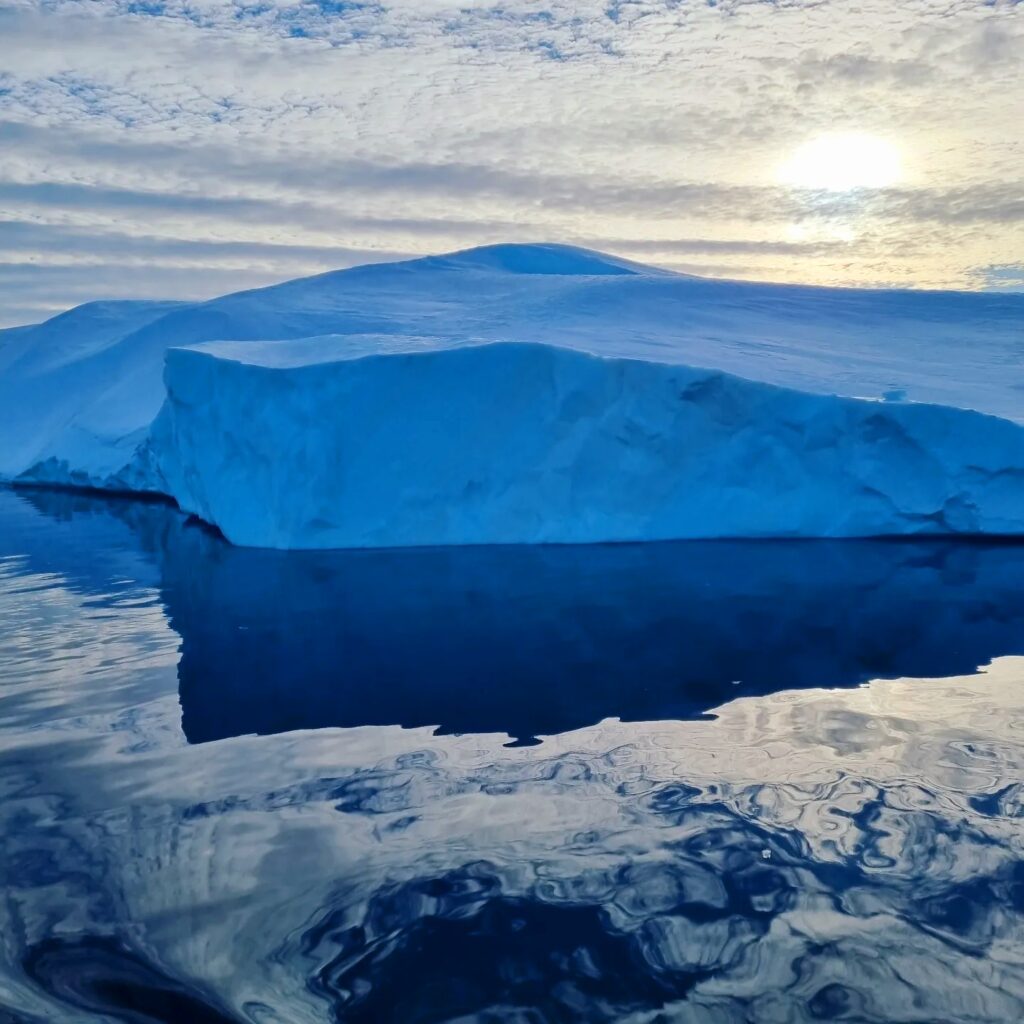 What are the benefits of traveling solo to Greenland?
The most important benefit of traveling solo to Greenland is the opportunity for self-discovery out of your comfort zone. You will be faced with challenges that you have never encountered before, in a beautiful yet wild environment. Additionally, you will have endless opportunities for reflection and introspection, and enough space to process new experiences and earn new perspectives on your life and goals.
Another advantage of traveling to Greenland alone is the freedom to choose the program and activities you want to participate in. The variety of activities, as well as the degree of difficulty of some of them, makes it very difficult to formulate a program that everyone will be happy with. For instance, one person may want to try dogsledding, while the rest of the group may find it difficult or expensive. A solo traveler won't face these kinds of problems.
Finally, it is important to know that no solo traveler will feel truly alone in Greenland! From the first moment, you will realize that many other travelers have chosen to make this trip alone. In all the activities you will participate in, the groups consist mainly of couples and solo travelers. And all kinds of places you'll visit – from cafes and restaurants to clothing stores and supermarkets – have a friendly environment and an atmosphere more suited to people who travel alone.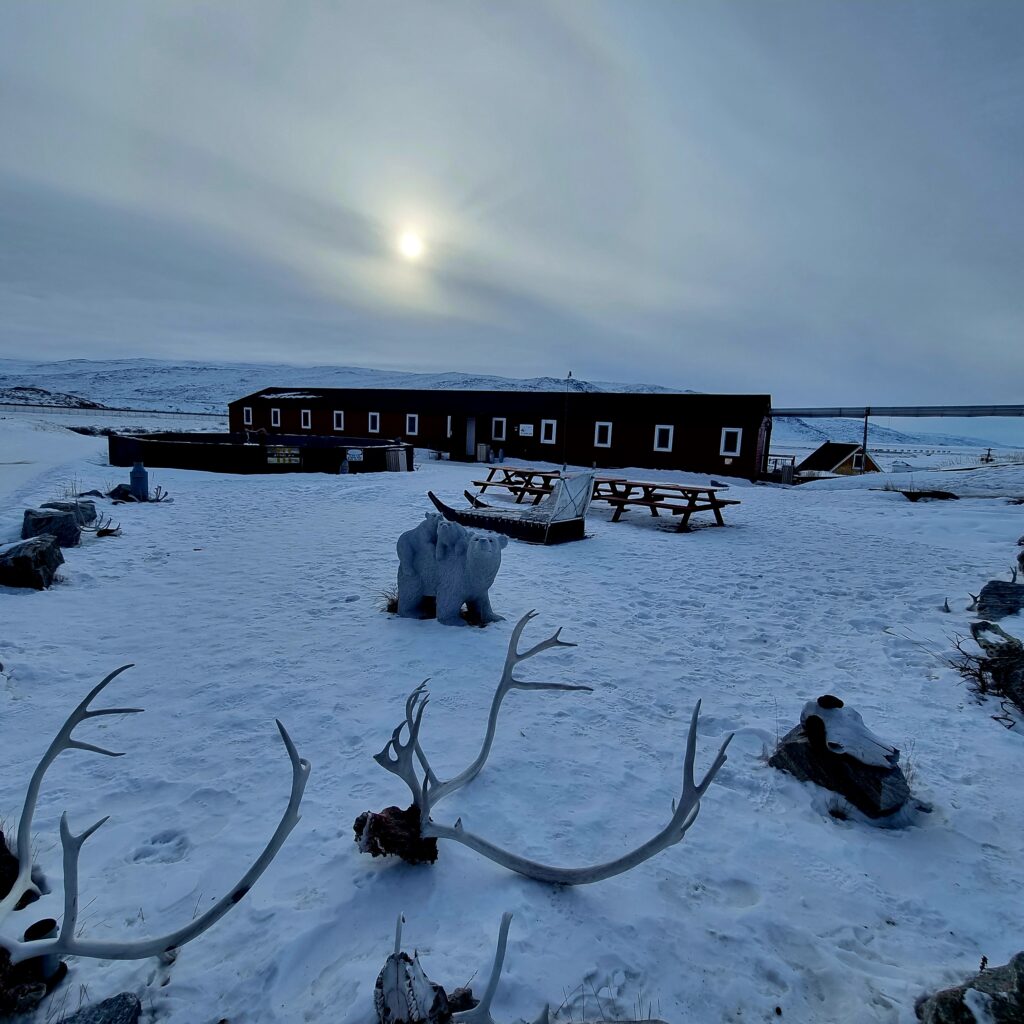 Is Greenland safe for solo travelers?
Greenland is one of the safest destinations for solo travelers. The locals are friendly and helpful to tourists, and all the towns are small and easy to explore. According to international statistics, crime rates are low, and security is at high levels. However, there are some things you should watch out for.
First of all, you must always keep your personal belongings well protected. Because a trip to Greenland involves a lot of outdoor and nature activities, it is common for people to lose important things like passports, wallets, or cell phones. And then it's impossible to find them among all that ice!
Second, the temperature in Greenland is low all year round. Therefore, you can easily catch a cold if you don't dress properly, especially when participating in outdoor activities. Also, the weather is extremely unpredictable. It is not uncommon for the temperature to drop by 20 degrees overnight.
Finally, a trip to Greenland includes a lot of hiking and walking through enchanting frozen landscapes. If you decide to do it alone, you have to be very careful to avoid injuries, not get lost, and not get too close to wild animals.
In short, Greenland is a safe destination for solo travelers, and for all kinds of travelers. Just be careful, dress warmly, and use common sense in your wanderings!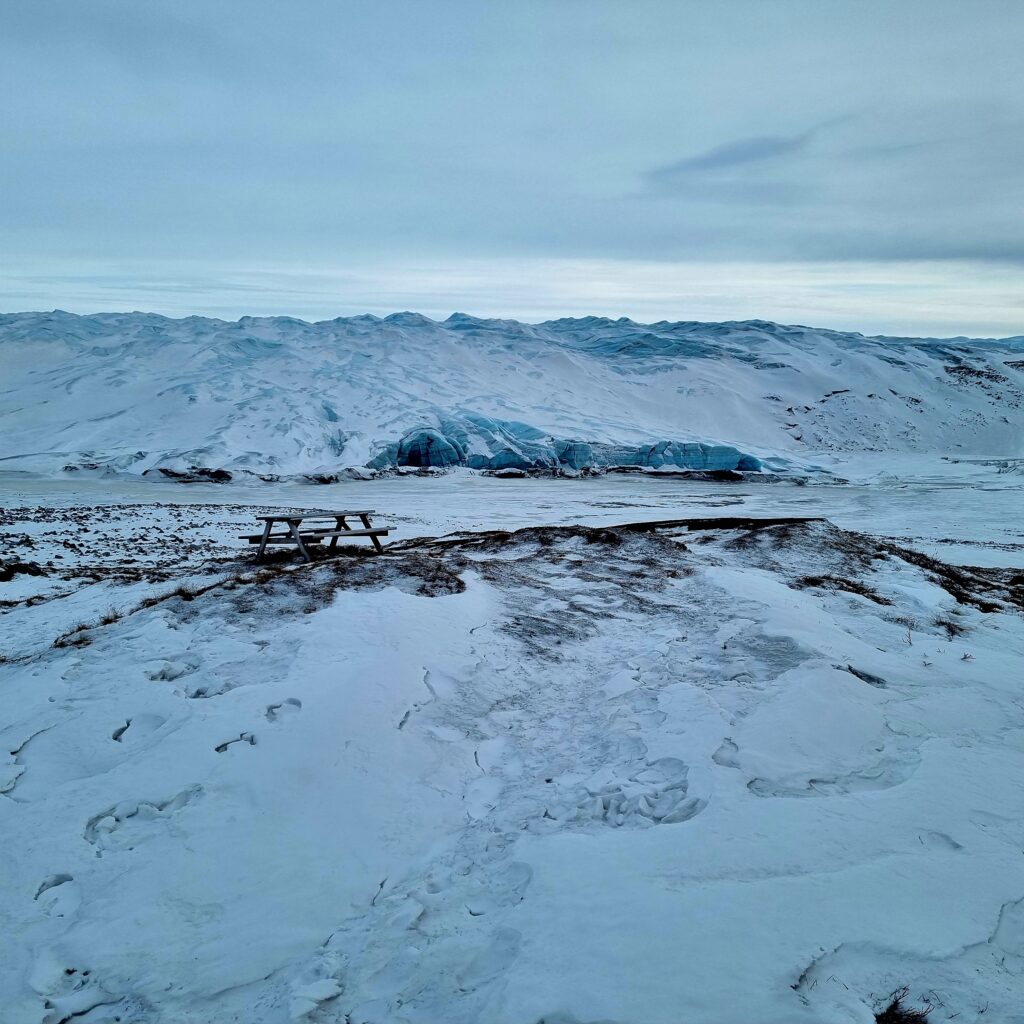 Is Greenland expensive for solo travelers?
Yes! Greenland is expensive whether you are traveling alone or with a group. Getting to Greenland is expensive, accommodation in Greenland is expensive, and food in Greenland is also expensive! But traveling to Greenland alone is certainly cheaper than going with a group. Groups tend to overcharge for activities that are very easy to book online on your own.
So, is it easy to visit Greenland on a budget as a solo traveler? Yes, it is! First, you need to find cheap flights, which is not hard if you are flexible on the dates. Second, you can save money on accommodation. If you are traveling solo, you can look into staying in some of the high-quality hostels in the country. Third, you can save money on meals by looking for supermarkets with affordable meal options. Fourth, you can do some outdoor activities solo, such as hiking or northern lights safaris. With research and careful planning, you can spend one week solo in Greenland with a total cost lower than 2000 EUR.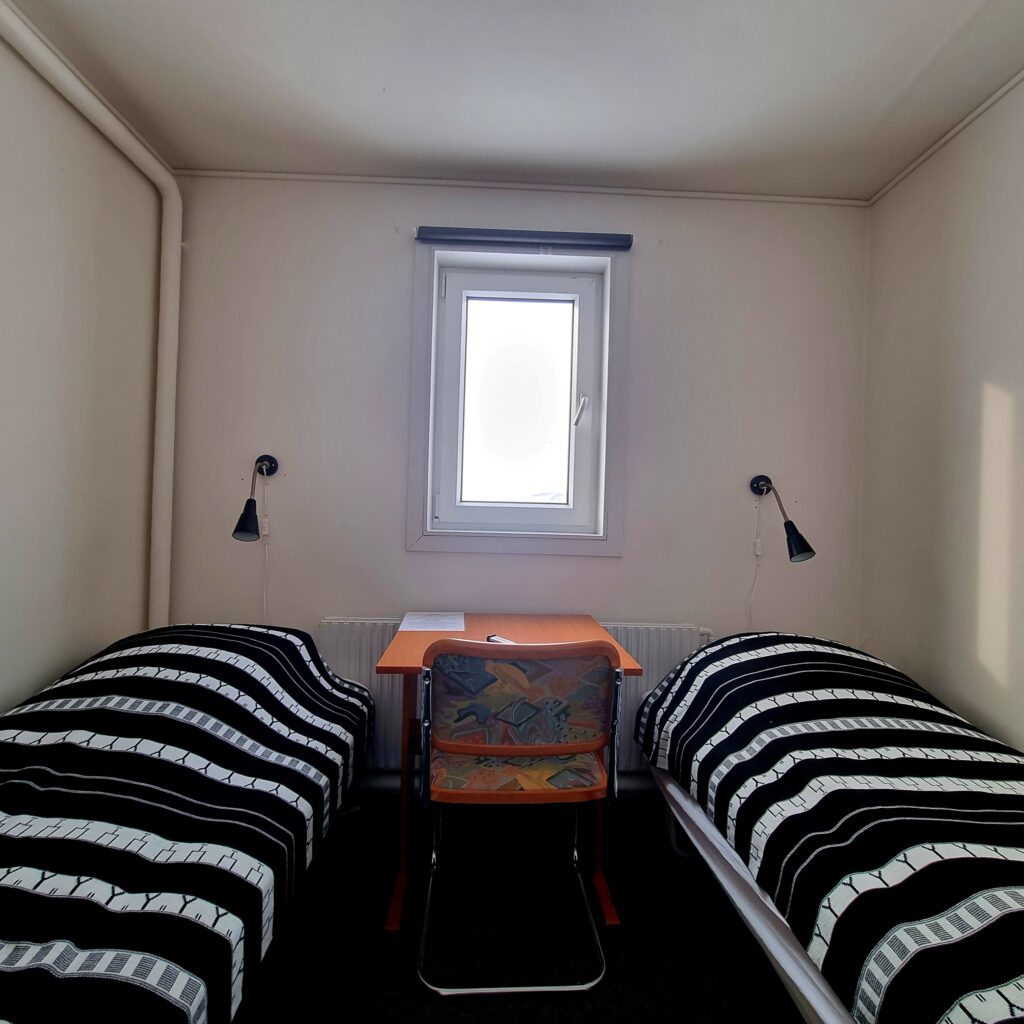 What is the best time to visit Greenland?
Most solo travelers choose to travel to Greenland in the summer. It is definitely safer because the weather conditions are much better. It's also the only time you can see the midnight sun, and if you're a fan of whales, it's the right time to see them up close.
But the winter months offer a unique experience for solo travelers looking for natural beauty and adventure. Winter is the most picturesque season in Greenland, with the frozen landscapes and the icebergs looking much more beautiful than any other time of the year. There are also fewer tourists and crowds, making a solo traveling experience more peaceful and immersive.
Additionally, in the winter months, you can enjoy some activities that are not available during the summer. In particular, you can do dogsledding, snowshoe hiking, snowmobiling, skiing, and snowboarding. Moreover, all of these experiences can be savored amidst the most stunning scenery in the world! Finally, Greenland provides the perfect backdrop for the northern lights display, and its location near the magnetic north pole increases your chances to see them during winter.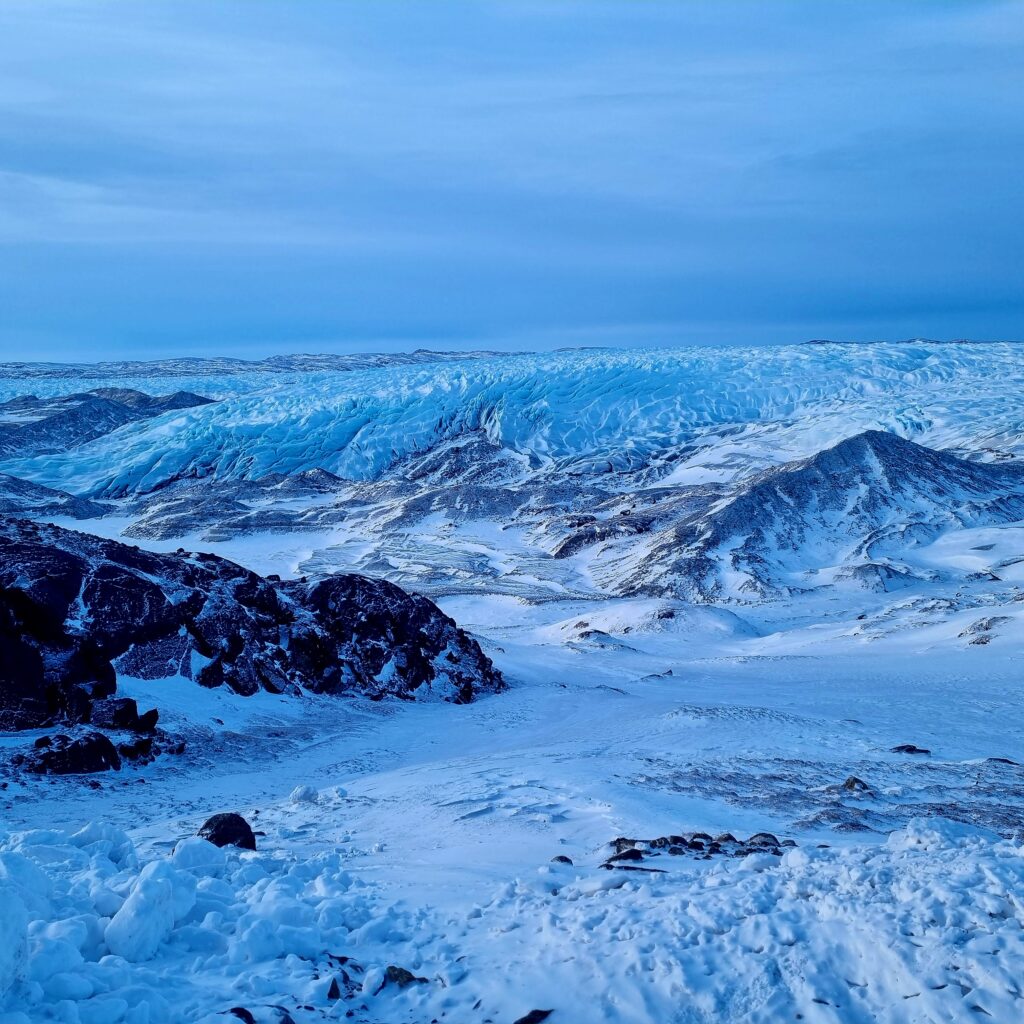 Best travel destinations in Greenland for solo travelers
Greenland's largest towns are not connected to other places by roads. Therefore, the only way to travel from one to the other is by plane or ship. So to avoid too many flight costs, and to make your trip more pleasant, it would be ideal to choose two of the destinations below to visit on your solo trip to Greenland:
Ilulissat
Ilulissat is the most picturesque town of Greenland, situated on the west coast of the country. It is renowned for its breathtaking natural beauty and the UNESCO World Heritage Site, Ilulissat Icefjord. The icefjord is a stunning sight with massive icebergs floating in the waters. This is a perfect destination for solo travelers, as they can easily take boat tours to explore the icefjord or go on hikes to witness the stunning views from above. In addition to the icefjord, Ilulissat offers a wide range of outdoor activities such as dog sledding, whale watching, fishing, and hiking, making it a popular destination for adventure enthusiasts.
Nuuk
Nuuk is the capital city of Greenland, situated on the west coast. It is known for its beautiful fjords, colorful houses, and rich cultural heritage. It offers a unique blend of traditional Inuit culture and modern amenities, including museums, restaurants, and shopping centers. Nuuk is the closest thing to an urban center in Greenland, as it is home to the country's largest businesses and financial institutions. It is therefore not an ideal destination for solo travelers who wish to experience the wilder side of Greenland.
Kangerlussuaq
Kangerlussuaq, situated in western Greenland, is a great destination for solo travelers who love nature and adventure. The settlement's population is only 520 people! The town offers a variety of outdoor activities, such as hiking, fishing, and wildlife watching. Its location near the Arctic Circle also provides unique opportunities to see the Northern Lights. Additionally, Kangerlussuaq has a friendly and welcoming community, making it easy to meet locals and other travelers.
Sisimiut
Sisimiut, located on the west coast of Greenland, is a fantastic destination for solo travelers who enjoy outdoor activities and cultural experiences. The town offers opportunities for hiking, dog sledding, and snowmobiling all year long. Sisimiut's friendly locals and vibrant community make it an ideal place to connect with other solo travelers.
Aasiaat
Aasiaat, also located in western Greenland, is a perfect destination for solo travelers looking for a peaceful getaway. The town offers great spots to witness the beautiful northern lights. Additionally, Aasiaat is easy to explore on foot and connect with other visitors traveling alone.
Greenland solo travel packing list
The first challenge any solo traveler to Greenland will encounter is deciding what to pack for the trip. Given that arctic weather conditions are unprecedented for most people, most travelers think they should take too much clothing with them. But in reality, it is enough to have these few things with you below:
A warm wind and rainproof jacket
Thermal underwear
Waterproof hiking boots
Thin gloves
Hiking pants
Wool socks
Cap
In addition to the clothing you would pack for a trip to any other cold country, the above are also essential in Greenland. You will need them whether you visit the country in winter or summer. However, you may need even heavier gear if you plan to engage in more extreme activities, such as multi-day hikes or hunting.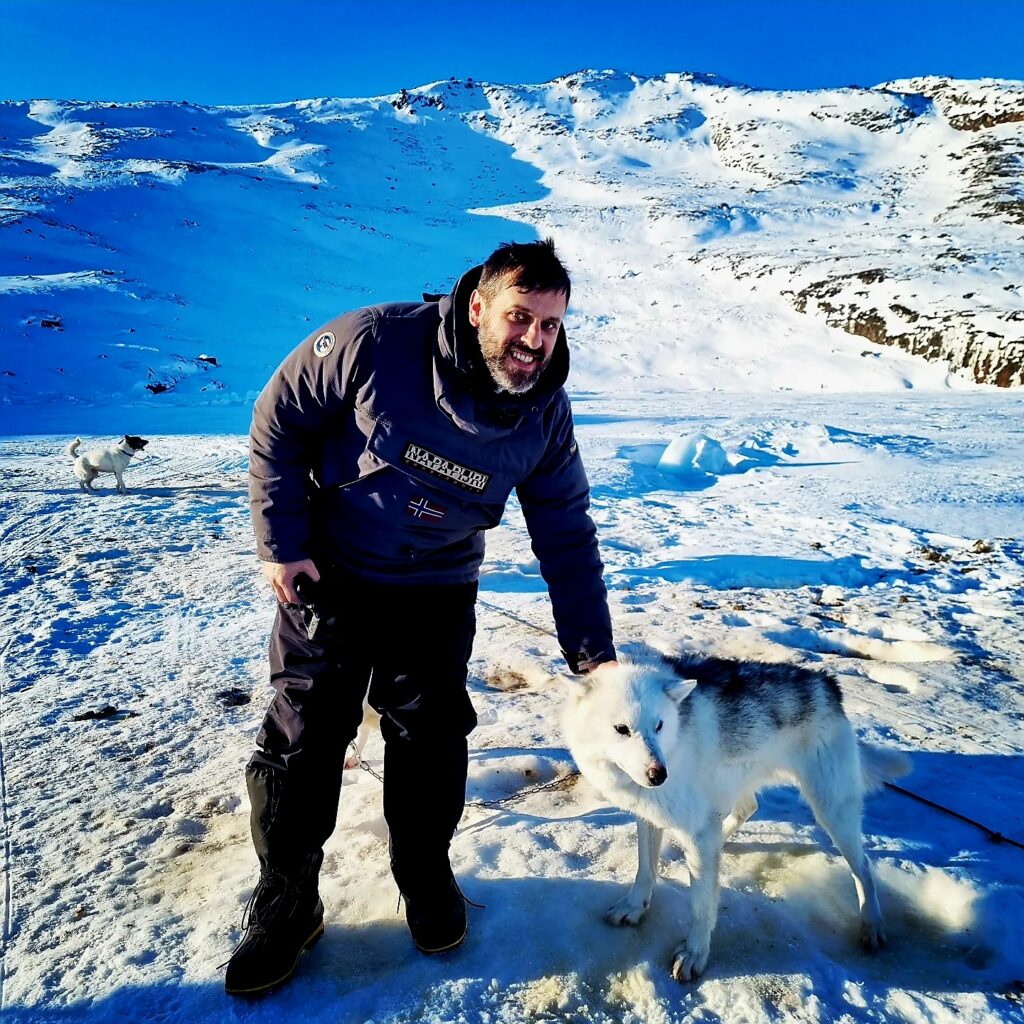 The perfect five days in Greenland itinerary for solo travelers
Five days are enough for an all-inclusive trip to Greenland that won't cost a fortune. Kangerlussuaq is Greenland's air transport hub and the perfect place to start your journey. Ilulissat is Greenland's most beautiful town and is a must for anyone visiting the country for the first time. The following itinerary is a travel guide that combines the best of these two destinations.
Day One: Kangerlussuaq
The first day of your solo trip to Greenland begins by arriving at Kangerlussuaq. Kangerlussuaq is a small town with most shops and restaurants concentrated at its airport. It only has 3 or 4 options for accommodation next to the airport or nearby in small lodge-type rooms. Most travelers spend just one night in Kangerlussuaq and the next day leave on a flight to another destination in Greenland.
Make sure you choose a flight that will arrive in Kangerlussuaq before noon. This way you will have time to join one of the two most popular tours, either to Russell Glacier or Point 660. Point 660 provides the best view of the Greenland Ice Sheet, the second-largest ice body in the world. You can even walk on it during winter!
If it's winter, don't go to bed early at night! Kangerlussuaq is one of the best places in the world to see the northern lights. If you get a clear sky it will be a memory that will stay with you forever. In general, the sensation that Kangerlussuaq exudes is unique. You will feel that you are far away from everything in a unique natural environment in the heart of Greenland. Just relax and enjoy it!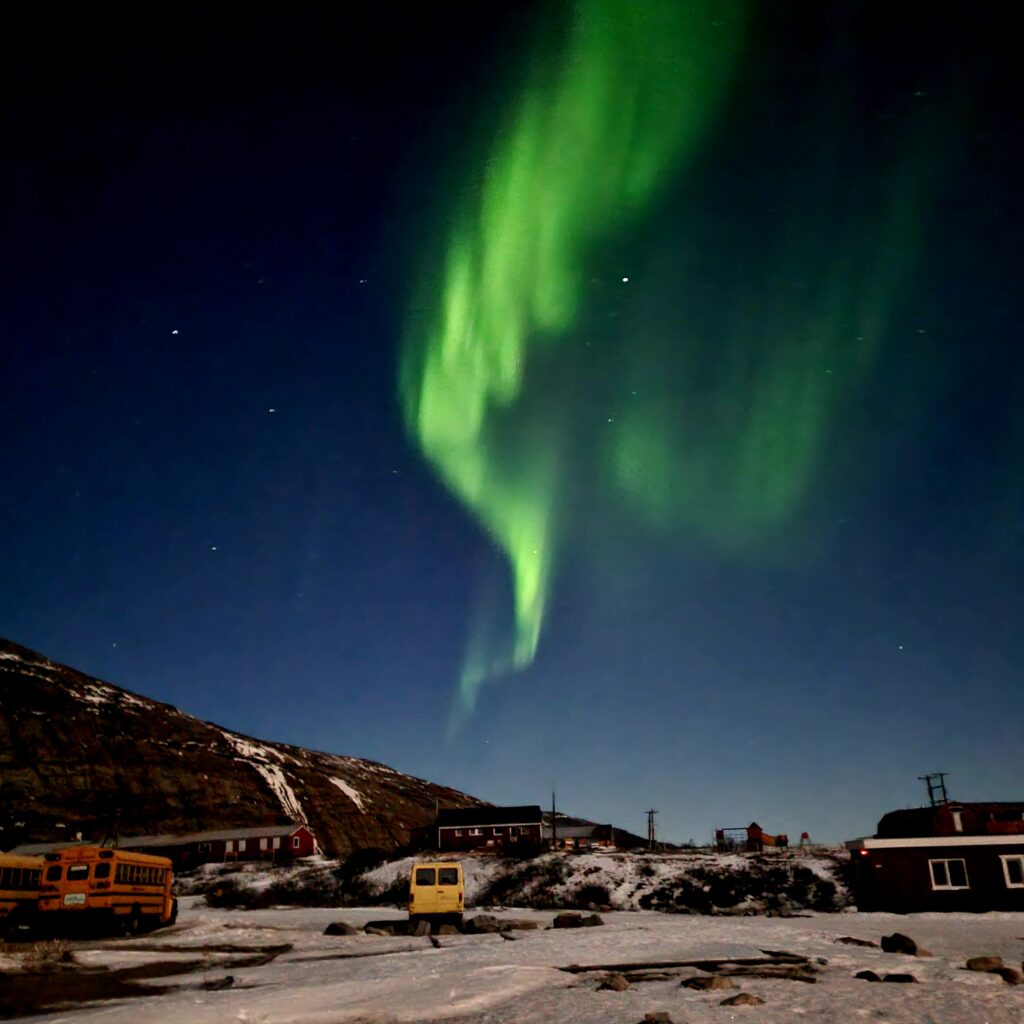 Day 2: Ilulissat
Ilulissat is the most popular destination for solo or group travelers in Greenland. It is a beautiful town with the highest quality tourist accommodation facilities and is home to the famous Ilulissat icefjord. The flight from Kangerlussuaq to Ilulissat takes 45 minutes and is probably the most enjoyable flight you will ever take! The small plane of Air Greenland flies quite low, and you can comfortably admire the beautiful wild Greenlandic landscape. So make sure you travel with daylight and ask for a window seat.
On your first day in Ilulissat, walk around the town and the impressive icefjord. Admire the distinctive architecture, visit Ilulissat Art Museum, enjoy the magical nature of Greenland, and take short breaks in the city's cute cafes and restaurants. Be sure to try some dishes that you will hardly find in other parts of the world, such as whale, muskox, reindeer, and halibut fish!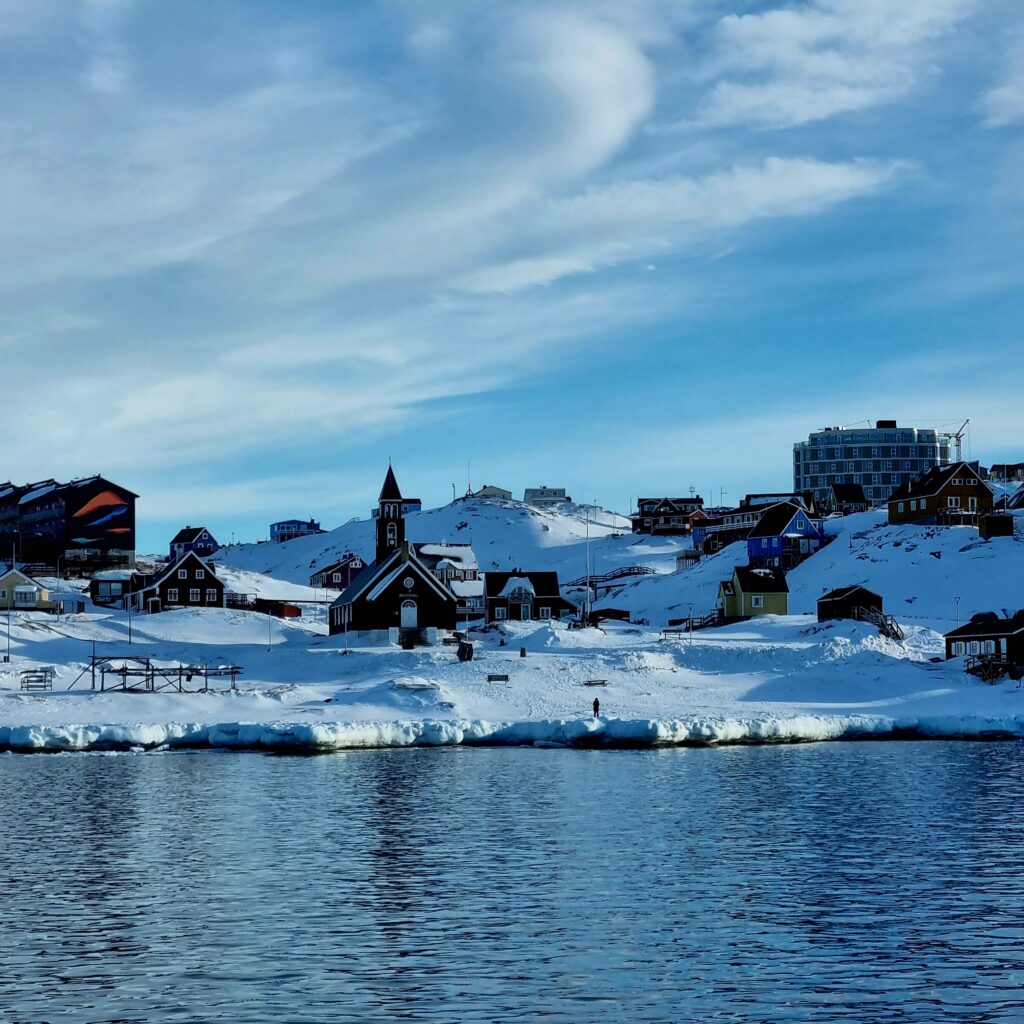 Day 3: Ilulissat boat trip amongst the icebergs and northern lights safari
For the second day in Ilulissat, make sure you have some of the famous Arctic nature tours booked. As there is a small possibility of postponement due to bad weather conditions, book an iceberg boat trip and northern lights safari first. So, if they get canceled, you will have the opportunity to do them the next day.
Several companies offer these tours. Both are approximately 2.5 hours long. On the boat trip amongst the icebergs, you get to sail around huge icebergs and admire an impressive sight that is unlike anything else you've seen before! In the evening, choose a northern lights tour and live a classic Arctic experience, admiring the Aurora Borealis in the dark sites around the town in the magical Greenland night landscape.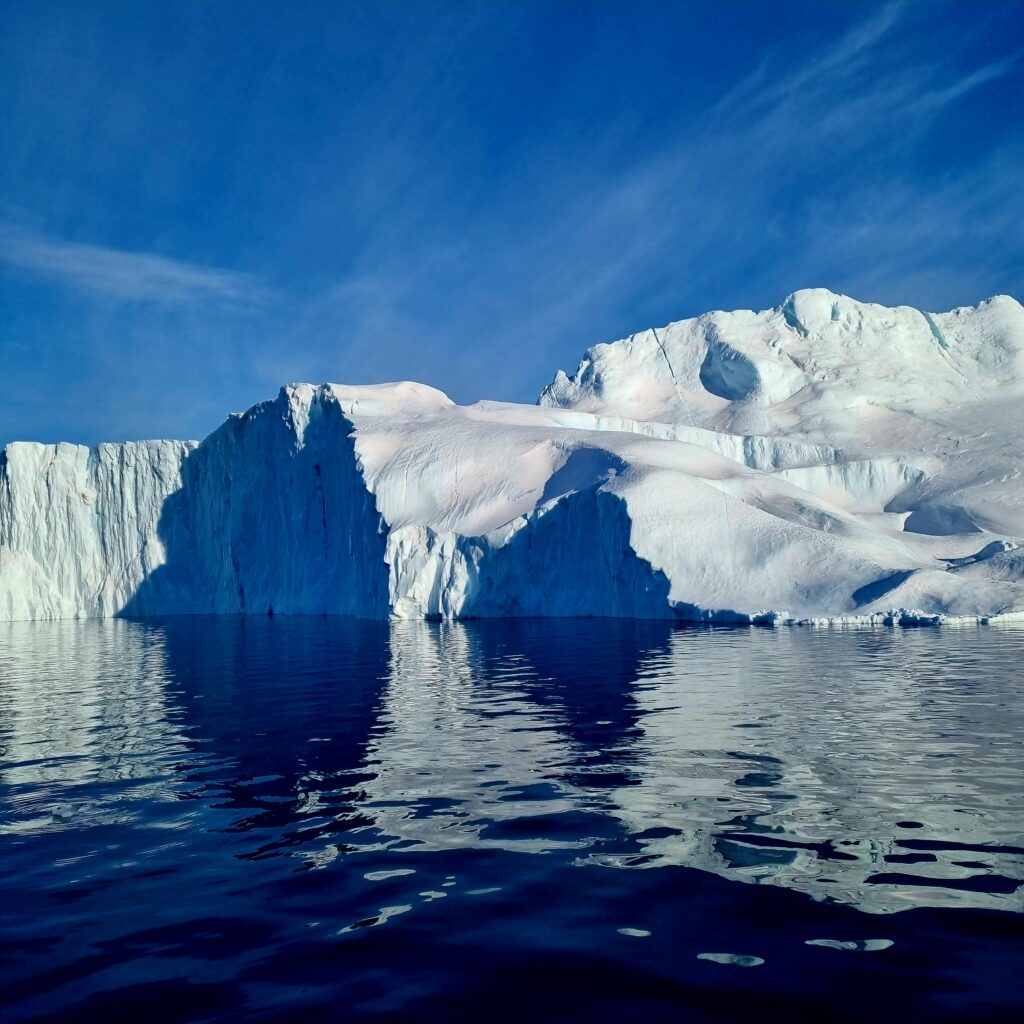 Day 4: Ilulissat dogsledding and snowmobiling
Greenland is one of the few places in the world where you can still do dogsledding. There are even some spots with incredible views of the icefjord that are only accessible by dog ​​sled. It is therefore highly recommended that you try this unique experience on your third day in Ilulissat.
Ilulissat also offers the most enjoyable and impressive snowmobiling routes. You don't need a special license to drive a snowmobile in Greenland, so don't miss out on this unique experience. Some companies in Ilulisat offer a combination of dogsledding and snowmobiling. Choose one of them to reduce costs and save time.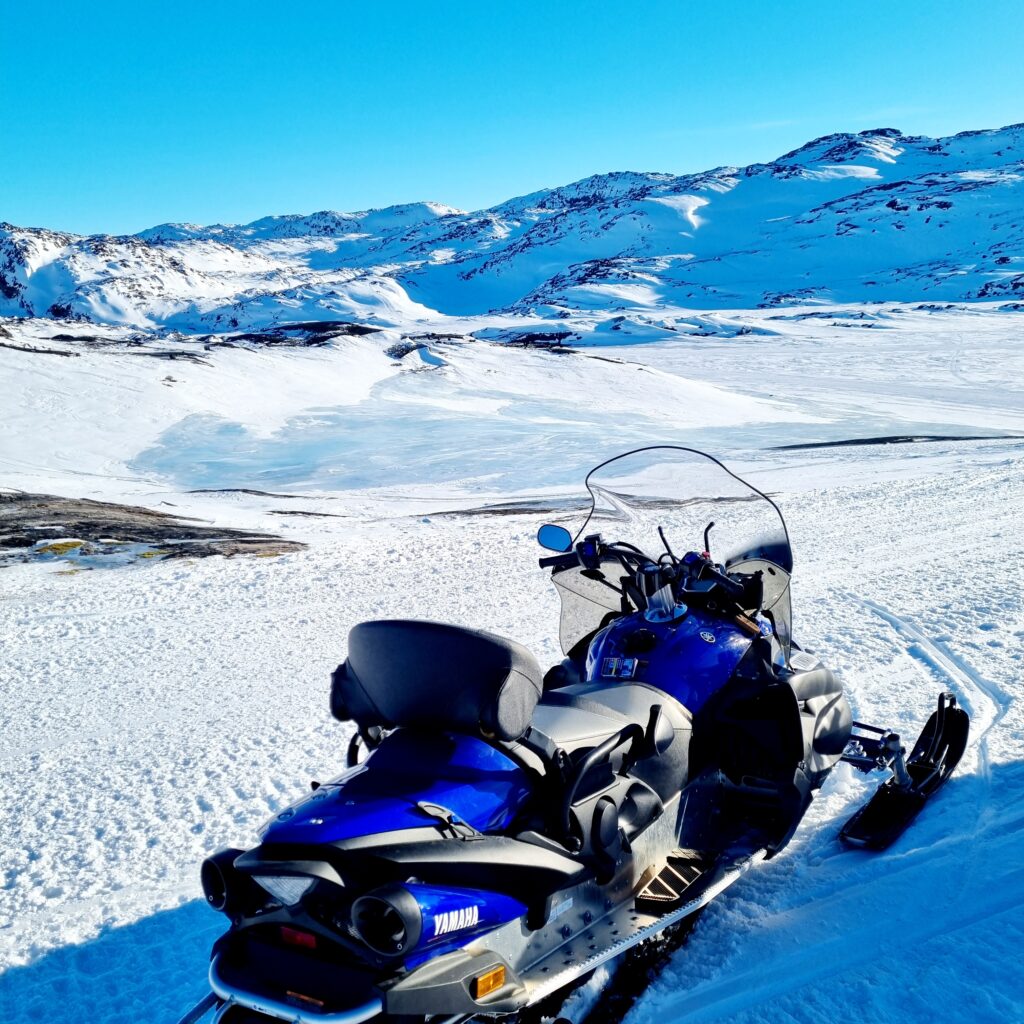 Day 5: Ilulissat hiking and return to Kangerlussuaq
If your return flight to Kangerlussuaq is in the afternoon, you should take advantage of your last morning in Ilulissat. Ideally, take part in a hike to the UNESCO World Heritage Listed Ilulissat Icefjord and the ancient settlements of Sermermiut Valley. You can do it alone, but with a group, you will discover better paths, and it will be safer.
When you return to Kangerlussuaq you can rest, but don't forget to go out at night to see the northern lights! Every evening in Kangerlussuaq is a once-in-a-lifetime opportunity to see this phenomenon at its best.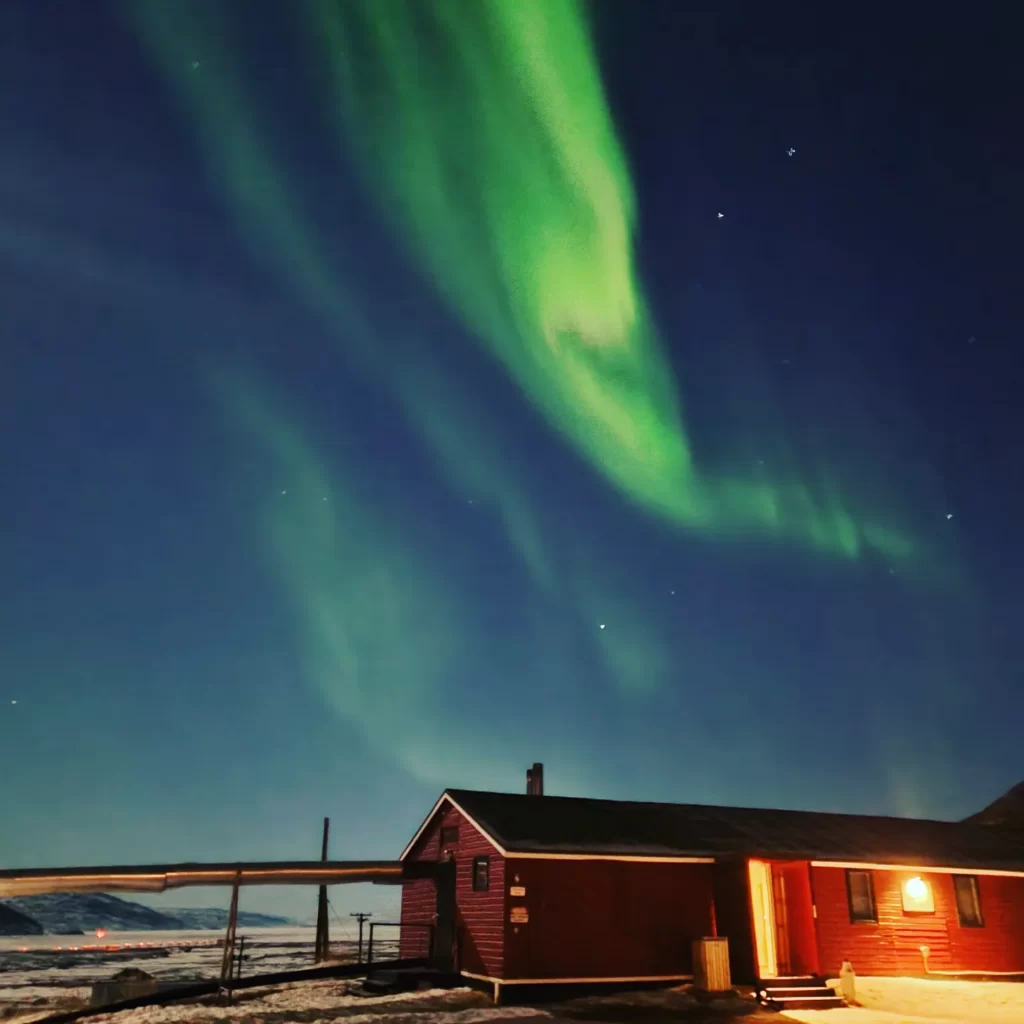 Some Useful Tips for Solo Travelers in Greenland
Here are a few tips to perfectly organize your solo trip to Greenland:
Outlets: Greenland uses European-style outlets. Bring an adapter if you're traveling from outside Europe.
Clothes: Whether it's winter or summer always dress in layers, with warm clothes, gloves, and a hat.
Cuisine: Greenland has a unique cuisine. Try some local dishes, such as whale or musk ox.
Camera: Bring a good camera with you to capture the northern lights and the stunning landscapes.
Cost: Everything in Greenland is expensive. But you can save a lot of money by getting some supplies from a supermarket.
Weather: Stay informed about potential weather hazards, such as avalanches or blizzards.
Safety: Be careful when traveling alone in remote areas and let someone know your itinerary.
Experience: Pack an open mind to fully embrace the unique experience of traveling solo in Greenland.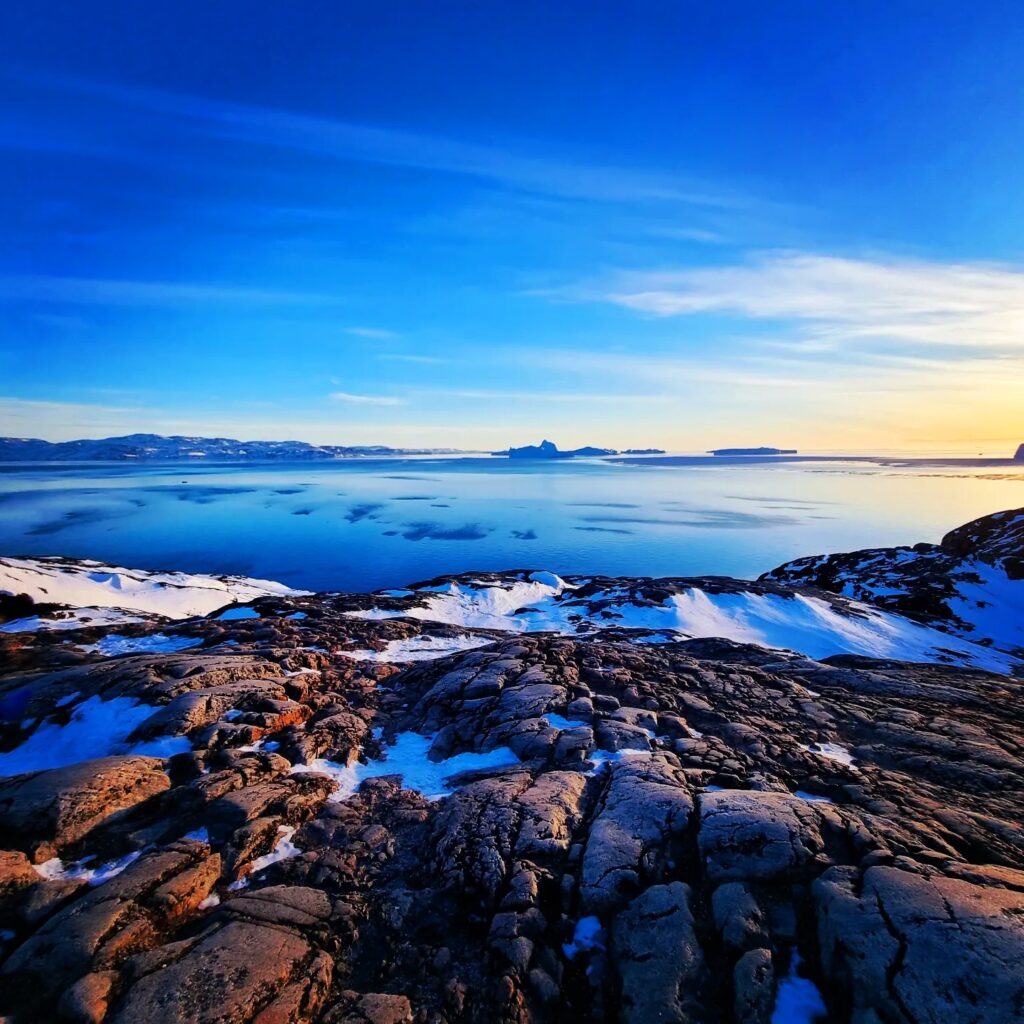 Final thoughts
To sum up, Greenland offers a truly unique and unforgettable experience for solo travelers seeking exploration and adventure. From its rugged landscape to its vibrant culture, Greenland provides endless opportunities for solo travelers to discover something new about themselves.
Despite its remoteness, traveling solo in Greenland is safe and accessible, with accommodations and activities available to suit any budget or travel style. Whether you choose to explore the ice sheet, hike through pristine wilderness, or immerse yourself in local Inuit culture, Greenland is sure to leave a lasting impression on any solo traveler.
It is crucial to note, however, that traveling solo to Greenland requires meticulous planning and preparation. From obtaining the necessary permits to packing appropriate gear, solo travelers must consider the unique challenges that come with exploring such a remote and extreme environment.
Ultimately, a trip to Greenland is a journey of discovery, both of the self and the world. Solo travelers who embrace the challenges and opportunities that come with this remote location will undoubtedly have a transformative adventure that will remain with them for a lifetime.