Welcome to our guide on the best things to do in Olden Norway. As you'll come to discover, this picturesque village offers a plethora of unforgettable experiences amidst its awe-inspiring landscapes. Whether you're an adventure enthusiast seeking intense experiences or a nature lover yearning for serene surroundings, Olden, Norway promises to fulfill your desires.
Before we unveil the absolute best things to do in Olden Norway, let's share some information about this captivating village:
Olden, Norway: Nature's Gem in the Nordfjord Region
In the Nordfjord region of Norway lies Olden, a village that beckons travelers with its breathtaking landscapes and serene ambiance. Majestic mountains embrace it, while the glimmering waters of the Nordfjord caress its shores, creating a truly awe-inspiring setting. Accordingly, it's no wonder that Olden has become a coveted destination for nature enthusiasts, adventure seekers, and cruise ship aficionados.
Accessible by both land and sea, getting to Olden is a part of the adventure itself. Indeed, visitors can reach Olden by road via the Norwegian National Road 60, which offers mesmerizing vistas along the way. Alternatively, many travelers opt to arrive by sea, as Olden is a popular port of call for cruise ships navigating the stunning Norwegian fjords.
A brief history of Olden, Norway
Olden is a village with a rich history that stretches back centuries. Originally, it was a farming community, with agriculture and fishing being the primary means of sustenance for the locals. However, it wasn't until the late 19th century that Olden started gaining attention as a tourist destination.
The construction of the nearby Høyloftet Hotel in 1884 marked the beginning of Olden's transformation into a popular tourist hub. The stunning natural landscapes and proximity to glaciers attracted visitors seeking the wonders of the Norwegian fjords. Over the years, Olden's reputation as a scenic paradise grew, and it became a sought-after stop for cruise ships exploring the fjords.
Today, Olden has evolved to accommodate the needs of modern travelers while preserving its authentic character. Its rich history intertwined with the mesmerizing surroundings creates a truly enchanting experience for those who venture to this remarkable corner of Norway.
Best Things to Do in Olden Norway
The following are the absolute best things to do in Olden, Norway, whether you're visiting by a cruise ship or car, or staying for a vacation:
Briksdal Glacier | Things to Do in Olden, Norway: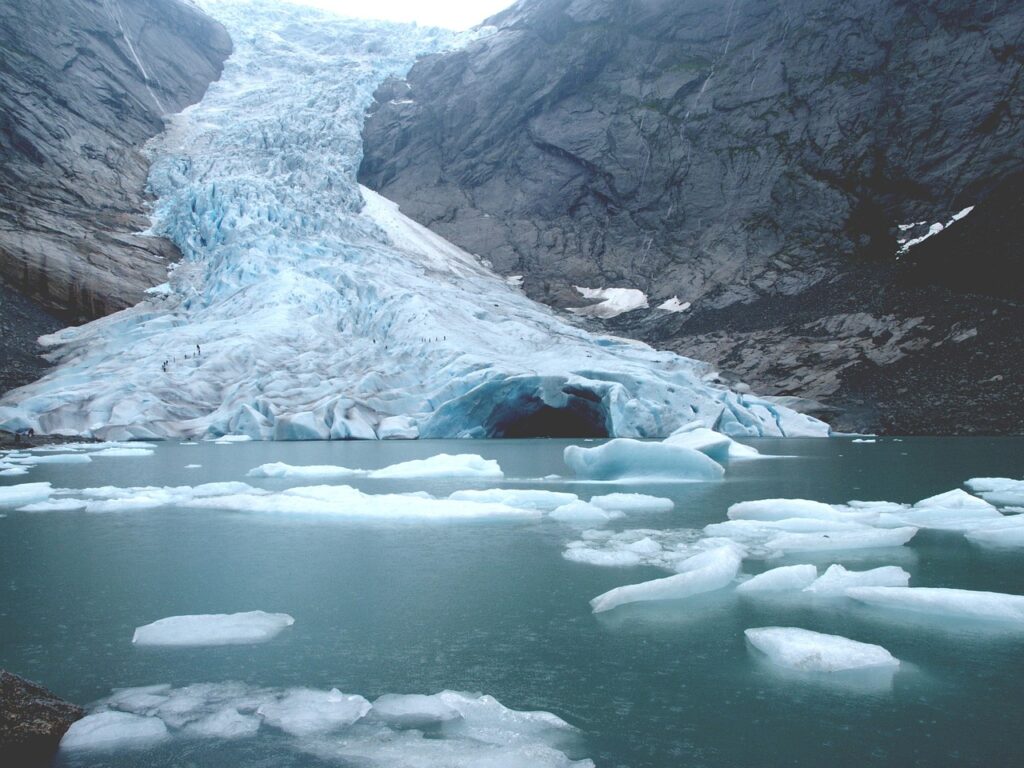 Prepare to be mesmerized by the awe-inspiring Briksdal Glacier, a true natural wonder near Olden. Embark on a guided hike or hop aboard a "troll car" to witness the glistening ice mass up close. Marvel at the glacier's stunning blue hues and the majestic waterfalls flowing from its melting edges.
To reach Briksdal Glacier from Olden, you have a few transportation options:
Private Vehicle:
If you have a private vehicle or are renting one, you can drive from Olden to the Briksdal Glacier area. The journey typically involves taking Norwegian National Road 60 towards the village of Oldedalen. From there, follow the signs leading to Briksdalsbre Fjellstove, the starting point for the hike to the glacier. Note that there is a parking lot available near the glacier.
Organized Tours:
Many tour operators in Olden offer guided tours to Briksdal Glacier. These tours usually include transportation from Olden to the glacier area, guiding services, and sometimes the use of troll cars or other means of transport. Booking a tour can provide convenience and informative insights about the glacier and its surroundings.
Public Transportation:
While public transportation options may be limited, it is possible to take a combination of buses and shuttles to reach Briksdal Glacier. You can take a bus from Olden to the nearby village of Stryn and then transfer to a shuttle or taxi service that operates specifically for Briksdal Glacier visitors. It's advisable to check the local bus schedules and plan your trip accordingly.
Regardless of the transportation method you choose, once you reach the Briksdal Glacier area, there is a marked trail that leads from the parking lot to the glacier itself. The hike typically takes 45 minutes to an hour, depending on your pace. Alternatively, you may have the option to take troll cars or other available transport services for a portion of the trail. Troll cars in Olden, Norway, offer an enjoyable, let alone novel transportation option.
Fjord Safari Adventure | Things to Do in Olden, Norway:
Embark on an exhilarating fjord safari boat ride and explore the glassy waters of the Nordfjord. Feel the cool breeze on your face as you take in panoramic views of towering mountains, cascading waterfalls, and charming villages. Keep your eyes peeled for seals, eagles, and porpoises that often make appearances along the way.
Olden Church | Things to Do in Olden, Norway: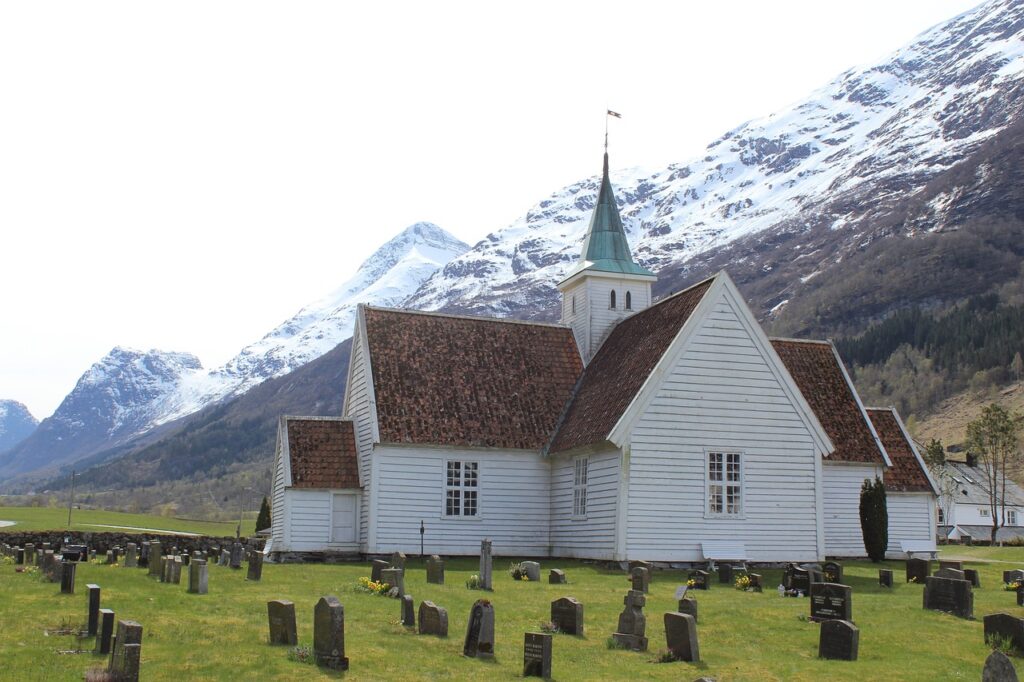 Immerse yourself in Norwegian culture by visiting the charming Olden Church, a wooden structure that dates back to the 18th century. Step inside to admire the intricate woodwork and beautiful stained glass windows that adorn the simple yet elegant interior. Take a moment to appreciate the peaceful ambiance and rich cultural heritage.
Viewpoints and Panoramic Moments | Things to Do in Olden, Norway:
Olden is blessed with an array of breathtaking viewpoints that reveal sweeping vistas of the majestic fjords and towering mountains. One must-visit spot is the awe-inspiring Mount Hoven viewpoint, which can be reached by taking a thrilling ride on the Loen Skylift. Additionally, you can combine your visit to Mount Hoven with a delightful dining experience.
Local Culinary Delights | Things to Do in Olden Norway:
Treat your taste buds to the flavors of Olden by indulging in traditional Norwegian cuisine. Delight in freshly caught seafood, such as succulent salmon and delicate fjord trout. Accompany your meal with local craft beers or aquavit, a traditional Scandinavian spirit, for an authentic gastronomic experience. As a matter of fact, a standout choice is Hoven Restaurant in the nearby town of Loen.
Hoven Restaurant sits perched on Mount Hoven, therefore you can access it by taking the Loen Skylift. Because of its location, Hoven Restaurant boasts panoramic views of the majestic mountains and serene fjords. Moreover, the ambiance strikes a balance between modern and chic, creating an inviting atmosphere that enhances the dining experience.
The food at Hoven Restaurant is simply outstanding. The menu showcases a range of dishes, each beautifully presented and bursting with flavors. With a strong emphasis on fresh, locally sourced ingredients, particularly seafood, the menu offers a delightful array of culinary delights. Standout dishes include the grilled langoustine and the Arctic char, each showcasing the chef's skill and creativity.
Lovatnet Lake | Things to Do in Olden Norway: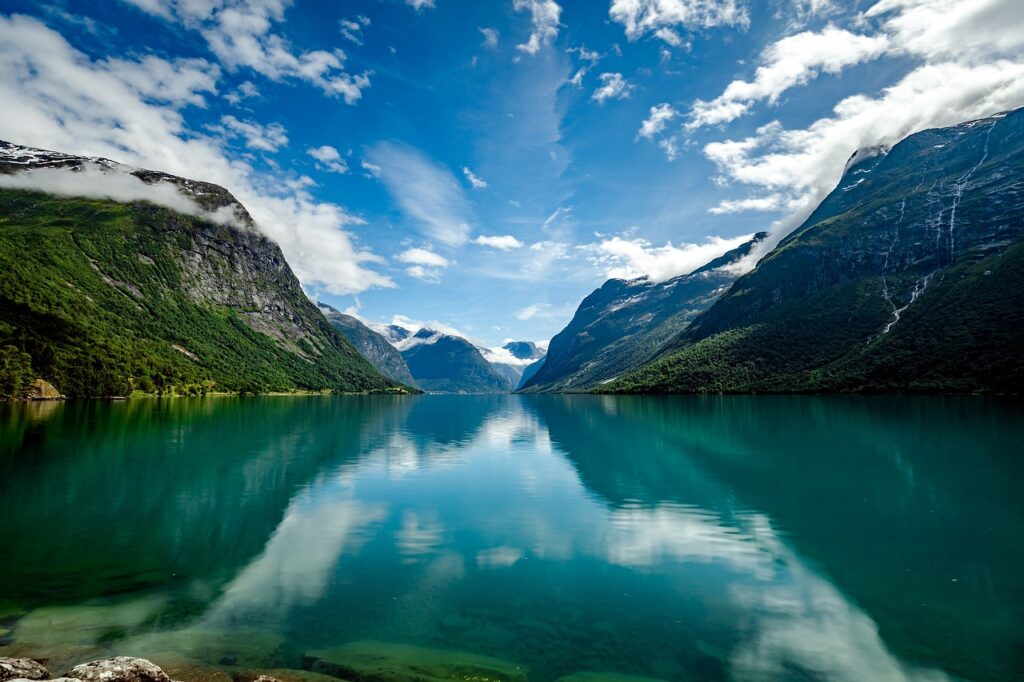 Lovatnet Lake is a captivating natural gem waiting to be explored. This serene and enchanting lake offers a tranquil retreat from the bustling world, inviting visitors to immerse themselves in its beauty. Because of the mountains that surround it, the crystal-clear waters of Lovatnet reflect their mesmerizing peaks, creating a wonderful panorama.
Ramnefjellsfossen Waterfall | Things to Do in Olden Norway:
While exploring the splendor of Lovatnet, it is highly recommended to include a visit to Ramnefjellsfossen waterfall. As a matter of fact, Ramnefjellsfossen is renowned as one of the tallest waterfalls in Norway.
Ramnefjellsfossen plunges down the mountainside with an impressive height of approximately 818 meters (2,684 feet). Admittedly, its sheer size and the thundering force of the cascading water make Ramnefjellsfossen waterfall a truly awe-inspiring natural wonder.
The waterfall is visible as you drive along the Fv723 road (also known as the Lovatnet Road) that runs parallel to Lovatnet Lake. Traveling on this road offers scenic views of the surrounding landscape. Of course, this includes glimpses of Ramnefjellsfossen flowing down the mountainside.
Kjenndalsbreen Glacier | Things to Do in Olden Norway:
When in Lovatnet Lake, you can also visit Kjenndalsbreen Glacier. In truth, getting to Kjenndalsbreen from Lovatnet Lake requires some effort but is achievable.
From Lovatnet, you can take a boat tour or hike to reach the glacier area. Boat tours often provide a scenic journey across the lake, offering views of the surrounding landscape and Kjenndalsbreen Glacier in the distance.
Alternatively, if you prefer a more active adventure, you can opt for a hike to the glacier. While the hike can be moderately challenging, it rewards you with an up-close experience of the magnificent glacier.
Unforgettable Adventures Await in Olden, Norway
In conclusion, Olden, Norway offers a treasure trove of experiences. From exploring magnificent glaciers like Briksdal Glacier and embracing the tranquility of Lovatnet Lake to embarking on fjord safaris and hiking through breathtaking landscapes, there is no shortage of things to do in Olden, Norway.
Whether you seek adventure, natural beauty, or a peaceful retreat, this charming village has it all. So, pack your sense of wonder and get ready to create lasting memories as you immerse yourself in the captivating wonders of Olden, Norway.