When you think of visiting Denmark, Copenhagen is the first city that comes to mind. OK, we can't blame you! Copenhagen is awesome! But there's another city in Denmark that's just as fun, if not more – Aalborg. As the country's fourth-largest city, Aalborg has a character all its own, with a lively atmosphere and plenty of things to do that you won't find in the rest of the country. So, forget the ordinary and take a look at our list of the most fun and unusual things to do in Aalborg:
Visit the Singing Trees
You've seen your fair share of trees, but have you ever come across ones that sing? Well, in Aalborg, there's a park where you can experience just that! It's called The Park of Music. Picture this: a beautiful park filled with trees, each one planted by famous artists.
These trees are not just ordinary trees—they play music! As you press the button next to each tree, you'll listen to a song from the artist who planted this specific tree. Artists like Elton John and Shakira have left their mark by planting these melodic trees.
How to get there
To experience this symphony of nature, head towards the city center and follow the signs to the park located near the waterfront.
See some monkeys
When you're planning a trip to Scandinavia, the last thing you'd expect to see is monkeys, right? Well, think again! In Aalborg, you can visit a zoo that is home to several monkey species, including lemurs, tamarins, and squirrel monkeys. In addition to monkeys, Aalborg Zoo also houses a diverse range of animals, such as lions, giraffes, elephants, and penguins.
How to get there
To get there, head to Kildeparken from the city center and follow the signs to the zoo.
Eat street food in an old factory
Are you tired of eating in restaurants when you travel? Well, how about eating in an actual furniture factory? Sounds crazy, but in Aalborg, it's a reality! This local factory has transformed into an amazing street food market known as "The Lighthouse." Trust us, it's a must-do when you're in Aalborg. Not only the food there is delicious, but the atmosphere is super chill and relaxing.
How to get there
To reach Aalborg Street Food – The Lighthouse using public transportation, you can take bus lines 2, 71, or S1, or hop on the train lines 75 or ICL.
Visit a Viking burial site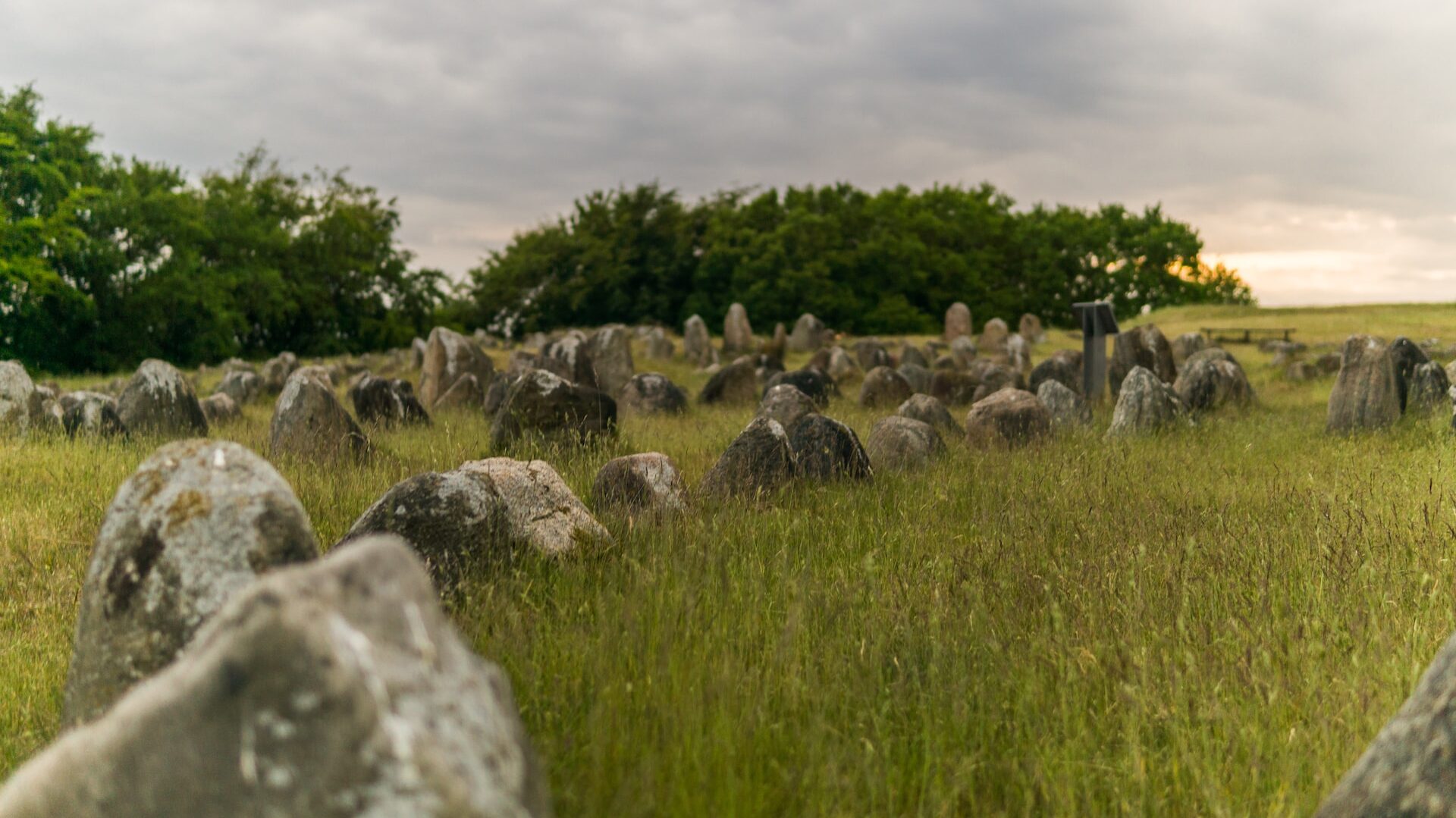 You can't visit Denmark without having a true Viking experience, and Lindholm Høje is the perfect place to do just that! This ancient burial site near Aalborg holds the secrets of the Viking Age, with over 700 Viking-era graves and stone circles waiting to be explored. Step into the footsteps of the mighty Vikings as you wander through ancient Viking monuments.
How to get there
From Aalborg city center, you can catch bus number 2, which will take you directly to Lindholm Høje. If you prefer to drive, follow the signs toward Lindholm and park at the designated parking area.
Spend the day in a power station
Why spend your day strolling around the streets, visiting different locations, when you can find everything you need in one place? Nordkraft is a former power station that has been transformed into a vibrant cultural center. In Nordkraft, you can find all you need to spend the day. From restaurants and cafes to exhibitions, cinemas, and even theaters, Nordkraft has it all.
How to get there
If you're in the city center, you can take a leisurely walk of about 10-15 minutes to reach Nordkraft. Just head northwest from the city center, crossing the Limfjord Bridge, and you'll find Nordkraft on your right.
Take a harbor bath in Limfjord
If you're searching for a convenient spot to dip into a Danish fjord, Vestre Fjordpark is the ultimate destination! Located on the banks of the Limfjord, this park is one of the best things to do in Aalborg if you're an adventure seeker. Vestre Fjorpark's top attractions are the sandy beach, floating platforms, and diving towers that beckon you to dive into the fjord's waters.
How to get there
Getting to Vestre Fjordpark from Aalborg city center is easy – hop on a quick bus ride or take a bike ride along the scenic waterfront.
Attend a hockey match
Catching a live hockey match in Europe is rare, but not when you're in Aalborg! The Aalborg Pirates, the local hockey team, put on an exciting show for their fans. They have a rich history in Danish ice hockey, with a legacy since 1967 and success in national and international competitions. The hockey season in Denmark typically runs from September to March, giving you plenty of chances to witness the action on the ice.
How to get there
Aalborg Kongres & Kultur Center, the hockey arena of Aalborg Pirates, is located at Europa Plads 4, in the central part of Aalborg.
Discover the city's street art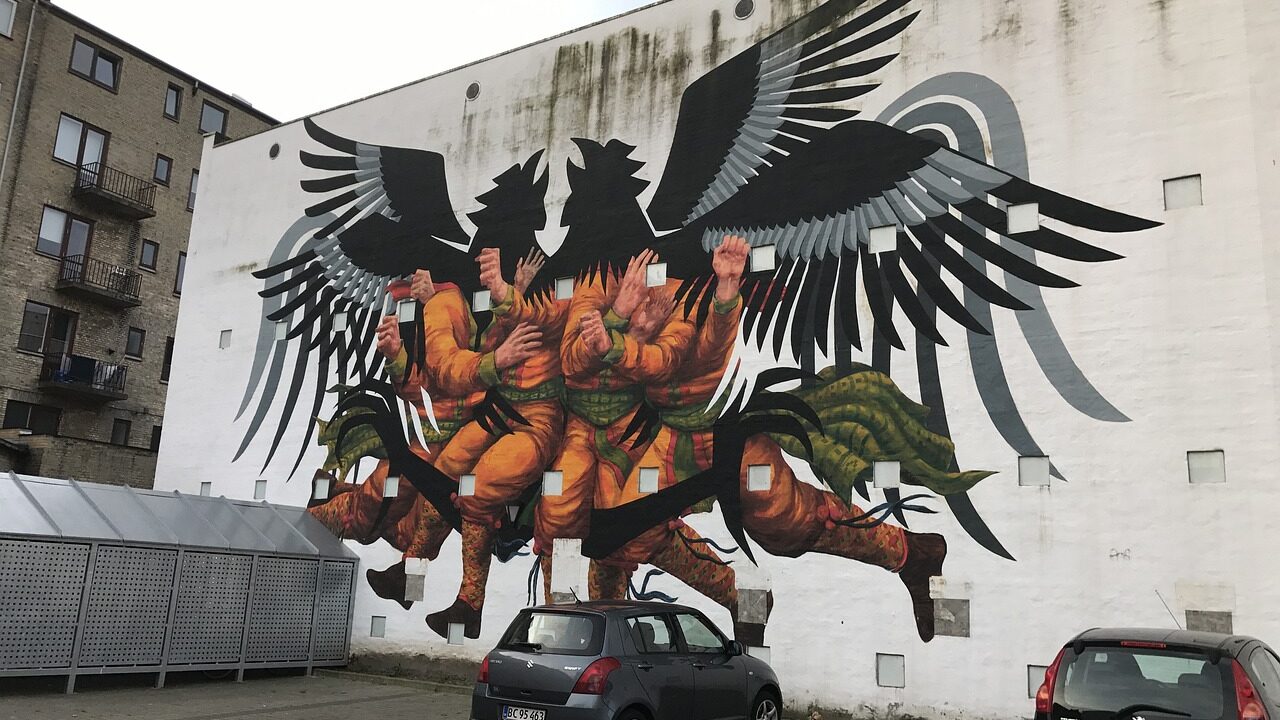 Who needs to visit a museum when you can experience amazing art right on the streets of Aalborg? The city is a big canvas, showcasing numerous pieces of street art. From colorful murals to intricate graffiti, you'll find all kinds of creative expressions. Some of the best works of art in Aalborg include the mesmerizing wall paintings in Karolinelund and the striking pieces adorning the streets of the city center. It's also completely free!
How to get there
You can discover street art everywhere in Aalborg. Some notable spots include the Karolinelund district, the city center, the Nørresundby neighborhood, and the area around Jomfru Ane Gade.
Visit the Utzon Center
Have you heard of Jørn Utzon? He's the guy behind the iconic Sydney Opera House! You can get a glimpse into his creative mind by visiting the Utzon Center in Aalborg. Utzon Center is not just any ordinary center; it's a celebration of architecture, design, and innovation. It was designed by Jørn Utzon himself, so you can imagine the significance it holds.
Inside, you'll find fascinating exhibitions that showcase Utzon's architectural masterpieces, including his designs for the Sydney Opera House. You can explore interactive displays and dive into the world of Danish architecture.
How to get there
If you're already in the city center, the center is conveniently located on the waterfront at Slotspladsen 4. If you prefer to use public transportation, you can take a bus to the Aalborg Busterminal and then walk for about 10 minutes to reach the Utzon Center.
Party at the Jomfru Ane Gade
What's a vacation without a little partying, right? When it comes to nightlife, Aalborg has got you covered, and one place you can't miss is Jomfru Ane Gade. Known as the party street of Aalborg, Jomfru Ane Gade is a lively strip packed with bars, clubs, and restaurants. If you thought Denmark was boring when it comes to nightlife, a visit to Jomfru Ane Gade will change your mind. The street comes alive at night with music, laughter, and energy.
How to get there
Jomfru Ane Gade is located in the heart of Aalborg's city center. It is a pedestrian street that stretches between Nytorv Square and the Budolfi Church. Just follow the sound of music to get there.
Where to stay in Aalborg
For easy access to the best things to do in Aalborg, look no further than the city center. It is the perfect location to stay during your visit. You'll be within walking distance of popular sights like Aalborg Castle, Utzon Center, and the lively Jomfru Ane Gade. Additionally, you'll find all kinds of accommodations that suit every budget.
Find the best hotels in Aalborg here
Conclusion
Aalborg is not just your average city; it's bursting with fun and unusual things to do. Aalborg is a small city, but it has so much to discover. From exploring Singing Trees to encountering monkeys, there are so many unique things to do in Aalborg. So when you visit Denmark, make sure to put it on your list.