In today's world, Instagram and travel go hand in hand. With plenty of Instagrammable spots in Denmark, it's no wonder why the country has become a hotspot for Instagrammers seeking stunning backdrops for their photos. If one of your travel goals is to post extraordinary Instagram photos, Denmark will not disappoint you. So, get ready to embark on a virtual journey as we take you through the ten best places in Denmark to take photos that will improve your Instagram profile!
The Little Mermaid Statue | Copenhagen
Denmark's superstar – the Little Mermaid – is super Instagrammable for several reasons. First of all, everybody knows it! Taking a pic is like stating "Hey, I 've been to Denmark"! Second, it's classic Copenhagen! Standing right next to the water, it provides the perfect photo opportunity to show off your city exploration skills. Third, it's adorable! You can pose anywhere around a cute little mermaid. Who wouldn't love this? Finally, it's Insta-famous! Posting your own Little Mermaid snap is like joining the club of all the famous Instagrammers who have also been there.
Nyhavn Waterfront | Copenhagen
It's easy to see why Nyhavn Waterfront is one of the most Instagrammable spots in Denmark. All those cute, beautiful houses next to the canal create a color explosion that will make your pics super vibrant! There are also hundreds of small cafes with outdoor seating and a canal view that are ideal for capturing a relaxed Danish lifestyle. Finally, Nyhavn comes with the chance to take a boat ride and post a fabulous insta-story!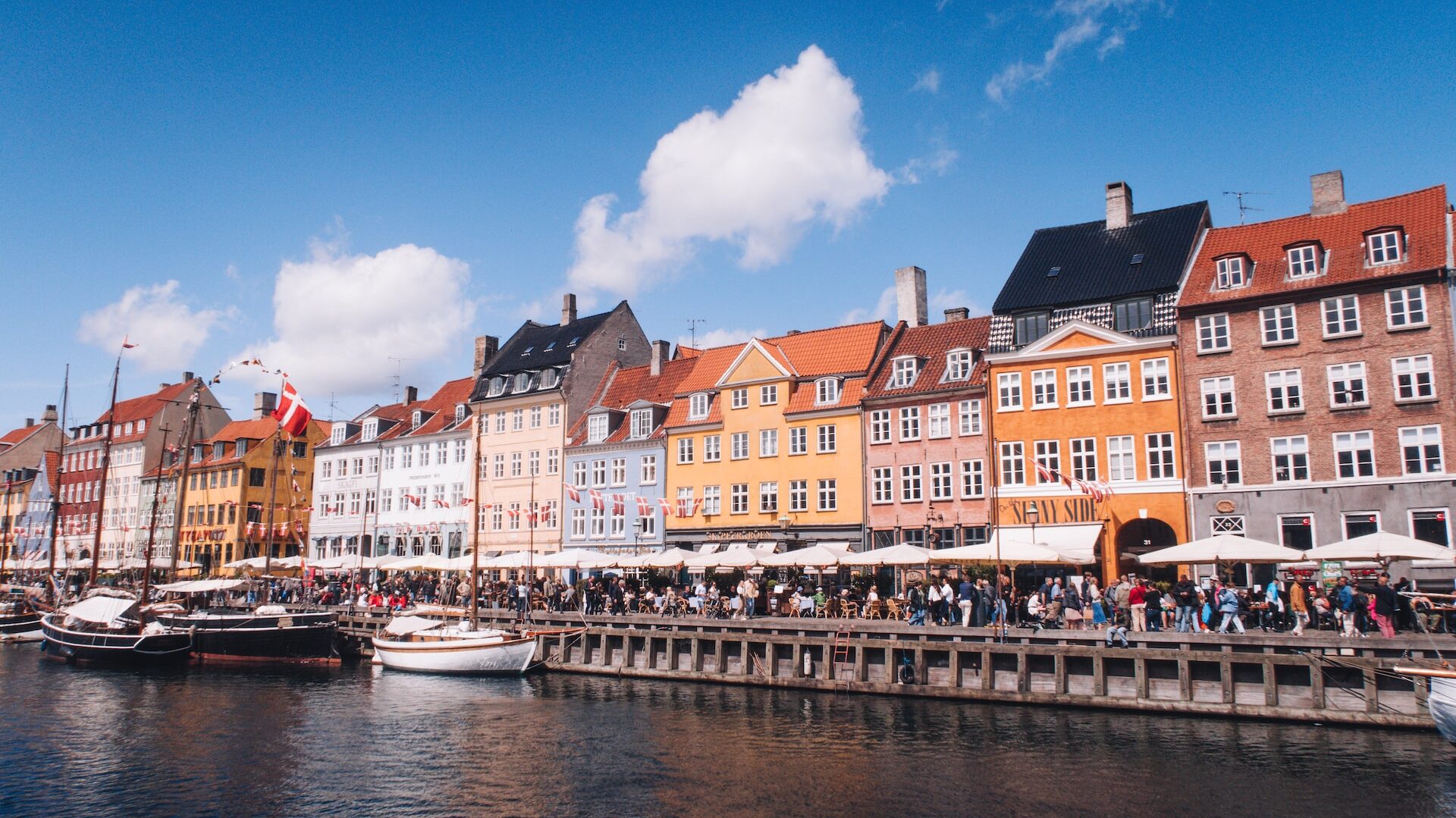 Tivoli Gardens | Copenhagen
Tivoli Gardens is where the old meets the new in Denmark! It is an amusement park with rides and games, that lets your pics state that you're having fun. It also has an old-time charm that creates a sense of classic Copenhagen. The food is epic, with churros, Danish candy, and Danish hot dogs being available for great food pics. Additionally, many concerts and events are taking place there, so if you are lucky you can capture the moment and post a vibrant Instagram video.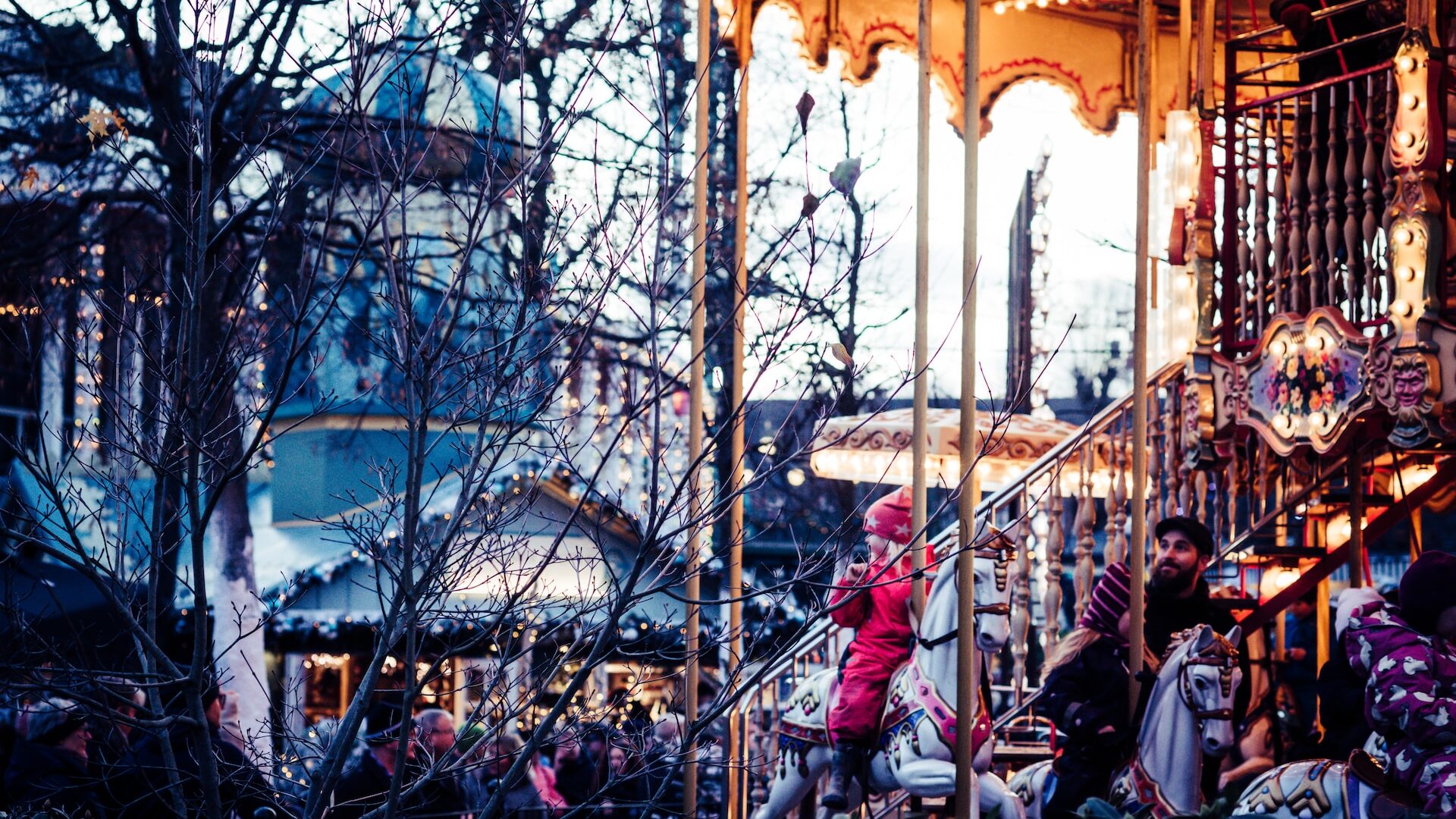 Frederiksborg Castle | Hillerød
Castles are always Instagrammable, and Frederiksborg Castle is no exception! Sitting on an island in a lake, it looks like a real-life Disney castle. Moreover, the beautiful gardens surrounding it are perfect for nature-loving photos. On a sunny day, the lighting is ideal for taking Instagram photos that will make your profile glow. Finally, the place is full of good spots for posing. You can pose on bridges, by historical statues, or just in front of the castle. No doubt Frederiksborg Castle is one of the most Instagrammable spots in Denmark!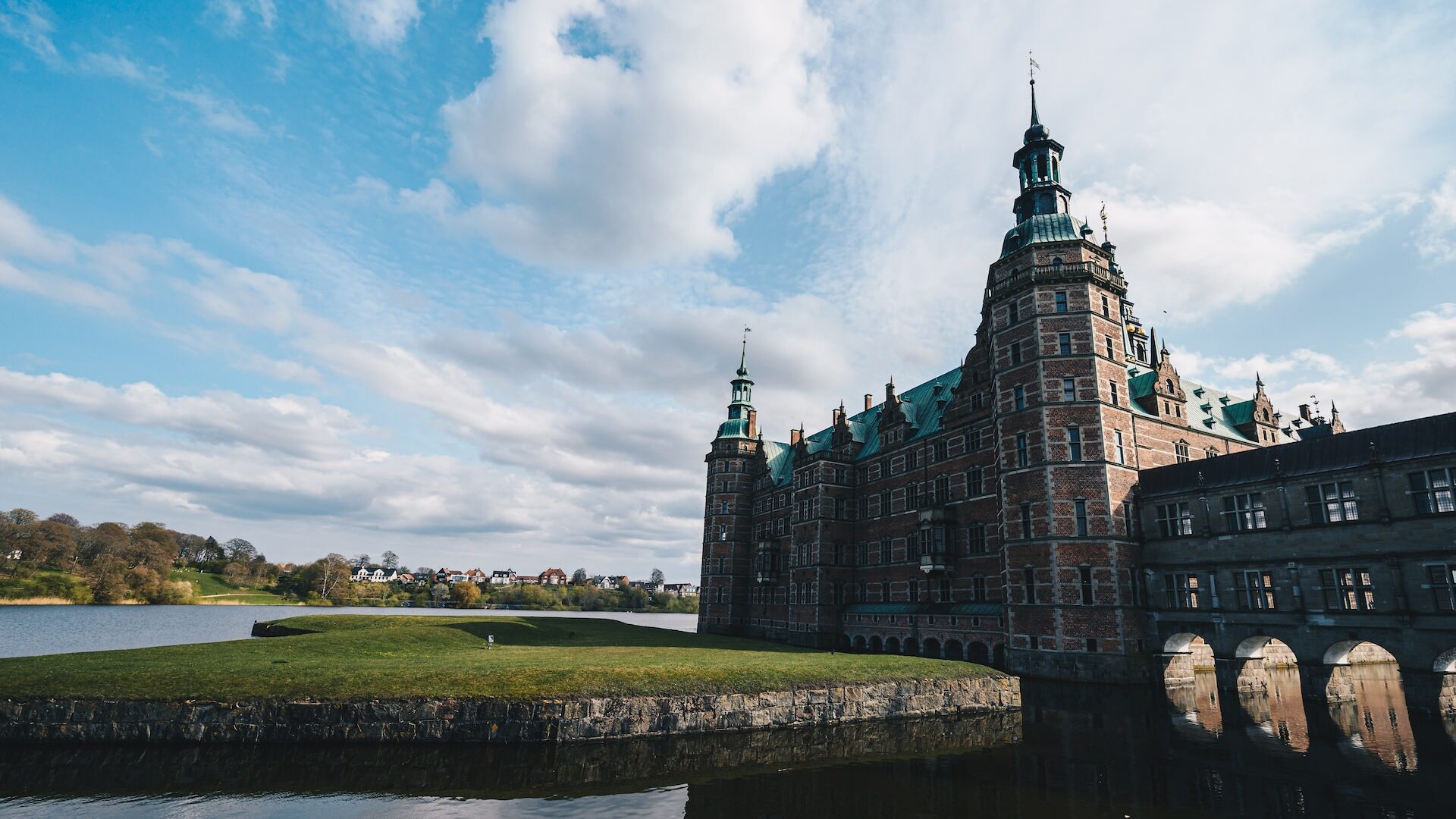 Aarhus Rainbow Panorama | Aarhus
The Rainbow Panorama in Aarhus offers a chance for a photo of a rainbow on top of a building. You can't really get more Instagrammable than that! This piece of modern art is not only big and impressive, but it's also a great spot to get the city's best views. It looks like a colorful bubble, that you can walk on, and take a picture with the colors popping and Aarhus being in the background. Depending on the weather, the colors look different. So you can take moody rainbow or happy vibrant pics.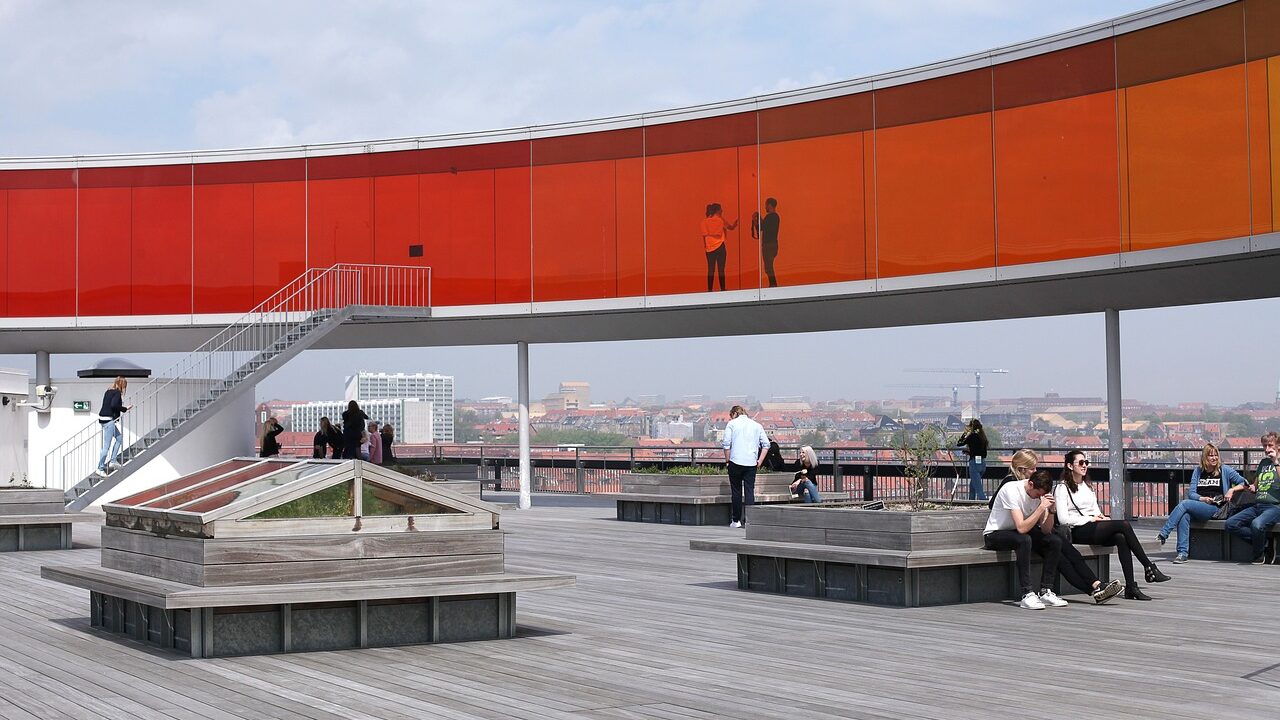 Rubjerg Knude Lighthouse | Lokken
Rubjerg Knude Lighthouse is one of the most Instagrammable spots in Denmark with an "off the beaten path" vibe. First of all, it's hard to get there. It is in the middle of nowhere, between some huge sand dunes. The lighthouse is abandoned, so all your pics there will look moody and mysterious. Additionally, it is next to the North Sea, with waves crashing on the cliffs, providing an epic backdrop for Instagram pics. Finally, if you visit during sunset, the whole place lights up, creating a magical glow for your photos.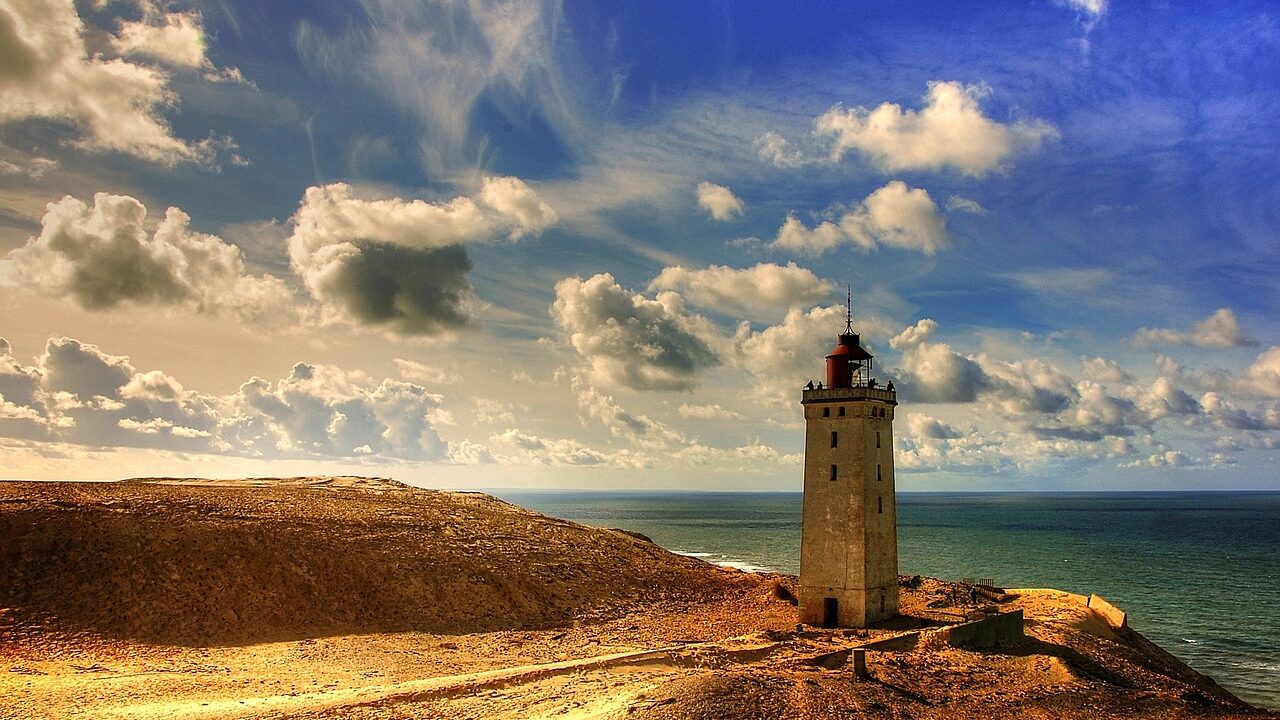 Moesgaard Museum | Beder
This modern regional museum is one of the best places in Denmark to take Instagram photos. It stands on a hill, and the views are breathtaking. The museum itself is a work of art, and it looks like a spaceship landed in the middle of nature. Its rooftop is covered in grass, and it's like a green hill with amazing views. In the museum, you'll find epic Viking treasures and ancient stories perfect for history buffs and Insta-storytelling.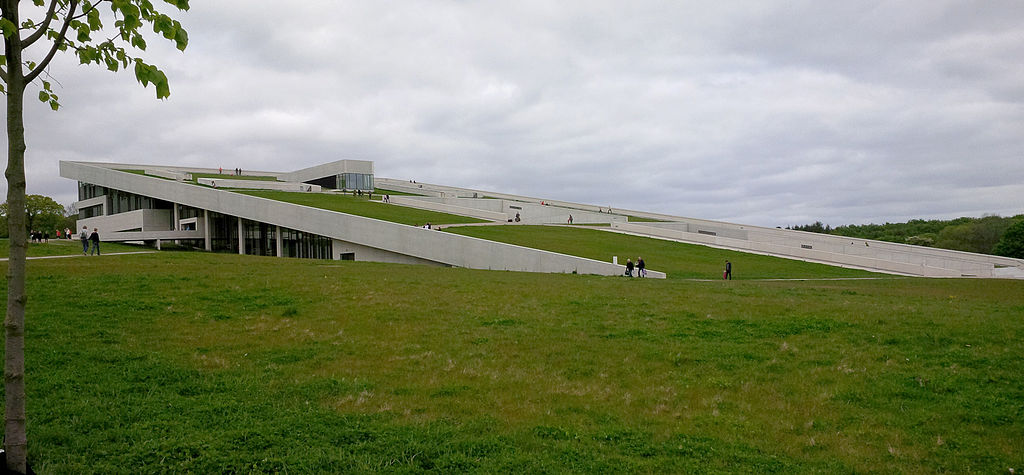 Grenen Beach | Skagen
This beach is where the North Sea and the Baltic Sea meet. You can literally stand with one foot in each sea. That's Insta-gold right there! Additionally, the beach is full of huge sand dunes, which are perfect for dramatic Instagram photos. Sunsets at Grenen Beach are like a painting, with the sky lighting up in shades of green and orange. You can also find a little lighthouse nearby, adding a touch of coastal charm to your Instagram photos.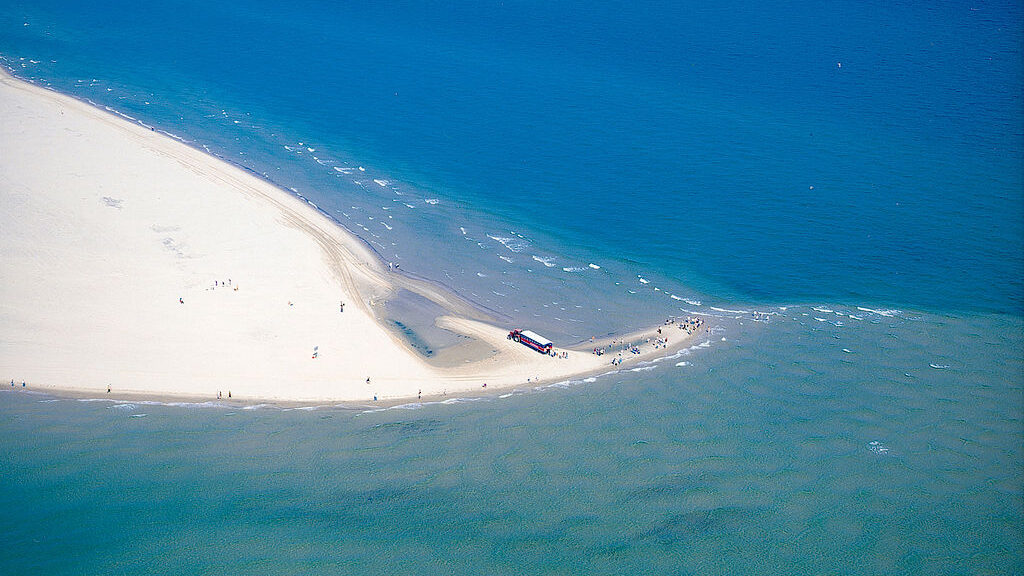 Møns Klint | Møn Island
Møns Klint is a breathtaking natural wonder with towering chalk cliffs overlooking the Baltic Sea. It is also one of the most Instagrammable places in Denmark. The dramatic landscape and the contrast between the white cliffs and the blue sea make it an ideal spot for epic nature photography. Plus, you can explore the forested trails along the cliffs for unique perspectives.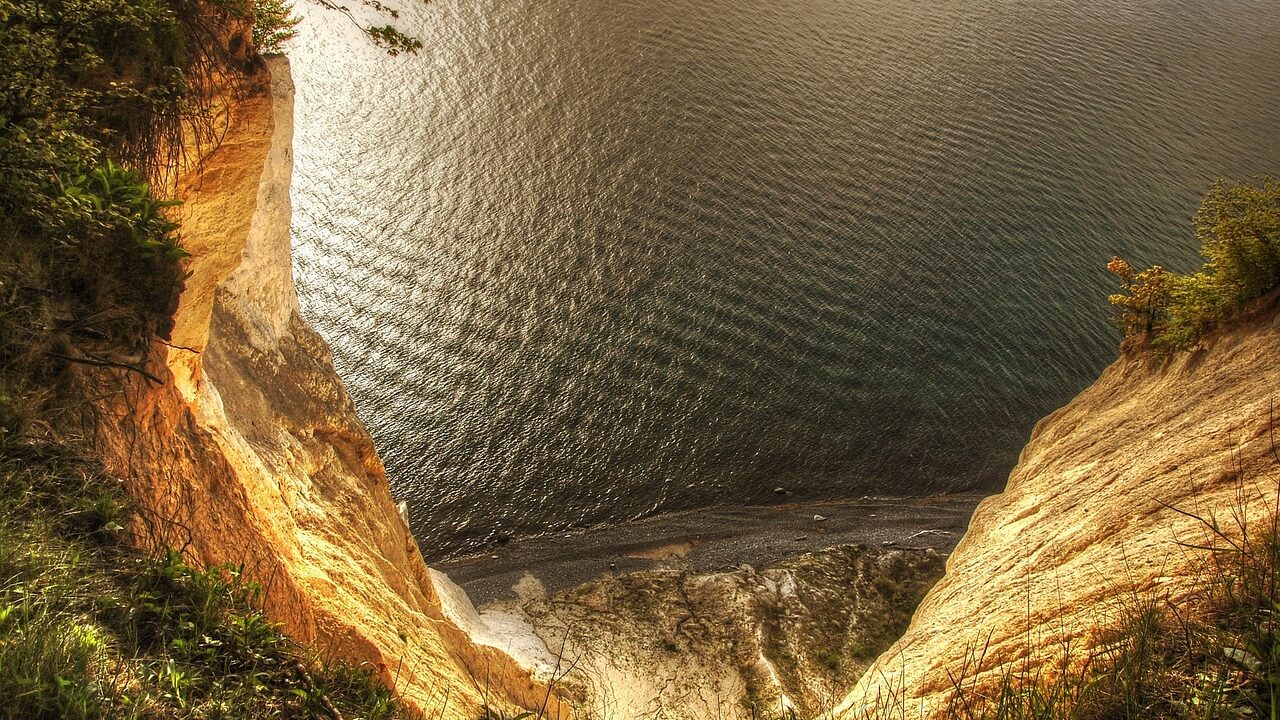 Mols Bjerge National Park | Djursland
Every place in Mols Bjerge National Park is a great spot for Instagram photos. The park is a natural wonderland full of green forests, rolling hills, and beautiful coasts. The best place to take your photos is at the top of its hills, where it's like having your private lookout point. If you are lucky, you will spot deer, foxes, and birds, and you will get the chance to capture some Scandinavian wildlife. What more do you need for your Instagram feed?
Some Tips for Instagramming in Denmark
Now you know what the most Instagrammable spots in Denmark are. Here are some tips for Instagramming in Denmark to ensure those Instagram stories roll smoothly!
Go Early or Late: The best light for photos is available in the morning or evening. So, set that alarm clock or stay out late for those perfect shots of Instagrammable spots in Denmark.
Respect Privacy: Danes love their privacy, so avoid taking pics of people without permission. It's just good manners.
Local Hashtags: Use hashtags like #VisitDenmark or #Copenhagen to get noticed by fellow travelers and locals.
Biking Instagram Pics: Rent a bike and take pics while biking. It's the Danish way, and it looks cool on the gram.
Try Danish Food: Show off your foodie side with pics of Danish pastries, smørrebrød (open sandwiches), or a hot cup of Danish coffee.
Have Fun: The most important tip is to have fun! Your Instagram should reflect your adventure and picture you enjoying your time in Denmark.
Final Thoughts
To summarize, there are so many Instagrammable spots in Denmark. From the monuments of Copenhagen to wild beaches, it's a dream for Instagrammers. It's so easy to share your Danish adventures with the world. Just remember, Instagram is just a window. The real magic is in the experience!