Have you ever dreamt of exploring the magical Norwegian fjords? Well, guess what—Bergen's your starting point! Imagine steep mountains, calm blue waters, and stunning landscapes. That's exactly what you'll find in Aurlandsfjord, Nærøyfjord, and Sognefjord, the best fjords close to Bergen. So, let's plan this out together, step by step, and find out the best ways to reach these fjords from Bergen.
Join a guided fjord tour from Bergen
If you're in the mood for a relaxed journey, consider joining a fjord tour. Bergen is the base of several companies that offer fantastic guided tours that will sail you straight into fjord paradise. You have several options as far as price, duration, and destination are concerned.
All these guided tours will get you there fast and safely. They will also drive you to the best viewpoints, saving you time from doing research, and looking for a way to get there. Here is a selection of the best and highest-rated fjord tours starting from Bergen:
Take a scenic drive
The scenic drives to the fjords from Bergen are like nature's slideshow. First, we've got the E16, a road that winds through valleys and gives you stunning mountain views. It's like driving through a living postcard, with every turn revealing a new snapshot of beauty.
If you're up for a bit of a longer drive, the Rv7 is your ticket to fjord bliss. This route takes you through charming villages and showcases the landscape's diverse colors. It's not just a drive; it's a visual feast.
Pro tip: Do some preparation! Pack some snacks, put on your favorite music, and get ready for a road trip you'll talk about for ages.
Hop on a ferry or cruise
If you're looking for the easiest way to explore the fjords from Bergen, then ferries and cruises are the way to go. Bergen has fantastic ferry services that will take you straight into some of the best fjords in the area, such as Aurlandsfjord, Nærøyfjord, or Sognefjord.
To catch the ferry or embark on a fjord cruise from Bergen, head over to the bustling waterfront area known as Bryggen. This UNESCO World Heritage site not only charms you with its colorful historic buildings but also serves as the gateway to the fjords near Bergen.
For ferry departures, go to the Bryggen Wharf or nearby Strandkaien. These are common spots where ferries set sail to various fjord destinations. Aurlandsfjord, Nærøyfjord, and Sognefjord are often key stops.
Cruise ships usually dock at Skolten Cruise Terminal or Dokken Passenger Terminal. These terminals are easy to find, offering easy access for passengers looking to explore the fjords from Bergen.
You can find some of the best and most popular cruises to the fjords from Bergen below. You can read the description and choose the one you prefer, and fits your schedule. Prebooking a cruise will help you save time and make your trip easier.
Use public transportation
Public transportation offers a budget option for your Bergen to the fjords journey. You can either choose a train or bus to get there. But be aware! Public transportation is not a convenient way to discover the best spots and get around in the fjords. The stops are limited, and trains and buses can get busy during the peak season.
Bergen's main train station is in the city center. The best choice is taking the Bergen Line, which takes you through mesmerizing landscapes as you head towards Myrdal.
Bergen's central bus station is near the train station, and serves as a hub for buses heading to fjord destinations.
Pro tip: Purchase your train or bus tickets online for added convenience. Alternatively, you can buy them at the respective stations.
Factors to Consider when Planning your Journey to the Fjords from Bergen
Exploring the fjords from Bergen is rewarding, but it's not an easy task. There are many places to go, and so many trip options to choose from. So planning is key, and there are several factors that you need to consider.
Time of year and weather considerations
The first thing to consider is the time of the year you're traveling. Summer offers long days and vibrant landscapes, while winter might offer a magical snowy fjord experience. Also, make sure that time is on your side. How much time do you have? Whether it's a quick day trip or a leisurely week-long exploration, knowing your schedule helps shape your fjord-hopping plan.
Interactive maps and tools
Take advantage of the wealth of online tools and maps available. Websites and apps like Google Maps and local tourism sites offer interactive maps to help you plot your course. You can also use features that let you customize your route, highlighting must-see stops along the way.
Hidden gems along the way
Consider visiting some of the charming villages along your route. Places like Flåm and Undredal offer not just stunning scenery, but also a taste of local life. Also, keep an eye out for natural wonders en route. Waterfalls, viewpoints, and hiking trails could be the unexpected gems that make your journey truly unforgettable.
Local insights
Don't forget to visit the tourist information centers in Bergen. The staff is welcoming and knowledgeable, offering driving advice, updates on road conditions, and scenic routes. You'll be amazed at the number of helpful tips that are not available online.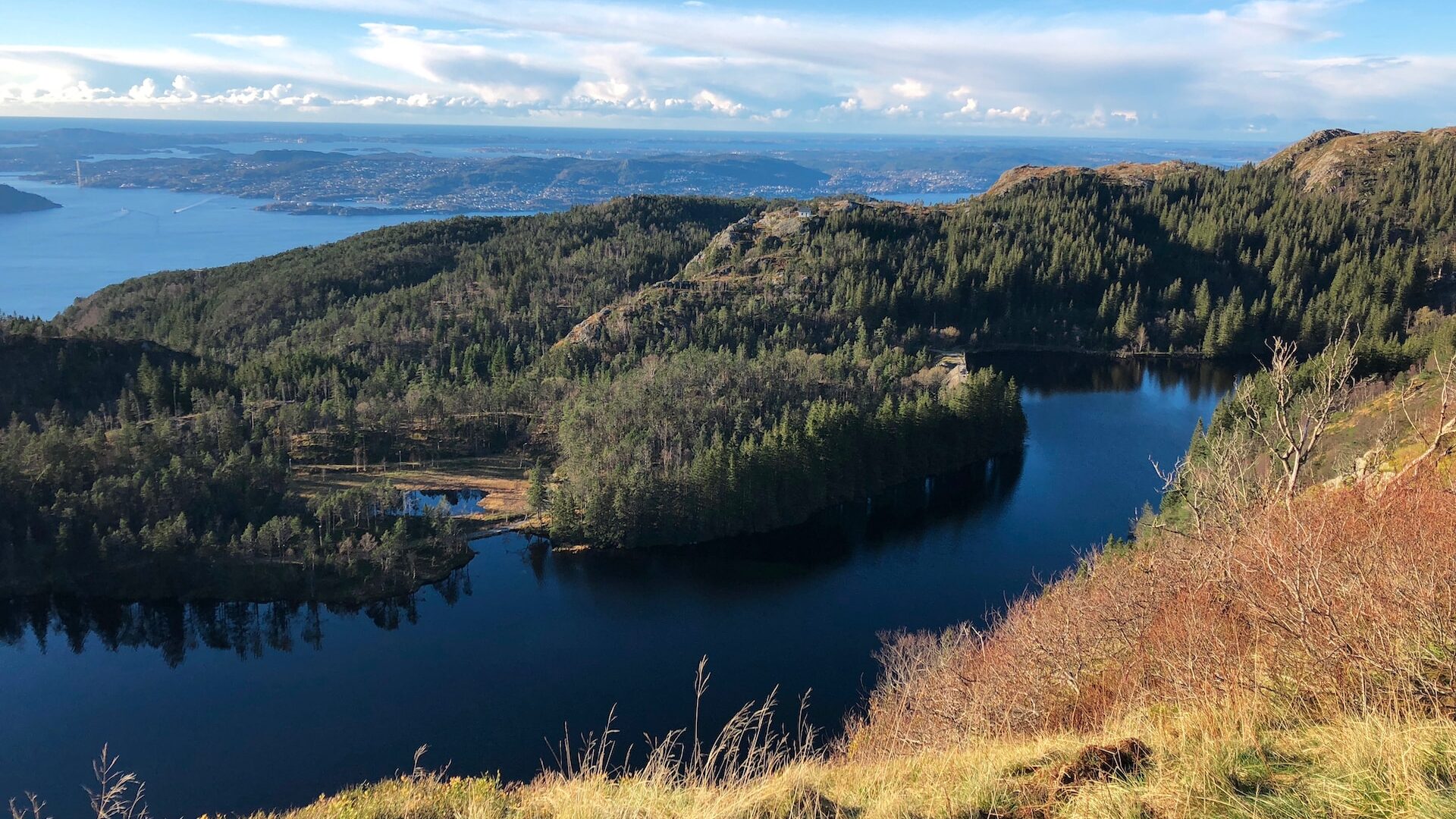 Safety and Regulations
Safety first, right? Let's see a few things that will ensure your safety when visiting the fjords from Bergen:
Weather Watch: Fjord weather can be unpredictable, so keep an eye on forecasts. Rainfall is part of the fjord charm, but knowing what to expect helps you pack the right gear.
Road Rules: If you're hitting the road, be aware of Norway's traffic regulations. Stick to speed limits, use headlights at all times, and give wildlife the right of way.
Ferry Etiquette: If you're taking a ferry to the fjords, be ready to queue up. Norwegian ferry systems are efficient, but it's good to follow the unwritten rule of first-come, first-served.
Hiking Know-How: For those planning a hiking trip to the fjords near Bergen, basic hiking safety rules apply. Let someone know your plans, pack essentials like water and snacks, and be aware of trail difficulty levels.
Leave No Trace: The fjords are pristine, and we want to keep them that way. So, respect nature by following the "leave no trace" principle—carry out what you carry in.
Emergency Contacts: Keep emergency contacts handy. Norway's emergency number is 112. It's always better to be prepared, just in case.
Regulations Update: Check for any updates on safety regulations, especially if you're traveling during a unique event or unprecedented conditions. Tourist information centers can provide the latest info.
Conclusion
Visiting the fjords from Bergen is a trip of a lifetime. But there is no perfect way of planning it. You can do it alone or join a guided tour. You can do it by car, bus, train, or ferry. Whatever you choose, planning is the key. So, find your ideal destination, form your schedule, check the safety guidelines, and manage your time properly.