When it comes to Denmark, you can expect a lot of fun things during winter. You have everything from family-friendly accommodations to vintage structures and skiing tracks. If you are up for some skiing venture in Denmark this winter, then we have the list of the top 5 Ski resorts in Denmark.
It does not matter whether you are a beginner or an advanced-level skier. These resorts have something to offer everybody. From steep terrains to alpine descents, you will get plenty of opportunities to enjoy skiing and snowboarding. So let's see what these ski resorts in Denmark have for you!
Hedelands Ski Center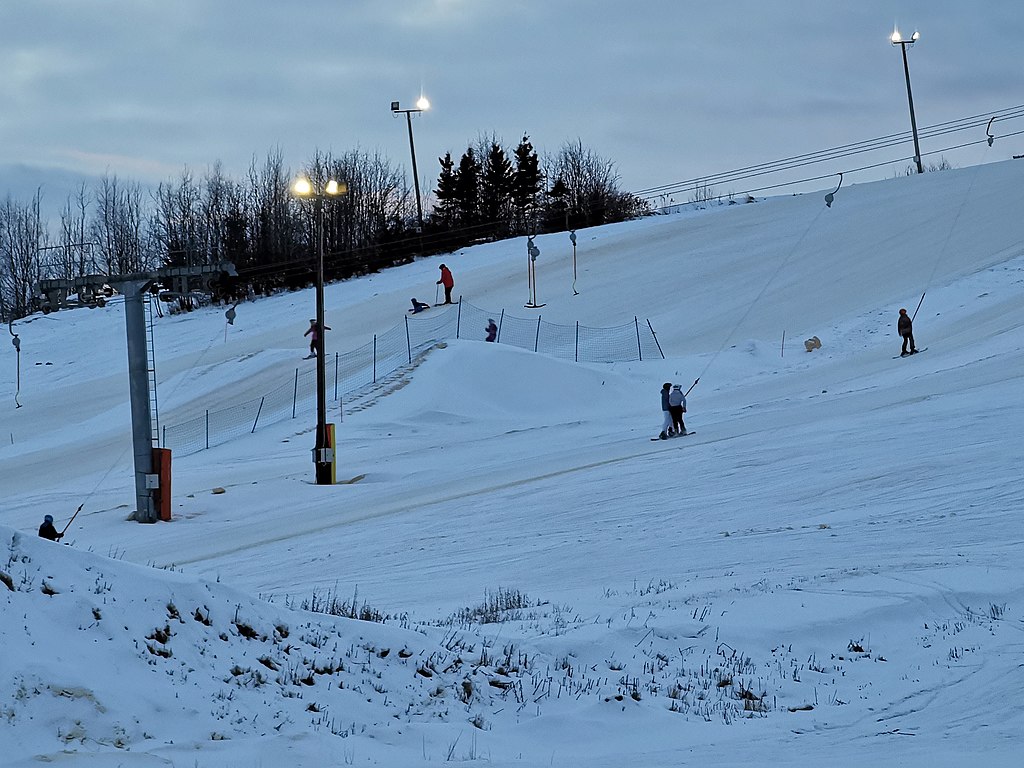 Hedelands Ski center is one of the biggest ski resorts in Denmark that is situated in Roskilde. This ski resort has a lot to offer for alpine skiing fun. Note that it is an artificial ski slope built on a hill in the 1980s. This ski center has three lifts and can accommodate about 1800 people per hour. Moreover, the slope is 282 meters long and 45 meters high. On top of all, you can also enjoy a snow park on the hill's left.
Including more than 400 pairs of shoes and about 100 helmets, Hedelands Ski center offers more than 300 pairs of skis for rental. If you wish to rent equipment, don't forget your Danish health insurance card and money! Moreover, the ski area includes four snow cannons that coat the hill in fake snow, and the slope is illuminated at night.
Although you can do Sledding in the area but not on the slope. And if you are learning to ski, there is also a ski training center accessible. And yes, you can warm yourself as well as purchase food and beverages In the clubhouse.
Copenhill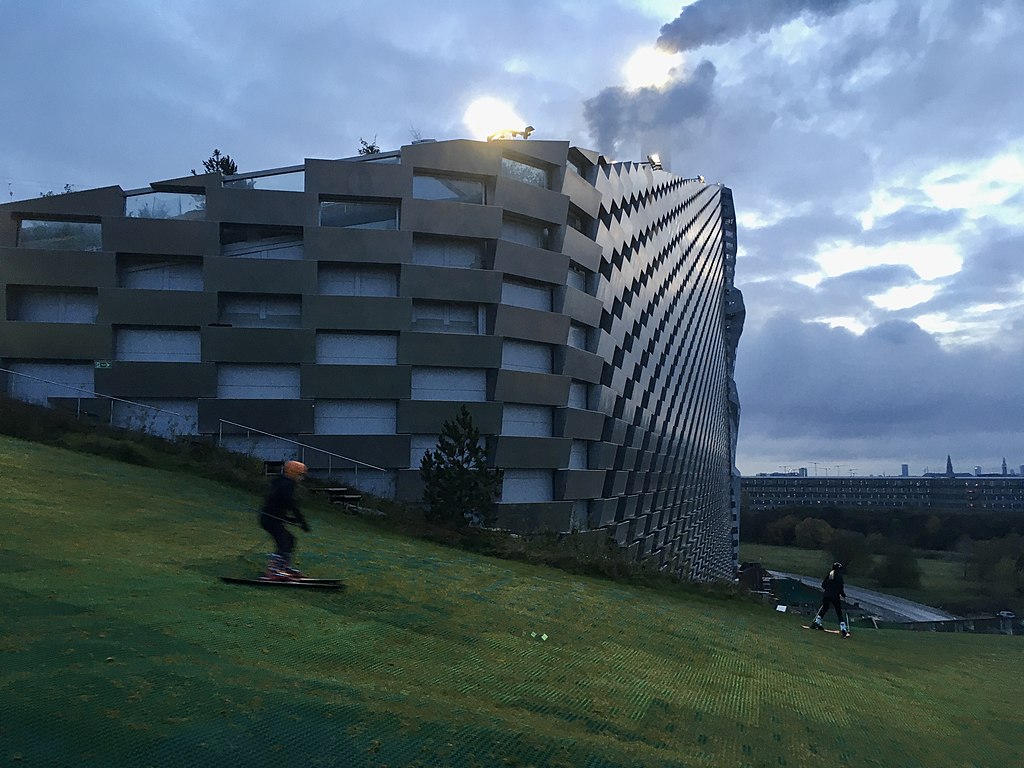 Within the boundaries of Copenhagen, you will find Copenhill ski resort. It has modern ski slopes on an artificial leisure area atop a waste management facility. Copenhill is innovative and spectacular in the truest sense of the phrase.
Although this ski resort is a bit new -it debuted in the fall of 2019- it has many amenities. You can get your skis and snowboard out and hit the CopenHill slopes. You can either bring your own gear or rent some from the nearby store Steep and Deep. The knowledgeable staff of Steep and Deep will be on hand to assist you. Furthermore, you can end your day on the slopes with an after-ski at CopenHill's café and an after-ski bar.
In addition, if skiing isn't your thing, you can do other fun things. For example, you can get the hiking track that runs the entire length of CopenHill's roof and enjoy the alpine venture. Moreover at CopenHill, if you are a certified climber, you can test your prowess on the 85-meter-high climbing wall that holds the world record. Overall, ARC is one of Copenhagen's efforts to become the first carbon-neutral city in the world.
Aarhus SkiArena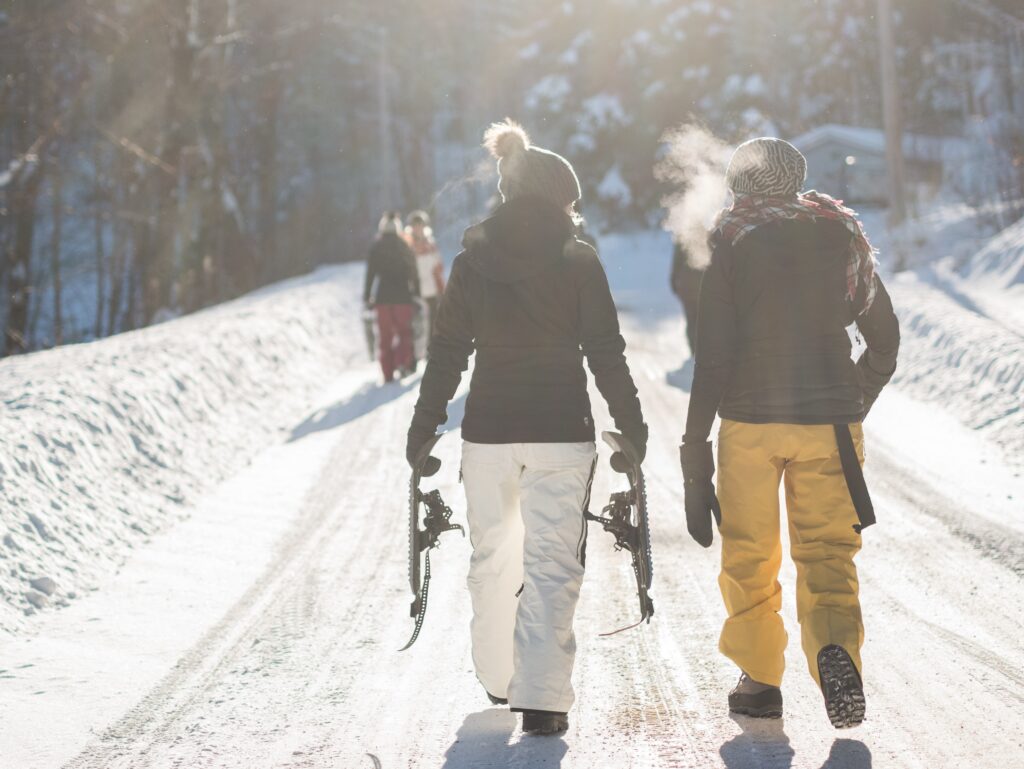 Aarhus Ski Arena is one of the best ski resorts for beginner skiers. Why? Because using virtual training technology, the Aarhus SkiArena offers a visual experience that simulates actual slopes.
When you first enter the Ski arena, you will see an extended slope. It depicts the shape of the conveyor belt. You can alter the spend and steepness of the belt so you can get the hang of the natural skiing track. Similarly, you can improve your skiing skills even more if you are an avid skier. Since Ski Arena collaborates with Skibutikken, they ensure you get the best equipment for your endeavors.
Finally, they also lend a helping hand to those who don't know skiing to 20 ski instructors. And you can also relax at the ski center bar. You can meet with other ski enthusiasts and have a drink after training. Lastly, it also offers many different training options for skiers and snowboarders. It's the perfect place to hone your skills.
Hoch Hylkedal
Southern Denmark (Syddanmark) is home to the ski resort Hoch Hylkedal – Kolding. Here you will get four different types of lifts. These facilities are from the alpine ski slope facility run by the Kolding Ski Club. Each ski slope varies in length from 150 to 250 meters and has a 20 percent incline on average. It does not matter whether you love snowboarding or skiing. This ski resort in Denmark has 0.3 km of slopes open for skiing and snowboarding.
Moreover, you will get a lift ride to the ski resort. The location of the winter sports area is between 20 and 45 meters above sea level. In addition, you will also enjoy fantastic scenery and gorgeous vistas because of its forest position.
Bornholm, Østerlars
Denmark is not an enticing tourist destination since it does not have giant mountains. However, its residents know how to make it attractive for skiers. And that comes true in Bornholm, where the residents installed a ski lift beside the majestic hill. This hill is not very high or steep. Still, it offers excellent routes to ski. It does not matter whether you are an amateur skier or a pro.
The Ski resort Østerlars (Bornholm) is one of the fantastic destinations for skiers in Denmark. It contains 0.7 Km of slopes to indulge in all kinds of snowy activities. Lastly, it also has a winter sports destination on the hill for kids and adults. So if you head to Denmark for snowy fun, don't forget to check out Østerlars (Bornholm) ski resort. And also you will get two lifts to take you to this ski resort.