Going to Greenland is a once-in-a-lifetime journey that you'll remember forever. When planning such an amazing trip, you need everything to be just perfect. And one of the most important things to decide is not just what to do, but when to go to Greenland.
The season you choose can make a big difference in your experience. Whether you're dreaming of seeing the Northern Lights or exploring the Arctic landscapes, we'll help you figure out the best time to visit.
Best time to visit Greenland considering the weather conditions
When it comes to the weather in Greenland, brace yourself for some cold temperatures all year round! In winter, the average temperature in Greenland drops to bone-chilling levels, ranging from -10°C to -30°C (14°F to -22°F). It's the perfect choice if you're an Arctic adventurer who loves the frosty embrace of winter.
On the other hand, if freezing your toes off doesn't sound appealing, opt for the summer months. During summer, temperatures in Greenland hover around a relatively balmy 5°C to 15°C (41°F to 59°F).
But here's the catch: in winter, you might have limited daylight with only a few hours of sunlight. So, if you're keen on enjoying the breathtaking landscapes under the sun, the summer months are your best bet. It all boils down to whether you're up for the freeze or prefer milder temperatures and longer daylight hours!
| Month | Average Temperature (°C) |
| --- | --- |
| January | -9 |
| February | -10 |
| March | -10 |
| April | -6 |
| May | -2 |
| June | 4 |
| July | 7 |
| August | 6 |
| September | 2 |
| October | -2 |
| November | -6 |
| December | -8 |
Please note that these are approximate average temperatures and can vary depending on the specific region within Greenland.
When to Find Cheap Flights and Hotels in Greenland
Flights
You can find cheaper flights to Greenland during the shoulder seasons, which are the times right before and after the busiest tourist season. Specifically, the months of April, May, September, and October are known to have discounted fares as there is less demand for travel to Greenland during these times.
Find the cheapest flights to Greenland any time of the year here:
Hotels
Just like with flights, the best time to find cheap hotels in Greenland is during the off-season months of April, May, September, and October. During these months, the demand for accommodations in Greenland is lower, resulting in discounted prices from hotels.
Find the cheapest hotels in Greenland any time of the year here:
Best time to visit Greenland for natural attractions
When it comes to experiencing the natural attractions of Greenland, timing is the key. While you can witness incredible sights throughout the year, the best time to see specific natural wonders varies. Certain highlights are best enjoyed in either summer or winter.
When to go to Greenland to see the Northern Lights?
Greenland is one of the best places in the world to see this amazing natural phenomenon. However, the Northern Lights are not typically visible during the summer months in Greenland. The optimal time to go is during the winter, from September to April when the nights are long and the skies are darker.
When to go to Greenland for the Midnight Sun?
If you want to experience the Midnight Sun in Greenland, the ideal time to visit is during June and July. During this period, you can witness the phenomenon of the sun staying above the horizon for 24 hours. It means you can enjoy continuous daylight and experience the unique beauty of the Arctic landscape under the glowing sun, even in the late hours of the night.
When to go to Greenland for the icebergs?
The best months to go to Greenland to see the icebergs are typically from May to September. During these months, the icebergs are at their most impressive and abundant. In May and June, the icebergs are still relatively intact and offer a magnificent display of frozen artistry. As the summer progresses, particularly in July and August, the icebergs may start to break apart and reveal stunning formations with intricate details.
When to go to Greenland for the frozen landscapes?
To fully experience the frozen landscapes of Greenland, the best time to go is during the winter months, from December to March. During this time, the towering ice formations, vast snowy expanses, and frozen lakes create a surreal and tranquil atmosphere. You can immerse yourself in the pure beauty of the Arctic wilderness, surrounded by untouched white landscapes that seem to endlessly stretch.
When to go to Greenland for the wildlife?
The best time to experience Greenland's wildlife is during the summer months of June to August. During this period, you can witness a vibrant display of Arctic animals, including seals, whales, polar bears, reindeer, and various bird species. Boat tours offer opportunities to see whales and seals in their natural habitat. Migratory birds fill the skies, adding to the wildlife spectacle.
Best time to visit Greenland for outdoor activities
Like with natural attractions, the same rules apply to outdoor activities in Greenland: certain experiences are best enjoyed in summer, while others are better in winter. The choice between seasons depends on your preferences and the activities you're drawn to.
When to go to Greenland for dogsledding?
The ideal time for dogsledding in Greenland is from December to April, during the winter months. These months provide optimal snow conditions and frozen landscapes for a unique dogsledding experience. December and January are especially popular, offering longer nights and increased chances of witnessing the magical Northern Lights while sledding.
When to go to Greenland for hiking?
The best time for hiking in Greenland is between March and May. During these months, the weather starts to warm up, and the snow begins to melt, making the trails more accessible. The landscapes are still covered in snow, creating a beautiful winter wonderland scenery for hikers to enjoy. Additionally, the days start to get longer, providing more daylight hours for hiking.
When to go to Greenland for snowmobiling?
The ideal time to go snowmobiling in Greenland is during the winter season, from December to April. This is when you can enjoy the thrilling experience of riding a snowmobile through the snowy Greenlandic landscapes. The conditions are perfect for snowmobiling, with plenty of fresh powder and frozen terrain to explore.
When to go to Greenland for skiing?
The best time to go skiing is from December to April when the ski resorts like Nuuk and Ilulissat are in full swing. This period offers ideal snow conditions and well-groomed slopes, ensuring a thrilling and enjoyable adventure. With fewer crowds and stunning winter landscapes, you'll have the mountains all to yourself, creating a unique and peaceful skiing getaway.
When to go to Greenland for ice-fishing?
For an exciting ice fishing experience in Greenland, plan your trip between February and April. During this time, locals venture out onto frozen lakes and rivers to catch fish beneath the thick ice. The process involves drilling holes in the ice, setting up fishing lines or nets, and patiently waiting for a bite. As the days grow longer and the temperatures become milder, it's the perfect season to try your hand at ice fishing.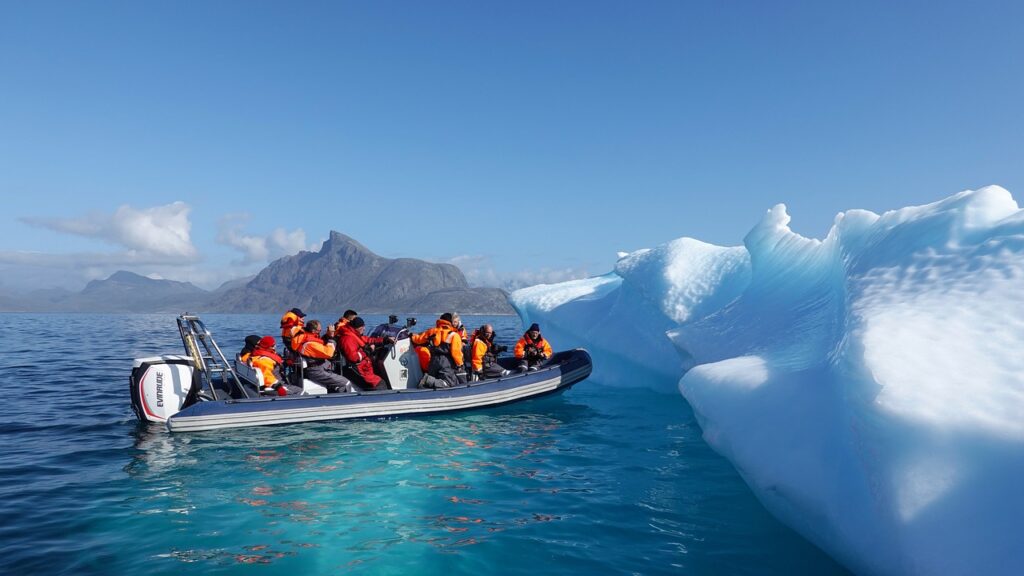 Best time to go to Greenland if you want to avoid crowds
A trip to Greenland is about isolation and finding peace with yourself. If you want to avoid the crowds in Greenland, there are a couple of prime times to visit. While Greenland isn't exactly swarming with tourists like other popular destinations, there are still periods when it can get a bit busier. To truly embrace the isolation and peace of Greenland, aim for a visit between February and May or September and October.
The outcome
When it comes to deciding when to go to Greenland, it depends on what you want to prioritize during your trip. You see, Greenland is a unique place of incredible wonders, but you can't have it all at once. However, there are some key factors to consider that can guide your decision.
If spotting the Northern Lights is at the top of your list, then winter is your time to shine. March, in particular, offers the best chance to witness this celestial spectacle. Picture yourself swatching vibrant ribbons of green and purple to illuminate the dark sky, creating an image you'll never forget.
March also showcases Greenland's frozen landscapes in all its glory. Imagine stepping into an Arctic winter wonderland, with enormous icebergs, mountains covered in snow, and vast snowy plains stretching as far as the eye can see. It's like being transported into an undiscovered world.
Moreover, visiting Greenland in March means fewer crowds and more intimate experiences. You'll have the chance to explore with a sense of solitude, immersing yourself in the untouched beauty of nature. And let's not forget the thrilling activities like dog sledding, ice fishing, and snowshoeing that are at their prime during this time.
So, if you're ready for a winter journey like no other, where the Northern Lights and frozen landscapes steal the show, March is your go-to month.