If you're looking to explore Copenhagen on a budget, you've come to the right place. This guide will show you how to spend a weekend in Copenhagen with just $100, including accommodation expenses. While this budget does not include the cost of flights, it's still possible to explore the capital of Denmark at a shockingly low cost!
Copenhagen is known for its vibrant nightlife, but this guide is for those who want to see the city without spending a lot on partying. Instead, we'll focus on the cultural and historical aspects of the city. We'll show you how to make the most of your weekend in Copenhagen, including tips on where to stay, and what to eat.
By following our guide, you may discover that this could be the most budget-friendly weekend of your life. Let's explore our tips and tricks and learn how to enjoy Copenhagen with only $100 in your pocket.
To find the cheapest flights to Copenhagen, click the link below:
Book a cheap hostel ($50/weekend)
Fortunately, the city offers many new and modern hostels that can provide comfortable lodgings for a fraction of the cost of traditional hotels. To keep your costs under control, aim to find a hostel with rates of around $25 per day. Additionally, make sure to choose a hostel that includes breakfast in the room rate to help save money on meals.
With some careful research and planning, it is easy to find a comfortable and affordable hostel in Copenhagen below:
Saturday
Starting your day with a hearty breakfast at your hostel is a great way to fuel up for a day of exploring Copenhagen. Then:
RENT A BIKE ($5)
Biking is a great way to explore Copenhagen on a budget. Several bike rental companies and hostels offer bike rentals for as low as $5 per day. You can easily visit the city's parks, museums, and historical landmarks by bike. It's also a popular mode of transportation in Copenhagen, so you'll fit right in with the locals.
Check the best prices for bicycle rentals in Copenhagen through the following link:
STROLL THROUGH NYHAVN ($0)
Exploring Nyhavn in Copenhagen doesn't have to cost you a penny. Take a stroll along the canals and soak up the beauty of the colorful buildings lining the waterfront. Don't forget to bring your camera to capture the beautiful scenery. While walking around, keep an eye out for street performers or live music that you can enjoy for free.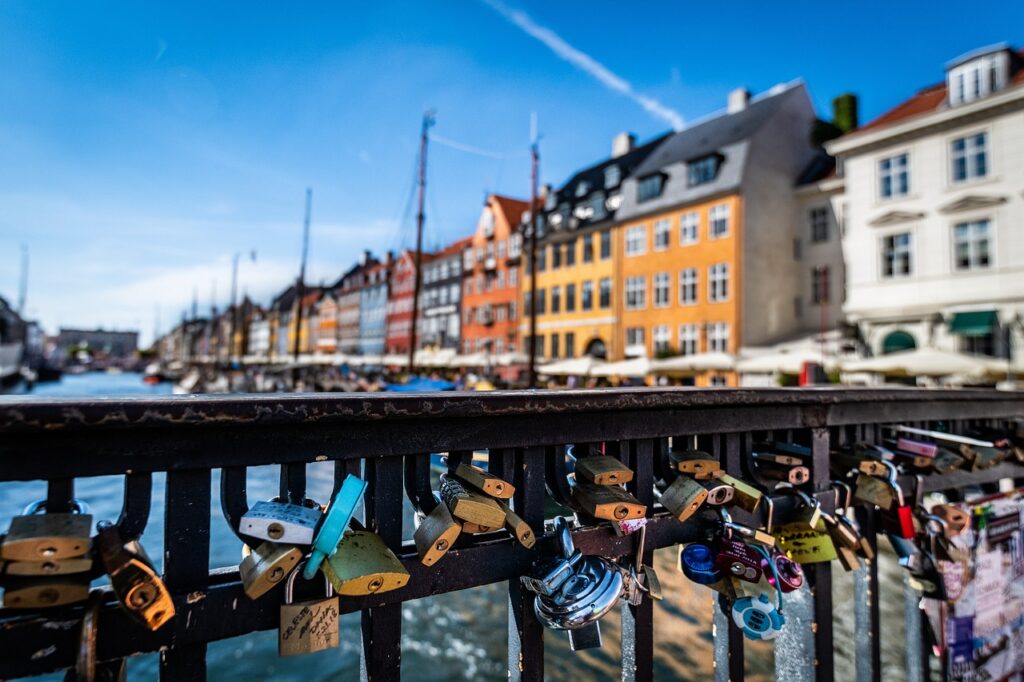 VISIT KASTELLET ($0)
Kastellet is a must-see attraction in Copenhagen that won't cost you anything. This 350-year-old fortress is well-preserved with star-shaped walls, moats, and tranquil green areas. You can spend around an hour exploring Kastellet, taking in the stunning views of the harbor surrounding it. Finally, it's an ideal spot to unwind and soak up the peaceful ambiance.
SEE THE LITTLE MERMAID STATUE ($0)
The Little Mermaid is a must-see free attraction in Copenhagen. The statue is located near the Langelinie promenade, just a short walk from Kastellet, and is easy to get to on foot or by bike. It's a popular spot, so it's best to go in the afternoon when the crowds have thinned out. Keep in mind that the statue itself is not very large, but it's an iconic symbol of Copenhagen and a great place to snap some photos for your travel album.
HAVE A PICNIC AT FREDERIKSEN GARDEN ($10)
The next stop is Frederiksberg Garden, a beautiful green space in Copenhagen that is perfect for a budget-friendly picnic. For just $10, you can grab a baguette, cheese, and fruit from a local supermarket like Netto or Aldi. The park itself is a beautiful spot, featuring lush gardens, winding paths, and even a small lake. The afternoon is a great time to have a picnic here. So pack your picnic blanket and enjoy a relaxing afternoon in one of Copenhagen's most beautiful green spaces.
VISIT THE DAVID COLLECTION ($0)
The next free stop of your cheap weekend in Copenhagen is the David Collection. The David Collection is a museum that houses an impressive Islamic, European, and Danish art collection. The museum is free to enter and is an excellent place for anyone interested in art and history. The collection is extensive and well-curated, and the building itself is beautiful. Once inside, you can explore the different galleries at your leisure and admire the intricate works of art on display.
HAVE 1-2 DRINKS ($15)
It's a weekend in Copenhagen, so you'll need to get a small taste of Danish nightlife! Consider hitting up your hostel's bar on a Saturday night. Many hostels offer happy hour specials and discounts on drinks for guests, making it a great spot to grab a couple of drinks. Another option is to explore one of the hundreds of small bars in the city, where you can often find affordable prices on beer. With a budget of $15, you can easily enjoy two beers or a cocktail.
Sunday
Start your day with an early breakfast, as there are still plenty of things to do:
TAKE A FREE WALKING TOUR ($0)
If you want to spend a cheap weekend in Copenhagen, you must join a free walking tour! Many hostels organize free walking tours for guests. Additionally, there are other free walking tour options available in the city. These tours typically cover popular sights such as Nyhavn and Amalienborg Palace. Joining a free walking tour is a great budget-friendly way to experience the city and meet other travelers.
VISIT A FREE MUSEUM ($0)
Visiting a museum in Copenhagen doesn't have to cost a penny. Several high-quality museums offer free admission on Sundays. Some of them are the National Museum, the Danish Architecture Center, and the Nikolaj Kunsthal. These museums showcase various exhibits and collections, including Denmark's rich history and contemporary art. Visiting one of these museums on a Sunday is a great way to save money while exploring the Danish culture.
VISIT CHRISTIANSBORG PALACE ($0)
Your next stop on a budget weekend in Copenhagen should be Christiansborg Palace, a stunning building that houses the Danish Parliament, the supreme court, and the Ministry of State. Admission to the palace can be costly, but there are still some parts that you can visit for free, including the impressive courtyard and the majestic royal stables. Take a stroll through the palace square and soak in the regal atmosphere. Don't miss the chance to snap some photos of this iconic landmark of Denmark.
HAVE SOME DANISH PASTRIES ($15)
On your budget weekend in Copenhagen, one thing you shouldn't miss is trying out some delicious Danish pastries. You can combine it with some savory snacks from a local bakery. For around $15, you can enjoy a tasty picnic in the green surroundings of the beautiful Rosenborg Castle Gardens. This is a great way to enjoy some traditional Danish treats while taking in the scenic views of one of Copenhagen's most picturesque spots.
VISIT COPENHAGEN CATHEDRAL ($0)
If you're looking for a religious experience in Copenhagen, then a visit to the Copenhagen Cathedral should be on your list. The cathedral, also known as the Church of Our Lady, is the oldest church in the city and is the bishop's seat. You can explore the beautiful interior of the church for free and marvel at the stunning architecture and religious artifacts. It's a peaceful and serene space where you can spend some time in contemplation. Best of all, it won't cost you a penny to enter.
HAVE A SNACK AT CHRISTIANSHAVN NEIGHBORHOOD ($5)
Your last stop is the charming neighborhood of Christianshavn, which has a lively atmosphere at night. Walk around the picturesque canals and admire the historic buildings illuminated by streetlights. You can also grab a street food snack for around 5$ and enjoy the lively atmosphere of the area. Once you've had your fill of the neighborhood, head back to your hostel and rest up for another day of exploring Copenhagen on a budget.
Conclusion
In conclusion, spending a budget weekend in Copenhagen might seem challenging, as the city is known to be expensive. However, there are plenty of activities that you can do for free. Although $100 may not seem like a lot of money, it is important to remember that the memories and experiences gained from a trip to Copenhagen are invaluable. So, if you are willing to explore the city with an open mind and a sense of adventure, there is no reason why a limited budget should hold you back.