Diving into the Thrilling Nightlife in Gothenburg
Welcome, fellow nocturnal wanderers, to the enthralling nightscape of Gothenburg! When the sun sets over this vibrant Swedish city, a whole new world comes to life. Prepare to immerse yourself in an exhilarating tapestry of lights, sounds, and infectious energy. After all, we're about to embark on a nocturnal adventure through the electrifying nightlife in Gothenburg!
Gothenburg is a city that pulsates with a captivating blend of culture, music, and a distinctive Scandinavian charm. Beyond its picturesque canals and verdant parks lies a realm that truly awakens after dusk. As soon as the moon takes its throne in the night sky, the streets of Gothenburg come alive!
Sunset Strolls along Avenyn | Nightlife in Gothenburg
Avenyn is an iconic boulevard, also known as Kungsportsavenyn. Without a doubt, it is the beating heart of Gothenburg's nocturnal scene. Avenyn stretches majestically through the heart of the city, lined with a myriad of restaurants, cafes, and bars that come alive as the night unfolds.
To kick off our evening, let's start with three establishments along Avenyn that have rightfully garnered a stellar reputation:
Heaven 23
Atop the iconic Gothia Towers, Heaven 23 offers not only panoramic views of Gothenburg but also a sophisticated dining experience. Indeed, Heaven 23 is a culinary haven that tantalizes the taste buds with its exquisite menu, crafted with precision and creativity.
While savoring the stunning cityscape that unfolds beneath you, you can indulge in a wide range of delectable dishes. Whether you're in the mood for their famous Swedish meatballs served with lingonberries and creamy mashed potatoes, or you prefer to explore their seafood selections like the succulent grilled salmon with dill-infused butter sauce, Heaven 23 promises a dining experience that is both refined and unforgettable.
Yaki-Da
Step into the vibrant world of Yaki-Da, right in the heart of Avenyn, and prepare for an electrifying experience!
Picture this: You walk through the doors, and suddenly you're transported into a kaleidoscope of sights and sounds. The dance floor becomes your playground, where you'll groove to mind-altering mixes and find yourself lost in the rhythm of the night.
However, Yaki-Da isn't just a nightclub. As you explore its different levels, you'll stumble upon hidden corners filled with interactive art installations, secret rooms brimming with offbeat surprises, and even a mysterious rooftop terrace where you can catch your breath and take in the starry sky above.
Finally, let's not forget the music. From techno to hip-hop, house to indie, prepare to have your musical horizons expanded like never before!
Familjen
Right in the heart of Avenyn, Familjen is like a warm hug from Swedish cuisine but with a modern twist that keeps things exciting. The atmosphere is cozy, and the mix of traditional and contemporary elements creates a charming vibe that instantly puts you at ease.
Classic comfort dishes, like the famous Swedish meatballs or the delicious reindeer fillet, will transport you straight to culinary heaven. However, let's not forget the seafood, of which the grilled salmon is a flavorful highlight!
Uncovering Gothenburg's Best Beer Bars | Nightlife in Gothenburg
When it comes to the vibrant nightlife in Gothenburg, beer bars play a significant role in shaping the city's nocturnal landscape. While Gothenburg offers nightlife options aplenty, it is the city's beer bar culture that truly elevates a night out.
Gothenburg's beer bars are not your ordinary places to simply grab a cold one. Instead, they are like sacred sanctuaries for beer enthusiasts, where an extravagant array of flavors and styles takes center stage. Let's dive into our top picks, each offering its own unique charm and a delightful range of flavors to indulge in.
Steampunk Bar
Step into a world where Victorian elegance meets the bold spirit of craft beer. Steampunk Bar is a haven for beer enthusiasts seeking a whimsical and immersive experience. Indeed, The bar's steampunk-inspired decor, with its intricate brass fixtures and mesmerizing contraptions, sets the stage for an unforgettable adventure.
With an impressive selection of local and international brews on tap, you'll be spoiled for choice. Moreover, when hunger strikes, their tantalizing menu of gourmet burgers and hand-cut fries is sure to satisfy your cravings!
2112
Prepare to embark on a journey to the realm of rock and roll at 2112, a beer bar that reverently pays homage to the legends of music. With its rock-themed decor and a playlist that echoes the soul of rock, this place exudes an electric atmosphere that music lovers will adore.
However, it's not just about the tunes here; 2112 takes its beer seriously. Definitely explore their carefully curated beer menu, featuring a rotating selection of craft beers from near and far. As you sip on your chosen brew, don't forget to sample their delectable snacks and finger foods. Without a doubt, they will complement the beer-drinking experience!
3 Små Rum
Tucked away in the heart of Gothenburg, 3 Små Rum ("3 Small Rooms") offers a cozy and intimate setting where beer aficionados can gather and savor exceptional brews. This hidden gem boasts a carefully curated selection of craft beers, showcasing the best of local and international flavors.
Step inside and you'll find a rustic yet inviting ambiance with dim lighting and comfortable seating that encourages conversation. At the same time, the knowledgeable staff will guide you through their impressive beer list, helping you discover new favorites along the way. Sit back, relax, and let the flavors unfold as you savor each sip!
Ölrepubliken
With its warm and welcoming ambiance, Ölrepubliken (Beer Republic) has established itself as a beloved institution in Gothenburg's beer scene. Here, you'll find a vast array of beers, ranging from classic favorites to innovative and experimental brews.
While the beer selection steals the show, Ölrepubliken also offers a menu that highlights delicious Nordic-inspired dishes. From hearty meatballs to savory herring, these delectable food options pair perfectly with the flavors of their handpicked beer selection.
Gothenburg Jazz Clubs | Nightlife in Gothenburg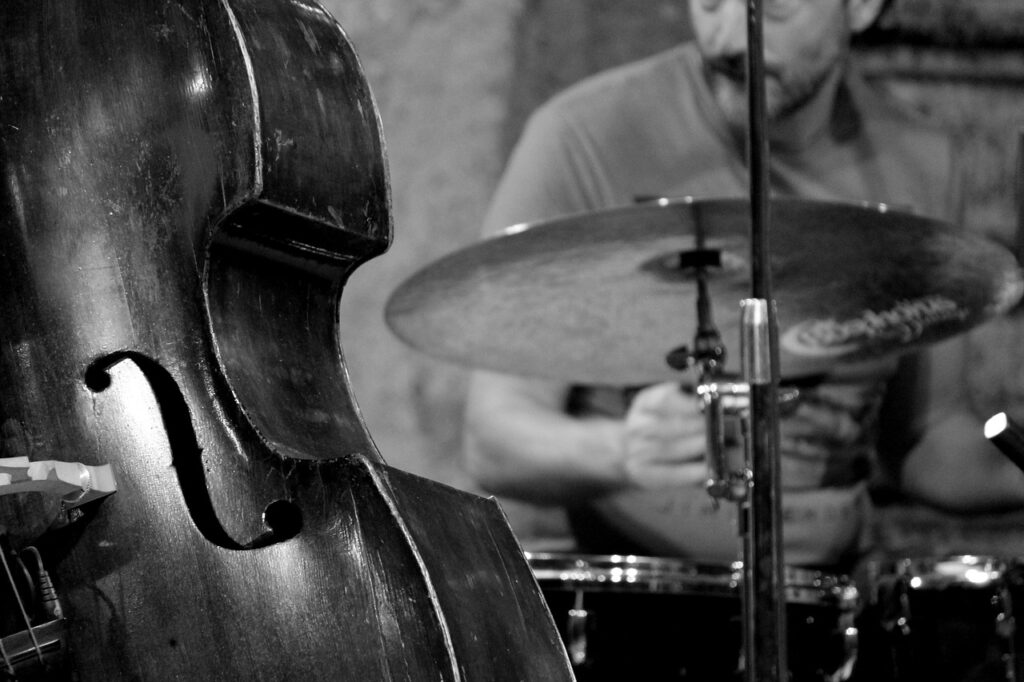 Whether you're a seasoned jazz aficionado or a curious traveler seeking an unforgettable night of live music, Gothenburg's jazz scene is going to surprise you. These three jazz clubs in Gothenburg offer unique and captivating experiences for jazz lovers and are strongly recommended:
Nefertiti Jazz Club
Nefertiti, located in the heart of Gothenburg, is a legendary live music venue, nightclub, and bar that has earned its reputation as one of the city's best jazz clubs. Since its establishment in 1982 at Hvitfeldtsplatsen 6, Nefertiti has evolved into a meeting place for musicians and music enthusiasts.
Step inside, and you'll find yourself immersed in a cozy and intimate atmosphere that lends itself perfectly to the jazz experience. From world-renowned artists to local talents, the club consistently delivers exceptional jazz performances that leave a lasting impression.
Lastly, let's not forget the delicious food on offer. Vegetarians will be pleased to know that Nefertiti offers tasty vegetarian options to complement the musical experience.
Unity Jazz – Jazzklubb & restaurang
Welcome to Unity Jazz, a cozy little joint that lies at the heart of Gothenburg! Great music and good vibes are offered in abundance to those lucky enough to snag a spot in this intimate space.
Unity Jazz has got it going on. They are one of the best jazz clubs in town, and they've got the talent to prove it. By the way, don't miss their Thursday jam session, where the finest jazz players in town (and even beyond) come together to create an exciting musical experience.
However, Unity Jazz isn't just about the tunes; they've got some tasty treats to satisfy your cravings too. Sure, the portions can be relatively small, but at the same time they are surprisingly affordable. We indulged in a three-course meal with their wine menu, and boy, were we pleasantly surprised!
Utopia Jazz
What sets Utopia Jazz apart is its authenticity and commitment to providing a true jazz club experience. The venue itself exudes charm, reminiscent of the jazz clubs of yesteryears.
Utopia Jazz is cozy, intimate, and often buzzing with activity. If you prefer a more relaxed ambiance, head to the upstairs area, where you can unwind and enjoy the music in a quieter setting. Ideally, make a reservation in advance, as the space fills up quickly.
The menu may not be extensive, but the food they serve is top-notch. Indulge in their delicious lamb dish or savor the mouthwatering wontons with a delectable combination of mushrooms, cabbage, and eggs. The kitchen is ambitious, and their attention to detail shines through in every bite.
Nightlife in Gothenburg: Final Thoughts
In the city of Gothenburg, the nightlife pulses with energy, luring both locals and visitors into its irresistible embrace. Frankly, nightlife in Gothenburg can be seen as a journey into the soul of the city, where art, music, and culinary delights intertwine.
But the nightlife in Gothenburg is more than just venues and libations. It's an invitation to dive into the heart of the city's culture, where strangers become friends and memories are forged. Memories that will linger long after the night has faded into dawn.