Welcome to the ultimate guide for experienced campers looking to explore the breathtaking Norwegian wilderness! If you're itching to pitch a tent and snuggle up in your sleeping bag amidst some of the world's most stunning scenery, you're in for a treat. Norway's natural beauty is unparalleled, and the wild camping spots in Norway are magical. In this guide, we'll explore the very best spots to pitch your tent and soak up the glory of Norwegian nature.
Why go wild camping in Norway?
Norway is a camper's dream come true! With an abundance of wild camping spots scattered throughout the country, you'll be spoiled for choice. Whether you're a seasoned camper or a first-timer, Norway's diverse landscapes will leave you in awe.
There's a perfect spot for everyone to pitch their tent and experience the magic of sleeping under the stars. And the best part? Norway's "Allemannsrett" law allows you to camp anywhere in the wilderness as long as you respect the environment and others' property.
What is the best season for wild camping in Norway?
Norway's natural beauty is awe-inspiring year-round, but the best season for wild camping is undoubtedly the summer. With long daylight hours and milder temperatures, it's the perfect time to explore the country's breathtaking landscapes and sleep under the stars. Just remember to pack your tent and sleeping bag!
However, it's worth noting that winter can be tough for wild camping in Norway, with frigid temperatures and shorter days. It's important to be well-prepared and experienced if you plan to camp during the colder months.
Which part of Norway is better for wild camping?
All parts of Norway offer exceptional wild camping opportunities. So it ultimately depends on your preferences and interests.
Northern Norway
Wild camping spots in northern Norway offer stunning views of the Arctic landscape, from snow-capped mountains to fjords and glaciers. Remote locations provide peace and quiet but be prepared for unpredictable weather.
Central Norway
Central Norway offers a diverse range of wild camping spots, from the scenic lakes of Jotunheimen National Park to the stunning fjords of Geiranger. You can enjoy breathtaking views of mountains and valleys, and experience Norway's unique nature.
Southern Norway
The southern part of Norway is known for its vast forests, picturesque lakes, and stunning coastal areas. You can find wild camping spots near the Telemark Canal, Hardangervidda National Park, and the scenic coastline of Vestfold.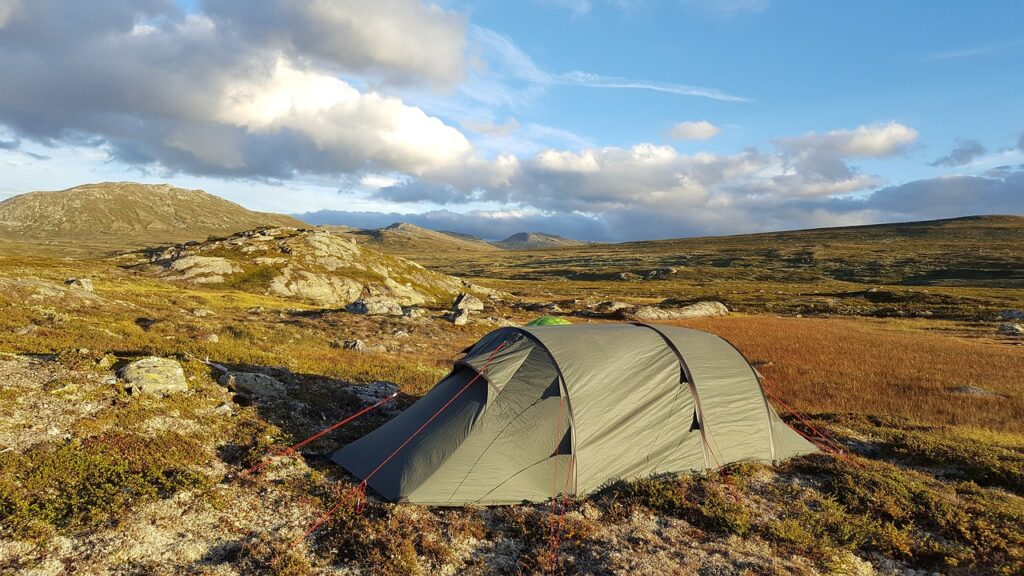 WHAT ARE THE BEST WILD CAMPING SPOTS IN NORWAY?
Here is a list of the 15 best wild camping spots in Norway:
JOTUNHEIMEN NATIONAL PARK
Jotunheimen National Park is home to Norway's highest mountains and some of the most scenic landscapes in Scandinavia. It offers numerous camping options for both novice and experienced campers.
TROLLTUNGA
Trolltunga is a natural rock formation in the southwestern part of Norway that offers stunning views of the surrounding landscape. You can access Trolltung via a challenging hike.
LYSEFJORD
Lysefjord is a picturesque fjord in southwestern Norway with numerous camping spots along its shores. It is accessible by boat or car.
HARDANGERVIDDA NATIONAL PARK
Hardangervidda National Park is a vast, mountainous wilderness area in central Norway. It offers a range of camping options for adventurous campers and hikers.
LOFOTEN ISLANDS
Lofoten Islands is a group of islands located off the coast of northern Norway. All islands offer stunning scenery and numerous wild camping opportunities. They are accessible via ferry or plane.
KJERAG
Kjerag is a popular hiking destination in southwestern Norway. It offers stunning cliff views and the famous Kjeragbolten boulder. It is accessible via a challenging hike.
PREIKESTOLEN
Preikestolen is located in southwestern Norway. It is one of the most popular wild camping spots in Scandinavia due to its stunning cliff views. It is accessible via a hiking trail.
JOSTEDALSBREEN NATIONAL PARK
Jostedalsbreen National Park is home to Norway's largest glacier. There are numerous camping spots in its surrounding wilderness areas. It is accessible by car or bus.
GEIRANGERFJORD
Geirangerfjord is a stunning fjord in western Norway. It has numerous wild and not-so-wild camping options along its shores. It is accessible by boat or car.
VARANGER PENINSULA
Varanger Peninsula is a remote wilderness area in northeastern Norway that offers numerous wild camping spots along its coastline. It can be accessed by car or bus.
SENJA ISLAND
Senja Island is Norway's second-largest island. There are wild camping spots on secluded beaches and dramatic fjords. It is accessible by car or ferry from Tromsø or Harstad.
BLEFJELL
You can climb to the top of Blefjell and camp with panoramic views of southern Norway. It is accessible by car or bus from Oslo.
GAUSTATOPPEN
You can hike to the summit of Gaustatoppen and camp at the base of the mountain. Gaustatoppen is accessible by car or bus from Oslo or Kristiansand.
RØROS
There are plenty of wild camping spots near this historic mining town. From there, you can explore the surrounding mountains. It is accessible by car or train from Trondheim.
KJERAGBOLTEN
Wild campers can brave the hike to the famous boulder and camp near the Lysefjord. Kjeragbolten is accessible by car or bus from Stavanger.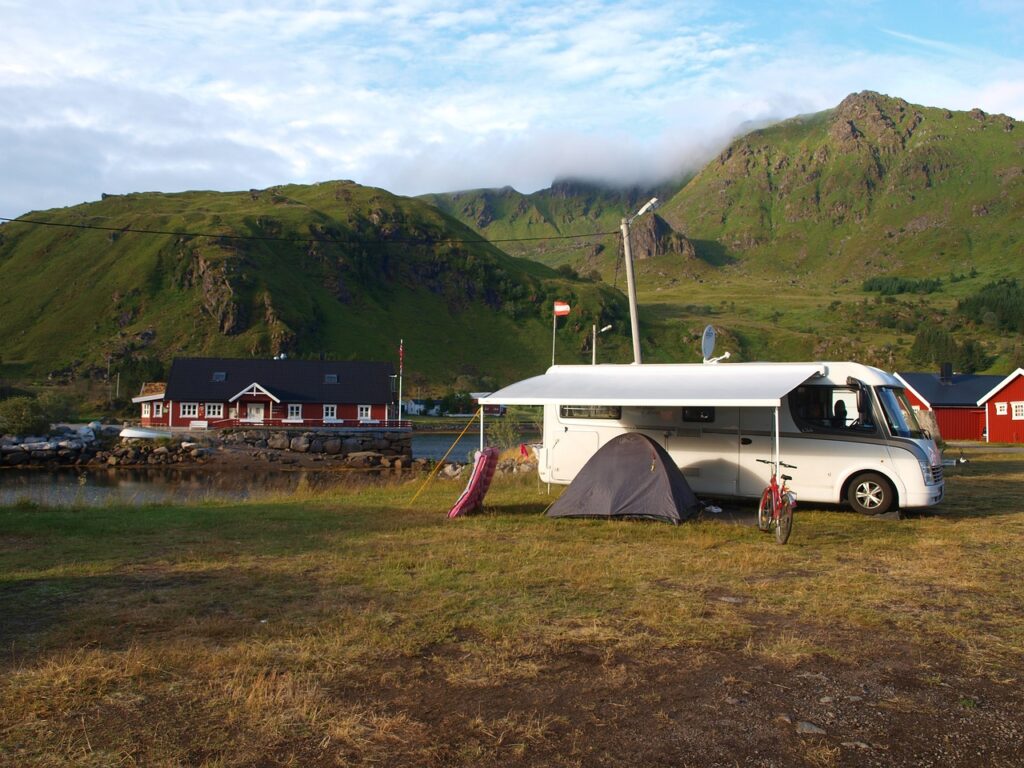 Norway wild camping rules to follow
To ensure that you have a safe and enjoyable trip, it's important to follow some rules. Here are some of the key rules for wild camping in Norway:
Respect the environment: Leave no trace, pick up your garbage, and avoid disturbing wildlife.
Respect other people's property: Don't camp on private land without permission.
Follow the "Allemannsrett" law: You can camp anywhere in the wilderness, but be sure to stay at least 150 meters away from any inhabited buildings.
Use established campsites where possible: They often have amenities like toilets, fire pits, and waste disposal facilities.
Be prepared for all weather conditions: Norway's weather can change quickly, so make sure you have appropriate gear for rain, wind, and cold.
Keep fires small and controlled: Only use designated fire pits or bring a camping stove.
Respect quiet hours: Avoid making loud noise between 11 PM and 7 AM.
Remember that winter camping in Norway can be challenging and dangerous, so it's important to have the right equipment and experience.
Is wild camping in Norway safe?
Absolutely! Wild camping in Norway is an amazing and safe way to explore the stunning wilderness of Norway. The Norwegian government has implemented strict Leave No Trace principles to ensure that the environment remains unspoiled for future generations.
Moreover, Norway is one of the safest countries in the world, so you can rest assured that you will be safe while camping outdoors. Just remember to follow the rules, be prepared for the weather, and always let someone know where you are going.
Conclusion
Norway is truly a paradise for camping enthusiasts! With some of the best wild camping spots in Scandinavia, there's an abundance of breathtaking landscapes to explore. The possibilities for discovering new places are endless, from the stunning beaches of the Lofoten Islands to the serene lakes of Jotunheimen National Park. So, grab your tent, and prepare for an exciting adventure in Norway's best wild camping spots!