The numbers don't lie; it is expensive to travel throughout Scandinavia. This makes sense, given the fact that they have a high currency exchange rate and high levels of taxation. So it's important to research ways to save money before anyone visits
Norway
,
Sweden
, or
Demark
. On the other hand, this is a region you can trust is clean, safe, and strikingly beautiful – the recipe for a perfect holiday. Scandinavians are famous for being the happiest humans in the world. But rest assured. Like everywhere else in the world, there are cheap vacation destinations available. A great place to start when cutting back your expenses is by relying on public transportation. Thankfully, there are high-quality trains available all throughout Norway, Sweden, and Denmark. There's a Scandinavia-wide train pass that you can purchase. What you get is an unlimited amount of train rides. There's free Wi-Fi, clean and comfortable facilities, discounted tickets for youths and seniors, and discounts at tourist attractions, ferries, and hotels. Moreover, it's better for the environment and allows for relaxation time. You can purchase a train pass at a train station or online at
Eurail.com
.
Malmo, Sweden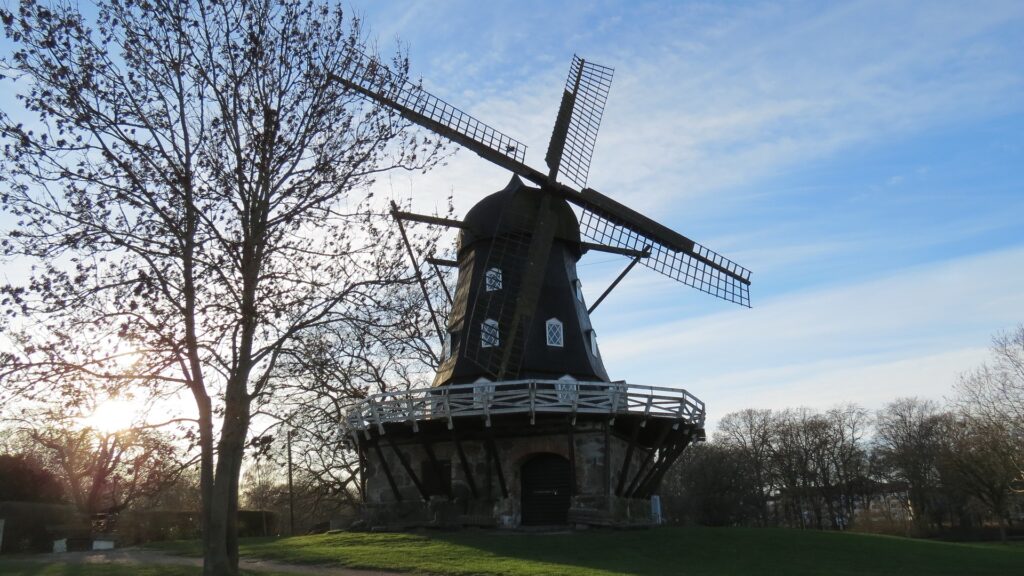 Many people prefer to visit the two largest cities of Sweden, Stockholm, and Gothenburg. But if you want a cheap vacation in the city, you should check out Sweden's third-largest city, Malmo. Instead of driving, catching a taxi, or traveling by train or bus, it's a smaller city, so it's typical to travel by foot. Malmo is described as a city of parks, so it includes free or cheap tourist attractions and beautiful views. Some of the parks available offer family-friendly activities. Such as playgrounds for kids of all ages, water playgrounds, skatepark and rock-climbing. Also, there is a carousel, petting zoo, terrarium, miniature golf, a children theater, changing entertainment programs, castles, cafes, restaurants, and picnic areas. The
Malmo Konsthall
is free of charge. It is a contemporary art museum that hosts many lectures, theater, film screenings, and poetry recitals. As well as the art installations and statues of famous Swedish figures throughout Malmo.
Skuleskogen National Park, Sweden
Instead of booking a hotel, which is one of the most expensive aspects of traveling in Scandinavia, live like a true Swede and go wild camping. It's legal, safe, and completely free to
camp anywhere you choose in Sweden
. Skuleskogen National Park is the most popular place for camping. The views are astonishing and there are several bus and train lines to take you directly to one of the entrances. They offer cabins, wind shelters, eco-toilets, and wood supplies, free of charge. You can hike throughout the area, swim freely, and discover caves and waterfalls. You are limited to what you can carry, so that's something to consider. Otherwise, there are available campgrounds with spas, pools, and saunas, but they will charge a fee.
Odense, Denmark
If you're a fan of The Little Mermaid, The Ugly Duckling, Thumbelina, or The Princess and the Pea, then consider going on a cheap holiday in Odense, Denmark. This is the hometown of the Danish author and national treasure, Hans Christian Andersen. Visitors are welcome to tour his childhood home and they can also visit a museum of the work he completed there. This city also offers a Viking castle, local history museum, art museum, cathedral, and abbey. Another way to save money when you travel is by purchasing food in markets and making your own meals instead of visiting a restaurant or ordering food for delivery. Odense makes this easy. There is a local market every Wednesday and Saturday morning. You can purchase local fruits, vegetables, and meat as well as regional delicacies, like smoked cheese and dark rye bread. Then, you can take a walk on the coastline and enjoy a picnic on the
beach
.
Skagen, Denmark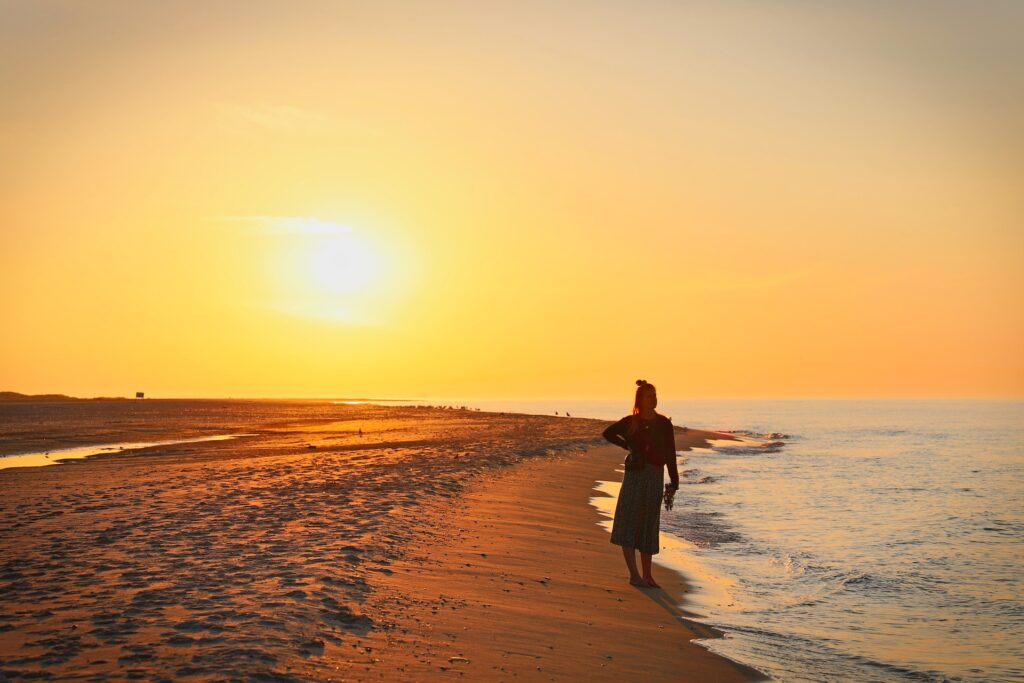 Denmark's northernmost town, Skagen is where the Baltic and North Seas collide but do not mix. This town attracts two million travelers each year. It's the country's main fishing port, so, if you're interested in fishing, you can catch the local herring and make yourself a typical Danish meal. It's most famous for The Rabjerg Mile, which may look like a desert, but is actually the largest migrating coastal dune in Northern Europe. The Church of Saint Lawrence of Rome, a 14th-century church, can be seen there. It is mostly buried under the sand and all you can see is its tower, however it still is an undeniably remarkable attraction. Walking or hiking through the sand dunes is safe. There is a beautiful trail, free of charge, and open all year round. The tallest hill stands 40 meters high. The dunes also host the Rubjerg Knude lighthouse, which the city moved in 2019 so it wouldn't fall into the sea. You can climb to the top of the lighthouse for a phenomenal view, but note it requires 200-or-so steps, and then visit a bird museum and café inside.
Trolltunga, Norway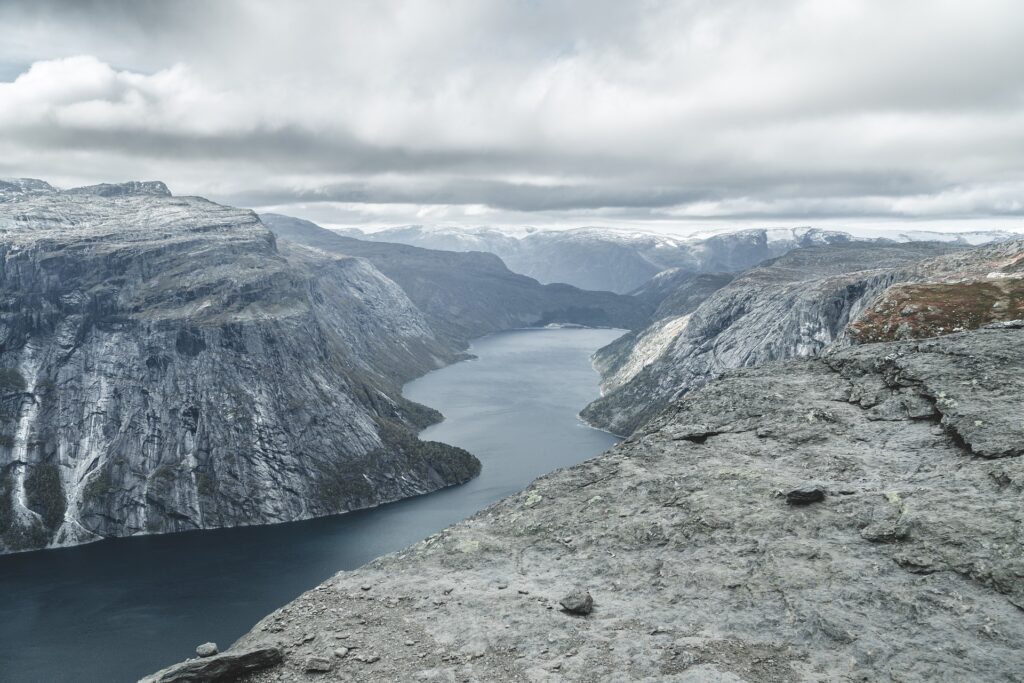 Like other Scandinavian countries, travelers tend to visit the capital, Oslo, but the best and cheapest experiences are found in nature. Trolltunga (The Troll's Tongue) is one of Norway's most popular hikes and is famous for a thin cliff overlooking a fjord and mountains. It's a 10–12-hour hike, not including breaks and the travel time to and from housing, but you can choose to only hike one section of the trail. There are shuttle buses that will take you directly to the different entrances. Also, guided tours are available. If you are not interested in camping, the closest housing is the Trolltunga Guesthouse. It has high ratings of cleanliness, comfort, and affordability.
Alesund, Norway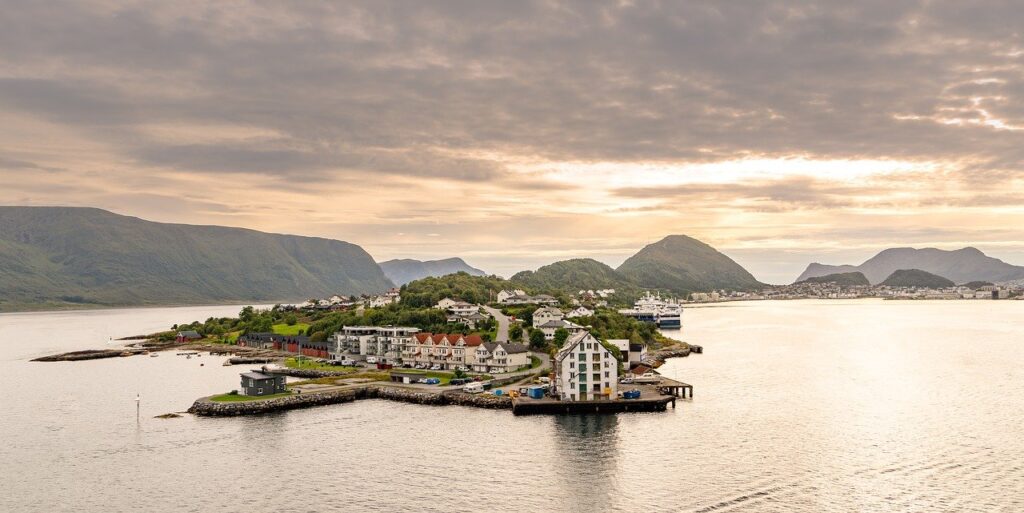 Alesund is a small city, so there's no need to pay for transportation; it's easy to walk around. While you wander, you can marvel at the Art Nouveau, a unique style of architecture all throughout the city. Alesund is famous for the Fjellstua which is a platform that provides a stunning view over the city. Also, it makes up an ideal base if you want to explore the spectacular nature around it, fjords and mountains included. Free of charge is the Sunnmore Museum, a collection of historic Norwegian buildings and Viking ships. Another fun and free activity is the nearby island of Runde, which hosts around 500K birds, including puffins.