When it comes to finding the perfect summer escape, few Scandinavian cities provide the options as those found along the coastlines of Denmark. Maybe you are looking for something a little more low-key or the opportunity to experience some of the world's most breathtaking views. There is a beach for everyone. That's why we've put together a list of the best beaches in and near Copenhagen. Along with an overview of what you can expect when visiting these picturesque locales.
Amager Beach park
Amager Beach Park is a wonderful beach if you love sand and water sports. The seaside restaurants have a good selection, especially for those who love seafood. There is an outdoor gym that overlooks the sea. It is fun to work out while looking at the waves washing onto the shore. The park also has many grassy areas where you can relax in the sun or run around with your dog. If you like volleyball, there are nets set up so you can play with friends or strangers. Kiteboarding is popular here during the summer months.
Kastrup Søbad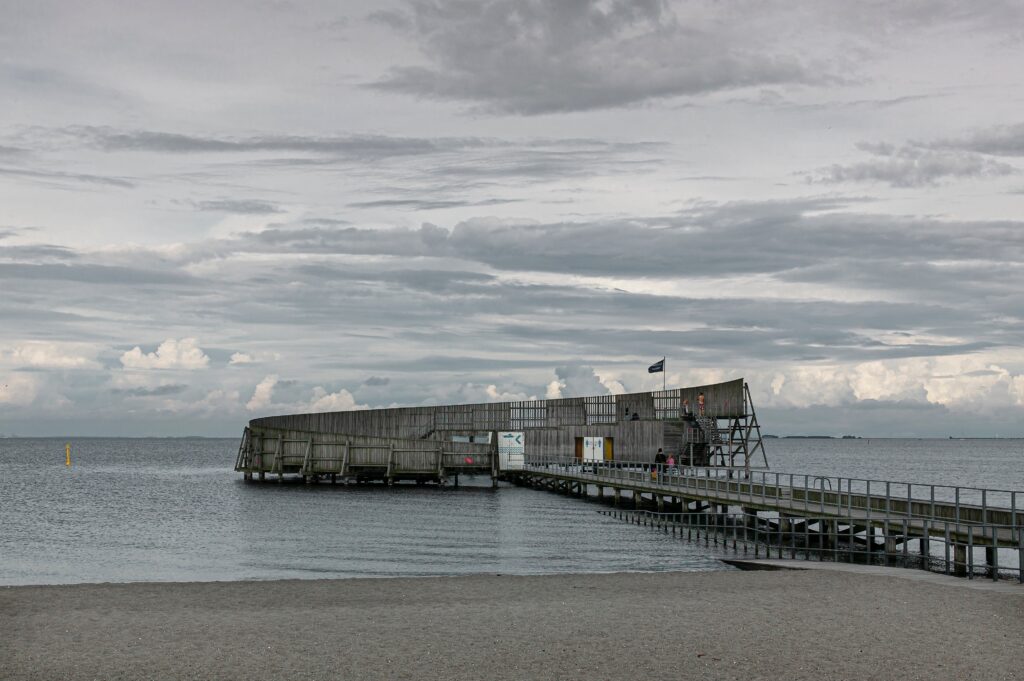 This beach is a little gem if you're looking for a cheap, beautiful place to spend a lazy afternoon. It is located in the northern part of Copenhagen. Kastrup Søbad is surrounded by lush green trees and grassy areas—a stark contrast to the busy city life in the area. The sandy shoreline makes it easy to walk or sit on your towel and relax while watching kids play in the water or people flying kites up and down the coast.
One of the favorite things about this beach is that they have showers and toilets, so you can make it an all-day sort of thing. You can pack lunch from town (e.g., good sandwiches at Lumskebugten) and take some time to enjoy yourself before heading back into town for dinner. And what's even better than enjoying nature with all its great amenities? Nothing!
Charlottenlund Beach Park
This public park has plenty of facilities and amenities. You can find restaurants, changing rooms, toilets, as well as picnic areas, grassy fields, and a playground for the kids. The main attraction here is the impressive selection of outdoor activities—both on land and on the water—that you can enjoy all year round. Special swimming areas are available for children, as well as a jetty that extends into the sea. Swimmers have easy access to these areas from designated entry points along both sides of the beach. The shallow waters make it ideal for families with little ones learning to swim.
However, be aware that waves can become high during stormy weather. Once you have enough sun, head back to the land where there is plenty more to do. There is an amusement park with rides like roller coasters and bumper cars; tennis courts; sprawling lawns where visitors can play badminton or volleyball; basketball hoops. There are also public barbecue grills and snack bars with food trucks serving everything from hot dogs to laksa noodles. You will often find live street performers such as stilt walkers entertaining visitors on summer evenings. Just visit Main Beach Road right by the water edge.
Nordhavn Beach Park
It is the best beach in Copenhagen for several reasons. First, it's an easy train ride from most parts of the city. Not only that, but it also has a station that gets you right to the entrance of the park. Second, there are so many things to do! There is a pool, which comes in handy when you need to cool off on a hot summer day. There are plenty of spots to relax with friends and maybe even bring your dog along.
If you are looking for something more active to do, you can always grab a volleyball and challenge someone else on the beach. Alternatively, you can go running along with one of the three scenic paths that wind through the coastal forest. You can also take a dip in Lake Nordhavn after working up a sweat at the sports facilities. Or simply enjoy a family picnic in one of seven different picnic areas scattered across twenty-six acres.
Islands Brygge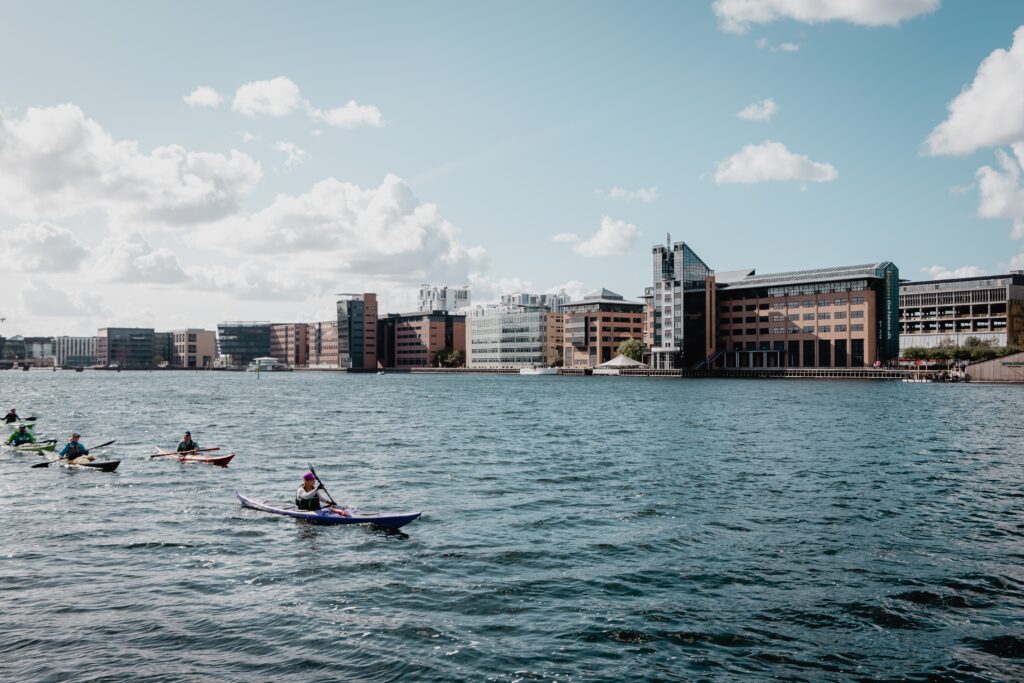 Located in the center of Copenhagen, Islands Brygge is home to many of the city's most popular attractions. It's also just a short walk from the National Gallery, which houses some of the world's most famous paintings and sculptures. You will find plenty to do on your visit to this area: you can watch the sunset over the water or enjoy dinner at one of the nearby restaurants.
If you are looking for something different, try walking along Christianshavn Canal instead! This canal runs right through Christianshavn, which is one of Copenhagen's oldest neighborhoods. You'll find plenty of interesting sights along the way.
Bellevue beach
Bellevue beach has a lot of things going for it: safe swimming, toilets and changing rooms, volleyball nets, nearby parking, and a train station. It's also close to Bellevue town center. It's a great place to relax and enjoy the sun while you watch swimmers and surfers practice their skills. You can also take advantage of all the activities offered at Bellevue Botanical Garden and Gardens Amalienborg. Such as biking and jogging paths, playgrounds for children, tennis courts, picnic areas, and an outdoor cafe where you can eat lunch or dinner overlooking the water.
Svanemøllen Strand
It's relatively large and tends to be busy during summer afternoons. You can also see some ship traffic on the water. The beach has a big grassy area surrounding, great for picnicking and lounging. Also, there are a lot of trees, which can make this place feel more like an enclosed garden than a beach park. Surrounding areas have some nice restaurants if you get hungry or thirsty while there — check out Bella Sky Hotel if you'd like to stay in the area for dinner!

If you're visiting in late spring or fall, be aware that the water temperature is likely to still be very cold (in your 60s/low 70s F). So swimming might not be worth it unless you enjoy splashing around in icy water. But if you go during summer, Svanemøllen Strand is one of the best beaches near downtown Copenhagen. That's because it provides lots of open space for sunbathing and relaxing. There are excellent views across the harbor from either side of the bay or land-based vantage points. There's also access to restaurants just beyond its border.
Greve Strand
Greve Strand is a popular beach in Copenhagen, also family-friendly. This means that plenty of kids will be splashing around with their parents, playing in the sand, and watching boats go by on the water. In addition to being shallow enough for little ones to wade and swim without too much danger. It is also a great place for windsurfing.
Kitesurfers will love this spot since it's open year-round and offers some protection from any strong winds blowing across the surrounding waters. So if you're looking for a safe place to let your kids play while you catch some serious air on your kiteboard. Greve Strand might be the right choice for you!
Conclusion
If you're looking for a romantic getaway or simply for a great place to visit while in the city, any beach listed above will provide a beautiful experience. Whether you prefer to visit in the summer months or opt for the winter months, the Copenhagen coastline will provide you with a wide variety of options. The best way to experience the beaches listed above is to simply visit during the summer months. While the city may be crowded with tourists, the weather during this season is remarkably mild. So you'll have no trouble enjoying the beaches without any discomfort.