Norway is a country of vast, untouched natural beauty, made all the more striking by its seclusion. The stunning landscapes of Norway attract tourists from all over the world. The dramatic coasts and pristine beaches in Norway are among its most popular attractions. Whether you're looking for beaches with a long stretch of sand to lay out on or an unspoiled coastline to explore by kayak, Norway has it all.
Norway's coastline is dotted with vast islands and rocky shores. This coastal geography makes Norway an ideal vacation spot for travelers who love to be near water. If you feel like getting away from the big city and experiencing some of the best beaches in Europe, then Norway should be on your list of destinations. Here are some of the most beautiful beaches in Norway.
What are the 10 Best Beaches To Visit In Norway?
Norway is a fascinating place to visit. It is also a very popular summer destination because of its beautiful beaches. If you want to avoid big crowds and enjoy your holiday in peace, then here are 10 of the most beautiful beaches in Norway:
Godalen beach, Stavanger
Godalen beach is one of the most popular beaches in Norway, visited by locals and tourists all year round. It's just walking distance from the city center and has a great view of the fjord. The water temperature is usually around 10 degrees Celsius (50 Fahrenheit), so it's perfect for swimming. Beautiful hiking trails also surround the beach through the woods and mountains, which are ideal for those who want to explore the area on foot.
Paradisbukta, Oslo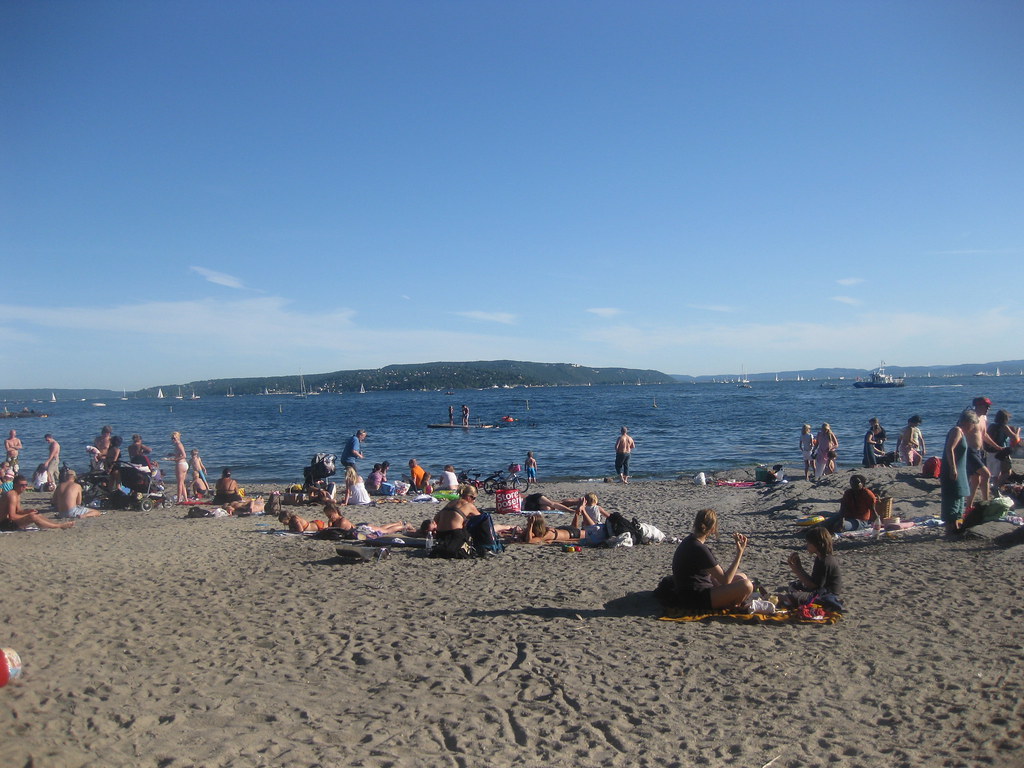 This beach is located on the Bygdøy peninsula in Oslo. It is one of the most popular summer destinations in the city. The area has several restaurants that serve fresh seafood and local fish specialties, from the sea nearby. This place is also known for its views over Oslo fjord and its many historical buildings from different eras of Norwegian history. Paradisbukta is among the best beaches in Oslo and one of the best beaches in Norway.
Mjelle beach, Bodø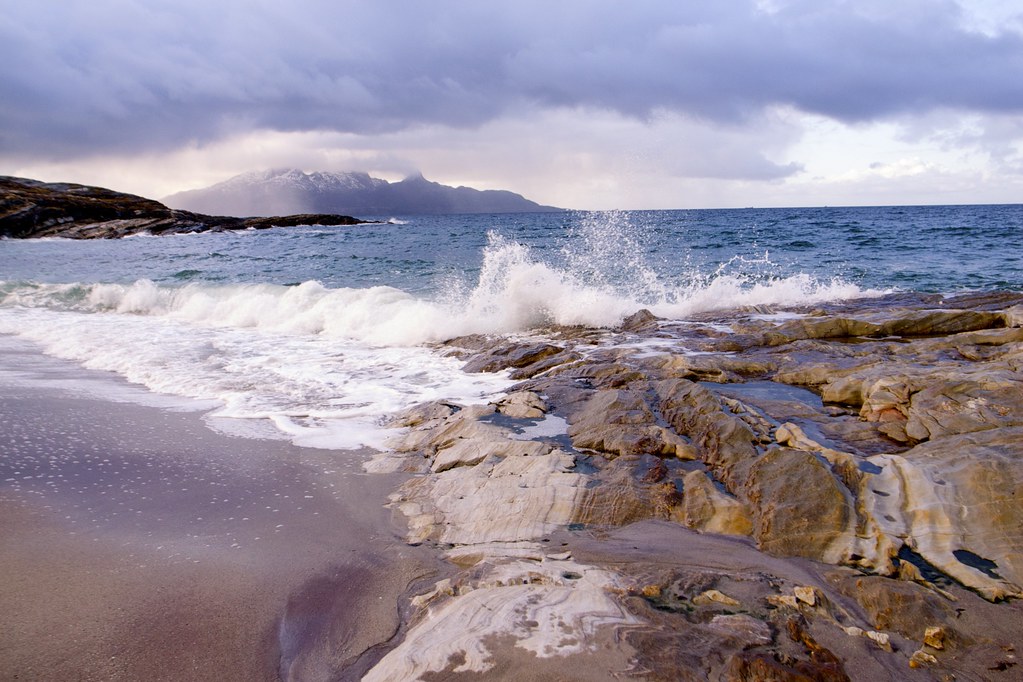 Mjelle Beach is a long, curving beach that stretches for about 4 km, making it one of the longest beaches in Norway. This Norwegian beach is on the southern side of the city of Bodø and offers excellent views of the sea and mountains. The beach is also very popular among hikers. Many hiking trails lead to this beach, with most of them being easy to walk. This beach has a shallow water depth, making it ideal for swimming and sunbathing. It also features rocky shores and sandy areas, which add to its beauty. You can enjoy some delicious seafood while watching the sunset at this beach, making it even more enjoyable!
Haukland beach (Leknes), Lofoten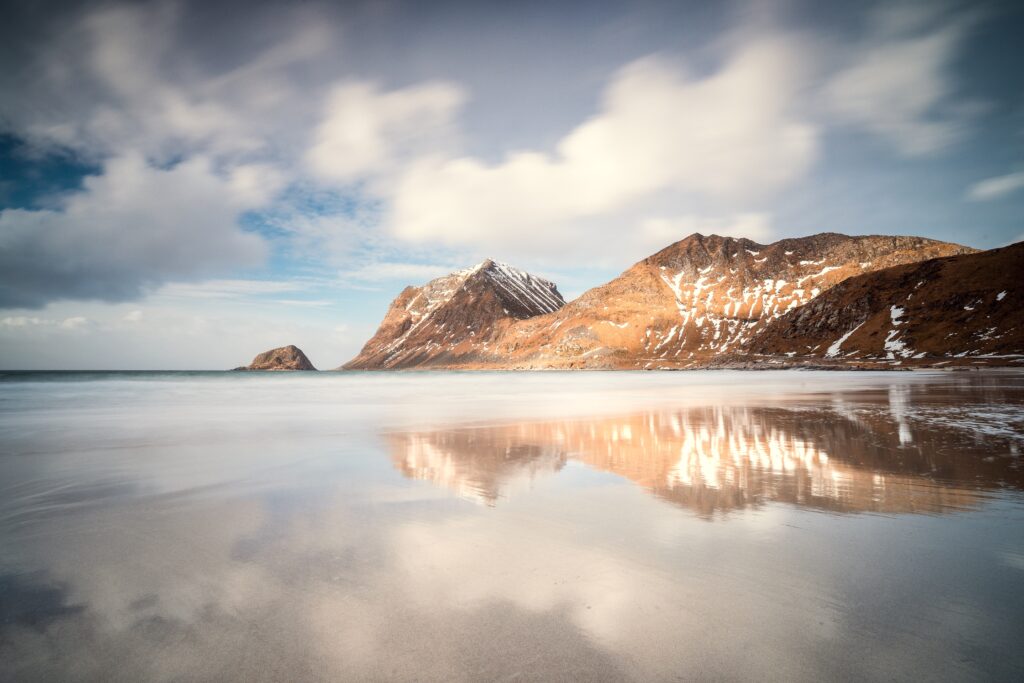 Haukland is another excellent beach located in the Lofoten archipelago in Northern Norway. The name comes from the word haugr, meaning hill or mound because there is a hill behind the beach that protects it from rough seas. This makes the place more suitable for swimming and sunbathing than other beaches in the region. The shallow waters near the shoreline make the beach safe even when there are strong currents outside it. Additionally, Haukland beach has been awarded as the best beach in Europe!
Unstad beach (Vestvågøy), Lofoten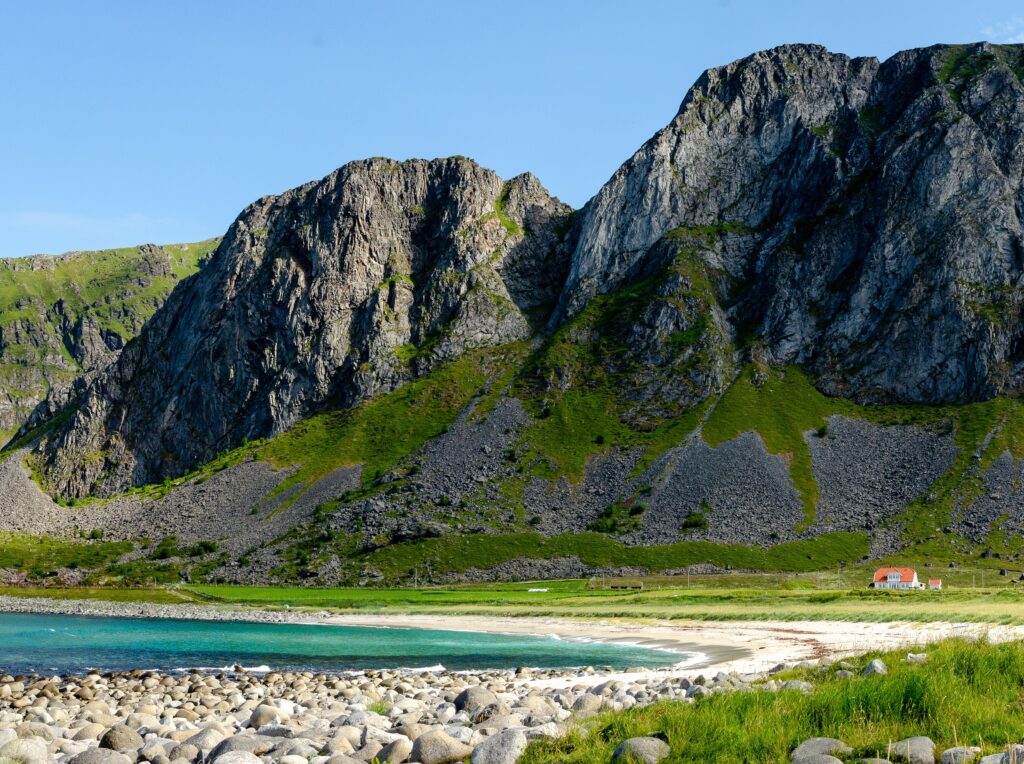 Unstad beach is one of the most popular summer destinations in Norway. It is located on the western side of Vestvagoy Island in Lofoten. Unstad beach has been voted among the best beaches worldwide by National Traveller magazine. Its natural beauty makes it easy to understand the reason why! The beach offers breathtaking views of the surrounding mountains and sea cliffs. The area is also home to several hiking trails that lead up to mountain peaks overlooking Unstad Beach.
Orre beach, Stavanger
This Norwegian beach is another popular summer destination, located near Stavanger city in Rogaland County in Southern Norway. There are many dunes at Orre beach, which make it look like an island from afar. It is joined to the mainland by a narrow strip of land known as Sandhaugtunnelen (Sand Dune Tunnel). The tunnel leads down to Orre beach. Many activities are available around it, including hiking trails and water sports such as kayaking and canoeing on nearby fjords such as Lysefjorden or Sola Fjorden.
Kvalvika Beach, Lofoten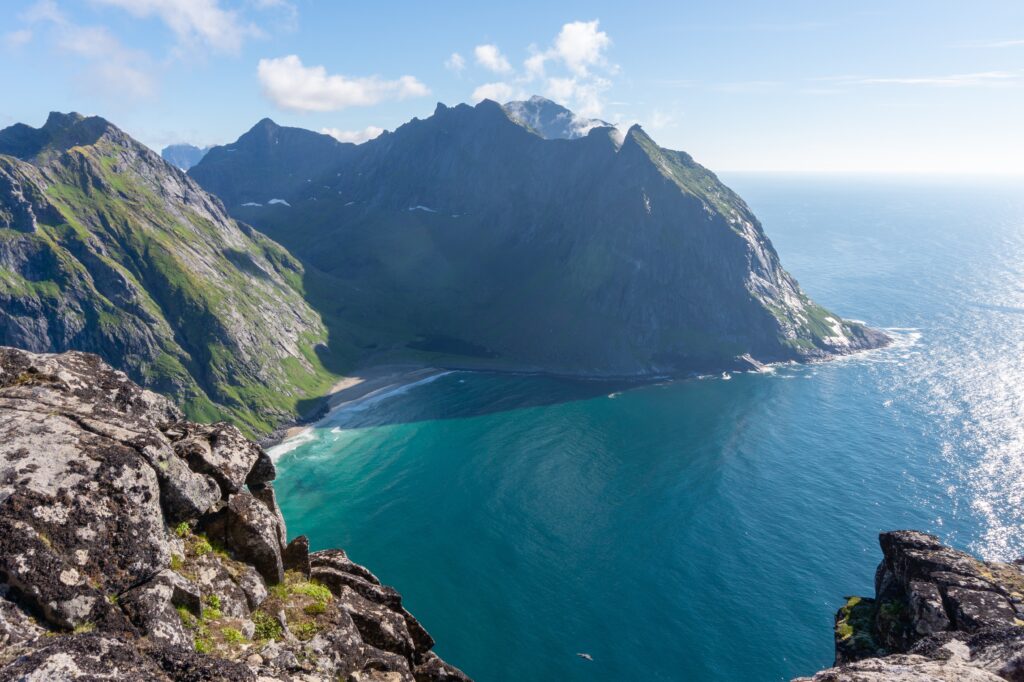 Many magazines and travel websites have voted this beach as the best beach in Norway. It's a long stretch of sand surrounded by rock formations and cliffs that jut into the sea. The water here is clear and very shallow. That makes it ideal for families with young children. It's a perfect place to go swimming on a hot summer day or just relax under a beach umbrella. This beach also attracts lots of campers and hikers. Probably the most beautiful beach in Norway!
Ramberg beach, Lofoten
This is another stunning beach with clear waters and plenty of space for sunbathing or relaxing in the shade of an umbrella. There aren't any facilities here, but there are many caves along the cliff edges where you can explore if you fancy staying longer than just an afternoon at the beach. This beach is different from the other beaches in Norway but equally beautiful.
Uttakleiv beach, Lofoten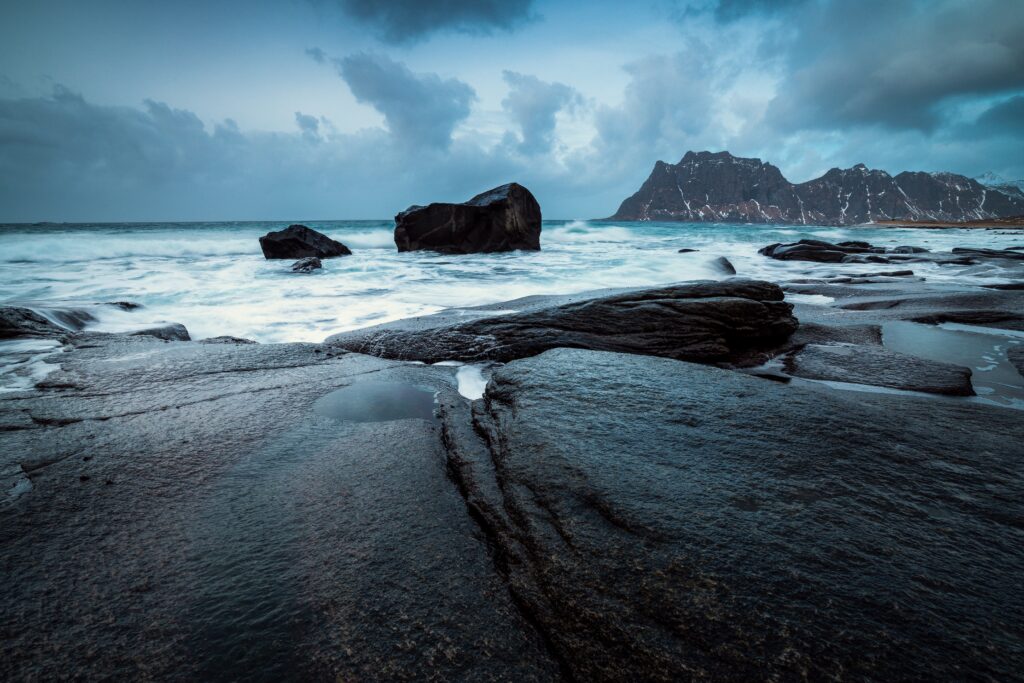 The beach at Uttakleiv is one of the most popular beaches in Lofoten. It is located on the west side of the island and offers excellent views of the mountain Mannen. The beach has beautiful white sand with greenish tones from the stones on it, making it look magical. You can also see some rocks sticking out of the sea with holes. The waves are strong but not dangerous for children and adults alike. This beach has been described as the most photogenic beach in Norway.
Ingierstrand beach, Oslo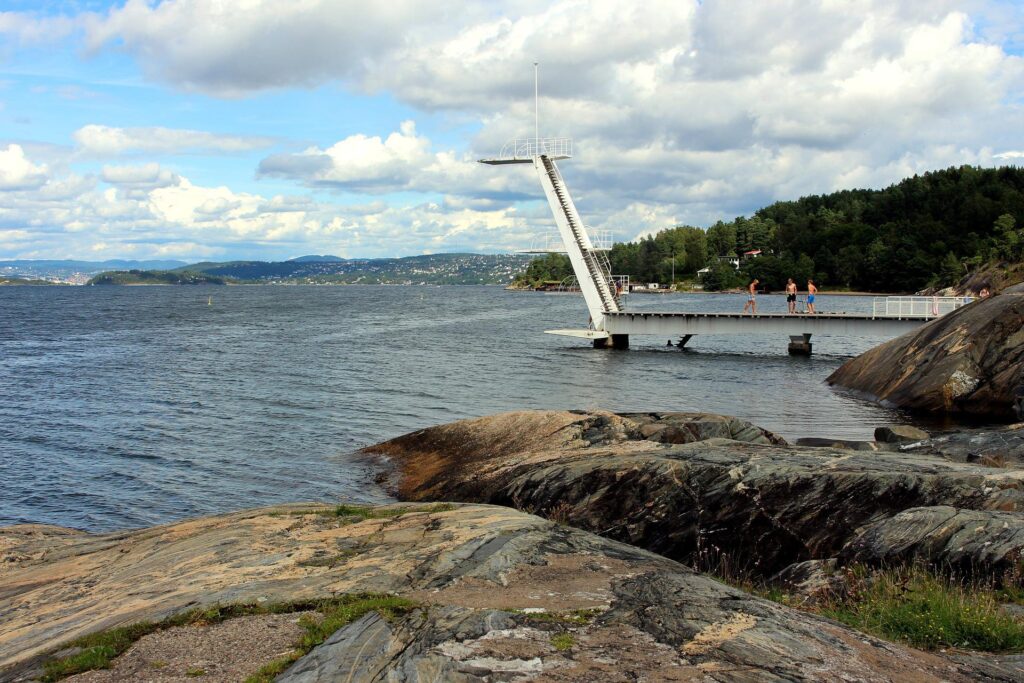 The beach at Ingierstrand is located in Oslo and is one of the best beaches in Norway and one of its most popular ones too! This beach has beautiful sand, big rocks and blue water, which makes it perfect for swimming and sunbathing. The sea is great for young children because it's shallow! There are also many restaurants nearby where you can enjoy a meal or drink before heading home after your day out with friends or family.
Do you need a visa to travel to the beaches in Norway?
If visiting the beaches of Norway is on your bucket list and do not have a European Union (EU) passport, you will likely need a visa. Norway is a long member of the Schengen Agreement. This agreement allows citizens of certain countries to travel freely within the EU without applying for a visa beforehand. However, if you are from Mexico or Canada and wish to visit Norway for more than 90 days, you will need to apply for a residence permit before entering the country.
Visitors from countries such as the United States, Australia, and New Zealand do not need visas to enter Norway as long as they plan on staying less than 90 days in total during their visit. If you have plans to stay longer than this period, then it is recommended that you request a visa extension before the expiry of your current visa.
What European Country has the Most Beaches?
Norway has the most beaches in Europe. The country boasts around 7300 miles of coastline. The Scandinavian country also has a large number of islands, surrounded by beautiful white-sand beaches. In fact, the most beautiful beaches in Norway are in the Lofoten islands! While Norway may have the most beaches in Europe, it does not have the best weather for sunbathing!
Conclusion
Norway hosts some of the best beaches in Europe. The sun-drenched shores offer an ideal getaway for those who appreciate a relaxing day lying on the warm sand and beautiful soaking up the sun. Or, if you're like most Norwegians, you'll spend your time playing frisbee or launching kites into the wind. Whatever activity you choose to do on one of these beaches, you should have no trouble relaxing, as there's plenty to see along the coastline.