Most people probably associate Sweden with the word "beach" as much as they do with Björn Borg. While this wasn't always the case, it's certainly true now that Stockholm has become a premier tourist summer destination. The city boasts several stretches of sand along its coast, some of which are islands and others on the mainland. They all have their advantages, too. You will find plenty of swimming beaches on this list for those who love to spend time in the water. If you're up for staying on dry land or something more active, there are plenty of options here for that as well. So, here are the best beaches in and near Stockholm.
Reimersholme badplats
Reimersholme badplats is one of the best beaches in and near Stockholm. It's located right next to Södermalm, and it usually has a huge crowd. The beach is also known for its large sand bar, which is perfect for sunbathing or relaxing. If you're looking for a quiet place to relax, you should try Reimersholme badplats. This beach is not as crowded as other beaches in Stockholm. So it's perfect if you want to spend some time alone or with your friends or family. The water at Reimersholme badplats is usually pretty cold but great for swimming. The water is clean and clear, so it's easy to see fish swimming around under the surface.
Långholmens Badplats
This is one of the best places to go swimming in Stockholm. It is a particularly secluded beach with plenty of space for sunbathing, swimming, walking, and relaxing. There are also showers, toilets, and changing rooms available on site. As it's quite secluded, Långholmens Badplats is often somewhat quieter than other beaches in Stockholm. However, this can also mean that it gets busy during peak times such as weekends or holidays.
Huvudstabadet
Huvudstabadet (the main beach) is one of the most popular beaches in Stockholm. It is located on the south side of Stockholm, close to the center. This beach offers a wide range of services and activities for those who wish to spend time on the shore, including restaurants and cafes. Also, you can try various types of water sports such as parasailing, windsurfing, and kayaking. There are also many shops nearby where you can buy souvenirs or snacks before heading back home.
Brunnsvikens strandbad
Brunnsvikens strandbad is one of the most popular swimming areas in Stockholm. It is located by Brunnsviken Lake. Brunnsviken is a large freshwater lake between Djurgården and Norrmalmstorg park. The beach has a diving tower and shallow waters. That makes it suitable for children. You can rent deckchairs, sun loungers, parasols, and bikes at the beach restaurant or kiosk on site. There is also a cafe with outdoor seating overlooking the water.
Johanneslundsbadet
This is an open-air beach and swimming pool located in the eastern part of Stockholm, Sweden. The beach is open year-round and has lifeguards during the summer months. Amenities include a swimming area with a depth of one meter, diving boards and slides, a pool for children, and a waterslide. There are also changing rooms, toilets, and showers.
Smedsuddsbadet
Smedsuddsbadet is a small beach on the island of Djurgården in Stockholm. It is a popular place for locals and tourists to swim, sunbathe and play beach volleyball. The water is very shallow. You can walk out quite far before it gets deeper than your waist. The beach is surrounded by trees and grassy areas where you can sit down and enjoy the view of the Stockholm skyline from afar. Smedsuddsbadet also has a restaurant nearby (along with other shops) if you want to enjoy some food or drinks while at the beach.
Trekantens strandbad (Trekanten Beach)
This beach has been awarded the title of the most beautiful beach in Sweden by Västerås Tidning in 2016. It is located by Lake Mälaren, which means it is a great place for swimming in the summer! The beach gets its name from the shape of the bay, which looks like two triangles facing each other. Trekantens bad is a popular place for visitors from all over Sweden as well as locals, who come here to enjoy the sandy beaches and clear waters.
The beach has plenty of parking spaces nearby. But if you want to park on the beach itself, you'll need to buy a ticket from one of the kiosks or restaurants along the shore. There are also toilets and showers available.
Solviksbadet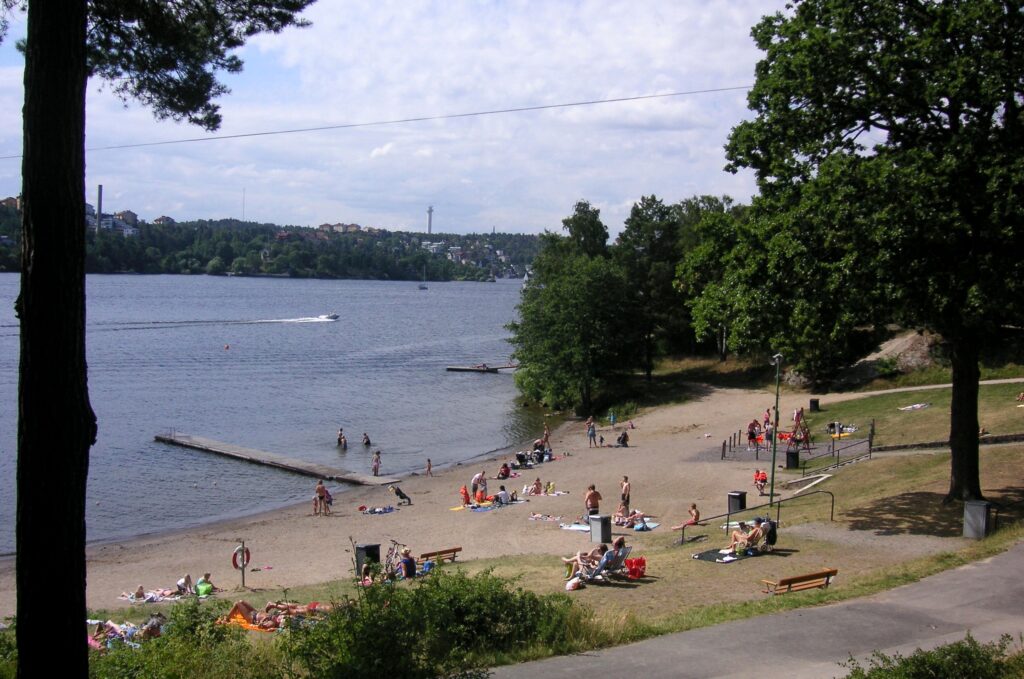 This beach is one of the most popular beaches in Stockholm. Solviksbadet is open all year round and has something for everyone. From playgrounds for children to volleyball courts. There are also snack bars, picnic areas with tables and benches, toilets, and showers.
Frisör Lioubou Lovtar
This beach is located in eastern Stockholm and features a large boardwalk that extends over the water. You can see there all kinds of fish swimming around. It also has a pier that you can walk out onto and enjoy the view from above. It is popular among bathers, who come here to sunbathe and swim in the lake. There are also many restaurants nearby that offer fresh seafood dishes.
Hammarby Sjöstad
If you are looking for a more secluded beach experience, Hammarby Sjöstad might be your best bet. This island is connected to mainland Stockholm by a bridge. It has plenty of restaurants, cafes, and shops along its promenade. There's also a sandy beach where you can swim or sunbathe if you don't mind putting up with some crowds during peak season (July-August). The water is shallow, so it is perfect for families with children who want to swim in the sea. But not too deep for those who want to swim in a pool instead. It also offers plenty of space to relax. And there are paddleboats available for rent if you prefer to get out on the water.
Conclusion
Stockholm is a city of fresh air, great seafood, and beautiful sandy beaches. While it's easy to get caught up in the busyness of the urban lifestyle and forget about the pristine, natural surroundings surrounding you, you must find ways to keep this balance for optimal happiness in your life. If you're looking for the best place to find a balance between a hectic city schedule and a relaxing time with nature, check out these three gorgeous spots.